New York Jets:

Greg Salas
August, 21, 2014
8/21/14
3:30
PM ET
FLORHAM PARK, N.J. -- Some
New York Jets
have a lot on the line Friday night against the
New York Giants
in the third preseason game. Wide receiver
Greg Salas
, in particular, would like to take big step toward securing a roster spot after a long training camp.
"We'll see how much I get to play and how everything works [out], but every game is a big game," Salas said Wednesday. "Every time you step out on that field is huge. I can only do my best."
[+] Enlarge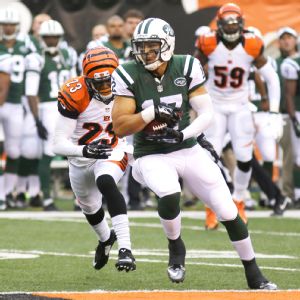 AP Photo/Tony TribbleGreg Salas led the Jets with two catches for 31 yards last weekend in Cincinnati.
Salas, 25, has just 35 receptions since entering the NFL out of Hawaii in 2011. But Jets offensive coordinator Marty Mornhinweg makes it clear that Salas is a valued member of the receiver corps.
"We don't care about [big] names," Mornhinweg said. "We only care about the play and the production and how a man can help our football team. I know that I trust Salas an awful lot."
In his Jets debut, Salas caught two passes for 57 yards in a 26-20 victory over New Orleans on Nov. 3.
"He came in and he was here a very brief time and helped us win a couple ballgames last year," Mornhinweg said. "[He] has performed at a high level and on a consistent basis as well, and so that's certainly what we're looking for. He has sure hands, he does everything right, typically, and he's a talented guy."
Eric Decker
,
Jeremy Kerley
,
Stephen Hill
and
David Nelson
are the Jets' top wide receivers.
Jacoby Ford
is in the mix, and Salas and
Clyde Gates
are making a push to land coveted spots on the roster.
Salas is in a pretty good spot in advance of the first cut-down date. Two rookie wide receivers are out:
Shaq Evans
had shoulder surgery and
Jalen Saunders
has an undisclosed medical issue.
"I feel bad for the rookies," Salas said. "We had three rookies in the room and only [
Quincy Enunwa
] is left."
Jets coach Rex Ryan has lauded Salas for being consistent, and he also has been healthy. That can't be discounted.
"If you're on the field, then you can show what you can do," Salas said.
October, 20, 2013
10/20/13
6:00
AM ET
Following Rex Ryan's advice, I skipped household chores -- but not the Sunday notes:
1. Hate to say it:
Guard
Willie Colon
has been chirping about his hatred for the
New England Patriots
since the beginning to the season.
Tom Brady
took a pass when asked to comment on Colon's latest "I-hate-them" remark, saying, "Not much fazes me with Jets-Patriots at this point, or Yankees-Red Sox."
Brady took the high road, but let us not forget that Mr. Squeaky Clean used the 'H' word long before Colon. In August 2010, he was asked if he was watching the HBO series "Hard Knocks," which featured the Jets that summer.
"Honestly, I haven't turned it on. I hate the Jets, so I refuse to support that show," Brady said. "I'm sure it's great TV. I'm glad people are liking it. But that's just something that I have no interest in watching. I'd love to say a lot of mean things, but I'd rather not do that, either."
Sure, easy to say when you're not playing them that week.
2. Contract push
: You have to admire
Antonio Cromartie
for his brutally honest self-evaluation, admitting he's not playing close to a Pro Bowl level. If he doesn't pick up his play, it could make for an interesting decision in the offseason.
Cromartie has a $14.98 million cap charge in 2014, the final year of his contract. He renegotiated his deal last March, pushing some money into '14. That's a big number to carry, especially with a $5 million roster bonus due in March. I can't see Cromartie taking a pay cut, so they'd have to extend the deal or part ways.
3. QB carousel set to spin again:
The Jets have to make a decision by Monday on
David Garrard
, whose two-game roster exemption will expire. It's hard to imagine them keeping four quarterbacks on the 53-man roster, so they'll either say goodbye to Garrard or release
Brady Quinn
. I understand the value in having an experienced mentor for
Geno Smith
, but the decision should be based on this: Who would they rather have in the game, Quinn or Garrard? I'd take Quinn. If they value Garrard's intangibles that much, the Jets should make him a coach.
4. Try the combo platter:
The Jets have used 122 unique lineups on offense, the fourth-highest total in the league. That's a high number, considering they've had relative stability on the line. Some of it's due to injuries at receiver and tight end, but most of it can be attributed to Marty Mornhinweg's penchant for using so many different personnel packages.
5. A craving for brownies:
The addition of KR
Josh Cribbs
means the Jets have three former members of the 2008
Cleveland Browns
; the others are Quinn and TE
Kellen Winslow
. They also had
Braylon Edwards
as recently as training camp. Previously, they had
Brodney Pool
. That's a lot of players from a 4-12 team.
Smith
6. The good, the bad, the ugly
: Here are two statistics that illustrates Smith's season: His combined total of interceptions (13) and sacks (21) is the highest in the league, one greater than
Eli Manning
(33). But at the same time, Smith has demonstrated the ability to hurt defenses with his long passes. He has a 50 percent completion rate on throws of at least 20 yards, tied for third best in the league, according to ESPN Stats & Information.
7. Solace for Salas:
Eyebrows were raised when the Jets signed an injured wide receiver,
Greg Salas
, from the Philadelphia Eagles' practice squad. Ryan said they knew about the knee ailment, which he called a two-week injury. The Jets liked Salas because of his strong preseason -- seven catches for 107 yards and a touchdown. They were able to pry him away when the Eagles opted to promote
B.J. Cunningham
over Salas last Monday. The Jets are stuck with him for three weeks. By rule, a player is guaranteed three weekly checks when he leaves a practice squad to sign on another team's 53-man roster.
8. What a business
: Former Stony Brook (N.Y.) star Miguel Maysonet, added last week to the practice squad, already has experienced the cut-throat side to the NFL. Nearly 10 months after signing his first contract, the running back already has been cut by four different teams -- Eagles, Browns,
Indianapolis Colts
(practice squad) and
San Diego Chargers
(practice squad). He'd like to last at least 10 days with the Jets because he didn't make it past seven in his last two stops.
"I had no idea it would be like this at all, being cut left and right, moving around," he said. "It kind of sucks, but it's also humbled me in a way. It's hard to start all over every single time. Things don't come easy, but if you love the game, you have to work through it. I'm still chasing the dream."
9
. Let's talk sex -- or not
: I spoke to two players who stated emphatically that Ryan wasn't referring to abstinence when he delivered his "rest-the-legs, no-household-chores" speech. But it still made for a comical, after-hours scene in the press room, Ryan trying to clarify the situation with reporters.
10. St. Peyton
: The big story in the NFL is Peyton Manning's return to Indianapolis, where he was, still is and always will be an iconic figure. During his heyday with the Colts, he reportedly dined with friends after every home game in a private room at the city's famed St. Elmo's Steakhouse. But it wasn't always red-carpet treatment. A few hours after a Jets-Colts game (I'm guessing it was 1998, his rookie year), I saw Manning and some family members peering into the window of a TGI Fridays to see if it still was serving. The streets were desolate, except for the Mannings and a few hungry New York sports writers. He has come a long way. The sports writers, not so much.
October, 16, 2013
10/16/13
7:05
PM ET
FLORHAM PARK, N.J. -- Cornerback
Kyle Wilson
suffered a concussion in last Sunday's loss to the
Pittsburgh Steelers
, the
New York Jets
confirmed, and he didn't practice Wednesday. His status for Sunday against the
New England Patriots
remains uncertain.
The Jets could lose a defensive back this week, but gain one. Rookie cornerback
Dee Milliner
, out the last three games with a pulled hamstring, practiced on a limited basis and is expected to play. Asked if he's optimistic about Milliner's chances of returning, Rex Ryan said, "Yeah, I am. Absolutely."
Milliner doesn't play the slot, so it would be interesting to see how they use him,
Antonio Cromartie
and
Darrin Walls
. They could move Walls into the slot or perhaps go with
Isaiah Trufant
, who replaced Wilson against the Steelers. Milliner didn't fare well in the previous meeting against the Patriots, as he was benched at halftime.
There was a curious development with newly-signed wide recover
Greg Salas
, whom they plucked off the
Philadelphia Eagles
' practice squad. Salas, who didn't practice, had a pre-existing knee injury that will sideline him for at least two weeks, according to Ryan. The coach claimed they knew about the injury.
"We kind of knew he was going to be out," Ryan said. "If he had a severe injury, that wasn't the case. This might be a couple of weeks and he'll be back."
October, 16, 2013
10/16/13
1:20
PM ET
FLORHAM PARK, N.J. -- The
New York Jets
likely will be facing the
New England Patriots
with a beat-up receiving corps.
Santonio Holmes
(hamstring) didn't practice Wednesday,
David Nelson
(undisclosed) was limited in positional drills and newcomer
Greg Salas
, signed Tuesday off the
Philadelphia Eagles
' practice squad, spent the early part of practice riding a stationary bike. Unless Salas was injured on the drive up the New Jersey Turnpike, it appears the Jets signed damaged goods.
The Jets' other newcomer, WR/KR
Josh Cribbs
, made his debut on the practice field, wearing No. 16. As expected, he was involved in punt and kickoff returning, and he also ran drills with the receivers.
Holmes showed up midway through the media period at practice -- he walked in with general manager John Idzik -- but he wasn't in pads and did only light jogging. There's little chance he will play Sunday. On Tuesday, they lost
Clyde Gates
(shoulder) for the season, placing him on injured reserve.
Cornerback
Kyle Wilson
(head injury) also is a question mark. He, too, was on the bikes.
On the positive side, rookie cornerback
Dee Milliner
(hamstring) participated in positional drills, working his way back to action. There's growing optimism about his chances of playing Sunday. He has missed three straight games.