New York Jets:

Hayden Smith
December, 9, 2013
12/09/13
10:05
AM ET
FLORHAM PARK, N.J. -- Former
New York Jets
tight end
Hayden Smith
apparently has given up on the NFL.

Smith, cut by the Jets at the end of the preseason, has returned to his former rugby team in England, Saracens. He played there before signing with the Jets in April 2012. It was a terrific story because he had no prior experience in organized football. He ended up playing in five games in 2012, catching one pass for 16 yards.
"It's fantastic to be back," Smith told a London newspaper. "I learned a huge amount in the NFL, various elements that will help me become a better rugby player, but there is nothing like the Saracens environment and I am now completely focused on working hard and helping the squad achieve all our goals."
Smith made an impact in the Jets' locker room, helping to caffeinate his teammates. He kept a portable coffee maker in his locker, serving espresso and cappuccino. A good dude, Smith.
July, 27, 2013
7/27/13
6:00
AM ET
CORTLAND, N.Y. -- The Jets are on the field at 10 a.m. Once again, they will be in shells, not pads.
Here are the storylines:
1. Missing pieces
: Injuries to RB
Chris Ivory
(hamstring) and CB
Aaron Berry
(season-ending knee injury), along with the absence of RB
Mike Goodson
(did not report) and a likely rest day for TE
Kellen Winslow
, will create reps for some of the younger players. RB
John Griffin
, CB
Isaiah Trufant
and TE
Hayden Smith
, among others, have to be ready. CB
Ellis Lankster
is getting work in the nickel due to the contract dispute with top pick
Dee Milliner
.
2. QB competition
:
Mark Sanchez
and
Geno Smith
will be trying to build off a positive first day. Rex Ryan is used to having his defense dominate in the early stages of camp, so he'll be highly motivated to rebound after a so-so first day. That could mean extra blitzing.
3. Idzik speaks
: New GM John Idzik doesn't reveal too much when he speaks to the media, but he's scheduled to chat with reporters -- and it's worth a listen because, frankly, he doesn't do it that often. Maybe he can shed some light on the Goodson situation (doubtful) and the Milliner dispute.
July, 3, 2013
7/03/13
11:31
AM ET
Continuing our "Take 5" series, TE
Hayden Smith
, a native Australian who became an international rugby star in England before deciding to play for the Jets, provides five reasons why he loves the NFL. It's an interesting take from a man who never put on a football helmet until last year:
1. Preparation
: "The amount of time and preparation that goes into football makes every little success that much sweeter. If you make a big play in football, there's no adrenaline rush like it."
2. Action
: "The speed of the game. Once the ball is snapped, it's just incredibly quick. It's lightning fast, so that's exciting."
3. Team size
: "It's a much bigger group of guys. It's a different dynamic, much more culturally diverse. [In rugby], there would be a squad of about 30 to 35."
4. Facilities
: "Everything is obviously on a bigger stage. The facilities are second to none. My favorite part [of the Jets' facility] is the tubs, especially after a tough practice. That's a nice, little perk."
5. New York
: "Being able to live in a city like New York is a great experience, the cultural side of it. It's an amazing place."
June, 9, 2013
6/09/13
5:00
AM ET
A quick look at the Jets and the NFL:
1. The Battle of Clunker Hill:
Listen to Rex Ryan, and you come away with the impression he'd rather crochet a sweater than start
Mark Sanchez
at quarterback. Ryan's tone has been, um, less than enthusiastic. But guess what? He might have little choice. Judging from what I've seen and heard, rookie
Geno Smith
hasn't blown anybody away, the way
Russell Wilson
did last season when he walked into the Seahawks' facility. It's still early and things could change, but the way this is headed, it'll be Sanchez versus the Bucs in Week 1. That's the way it should be. Unless Smith is lights-out in the preseason, the Jets should open with Sanchez.
As much as the organization would like to start over at quarterback, it wouldn't be prudent to throw a rookie into a fire. And it'll be a blazing fire. Think about it: new offensive system; limited weaponry; difficult schedule. You'd do it with
Andrew Luck
, but Smith is no Luck. Of the past 11 quarterbacks drafted in the second round, only one started Week 1 as a rookie -- the Bengals'
Andy Dalton
in 2011. Smith throws a pretty ball, but it'll take more than that to win over the coaches and his teammates. Like it or not, it'll be Sanchez to start. How long he lasts, well, that's a different story.
2. The Q Mystery:
Quinton Coples
' switch to outside linebacker is going well, according to Coples. Curiously, he didn't play a lot of linebacker during the three OTA sessions open to the media. I suggested to him, half-jokingly, that maybe the team is purposely keeping him under wraps, a la
Tim Tebow
and the Wildcat. Coples, who has a terrific sense of humor, replied, "Hopefully, I'll do more than we did in the Wildcat."
Coples said he's not having any trouble with pass-coverage responsibilities. Any interceptions?
"Nah, not yet," he said. "I like to consider myself 'Lockdown.' They don't throw the ball my way."
Coples Island?
"I respect
[Darrelle] Revis
, so I don't want to say Coples Island," he said, smiling. "Revis Island, that's his gig. That's his deal. He showed me a lot of things when he was here. But I'm definitely a lockdown type of guy."
3. Speaking of Revis …:
Just a random thought. Let's play the what-if game: What if the Jets had kept Revis, hoping to sign him to a long-term extension before the season?
With a $10 million bump in 2013 compensation (based on the contract he received from the Bucs), the Jets would have only about $2 million in cap space. They wouldn't have DT
Sheldon Richardson
, whom they selected with the Revis pick (13th overall). Or would they? It's believed that Richardson, WR
Tavon Austin
, CB
Dee Milliner
and G
Chance Warmack
were the top four on their draft board, not necessarily in that order. Austin was gone by the ninth pick, and you have to figure they wouldn't have picked Milliner with Revis in the long-term plan. So the choice would've been Warmack or Richardson. Maybe they would've ended up with Richardson anyway. That, of course, is based on the assumption their board would've remained the same with Revis in the picture.
4. Mr. Coffee:
TE
Hayden Smith
has coordinated a coffee klatch in the Jets' locker room. He brews espresso after practice (he keeps a machine in his locker) and serves teammates, some of whom sit around in a circle and shoot the breeze. Smith believes it promotes team chemistry. He got the idea from his rugby days in England, where teammates routinely visited a local coffee shop after practice. It shatters the stereotype of beer-drinking rugby types.
"There's certainly a time and place to enjoy yourself," Smith said, "but there's a lot to be gained from sitting around and having a coffee together. Other than a great pick-me-up, it's nice to sit and talk with the guys."
5. The Sons Also Rise:
Brock Sunderland, who worked in the Jets' scouting department for six years, has left the team to become the assistant GM of the Ottawa Red Blacks -- a new CFL team. Brock, the son of former longtime Jets scout Marv Sunderland, became the fourth Jets scout to leave or not have his contract renewed this offseason. During the 2010 playoff run, he was instrumental in helping the Jets reconnect with former player Dennis Byrd. There's also a scout on the rise in the Bradway family. Mike Bradway, the son of longtime Jets senior personnel executive Terry Bradway, has been promoted to the post of Eagles' Eastern regional scout.
6. Mother Knows Best:
Dottie Hampton, the matriarch of one of the most popular families in Jets history, died last week at the age of 76. She's survived by husband Bill Hampton, the former longtime equipment manager, and son Clay, the current director of operations. Veteran scribe Randy Lange, of the Jets' official website, wrote a nice piece on Hampton, noting two behind-the-scenes contributions. She purchased the Hanes Beautymist pantyhose that Joe Namath wore in his famous 1973 commercial and, leading into the 1968 AFL Championship Game, she sewed pockets into the jersey fronts of Namath and the skill-position players. The pockets were a huge help on a bitterly cold day at Shea Stadium. Former longtime PR director Frank Ramos said she "might be the greatest Jets fan of all time." Condolences to a great family.
7. Belichick's Delay of Game:
If Patriots coach Bill Belichick waited any longer to shoot down the notion that he "hates" Tebow as a player -- an anonymous quote in a May 9 story by Yahoo! Sports -- we'd be asking him about it on the conference call leading into Jets-Patriots in Week 2. It took him four weeks, making his reaction come across as disingenuous.
8. This Ain't Right:
What's wrong with this picture?
JaMarcus Russell
, the epitome of bust-dom, gets a tryout with the Bears. Meanwhile, Tebow, a playoff-winning quarterback, sits at home, seemingly black-balled by the entire league.
9. A 'Sup-er New Yorker:
Frank Supovitz, the NFL's point man for Super Bowl XLVIII, is all New York. He grew up in Queens, once worked as an usher at Radio City Music Hall and lives on Long Island. Now, in his job as the league's senior vice president of events, he gets to coordinate a Super Bowl in his hometown. How personally satisfying is that?
"I've never been asked that question before," Supovitz told me the other day. "Words don't describe it, really. It's an honor to be leading a group of professionals that pull this event together. It's a national event that requires professionals from all over the country. The opportunity to be able to do it here, where I grew up, it's an incredible honor."
10. London Calling:
I'm not a fan of putting a team in London, but I suspect it's inevitable. Hey, maybe it'll open a door for Tebow to get back into the league -- unless it's the Jaguars, of course.
June, 7, 2013
6/07/13
5:22
PM ET
Hayden Smith
arrived a year ago, a former international rugby star with no experience in organized football. He never wore a helmet, never put on shoulder pads, never ran a pass route. The most basic aspects of football -- i.e. mastering the quarterback cadence -- were a challenge.
[+] Enlarge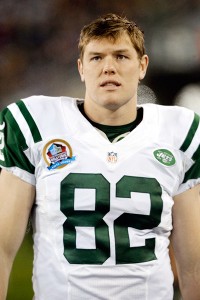 AP Photo/Wade PayneHayden Smith could be a factor for the Jets this coming season.
"If you've never played football, it's hard to sit on the line," Smith recalled of his not-so-long-ago neophyte days. "You have to know what the cadence is and you don't want to jump and be edgy."
Smith has come a long way in a relatively short time. The 6-foot-6, 255-pound Australian was one of the bright spots during OTAs, impressing with his dramatic improvement. Instead of worrying about where to line up and trying to remember his assignment on each play, Smith actually made plays, including a couple of acrobatic receptions.
"Coming in the second time around, not having to worry about the game of football itself, it takes a lot of the thinking out of it," he said. "That was always going to be the challenge early on, getting comfortable with the sport. Now I feel like I'm at the stage where I can just concentrate on execution rather than the bigger things."
Smith, 28, spent most of his rookie year on the practice squad, seeing some playing time late in the season. He played a total of 17 snaps on offense, plus 15 snaps on special teams. Basically, it was a redshirt year, but now he's ready to make a name for himself.
"I feel like I'm at the stage where I can contribute," he said. "My primary goal is to help the Jets win football games."
He's already mastered the veteran cliches.
But seriously, he should get a good look, considering the downtrodden state of the tight end position.
Jeff Cumberland
and
Konrad Reuland
are the only experienced tight ends on the roster, so we're not talking about Rob Gronkowski and Aaron Hernandez here. Maybe, just maybe, "Aussie" -- his nickname -- can make a move up the depth chart. He has gone from Down Under to under the radar. Who knows what's next?
February, 7, 2013
2/07/13
5:00
AM ET
This is part four in a nine-part analysis of the Jets -- a position-by-position breakdown as we head toward the scouting combine and free agency:
TIGHT END
2012 depth chart:
Dustin Keller
(starter/injured),
Jeff Cumberland
,
Konrad Reuland
,
Hayden Smith
, Josh Baker (injured).
[+] Enlarge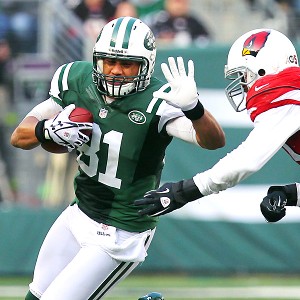 Ed Mulholland/USA TODAY SportsDustin Keller played in only eight games in 2012, making 28 catches for 317 yards and two TDs.
Overview
: The tight ends combined for only 69 receptions last season. The biggest reasons were Keller's hamstring and ankle injuries, which cost him eight games. He never really had an extended stretch of healthy football, sabotaging his contract year. Another reason for the low production was Tony Sparano's scheme, which wasn't tight-end friendly. Cumberland displayed some big-play ability -- six of his 29 receptions went for 20-plus yards -- but he was an inconsistent route runner and made mental mistakes in hot-read situations. Reuland played mostly as an H-back, doing the dirty work.
Free agents
: Keller, Cumberland (restricted).
2013 personnel preview
: Keller has Pro Bowl-caliber ability if used correctly, and now the Jets have a system -- the West Coast offense -- that suits his pass-catching skill set. On paper, it should be an ideal marriage, but money could get in the way. Doesn't it always? Even though he's coming off a disappointing year, Keller is bound to draw interest and could price himself out of the Jets' range -- if they allow him to hit the open market. They could make a push to sign him before that, but they won't break the bank. Remember, the Jets took a pass last offseason when Keller wanted to talk long-term deal. Cumberland is a solid No. 2, with room to improve. There's nothing special about him, bu he could be the starter by default. Baker has some value because of his receiving skills, assuming he's recovered from a serious knee injury. There's not a sturdy blocker in the bunch.
Salary-cap situation
: The Jets could opt to put the franchise tag (about $6 million) or the transition tag ($5.1 million) on Keller, but that would eat up a lot of valuable cap space. What about a tag-and-trade? It's possible, but unlikely. They'd recoup only a middle-round pick for Keller, whose value is sagging because of last season's injuries. Some team will get a great deal.
October, 27, 2012
10/27/12
5:27
PM ET
Tight end Hayden Smith, a former rugby star who never played organized football until signing with the Jets last spring, was signed to the 53-man roster on Saturday -- a strong indication he will be active on Sunday when the Jets face the Dolphins at MetLife Stadium.
To make room for Smith, the Jets released wide receiver
Jason Hill
.
That the Jets signed Smith from the practice squad was a surprising move, but they wanted an extra body at tight end because
Jeff Cumberland
(dislocated wrist) isn't ready to play. The Jets worked out two free agents earlier in the week,
Joey Haynos
and
Colin Cochart
.
Smith, 27, a native of Australia, decided to try football after a successful rugby career in England. Minicamp was the first time in his life he wore a football helmet. Smith (6-foot-6, 255 pounds) struggled in training camp, but he showed enough developmental promise to justify a spot on the practice squad.
Assuming he dresses for the game, Smith will be the third tight end. Wideout
Clyde Gates
, back from a shoulder injury, will dress as the No. 4 receiver. His recovery made Hill expendable.
April, 7, 2012
4/07/12
3:20
PM ET
The Jets made it official on Saturday, announcing the signing of Australian rugby star Hayden Smith.

Say this about the Jets: They're not afraid to think outside the box.

This is a no-risk signing. If he can't cut it, no harm, no foul.

On paper, Smith has the measurable to be an NFL tight end -- 6-foot-6, 265 pounds. He reportedly runs the 40-yard dash in 4.75 seconds, exceptional for a man his size. People who know him say he's bright and will be able to assimilate a complex NFL offense.

And you know he's tough. Anybody who ever watched a rugby match knows that you don't belong on that field if you're not one tough hombre.

That said, it's important to maintain realistic expectations. It would be a reach to say Smith will make the 53-man roster. Remember, the man never has played a down of football, and you're stretching if you think he's going to come in, win a job and suit up on Sundays. He probably doesn't know how to put on shoulder pads.

Tight end is a tough position to learn. It's mentally challenging because you have to block, catch, shift, go in motion ... it's a multi-dimensional job. Obviously, Smith has the physical tools and, presumably, the temperament to play special teams, but that, too, isn't a gimme.

If Smith shows he has something, he can spent a year on the practice squad, developing his skills. He's not going to walk in and become the next Antonio Gates. Everybody is looking for the next Gates -- the Jets have tried in recent years by signing former college basketball players -- but it's a 1,000-to-1 shot.

For now, sit back and enjoy the show. If nothing else, Smith will be a compelling subplot on "Hard Knocks" this summer -- assuming there is a "Hard Knocks" 2.0, which is looking likely.