New York Jets:

Jacksonville Jaguars
August, 16, 2013
8/16/13
2:32
PM ET
The
New York Jets
(0-1) face the
Jacksonville Jaguars
(0-1) at 7:30 p.m. Saturday at MetLife Stadium -- the first game of the season in the stadium that will host the last game, Super Bowl XLVIII. The main storylines:
1. Quarterback battle, part deux
:
Mark Sanchez
starts for the second straight week and
Geno Smith
... well, his sprained ankle might keep him out. The Jets haven't revealed their plans for Smith, who has fallen behind Sanchez in the competition. If Smith doesn't play, could he lose the battle without even getting a legit chance to win it? They will re-evaluate the situation after the game.
A Sanchez implosion probably would make Rex Ryan extend the competition another week. There's a chance Ryan might do that anyway, regardless of how Sanchez performs. The organization wants to evaluate a healthy Smith before making a decision, and the only way to do that would be to shut him down until Monday -- a four-day break -- and see how he rebounds in practice from his "brutal" showing Wednesday.
[+] Enlarge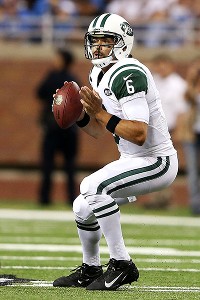 Leon Halip/Getty ImagesJets quarterback Mark Sanchez might get a visitor's reception during Saturday's home game.
The downside to extending it is not having the first-team offense finalized for the all-important third preseason game. Would Ryan want to mess with that for the sake of giving a good look to a rookie who probably isn't ready anyway to be the Week 1 starter? There are so many questions and time is running out.
2. A Bronx cheer in Jersey:
This will be Sanchez's first home game since last Dec. 2. That day, he threw three interceptions and was benched against the Cardinals -- one of the low points of his career. It came only a week after the infamous Butt Fumble. Suffice it to say, he won't be embraced warmly Saturday night. Even though the stadium will be half-empty, it'll provide a scaled-down version of what it will be like Sept. 8, when they open against the Bucs.
3. An-Chris-ipation:
Barring a last-minute change, RB
Chris Ivory
is likely to make his Jets debut. It has been a difficult summer for Ivory, who missed two weeks with a pulled hamstring. But he looked fine this week in practice and should get a few carries unless they decide to play it ultra-safe and keep him out.
Basically, Ivory is
Shonn Greene
with a little more wiggle, a huge part of the master plan on offense. After rushing only 16 times for 37 yards last week, the Jets should put an added emphasis on running the ball. Offensive coordinator Marty Mornhinweg tends to fall in love with the passing game, but this team isn't built for 40 throws a game.
4. J.J. versus A.A.:
The battle at safety continues. This time,
Jaiquawn Jarrett
gets the start. The former Eagles second-round pick impressed so much last week that teammates were hooting and hollering from the sideline whenever he made a tackle. Ryan says
Antonio Allen
still has a chance, but let's be real: It's Jarrett's job to win. Either way, it's not as though we're looking at the second coming of
Ed Reed
. This is the only starting job legitimately up in the air on offense and defense.
5. Braylon & Co.
: There's a lot of competition for the fourth and fifth receiver spots, not counting the injured
Santonio Holmes
. After
Stephen Hill
,
Jeremy Kerley
and
Clyde Gates
, it's between
Braylon Edwards
,
Ben Obomanu
and rookie
Ryan Spadola
.
Spadola, undrafted out of Lehigh, is making this interesting. He probably will have a role on special teams this week, and it's imperative that he excel there to help his chances. Edwards got off to a slow start, but came on this week in practice. His old Cleveland buddy, TE
Kellen Winslow
, needs another strong showing to secure a roster spot.
6. Just for kicks
: There's still some uncertainty with the kicking and punting situations. P
Robert Malone
(back) missed two days of practice, opening the door a crack for
Ryan Quigley
. PK
Nick Folk
is having a solid camp, but he's not as long on kickoffs as
Billy Cundiff
. The Jets reportedly might have interest in veteran free agent
Dan Carpenter
. Advice to Folk: Don't miss.
January, 14, 2013
1/14/13
10:26
AM ET
The Jets wanted so much to make Dave Caldwell their new general manager that they were prepared to make a highly unusual offer, according to Sports Illustrated's Peter King. In his Monday Morning QB column, King writes:

Included in the New York Jets' contract package being prepared for David Caldwell last Monday -- the day the club gave him a tour of the area and was wooing him to be the team's next general manager -- was a $1 million housing allowance.

In the annals of Perks Given to NFL General Managers, I would say that takes the cake.

The timing is interesting. This grand tour occurred the day before the Woody Johnson/Rex Ryan news conference, meaning it's highly likely the Jets were hoping to have their new GM in place before the highly anticipated news conference.

The day after the Woody/Rex show, the Jets expanded their search, setting up interviews with at least five news candidates. Clearly, Caldwell was the guy on their "A" list of candidates they truly coveted. As everybody knows, the former Falcons director of player personnel was hired by the Jaguars.
December, 10, 2012
12/10/12
2:45
PM ET
December, 10, 2012
12/10/12
11:35
AM ET
Reviewing some of the key plays from the Jets' 17-10 win over the Jaguars:
1. The quacker
. LB
Garrett McIntyre
made the hit of the day, coming on a delayed blitz and blasting QB
Chad Henne
as he released a third-and-1 pass from the Jets' 11. The wounded duck floated in the thick air and came down to LB
Bart Scott
at the 6-yard line for an easy interception. Jaguars coach Mike Mularkey outsmarted himself, calling for a pass after a successful start on the ground. This is why the Jaguars are 2-11.
[+] Enlarge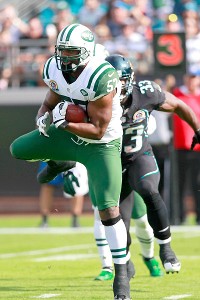 AP Photo/John RaouxBart Scott's interception ended a scoring threat by the Jaguars.
2. Saved by replay
. The Jets were spared a 10-0 deficit when replay overturned a 62-yard fumble return by former Jets safety
Dwight Lowery
, who scooped up a
Jeremy Kerley
fumble and took it to the house in the second quarter. The replay showed that Kerley touched Lowery, meaning he was down by contact. A touchdown would've changed the complexion of the game.
3. Go Greene
.
Shonn Greene
did the grunt work, so it was only fitting that he scored the Jets' first touchdown, a one-yard run to give the Jets a 7-3 lead. It was a nine-play, 57-yard drive, and Greene carried the ball on six of them. It was his first touchdown since Week 7. The Jets attacked the most vulnerable area of the Jaguars' defense. Going into the game, the Jaguars had allowed a league-high 12 touchdowns on runs up the middle, according to ESPN Stats & Information.
4. Powell power
. The Jets made it 17-3 on a four-yard touchdown run by
Bilal Powell
. He powered up the middle, receiving key blocks from FB
Lex Hilliard
and LT
D'Brickashaw Ferguson
. It was Powell's fourth touchdown in the last four games.
5. Breathing room
. The Jets were afraid to let
Mark Sanchez
air it out, but they had little choice on a third-and-8 from their own 13 with 2:56 left in the fourth quarter. Fortunately for the Jets, the Jaguars played a basic Cover-2, with TE
Jeff Cumberland
running a post route between the two safeties. Sanchez hit him in stride, a critical first down that changed field position and allowed them to eat clock.
December, 10, 2012
12/10/12
11:00
AM ET
December, 9, 2012
12/09/12
2:29
PM ET
JACKSONVILLE, Fla. -- Quick thoughts on the first half:
1.
Different week, same story. For the second straight week, the Jets trail at halftime, 3-0. But here's the difference: The Cardinals last week were a legitimate defense. The Jaguars entered the game ranked 31st in the league.


2.
QB
Mark Sanchez
continued to struggle, losing a fumble (his 19th turnover) a missing a couple of open receivers. His strip sack --
Jason Babin
beat LT
D'Brickashaw Ferguson
-- was another case of Sanchez showing poor ball security. All week, Rex Ryan preached, "Protect the ball." So what happens? Another careless fumble. With Sanchez at quarterback, the Jets have now gone 16 straight possesions without a point.
3.
Maybe Ryan can insert
Greg McElroy
to provide a spark and save the game, as he did last week. Oh, wait, that's impossible. Ryan made the head-scratching decision before the game to deactivate McElroy. He dressed Sanchez and the banged-up
Tim Tebow
, which made absolutely no sense. Tebow, his fractured ribs still hurting, didn't even step on the field. What was the point?
4.
The worst development was a potentially serious knee injury to rookie WR
Stephen Hill
, who slipped on the damp turf while reaching for a high pass. Hill, in pain, pounded his fist to the turf. Replays showed an ugly hyperextension.
5.
The Jets are down to a patchwork offense. TE
Jeff Cumberland
pulled a hamstring, so here's the body count: No
Dustin Keller
. No
Clyde Gates
. No Hill. No Cumberland. They're playing with
Konrad Reuland
and
Hayden Smith
at tight end, with
Jeremy Kerley
,
Chaz Schilens
and
Mardy Gilyard
at receiver. Yeesh.
6.
The defense was terrific. It allowed one long drive, but the Jets forced a red-zone turnover. LB
Bart Scott
intercepted a wobbly paused by
Chad Henne
, who was drilled on the release by LB
Garrett McIntyre
. The Jaguars' field goal came after the Sanchez turnover.
December, 9, 2012
12/09/12
12:08
PM ET
JACKSONVILLE, Fla. -- Is Rex Ryan trying to get fired?
Ryan's decision to activate
Tim Tebow
as the No. 2 quarterback -- and not
Greg McElroy
-- raises a lot of questions. This move makes no sense on many levels.
First of all, Ryan loses some credibility here because it shows he never seriously considered McElroy as his starting quarterback. How can a player go from a possible No. 1 to No. 3 in one week?
Ryan also is inviting a full-blown, three-way controversy. What if Tebow replaces
Mark Sanchez
and plays well? Fans will be screaming for Tebow to be the starter, and people will second-guess Ryan for not having gone to Tebow earlier in the season.
There's also the health factor. Tebow, four weeks removed from fracturing two ribs, didn't play in the past two games and has been limited in practice. Now, all of a sudden, he's ready to be the No. 2?
The Jets are indeed a three-quarterback circus. That the game is in Tebow's hometown will add to the story. How long before the home crowd starts chanting for Tebow, a local icon?
The Jets had planned to dress all three quarterbacks, a team spokesman said before the game, but a medical situation involving another player changed the plan. Running back
Joe McKnight
developed a migraine Sunday morning. As a result, the team felt it needed to activate running back
Kahlil Bell
.
Still, for the second time in three games, the Jets will have Tebow as the No. 2 quarterback even though he's not 100 percent.
What a mess.
The Jets' other inactives are WR
Jordan White
, WR
Clyde Gates
, LB
Ricky Sapp
, DT
Damon Harrison
, G
Caleb Schlauderaff
and TE
Dustin Keller
.
For the Jaguars, the inactives are RB
Rashad Jennings
, CB
Aaron Ross
, RB
Maurice Jones-Drew
, C Mike Brewster, WR
Cecil Shorts
, DE
George Selvie
and DE
John Chick
.
December, 6, 2012
12/06/12
6:58
PM ET
By
Dan Riccio | ESPN Stats & Information
The Jets travel to Jacksonville for the first of three road games in the final four weeks of the regular season.
Despite playing the toughest schedule in the NFL to this point, the Jets (5-7) are still in the playoff mix with the easiest remaining schedule.
Head coach Rex Ryan will start
Mark Sanchez
against the Jaguars, just one week after he was benched against the
Arizona Cardinals
.
Since the beginning of last season, the Jets are 10-1 when they rush 30 times a game. The ground attack could ease the pressure on Sanchez against a Jaguars defense that ranks 31st against the run. The Jets should also have the advantage on defense against a team that desperately misses
Maurice Jones-Drew
and ranks 32nd in rush yards per game.
Here are three keys to Sunday's matchup in Jacksonville:
1.
In order to help a struggling quarterback, Ryan needs to restore the ground-and-pound attack. The Jets lead the AFC with seven rushing touchdowns between the center and either guard.
No team in the NFL has more rush attempts up the middle when using a second skill player in the backfield as a lead blocker. The Jets have used such a play on 29.8 percent of all rushes this season, the highest mark in the AFC.
Jacksonville meanwhile, has conceded 12 rushing touchdowns between the center and either guard, the most in the NFL.
2.
Without injured quarterback
Blaine Gabbert
, the Jaguars have called on veteran
Chad Henne
. He has stretched the field with an average pass length of 9.3 yards, which ranks fifth among NFL passers with 100 attempts.
Since Henne took over Week 11, rookie wideout
Justin Blackmon
has benefited with the second-most targets in the AFC on throws that traveled 11 air yards or more. Blackmon leads the NFL in yards after contact and yards after the catch on throws that distance over that span.
The Jets are set up well to defend against the deep ball as they rank third in the NFL in lowest completion percentage allowed on such throws.
3.
Ryan should get an opportunity to dial up aggressive pass pressure against the Jags, who rank last in the AFC in fewest dropbacks per sack (12.7 dropbacks/sack) allowed.
When the Jets send five or more pass rushers at the quarterback, opponents have managed an average Total QBR of 22.8, which ranks Gang Green fourth among NFL defenses and second-best in the AFC.
Last week against
Ryan Lindley
and the Cardinals, the Jets blitzed with added pressure on 48.5 percent of dropbacks which was the most of any AFC defense.
December, 6, 2012
12/06/12
3:55
PM ET
FLORHAM PARK, N.J. -- Mike Westhoff said he expected to have
Joe McKnight
available for kickoff returns on Sunday in Jacksonville. A few other Jets, like TE
Dustin Keller
and QB
Tim Tebow
are still being evaluated.
Clyde Gates
(concussion) is not likely to play again this week.

JETS
Did Not Participate:
WR Clyde Gates (concussion), TE Dustin Keller (ankle), S
LaRon Landry
(heel).
Limited Participation:
DT
Damon Harrison
(ankle), WR
Stephen Hill
(knee), RB Joe McKnight (ankle, ribs), G
Brandon Moore
(hip), DT
Sione Pouha
(back), QB Tim Tebow (ribs).
Full Participation:
CB
Aaron Berry
(quadricep), TE
Jeff Cumberland
(wrist), DT
Mike DeVito
(shin), DT
Kenrick Ellis
(knee, back), RB
Lex Hilliard
(finger), WR
Jeremy Kerley
(hamstring, heel), C
Nick Mangold
(shoulder), LB
Calvin Pace
(shoulder), RB
Bilal Powell
(shoulder), QB
Mark Sanchez
(back), LB
Ricky Sapp
(ankle), WR
Chaz Schilens
(knee), LB
Bart Scott
(toe), G
Matt Slauson
(knee).

JAGUARS
Did Not Participate:
C
Michael Brewster
(hand), RB
Rashad Jennings
(concussion), RB
Maurice Jones-Drew
(foot), CB
Aaron Ross
(calf), DE
George Selvie
(concussion), WR
Cecil Shorts
(concussion).
Limited Participation:
RB
Greg Jones
(thigh), DE
Austen Lane
(foot)
Full Participation:
DT
Tyson Alualu
(calf), CB
Derek Cox
(hamstring), CB
Rashean Mathis
(groin), C
Brad Meester
(foot).
March, 26, 2012
3/26/12
3:40
PM ET
The Jaguars wanted
Tim Tebow
.
But Tebow wanted to play for the Jets, and new Jacksonville owner
Shad Khan
didn't want his organization to trade for a player who'd rather be elsewhere.
"That would have been the worst thing for Jacksonville and the worst thing for him," Khan
told the Florida Times-Union
. "He didn't want to come, obviously. … Any one of the 53 players we have, have to be committed to Jacksonville, making us be the best team we are. The question was: Did he want to come? And if the decision had been taken out [of his hands] and we got him, that would not be good for him, or for us."
The Jaguars were willing to offer more than the Jets to land their hometown hero from Denver. Jacksonville had a higher fourth-rounder than New York and was willing to commit $3 million instead of $2.5 million. But Tebow knew the Jets' coaching staff, which is why he decided New York would be a better fit.
"It's well-thought, it's logical, we've offered more money and we have a higher draft pick," Khan told the newspaer. "It's up to the player. It's not up to me. We've done everything.
"In a way, this turned out great. If he doesn't want to come here we would have blown through a draft pick, blown through money, because cash and salary cap, you've blown through all that and we have a player who doesn't want to be there. From their viewpoint that is a far, far better alternative."
The Jaguars owner told the newspaper that Tebow wouldn't have been guaranteed to be the starter.
"We were not going to say coming in, 'He's slotted at whatever,'" Khan said. "We have two quarterbacks now that we're committed to. He would have to compete with them."
September, 15, 2011
9/15/11
2:30
PM ET
The
New York Jets
will try to improve to 2-0 Sunday against the
Jacksonville Jaguars
(1-0). Here are the biggest reasons for hope and concern with the Jets in Week 2:

Reason for hope: Jets' run defense
Jets head coach Rex Ryan believes he has the best defense in the NFL. And his unit does a great job of stuffing the run. The
Dallas Cowboys
couldn't get anything going on the ground against the Jets last week. Dallas mustered just 64 yards on 26 carries (2.5-yard average). The Jaguars like to run. They did it 47 times last week in a win against the
Tennessee Titans
. Don't expect much through the air from Jacksonville starting quarterback
Luke McCown
. This will be a battle in the trenches. That plays right into the Jets' hands.
Reason for concern: Jets' running game
On the flip side, what happened to New York's power running game? Not only did it disappear in Week 1 against Dallas, but the Jets have been inconsistent running the ball at times in the preseason. The Jets averaged 2.8 yards per rush last week. Their longest run was for seven yards. New York plans to pass the ball more this season. Quarterback
Mark Sanchez
threw the football 44 times against Dallas. But that doesn't mean
Shonn Greene
and
LaDainian Tomlinson
can get away with being ineffective with their opportunities. New York needs to run well to win consistently. Week 2 will go a long way toward showing if last week was a fluke or this will be a trend worth watching in New York.