New York Jets:

James Ihedigbo
February, 1, 2013
2/01/13
4:46
PM ET
Ravens S
James Ihedigbo
will be a free agent in a month. The team that signs him should consider itself fortunate because he's quite a good-luck charm.
Over the last four seasons, starting with the Jets in 2009 and 2010, Ihedigbo has played in four AFC Championship Games and on two Super Bowl teams. A year ago, he was a member of the Patriots, who lost to the Giants in Super Bowl XLVI. On Sunday, he'll be a backup safety and special teamer for the Ravens in Super Bowl XLVII.
All told, Ihedigbo has played in 12 post-season games, going on 13 -- not bad for a former undrafted free agent from UMass.
"It's a blessing being my sixth year in the league and the success I've had," Ihedigbo told WFAN radio this week. "It's awesome, it's unprecedented."
Ihedigbo played four seasons with the Jets, making a name for himself on special teams. They let him walk as a free agent, unable to agree on the financials. He was considered a spare part; now he's a grizzled Super Bowl vet, providing leadership to the Ravens throughout the week.
"You can kind of anticipate what to expect with media day, the shenanigans that happen out there, you can kind of anticipate that stuff," he said. "But at the same time, you understand the preparation aspect and make sure you put aside that time to study and prepare for your opponent."
Maybe the Jets should re-sign him. They could use his mojo.
January, 11, 2013
1/11/13
5:00
AM ET
There are four divisional-playoff games this weekend, involving plenty of familiar faces. Here's our top-10 list of ex-Jets (tell us what you think of our rankings):
[+] Enlarge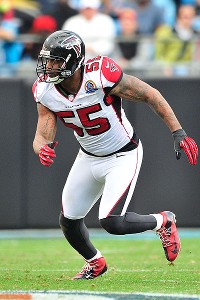 Grant Halverson/Getty ImagesJohn Abraham
1.
John Abraham
, DE, Falcons -- He has 68.5 sacks in seven seasons since being traded.
2.
Jonathan Goodwin
, C, 49ers -- A Pro Bowl in '09 for the Saints, solid pivot man for the Niners.
3.
Danny Woodhead
, RB, Patriots -- Totalled 747 yards from scrimmage this season.
4.
Leon Washington
, KR, Seahawks -- Made his second Pro Bowl, averaging 29 yards per return.
5.
Joel Dreessen
, TE, Broncos -- Caught a career-high 41 passes this season from
Peyton Manning
.
6.
Jim Leonhard
, S, Broncos -- Battled back from major knee injury. Punt returner and reserve DB.
7.
Wade Smith
, G, Texans -- A three-year starter at left guard.
8.
James Ihedigbo
, S, Ravens -- Three starts, mostly special teams and backup duty.
9.
Marquice Cole
, DB, Patriots -- Solid special teamer.
10.
Emanuel Cook
, S, Ravens -- On injured reserve.
December, 30, 2010
12/30/10
12:37
PM ET
Jets quarterback Mark Sanchez did some light throwing and worked on foot drills during the portion of practice open to the Media Thursday afternoon. It appeared as if it was a normal practice day for Sanchez (right shoulder), who will most likely play Sunday, but it is not known yet to what extend (if any).

In other news, the three Jets who did not practice yesterday: DE Shaun Ellis (back); S James Ihedigbo (knee/ankle) and RT Damien Woody (knee) were not seen during the open portion. CB Antonio Cromartie (groin), DT Sione Pouha (back), DT Trevor Pryce (hip) and CB Darrelle Revis (hamstring) were all out on the field.

More information will be available later when the full practice report is revealed.
December, 24, 2010
12/24/10
4:41
PM ET
Friday's official practice report:

NEW YORK JETS

OUT
DL Trevor Pryce (limited participation) (hip)
T Damien Woody (did not participate) (knee)

DOUBTFUL
S Eric Smith (limited participation) (concussion)

QUESTIONABLE
S James Ihedigbo (limited participation) (knee/ankle)

PROBABLE
CB Drew Coleman (full participation) (groin)
CB Antonio Cromartie (full participation) (groin)
WR Santonio Holmes (full participation) (turf toe)
C Nick Mangold (full participation) (shoulder)
CB Darrelle Revis (limited participation) (hamstring)
QB Mark Sanchez (limited participation) (right shoulder)
WR Brad Smith (full participation) (hand)

CHICAGO BEARS

PROBABLE
WR Earl Bennett (full participation) (ankle)
LB Pisa Tinoisamoa (full participation) (knee)

September, 25, 2010
9/25/10
11:18
AM ET
Jets defensive back James Ihedigbo has a message for any Miami Dolphins expecting a repeat of last season's game at Giants Stadium, when Miami returned two kickoffs for touchdowns against the Jets.

"We're going to make a statement, special teams-wise and as a team, coming into this game. If they're thinking that, yeah, they had those two kick returns last year and that is going to go down again this year, they're mistaken," Ihedigbo said. "Because we're playing some of our best football in special teams since I've been here. We're going to make a note to make a statement this game."

After allowing two backbreaking kickoff returns to former Dolphins receiver Ted Ginn Jr. in last year's 30-25 home loss to the Dolphins on Nov. 1, the Jets special team unit is out to make sure it can hold up its end of the bargain this time against the Dolphins. The two touchdown returns were the only returns for scores the Jets allowed all of last season.

"That was last year," Ihedigbo said. "We're looking at this year and what we're trying to do this year. That all happened last year and there's no control over it now, but we can control Sunday night."

In that dubious loss, the Jet statistically dominated the Dolphins, giving up just 104 yards of total offense. Yet, the Jets inability to defend kickoffs turned out to be the deciding factor. Ginn Jr. first returned a kickoff 100 yards to give the Dolphins a 10-6 early in the third quarter, and later extended the Dolphins lead to 24-13 with a 101-yard return.

"We looked at the film this whole week about how last season, when Ted Ginn made those two runs, we had him. We just didn't the tackle, so it's all about us," defensive back Drew Coleman said. "We never really go into a game worried about their returners. As long as we do what we do and get down there and stay in our lanes and make plays or fight over the blocks like we're supposed to. Our technique, our assignment, we just got to go finish. That's the main thing we're worried about instead of the returners."

Helping the Jets in that cause will be Ginn Jr.'s departure from Miami this offseason, as he was traded to the San Francisco 49ers. Head coach Rex Ryan is certainly pleased to know he won't have to worry about Ginn Jr. burning his team once again.

"Ted Ginn destroyed us," Ryan said. "I know people in Miami said he was disappointing and all that. You look at the game last year against us, he destroyed us. He caught a long touchdown pass against us, he returned two kicks for touchdowns, so hopefully that will hurt them this week."