New York Jets:

Jim Leonhard
March, 7, 2013
3/07/13
3:13
PM ET
The Jets don't have much cap room, so you won't see any household names on this list. They'll be bargain-shopping. Here's a look at players who might be on their wish list, with positional grades (scale of 100) and rankings by Scouts, Inc.
QB Brady Quinn, Chiefs:
The Quinn-to-the-Jets speculation started a week ago. He has never come close to living up to expectations, but he has a relationship with new QBs coach David Lee. He'd come cheaply.
Grade
: 53.
Rank
13.
QB Matt Moore, Dolphins:
He's trying to cash in on a respectable performance in 2011, which says a lot about the state of the quarterback market. If Moore wants to start again, his best chance is with the Jets. The going rate for QBs of his ilk is about $3 million a year. Are the Jets willing to spend that much?
Grade
: 66.
Rank
: 2.
[+] Enlarge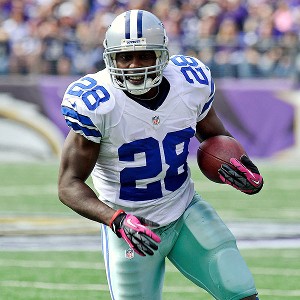 Zumapress/Icon SMIFelix Jones has rushed for 2,728 yards during his five-year, injury-plagued career.
G Jake Scott, Eagles:
He's starting to get up in years (almost 32), but he knows Marty Mornhinweg's system and could be a stop-gap starter for a year or two if
Brandon Moore
and/or
Matt Slauson
leave.
Grade
: 70.
Rank
: 4.
RB Felix Jones, Cowboys:
Like Quinn, Jones is another first-round underachiever, but he's still young (almost 26) and runs well. David Lee coached him at Arkansas, so there's familiarity.
Grade
: 75.
Rank
: 7.
WR Mohamed Massaquoi, Browns:
He has only 114 receptions in four years, but he has the body type and skill set for the West Coast system. New TEs coach Steve Hagen knows him well from Cleveland.
TE Anthony Fasano, Dolphins:
He won't threaten the safeties, but he would bring a blocking element back to the tight-end position. He's a New Jersey native. Lee knows him from his Miami days.
Grade
: 72.
Rank
: 8.
S Jim Leonhard, Broncos:
It's a long shot, but we know how Rex Ryan feels about him.
Grade
: 59.
Rank
: 33.
S Glover Quin, Texans:
He's a solid, physical safety who could replace
LaRon Landry
, a free agent. Quin is considered one of the top sleepers.
Grade
: 76.
Rank
: 7.
OLB Connor Barwin, Texans:
This might be a stretch because of the financials, but Ryan absolutely loved him coming out of college a few years ago. He had 11.5 sacks two years ago, but fell way off in 2012.
Grade
: 79.
Rank
: 7.
January, 11, 2013
1/11/13
5:00
AM ET
There are four divisional-playoff games this weekend, involving plenty of familiar faces. Here's our top-10 list of ex-Jets (tell us what you think of our rankings):
[+] Enlarge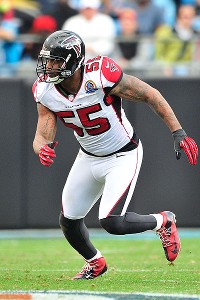 Grant Halverson/Getty ImagesJohn Abraham
1.
John Abraham
, DE, Falcons -- He has 68.5 sacks in seven seasons since being traded.
2.
Jonathan Goodwin
, C, 49ers -- A Pro Bowl in '09 for the Saints, solid pivot man for the Niners.
3.
Danny Woodhead
, RB, Patriots -- Totalled 747 yards from scrimmage this season.
4.
Leon Washington
, KR, Seahawks -- Made his second Pro Bowl, averaging 29 yards per return.
5.
Joel Dreessen
, TE, Broncos -- Caught a career-high 41 passes this season from
Peyton Manning
.
6.
Jim Leonhard
, S, Broncos -- Battled back from major knee injury. Punt returner and reserve DB.
7.
Wade Smith
, G, Texans -- A three-year starter at left guard.
8.
James Ihedigbo
, S, Ravens -- Three starts, mostly special teams and backup duty.
9.
Marquice Cole
, DB, Patriots -- Solid special teamer.
10.
Emanuel Cook
, S, Ravens -- On injured reserve.
August, 21, 2011
8/21/11
11:46
PM ET
New York Jets cornerback Darrelle Revis watched as Eric Smith caught the tipped ball, and he stopped his backpedal and started forward to the end zone alongside the safety. Here was the secondary's chance to put the Jets new defensive philosophy in action.

"When I saw him stumbling, I just said 'Eric pitch it back,' but I didn't know he was going to pitch it back until he actually made the look," Revis said. "And I was like 'Oh I'm getting the ball.' It was a good moment right there."

"I ran the option in high school, it's like riding a bike," Smith said.

Smith intercepted an Andy Dalton pass intended for A.J. Green on the Cincinnati Bengals' second series of the game. The defensive backs set up the offense on Cincinnati's 16-yard line, leading to the Jets' first touchdown. It was one of two Jets interceptions in the first quarter. With only 12 interceptions last season, the defensive backs want to be more impactful this season.

"It is a huge emphasis," safety Jim Leonhard said. "We didn't get enough last year and we felt like we could have changed some games if we caught some of them."

Leonhard picked off the a third-and-15 pass intended for Andre Caldwell with 7:29 left in the first quarter. His said he didn't even think about his leg, which needed surgery last season after being broken in a December practice.

"We said overthrows and tipped balls, you got to intercept those passes, and that's exactly what happened," Ryan said. "The first one was tipped and the second was an overthrow. And last year we struggled getting interceptions, so hopefully this is a sign of things to come."

Last season the Jets offense had two more interceptions, 14, than the defense recovered. Quarterback Mark Sanchez has seen those stats and knows that if he can do a better job protecting the ball and the defense does a better job of taking possession of poorly thrown balls, the Jets have better odds of getting a home playoff game this season.

"It's huge -- just turnovers in general," Sanchez said. "That's why the Patriots have been successful. You look at games when they don't give it up and win the turnover battle. It's unbelievable, they win like 85 percent of the games, it's sick."

Last season the New England Patriots gave up five interceptions but hauled in 25 as a team.

Against the Bengals, those two interceptions set the Jets offense up at the 16- and 10-yard lines. Sanchez appreciated the field position, and it's something the team is focused on this season.

"We haven't really been successful in the past of getting defensive touchdowns," Revis said, "so you might see more of that."
April, 20, 2010
4/20/10
11:04
PM ET
Jets coach Rex Ryan thinks you will learn to appreciate Dolphins OLB Jason Taylor, who the Jets agreed to terms in principle with today and will sign with the team Wednesday morning.
"Well, I look at it this way: What was the kind of impact that Roger Clemens had?"
If you don't get the reference, and I'm sure you do, his point is that Yankee fans hated Roger Clemens when he was with the Red Sox, but came around when the pitcher started getting wins for New York.
Ryan was on a conference call to discuss the schedule, but took a lot of questions on Taylor as well. Here are some of the newsier bits.
Ryan was annoyed by the rumor that LG Alan Faneca, DE Shaun Ellis and OLB Bryan Thomas were being shopped.
"I'm just shocked that David Harris, Bart Scott, Jim Leonhard and Damien Woody weren't on that list as well," Ryan said. "I guess you can throw enough names out there that maybe you hit on one, so, whatever. Nice report."
However, he only felt compelled to deny the rumors specifically regarding Thomas.
What Ryan said about Taylor: "I remember telling Jason, I was kidding him, I said, 'Hey Jason you know what's great? If you come here, we think we're going to have the No. 1 defense in football. If you don't come here, we think we're going to have the No. 1 defense in football.' That's just the way we feel. The great thing is Jason is a very talented player. (He's) been that way for years. He's got great length and the experience I think is really going to help us. Like I say, the ability to finish teams off in the fourth quarter is going to be critical. Jason's going to be a major contributor for us this year."
Rex Ryan on the schedule: "Obviously, I'd be lying if I said that there's nothing special about playing the Ravens. I spent ten years there, getting passed over as a head coach. That one's going to be special to me and we're opening up our stadium (in the) first prime time game ever in the history of that stadium. That one's going to be a big one. Then you go on and you play the Cleveland Browns. Eric Mangini, who cares. I want to play my brother (Rob Ryan) and that one's big to me for that reason as well.