New York Jets:

Joe Flacco
November, 25, 2013
11/25/13
10:00
AM ET
A look at the key drive from the New York Jets' 19-3 loss Sunday to the Baltimore Ravens:
The Drive:
In the third quarter, the Ravens covered 88 yards in three plays, culminating with
Joe Flacco
's 66-yard scoring pass to
Jacoby Jones
.
The Situation
: The Ravens took over at their 12 after
Geno Smith
's first interception, leading 12-3 -- a game of all field goals.
What Happened
: After a 3-yard run by
Ray Rice
, a 14-yard reception by
Torrey Smith
and a Jets penalty. Flacco showed off his powerful right arm, launching a bomb to Jones. He was covered off the line by rookie corneback
Dee Milliner
, but the Jets were in "quarters" coverage -- meaning four across in the back. Jones beat Milliner and got behind safety
Ed Reed
. A receiver shouldn't get behind a defense in quarters coverage, prompting Rex Ryan to call it a "Ripley's" play. Well, believe it or not, Flacco beat the Jets defense, which continued its struggle against the long ball.
The Impact:
Chances are, the Ravens would have won anyway, considering they already had a two-possession lead against the Jets' inept offense. But Flacco-to-Jones was the back breaker on a couple of levels: They hit the Jets where it hurt, a home-run ball against their vulnerable secondary. In the process, they exploited Reed, the former Ravens great. It also was a boost for Flacco, who previously had no touchdown passes longer than 20 yards. Checkmate.
November, 22, 2013
11/22/13
10:00
AM ET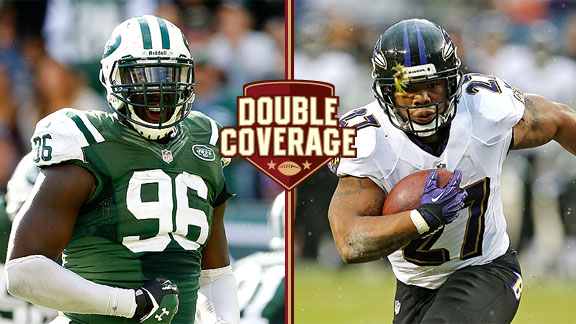 Getty ImagesMuhammad Wilkerson's Jets stuff the run, but Ray Rice will be coming off a 131-yard performance.
The
Baltimore Ravens
play host to the
New York Jets
in a showdown that has more meaning than another reunion with safety
Ed Reed
. These teams are battling for the final playoff berth in the AFC, even though neither has a winning record. Welcome to parity in the NFL.
The Jets (5-5) currently hold the second wild-card spot, based on a tiebreaker with Miami. The Ravens and five other teams with 4-6 records are one game behind the Jets in the playoff race.
Here's how ESPN.com Jets reporter Rich Cimini and Ravens reporter Jamison Hensley see this Week 12 matchup unfolding.
Jamison Hensley:
The unbelievable stat with Jets quarterback
Geno Smith
is the 20 turnovers. How much of those interceptions and fumbles can be blamed on him? And, even though he is expected to start, what are the chances he finishes the game?
Rich Cimini:
Smith's 20 turnovers lead the league. If you're keeping score at home, it's 16 interceptions and four lost fumbles. I could go on and on with statistical stuff, but the bottom line is he's making poor decisions. He's not reading safeties well. He tends to throw late. At times, he "leaves the game plan," according to the coaches -- meaning he forces things, especially late in games. He doesn't handle adversity well. If he struggles early, there's a good chance it'll be a bad game. That said, he's a rookie with intriguing physical skills. He has a terrific arm. The Jets aren't ready to write him off, but it's getting down to crunch time and they can't survive if the turnovers continue.
Matt Simms
has finished the past two losses, both blowouts. If Smith is a train wreck in the first half, it wouldn't shock me if Rex Ryan turns to Simms again.
What's wrong with
Joe Flacco
? I mean, 13 interceptions. That's Geno-like.
Hensley:
Rich, that's the most surprising part of Flacco's season. You can debate whether Flacco became an elite quarterback by leading the Ravens to the Super Bowl, but what Flacco has always done since coming into the league in 2008 is protect the ball. He'd never thrown more than 12 interceptions in a season before throwing his 13th this season -- and it's still November. There are a lot of factors for the increase in turnovers, starting with a routinely collapsing pocket, but I don't think he will throw an interception Sunday. Flacco typically plays better at home and has thrown just of his two interceptions at Baltimore's M&T Bank Stadium. Another reason is that the Jets don't pick off passes, at least not this season. Their five interceptions are fewer than all but four teams in the NFL.
Of course, that could change with Reed in the Jets secondary. Reed returns to Baltimore for the second time since leaving the Ravens. He goes to the Jets after being a nonfactor in Houston. After seeing Reed play one game, what kind of an impact might he have with New York? Is the Jets' pass defense still vulnerable?
Cimini:
Surprisingly, Reed started in his Jets debut and played 59 of 67 snaps on defense. Playing mostly as the single-high safety, he had no virtually no impact against the
Bills
. He didn't make any glaring mistakes, but he also didn't have any plays on the ball. They had him blitz twice, the first time ending with a long touchdown pass over
Dee Milliner
in zero coverage. Reed was late in deep coverage on a 43-yard touchdown pass over
Antonio Cromartie
, but it wasn't an easy play, as he was coming from the opposite hash. I liked the Reed signing. The price was right and, in time, I think he'll help with their issues on deep balls. The real problem with the pass defense is the cornerback play. Milliner is experiencing rookie growing pains, and Cromartie is having a disappointing season.
The Ravens are familiar with Jets coach Rex Ryan, who was Baltimore's defensive coordinator from 2005 to 2008. Is there still any carryover from Ryan's days with the Ravens to this season's defense?
Hensley:
The tradition of getting after the passer and showing no fear in the red zone remains strong with the Ravens. Like Ryan, defensive coordinator Dean Pees will come after quarterbacks, whether it's with a safety or cornerback
Lardarius Webb
from the slot. The Ravens have had at least two sacks in 18 straight games, the NFL's second-longest streak since 1990. This defense also is stingy when backed up to its own end zone. The Ravens are the NFL's top-ranked red zone defense, giving up a touchdown just 32.1 percent of the time from inside their own 20-yard line. This is a big advantage for Baltimore because the Jets are tied for 22nd in red zone offense, reaching the end zone just 50 percent of the time.
Going back to Ryan, the Ravens are 2-0 against their former defensive coordinator. How would you evaluate his performance this season?
Cimini:
All things considered, I think Ryan is doing a nice job. Despite having a turnover-prone rookie at quarterback, the Jets are still in the thick of the wild-card chase. Sometimes, I wonder how he's doing it. The Jets have the worst turnover margin in the league (minus-14) and the second-worst points margin (minus-85), yet they're 5-5. The primary reason is the defense. Ryan lost his best player (
Darrelle Revis
) and integrated seven new starters -- no easy task. They have the No. 1 run defense in the league, thanks to a young and promising line. I think Ryan needs to win at least two or three more games to keep his job. A win over his old team would really help his cause.
But it's always tough to knock out the champ. Do you think the Ravens have enough heart to get back in the race and defend their title?
Hensley:
Honestly, it's not about heart, because the Ravens play hard. It's more about their ability to weather the storm, which was literally the problem last week with a tornado watch in Chicago. The Ravens have come up short late in games because the other team has been making the plays and the defending champions have not. It's why the Ravens are tied for the league lead with four losses by a field goal or less. They have to figure out a way to put away teams in the fourth quarter. If they don't do that Sunday against the Jets, the Ravens' hopes of repeating will be over.
January, 18, 2012
1/18/12
5:34
PM ET


Big news in Baltimore Wednesday: The fallout from Ed Reed's criticism of QB Joe Flacco. This is an issue that hits close to home for the Jets.

This is part of what Reed said Tuesday in an interview with SiriusXM NFL radio, discussing the performance of the offense in the Ravens' divisional playoff win over the Texans: "The offensive line has to block better. You know, they have to communicate better, have to pick up blocks [and] Joe's gotta get the ball out of his hand."

This is what Jets WR Santonio Holmes said on the night of Oct. 2, when QB Mark Sanchez was blitzed by the Ravens' defense: "It starts up front with the big guys. They've got to do a better job of protecting Mark and Mark has to do a better job of making reads and getting the ball where he needs to, so his playmakers can make plays."

Pretty similar quotes, right?

Holmes' remarks annoyed some of his teammates, the line in particular, and fueled the bad chemistry that permeated the locker room and eventually erupted in ugly fashion. You have to wonder if Reed's comments will have the same impact. On Wednesday, I asked ESPN analyst Steve Young to share his thoughts. He believes Reed's rip won't have a negative effect.

"He's one of the voices in a locker room that self-polices," Young said on a media conference call.

I mentioned Holmes' comments and how they divided the locker room. Young doesn't see that happening because of Reed's stature on the Ravens. Better Reed, he said, "than some goofball saying something in the press that creates division, and no one trusts the source and thinks the guy is a goofball for saying it … Pretty soon the locker room is just shot ... That's not the situation here."

Young didn't say if he considers Holmes a "goofball," but you can make your own judgment.

Is there a double standard here? It's an interesting topic. Folks like Young think Reed has a right to speak his mind because he's a Hall of Fame-bound player, but I'd be willing to bet his remarks chafed some teammates. Unlike Holmes, who evidently felt he had the right because he was named a captain, Reed will get away with it.

But that doesn't make it right.