New York Jets:

John Abraham
April, 17, 2013
4/17/13
12:00
PM ET
For the most part, the Jets haven't been a good drafting team, but there have been a few exceptional classes in their history. Without prejudice, we offer the ESPNNewYork.com top five classes (draft round in parenthesis):
1. 1977 (Coach: Walt Michaels)
Notables
: T Marvin Powell (1), WR Wesley Walker (2), RB Scott Dierking (4), DT Joe Klecko (6), RB Kevin Long (7), G Dan Alexander (8), QB Matt Robinson (9).
Skinny
: This was brilliant drafting. Scouting maven Mike Holovak was the director of college scouting, the man largely responsible for the best draft in team history. He found Klecko, one of the all-time Jets, in the sixth round. Klecko, Powell and Walker combined for 11 Pro Bowls, forming the nucleus of the team that reached the 1982 AFC Championship Game. Alexander played 192 games and was rock steady -- not bad for an eighth-round pick.
2. 2000 (Coach: Al Groh)
Notables
: DE
Shaun Ellis
(1), DE
John Abraham
(1), QB
Chad Pennington
(1), TE
Anthony Becht
(1), WR
Laveranues Coles
(3).
Skinny
: Bill Parcells was in charge of this historic draft, as the Jets became the only team in history with four first-round picks. Because of a greater emphasis on the salary cap, we might never see anything like it again. The Jets received two first-round choices (Abraham and Becht) in the
Keyshawn Johnson
trade with the Bucs, and another (Ellis) from the Patriots as compensation for Bill Belichick. All four No. 1s became longtime starters in the league, and Coles became one of the most prolific receivers in team history. This draft was Parcells' going-away present to the Jets.
3. 1964 (Coach: Weeb Ewbank)
Notables
: RB Matt Snell (1), DE Gerry Philbin (3), LB Ralph Baker (6).
Skinny
: This draft produced three mainstays on the Super Bowl III team and a total of six who played at least 100 games in the NFL. Snell holds the distinction of being the only player in team history to score a touchdown in the Super Bowl. Snell made three Pro Bowls, Philbin two. Philbin and Baker were sturdy players on a defense that never received its proper due. Ewbank found Baker -- where else? -- at Linebacker U, Penn State.
4. 1965 (Coach: Ewbank)
Notables
: QB Joe Namath (1), DE Verlon Biggs (3).
Skinny
: It was pretty much a two-man draft, but one of them happens to be the most famous player in franchise history -- Broadway Joe. He put the Jets on the map, played an instrumental role in the NFL-AFL merger and was elected to the Pro Football Hall of Fame. Sure, he threw too many interceptions, but you can't write a history of the league without mentioning Namath. Biggs was an outstanding player, a three-time Pro Bowler.
5. 2006 (Coach: Eric Mangini)
Notables
: T
D'Brickashaw Ferguson
(1), C
Nick Mangold
(1), S
Eric Smith
(3), WR
Brad Smith
(4), KR
Leon Washington
(4).
Skinny
: Mangini and first-year GM Mike Tannenbaum put their young heads together and delivered a terrific draft. It wasn't sexy -- two offensive linemen in the first round -- but it was productive. Ferguson and Mangold have combined for seven Pro Bowls -- and counting. This class provided the foundation for the 2009 and 2010 playoff teams. Washington was an all-purpose dynamo and Brad Smith was a valuable role player, contributing in a variety of ways.
January, 11, 2013
1/11/13
5:00
AM ET
There are four divisional-playoff games this weekend, involving plenty of familiar faces. Here's our top-10 list of ex-Jets (tell us what you think of our rankings):
[+] Enlarge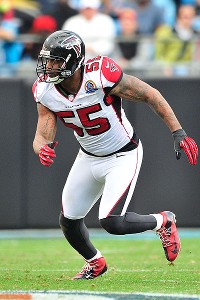 Grant Halverson/Getty ImagesJohn Abraham
1.
John Abraham
, DE, Falcons -- He has 68.5 sacks in seven seasons since being traded.
2.
Jonathan Goodwin
, C, 49ers -- A Pro Bowl in '09 for the Saints, solid pivot man for the Niners.
3.
Danny Woodhead
, RB, Patriots -- Totalled 747 yards from scrimmage this season.
4.
Leon Washington
, KR, Seahawks -- Made his second Pro Bowl, averaging 29 yards per return.
5.
Joel Dreessen
, TE, Broncos -- Caught a career-high 41 passes this season from
Peyton Manning
.
6.
Jim Leonhard
, S, Broncos -- Battled back from major knee injury. Punt returner and reserve DB.
7.
Wade Smith
, G, Texans -- A three-year starter at left guard.
8.
James Ihedigbo
, S, Ravens -- Three starts, mostly special teams and backup duty.
9.
Marquice Cole
, DB, Patriots -- Solid special teamer.
10.
Emanuel Cook
, S, Ravens -- On injured reserve.