February, 14, 2014
Feb 14
10:00
AM ET
Rex Ryan needs to revamp his philosophy regarding the safety position. Instead of trying to get by on the cheap, it's time for the
New York Jets
to invest in the position.
In Ryan's system, the big money goes to the cornerbacks. The safeties are considered interchangeable parts. The Jets haven't drafted a safety in the first three rounds since 2006 (
Eric Smith
) and they haven't doled out big bucks since
Kerry Rhodes
(2008) -- both pre-Ryan moves. They splurged a little for
LaRon Landry
in 2012 ($3.5 million), but it was only a one-year contract. He made the Pro Bowl and they let him walk.
Allen
Landry
The safeties had an alarming lack of big plays last season. The ancient
Ed Reed
showed up in mid-November and he finished with more interceptions (three) than
Dawan Landry
and
Antonio Allen
combined (two). The defense allowed so many long pass plays that Ryan did something that pained him -- he used a two-deep alignment at times. He'd rather wear
New England Patriots
gear in public than play Cover 2 looks, but he felt he had no choice, especially with his cornerbacks also struggling.
Safeties are important. Just look at the
Seattle Seahawks
and what they've been able to do with
Earl Thomas
and
Kam Chancellor
. It's time for the Jets to add a playmaker on the back end. Will they? No -- unless Ryan does a 180.
Projected offseason plan
: With starters Dawan Landry and Antonio Allen under contract, along with backups
Josh Bush
and
Jaiquawn Jarrett
, the Jets are expected to stand pat. Their expectation is that Allen and the backups will continue to develop. Reed, 35, is an unrestricted free agent, but he doesn't figure in the immediate plans. He could be a fallback option if there's an injury down the line.
Free agency
: If the
Buffalo Bills
are dumb enough to let
Jairus Byrd
hit the open market, the Jets should be all over him. He's exactly what they need, an instinctive ballhawk still in the prime of his career at age 27. He has 22 interceptions in five years and he's familiar with the Ryan system, having played in a similar scheme last season under former Jets coordinator Mike Pettine. Put Byrd in the deep middle of their Cover 1, and everything changes. He'll have a huge price tag (at least $8 million per year), but he'd be worth it. He also could get slapped with the franchise tag for the second straight year.
T.J. Ward
(
Cleveland Browns
) would be a terrific Plan B. He's only 27, a player on the rise, but you have to think the Browns, with a ton of cap room, won't let him get away. Then again, they're the Browns, so you never know.
Draft
: It would be a major upset if the Jets take a safety in the first round, so forget about Alabama's
Ha Ha Clinton-Dix
and Louisville's
Calvin Pryor
, whose stock is creeping up. A second-round possibility could be Northern Illinois'
Jimmie Ward
. But, like we said earlier, it's not Ryan's style to pick a safety this high.
December, 24, 2013
12/24/13
7:00
AM ET
One last look back at the
New York Jets
' 24-13 win over the
Cleveland Browns
:
Geno Smith
delivered his best performance in two months -- easily. What impressed me the most was the poise he demonstrated on third down. As expected, the Browns came after him, rushing five or more on eight of his 12 dropbacks. They sent a couple of corner blitzes, probably going to school on the Jets-Panthers tape from the previous week. But Smith, afforded terrific pass protection, was unflappable.
He completed 9 of 12 passes on third down, including three conversions on third-and-10 or greater. To me, Smith's best play came on a third-and-12 to
Jeremy Kerley
. It came against a Cover 2 look, with Kerley beating linebacker
D'Qwell Jackson
into the soft middle for 22 yards. It was significant because, in a similar situation four weeks ago against the
Miami Dolphins
, Smith was intercepted by linebacker
Dannell Ellerbe
on a throw to the slot receiver.
Progress? Yes, but keep in mind the Browns were ranked 27th in third-down defense.
Other takeaways from the game:
1. The Marty Bunch:
Offensive coordinator Marty Mornhinweg did a nice job of using bunch formations to create separation for the receivers. A good example was Smith's 6-yard touchdown pass to
David Nelson
. They had three tight ends on the field -- unusual for third-and-6 -- with Nelson lined up in a bunch to the right. He got a free release and ran a post route through bracket coverage. Smith anticipated Nelson's break, winding up before Nelson turned for the ball -- just like you draw it up. Later, Nelson had a 15-yard reception out of another bunch formation.
2. Welcome back, wideouts:
This may have been the best game for the wide-receiving corps, which produced 11 catches, 123 yards and two touchdowns. It had better numbers against the
Cincinnati Bengals
(15 for 130), but that was a blowout loss. The Browns used a lot of "off" coverage, playing into the Jets' hands. Everybody knows you have to play aggressive press coverage against the Jets' wideouts.
3. Tone's time almost up:
It was a disappointing day for
Santonio Holmes
, who had as many drops (two) as receptions. On the positive side, he did a nice job of shielding cornerback
Buster Skrine
in the end zone on Smith's 17-yard touchdown scramble. Curiously, Holmes didn't partake in the celebration. Smith was mobbed by seven teammates, but Holmes, nearby, didn't join in, looking like he was sulking.
4. Reed responds in backup role:
Safety
Ed Reed
, replaced by
Antonio Allen
in the base defense, played his best game as a Jet. In fact, the much-maligned safety group allowed only one completion in five targets, recorded an interception (Reed) and broke up two passes -- a solid performance. Then again, what do we writers know about football, right, Ed?
5. Flawless protection:
Kudos to the offensive line -- no sacks, no quarterback hits. I've been critical of rookie left guard
Brian Winters
, but this was one of his better games. He had a key block on
Bilal Powell
's 39-yard run.
6. Defensive hiccup:
The Jets were gashed on
Edwin Baker
's 5-yard touchdown run. It happened with defensive tackle
Sheldon Richardson
(shoulder) temporarily out of the game. His replacement,
Leger Douzable
, was double-teamed. Outside linebacker
Quinton Coples
fell victim to a trap block, creating a crease for Baker. Afterward, Rex Ryan took responsibility, saying he should've used the goal-line defense instead of the base.
7. Not so special
: Special-teams mistakes have cost the Jets 10 points in the last two games. There was the blocked punt in Carolina, and the failed fake punt against the Browns.
Josh Bush
, a safety, took the direct snap and uncorked a Tebow-esque pass into the ground, missing a wide-open
Isaiah Trufant
. They will say it should've worked because he was open, but I didn't see the point in resorting to trickeration against a hapless team like the Browns. The Jets also allowed a 50-yard kickoff return at a critical point in the game, but it was a treat to see
Saalim Hakim
turn on the jets and track down
Fozzy Whittaker
. Dude can fly.
December, 20, 2013
12/20/13
5:00
PM ET
Rex Ryan will coach his 40th -- and possibly last -- regular-season game Sunday at the Meadowlands.


There have been many indelible memories, good and bad: Three victories over the
New England Patriots
. The playoff clincher over the
Cincinnati Bengals
in 2009. The dramatic comeback against the
Houston Texans
in '10. The Sal Alosi game. The emotional 9/11 opener against the
Dallas Cowboys
in '11.
Victor Cruz
's 99-yard touchdown. The Butt Fumble. If you want to include a preseason moment, it has to be the Snoopy Bowl debacle with
Mark Sanchez
's shoulder injury.
Chances are, Sunday's home finale against the
Cleveland Browns
won't make the list. It's a meaningless game for two teams that are a combined 1-9 since Week 10. Incentive? The Jets want to win their final two games, avoiding a second consecutive losing season. Could a strong finish save Ryan's job? It's possible, although decisions of this magnitude usually aren't based on a game or two.
"We definitely want to win this for him," defensive tackle
Sheldon Richardson
said of Ryan.
Kickoff is 1 p.m. What to watch for:
1. Two more rides on the Geno-coaster
: There's nothing
Geno Smith
can do in the final two games to dramatically alter the landscape of the quarterback position -- it would be too little, too late -- but a couple of feel-good performances wouldn't hurt, that's for sure. Smith has made minor strides the last couple of games, but he hasn't delivered a "wow" game since Week 5 in Atlanta. The Browns are no pushover (ranked No. 8 in total defense), but they're known for late-game chokes. They've blown three straight fourth-quarter leads, losing to the
Jacksonville Jaguars
, New England Patriots and
Chicago Bears
. In fact, they've allowed six touchdowns and three field goals in their last nine possessions in the fourth quarter.
2. A swoon for the "Sons":
Muhammad Wilkerson
and Richardson -- two-thirds of the "Sons of Anarchy" defensive line -- are mired in a sack slump. They've both gone three straight games without a sack. In fact, Richardson has as many rushing touchdowns (one) as sacks over the last nine games. He's had a terrific season, but he could use one last push to boost his chances of winning NFL Defensive Rookie of the Year. Outside linebackers
Calvin Pace
and
Quinton Coples
have been carrying the pass rush. Coples, coming on strong after a slow start, has quietly notched three sacks in the last three games.
3. Covering Josh Gordon
: This should be interesting. The Browns' wide receiver, leading the NFL with 1,467 receiving yards, is a matchup nightmare for the Jets. Gordon is dangerous with the ball in his hands -- 597 yards-after-catch, fourth in the league -- and we all know the Jets' secondary has experienced tackling issues. Presumably, the Jets will put
Antonio Cromartie
on Gordon, a chance for Cromartie to save some face after a disappointing season. They also figure to give him over-the-top help from
Ed Reed
. Maybe Reed and Cromartie can avoid colliding into each other. Gordon has the ability to singlehandedly wreck the game for the Jets.
4. New faces on D:
With the playoffs out of reach, the Jets will try to take a look at some young players for evaluation purposes. Defensive coordinator Dennis Thurman mentioned that he'd like to see more of safeties
Jaiquawn Jarrett
and
Josh Bush
. Unless they're planning to use a three-safety package, it could mean some bench time for Reed, who probably would find a way to blame the media. On offense, you could see more of wide receiver
Saalim Hakim
, whose speed is intriguing. The coaching staff can talk about playing the kids, but in reality, the Jets have been riding with them all season.
December, 19, 2013
12/19/13
6:15
PM ET
FLORHAM PARK, N.J. -- Out of playoff contention, the
New York Jets
are planning to use the final two games to evaluate certain young players. Reading between the lines, it could mean Rex Ryan feels secure and isn't worried about having to win the final two games to save his job.
Or it could mean nothing. It could mean general manager John Idzik is calling the shots. There are many ways to interpret it.
Bush
"We're going to utilize out entire defensive roster the next couple of weeks and we'll get a chance to evaluate some guys who haven't played as much," defensive coordinator Dennis Thurman said, mentioning safeties
Josh Bush
and
Jaiquawn Jarrett
among that group.
Thurman emphasized they're still trying to win the games. He acknowledged "it can be difficult" to balance it, adding, "But we have to try to do it. It's something that's important to us, to get a look at these guys on tape in game action against another team's first unit."
There was no official word on whether they will take the same approach on offense, but it wouldn't be surprising to see wide receiver
Saalim Hakim
, running back
Alex Green
and tight end
Zach Sudfeld
in expanded roles.
The Jets are starting five rookies on both sides of the ball, so it's not like the bench is filled with young players starved for playing time.
If Bush and Jarrett see more time, it would appear that future Hall of Famer
Ed Reed
would have a reduced role. Reed, 35, has played the vast majority of the defensive snaps since signing with the Jets last month.
Statistically, this has been a disappointing season for the defense, which ranks 12th in yards allowed. In eight seasons as a defensive coordinator (
Baltimore Ravens
) and head coach, Ryan's defense has ranked no lower than eighth -- and that was last season.
In the preseason, Ryan predicted a top-five finish.
"I just assumed that's where we'd always be," he said. "I'd just assumed we'd be there, but to me, it's just the wins and the losses. I think that's the disappointment. That's where the disappointment comes in."
November, 15, 2013
11/15/13
10:25
AM ET
Newly signed safety
Ed Reed
will have a "defined role" Sunday against the
Buffalo Bills
, said
New York Jets
defensive coordinator Dennis Thurman, adding: "We're going to use him in situations where we feel like he can help us be successful."
Reed
Presumably, that means passing situations where he can do what he does best -- play the deep middle in a single-high safety look. Of course, it wouldn't be at all surprising if Reed plays a significant amount of snaps. That would mean more bench time for
Antonio Allen
and
Jaiquawn Jarrett
, who have been sharing the No. 2 safety spot.
Here's a breakdown of how the Jets have divided the playing time at safety through nine games:
Dawan Landry
-- 620/626 snaps (99 percent)
Antonio Allen -- 397/626 snaps (63 percent)
Jaiquawn Jarrett -- 234/626 snaps (37 percent)
Josh Bush
-- 47/626 snaps (8 percent)
July, 29, 2013
7/29/13
10:42
PM ET
CORTLAND, N.Y. -- Observations from the press box:
1. Hurting at safety
: In a mild surprise, Rex Ryan indicated that second-year player
Antonio Allen
is the leading contender to start opposite
Dawan Landry
at safety. Allen is ahead of former Eagle
Jaiquawn Jarrett
, with
Josh Bush
working behind Landry at the other spot. Ryan said some nice things about Allen, but also noted, "He's not there yet." Frankly, Ryan didn't sound sold. Allen played only 72 defensive snaps last season, the equivalent of one game. His skill set is similar to that of Landry, meaning they would have two "box" safeties in the lineup. I thought Bush would be a better complement to Landry because of his pass-coverage skills, but the Jets have other ideas.
2. Flying colors in the red zone:
In the first red zone-heavy practice of camp,
Geno Smith
stood out with his ability to throw on the run and rifle passes into the end zone. He hit
Jeremy Kerley
on the run for an 11-yard TD and he found
Stephen Hill
in the back of the end zone with a seeing-eye laser. That opened plenty of eyes. A year ago, the Jets were awful inside the 20.
Mark Sanchez
threw four interceptions and compiled a 54.1 passer rating, according to ESPN Stats & Information. You can't win with those kind of numbers. It was only one practice, but Smith made an impression.
3. Easy does it
: CB
Dee Milliner
finally made it to camp. We won't see him on the field until Wednesday (no practice Tuesday), and even then it won't be at full throttle. The Jets gave every indication they will be extremely cautious with their prized rookie, who hasn't participated in any football activity since Alabama's bowl game. The last thing they need is for him to pull a hamstring. He's already fighting an uphill climb. If he suffers a setback, the molehill will turn into a mountain, to paraphrase a Rex-ism.
July, 24, 2013
7/24/13
10:35
AM ET
Breaking down the Jets, position by position, as they prepare for training camp. Camp opens Thursday; this is the final installment in the series:
Position:
Secondary
[+] Enlarge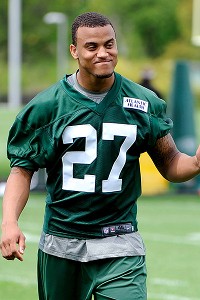 AP Photo/Bill KostrounWill Dee Milliner be ready to start by Week 1?
Projected starters:
Antonio Cromartie
,
Dee Milliner
,
Dawan Landry
,
Josh Bush
Projected reserves:
Kyle Wilson
,
Aaron Berry
,
Ellis Lankster
,
Antonio Allen
,
Darrin Walls
,
Jaiquawn Jarrett
New faces:
Milliner, Landry, Jarrett
The departed:
Darrelle Revis
,
LaRon Landry
,
Yeremiah Bell
,
Eric Smith
Player to watch:
Milliner, naturally. He was the ninth overall pick in the draft and, ostensibly, will replace Revis. He will eventually replace Wilson as a starter, allowing Wilson to return to his nickel role. Whether that happens by Week 1 remains to be seen. Milliner, who underwent shoulder surgery in March, missed the entire offseason. When he's up to speed, Milliner has a chance to be special. He's fundamentally sound and not afraid to tackle. He doesn't have elite ball skills, but his cover skills should translate nicely in the Jets' man-to-man schemes.
Potential strength:
Depth at cornerback. The Jets traded the best cornerback in the NFL to the Bucs -- Revis, in case you didn't know -- but they will survive because of Cromartie, Milliner and Wilson. Nowadays, you need three good corners in the pass-happy NFL. The Jets should be able to line up against any team without having to be afraid -- assuming Cromartie can duplicate last season's performance as the No. 1 corner.
Potential weakness:
The Jets overhauled the safety position, letting LaRon Landry and Bell walk out the door. The replacements are Dawan Landry (LaRon's older brother) and ... well, that's a good question. Bush and Allen, both second-year players, are the leading candidates for the other starting job. Take your pick: Bush is better against the pass; Allen is the better run defender. Neither is a blue-chipper. Maybe new DBs coach
Tim McDonald
, a former All-Pro, still has something left in the tank.
Wild card:
Rex Ryan and new defensive coordinator Dennis Thurman, a former secondary coach, are smart cookies when it comes to camouflaging weaknesses. Maybe, just maybe, they can coach around the safety issue, using extra corners in the sub packages. That's not a far-fetched idea, considering their three AFC East opponents employ spread offenses. The back end of Ryan's defenses is built around the corners, not the safeties.
October, 11, 2012
10/11/12
12:41
PM ET
FLORHAM PARK, N.J. -- The injuries continue to mount for the Jets.
Backup safety
Eric Smith
sprained a knee Wednesday in practice and won't play Sunday against the Colts. Initially, the team feared it was a season-ending injury. Chances are, Smith will miss at least a couple of games. It wasn't immediately known if it's the same knee he injured in the preseason, which caused him to miss a month.
Smith played a season-high 23 snaps last week, as the Jets used him at times with
Yeremiah Bell
and
LaRon Landry
in a three-safety package. Other times, Smith and Bell were used in tandem. Rookie
Josh Bush
becomes the No. 3 safety.
In other injury news, Rex Ryan confirmed that NT
Kenrick Ellis
(knee) will miss four to six weeks with a sprained MCL. That's what Ellis told reporters Wednesday. LB
David Harris
tweaked a hamstring Wednesday and will be limited in Thursday's practice.
TE
Dustin Keller
and WR
Stephen Hill
, both coming off hamstring injuries, continued to make progress and are expected to play Sunday, according to Ryan. C
Nick Mangold
(ankle) will miss practice for a second straight day, but he probably will be able to go" on Sunday, Ryan said.
Ryan wasn't nearly as optimistic about NT
Sione Po'uha
, who continues to be hampered by a lower-back injury.
Here's the pre-practice report:
Not expected to practice:
Po'uha, Ellis, FB
John Conner
(hamstring), Mangold, WR
Clyde Gates
(shoulder) and Smith.
Limited practice:
LB
Bart Scott
(toe), LB
Bryan Thomas
(hamstring), Hill, Keller, WR
Jeremy Kerley
(illness) and Harris.
Full practice:
CB
Aaron Berry
(ribs), CB
Antonio Cromartie
(shoulder), LB
Nick Bellore
(shoulder), QB
Mark Sanchez
(back), LB
Calvin Pace
(Achilles' tendon), RG
Brandon Moore
(hip), LG
Matt Slauson
(knee), RT
Austin Howard
(back), TE
Jeff Cumberland
(ribs) and S LaRon Landry (heel).
August, 23, 2012
8/23/12
7:23
PM ET
FLORHAM PARK, N.J. -- There was action before, during and after practice on Thursday here at the Atlantic Health Jets Training Center.
Before practice, coach Rex Ryan revealed that
Wayne Hunter
has
lost his starting job at right tackle
in favor of
Austin Howard
.
After practice,
Santonio Holmes
declared himself
fit to play Sunday night
against the
Carolina Panthers
.
In between, the Jets worked out for 2½ hours Thursday afternoon in front of a few hundred fans as training camp winds to a close. They got to see Howard take all the reps with the first unit, and Holmes get a few live reps as well -- wearing a red no-contact jersey -- as he continues to recover from a rib injury.

In terms of other practice observations:
INJURY REPORT:
RB
Joe McKnight
, who missed Wednesday's practice with shin splints, was back on the field, but limited. S
LaRon Landry
was also limited for precautionary reasons. ... TE
Jeff Cumberland
, WR
Patrick Turner
, WR
Chaz Schilens
, DT
Sione Pouha
, CB
Ellis Lankster
and LB
Ricky Sapp
did not practice.
GROUND AND POUND:
The Jets worked extensively on their running game Thursday. Gang Green averaged just 1.8 yards per carry in Saturday night's preseason loss to the Giants, gaining 58 yards on 32 totes.
OPPOSITE SIDES:
The first-team offense and first-team defense rarely matched up against each other Thursday. The Jets were likely preparing for Sunday night's game against the Panthers, having the first-stringers face scout teams.
THE HIGHLIGHT?
Mark Sanchez
completed a beautiful pass over the middle to
Royce Pollard
on one of the few plays when both the first-team offense and first-team defense matched up against each other, in 11-on-11 drills. Pollard went high to reel in the ball, in between safeties
Yeremiah Bell
and
Josh Bush
. Sanchez was fired up after the play.
On the day, Sanchez completed four of seven passes against the first-team defense.
Tim Tebow
went 2-for-3 against them, with a sack.
In 7-on-7 drills, LB
David Harris
dropped a gimme interception thrown by Tebow. But he made up for it with a nice pick on a pass thrown by
Greg McElroy
. Rookie LB
Demario Davis
also had an interception late in practice, in 11-on-11 drills.
THE KICKING GAME:
Nick Folk
nailed all three of his field goal attempts at the end of practice, including one from 53 yards away.
Josh Brown
also connected from 53 yards, but missed a shorter attempt.
REMEMBER ME?
Former Jets offensive tackle
Damien Woody
, now an ESPN analyst, visited practice on Thursday, along with his two sons. Kind of ironic, considering this was the day the Jets made a switch at Woody's former position.