New York Jets:

Kirk Cousins
December, 30, 2013
12/30/13
7:00
AM ET
MIAMI -- It has been nearly three years since that magical day in Foxborough, where the
New York Jets
delivered their biggest win since that other magical day in the franchise's history, Super Bowl III, in 1969.
In January 2011, Rex Ryan conquered his nemesis, the
New England Patriots
, creating a big, loud and cocky green monster that figured to wreak havoc for seasons to come. But instead of the Incredible Hulk, they turned into Shrek -- ugly and goofy.
On Sunday, the Jets completed their third consecutive non-playoff season. It's their longest postseason drought since the dark ages of the 1990s, when they failed for six straight years under four different coaches. Their record since 2011 is just 22-26.
Without question, they overachieved in 2013, squeezing eight wins out of a young roster devoid of stars. Ryan did a commendable job in a rebuilding year
and will return in 2014
, the team announced after a season-ending 20-7 victory in Miami.
For GM John Idzik, the honeymoon is over. It's on him, and he faces an offseason with many challenging issues. Such as:
Augment the quarterback position:
This is the biggest decision facing the Jets. They have to decide if
Geno Smith
is a true No. 1 quarterback or whether they should hedge their bet by bringing in legitimate competition. They have 16 games on tape to evaluate.
While Smith's late-season rally reduces the need to make a major acquisition, the smart play would be to add a competent veteran. Problem is, it's hard to find that guy, a No. 1/No. 2 quarterback.
Mark Sanchez
fits the description, but there are health and salary-related questions, not to mention the entire issue of whether they'd want to re-create last summer's competition. Been there, done that.
An interesting target would be
Kirk Cousins
, who probably will be dangled in trade talks by the
Washington Redskins
. He wouldn't come cheaply in terms of compensation, maybe a second-round pick. That's a lot to surrender for a possible backup, but they have to look at the long view. He'd be an asset that appreciates in value.
They could go for
Matt Schaub
, the 2006 version of Cousins. Schaub would bring some baggage to the party, assuming he's released by the
Houston Texans
, but he's still only 32 and would be a worthwhile reclamation project/insurance policy.
What about the draft? Unless Idzik absolutely falls in love with someone (
Johnny Manziel
, anyone?), it wouldn't make much sense to sink a first-round pick into a quarterback, one year after using a No. 2 on Smith.
Jay Cutler
could be the big fish in free agency if the
Chicago Bears
let him hit the market, but he'd be a disaster in New York.
Rebuild the offense:
The Jets' skill-position talent has deteriorated steadily since 2010. Since 2011, they're ranked 26th in scoring, due largely to a lack of playmakers and poor quarterback play. They've ignored this side of the ball under the defensive-minded Ryan. It's time to pour money and resources into the offense so they compete in an offense-obsessed league.
They need a new tight end and two new wide receivers, preferably a game-breaker.
Stephen Hill
was supposed to be that guy, but he can't be counted on after two disappointing seasons.
The free-agent market for receivers is thin --
Eric Decker
of the
Denver Broncos
might be the best -- so look for Idzik to address the need in the draft. There are a couple of good ones,
Sammy Watkins
(Clemson) and
Marqise Lee
(USC), assuming they turn pro. The top free-agent tight end is
Jimmy Graham
, but there's little chance he gets away from the
New Orleans Saints
.
[+] Enlarge
AP Photo/Alan DiazWill Antonio Cromartie, a Pro Bowl cornerback in 2012, be playing in the Jets' secondary in 2014?
Spend money:
Facing a tight cap situation last offseason, Idzik operated on a shoestring budget, doling out modest contracts. Cap space won't be an issue this time. With
Darrelle Revis
coming off the books, and with
Mark Sanchez
and
Santonio Holmes
likely to be released (a total savings of $16.5 million), the Jets will have close to $40 million in cap space.
In theory, the Jets could stage their biggest spending spree since 2008, the year they acquired
Alan Faneca
,
Kris Jenkins
,
Calvin Pace
and
Damien Woody
, but Idzik believes in building through the draft. He owns eight choices, a total that could grow to 10 or 11 with expected compensatory picks.
This is "go" time for Idzik, a chance to show his acumen as a team-builder.
The first thing they should do is take care of couple of their own free agents, namely right tackle
Austin Howard
and kicker
Nick Folk
. Both earned long-term deals with their play in 2013. Linebacker Pace and guard
Willie Colon
are B-list free agents who have value for the short term.
Out with the old:
Sanchez, Holmes and
Antonio Cromartie
-- key players on the 2010 team that reached the AFC Championship Game -- are highly paid players with injury questions. It's possible all three could be playing elsewhere in 2014.
Holmes is a goner, for sure. They would've cut him two years ago if it weren't for $24 million in guarantees, one of the contracts that got Mike Tannenbaum fired. Sanchez fits the profile of what they need, but he's due a $2 million roster bonus in March -- and there's no way that will be paid. He'd have to agree to a massive pay cut, and that's unlikely to happen. Chances are, he'll be released.
Cromartie is a tough call, with a lot depending on his bad hip. His contract, which runs through 2014, is prohibitive -- a $15 million cap charge, including a $5 million roster bonus. He says he wants to retire a Jet, but let's see if he changes his tune when they propose a pay cut. Chances are, they'll cut him, letting him establish a market price before deciding whether to bring him back on a new deal.
December, 11, 2013
12/11/13
8:57
PM ET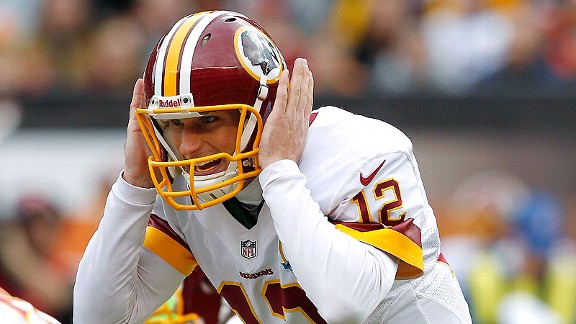 Ron Schwane/USA TODAY SportsWashington QB Kirk Cousins will start in place of Robert Griffin III this week.
FLORHAM PARK, N.J. – There are three games remaining in
Geno Smith
's apprenticeship, three games to convince the
New York Jets
' hierarchy he should be the guy in 2014 and beyond. The chances of that happening by Dec. 29 are remote, which is why general manager John Idzik should be paying attention to the happenings in Washington D.C. -- and we're not talking about Obamacare.
For reasons known only to Mike Shanahan, the
Washington Redskins
benched
Robert Griffin
III Wednesday in favor of
Kirk Cousins
. The upshot, intentional or not, is a three-game showcase for Cousins, who can create a trade market for his services by demonstrating long-term potential amid a dysfunctional situation.
Cousins should be a person of interest for the Jets, who will enter the offseason facing the same question from a year ago: Who is our starting quarterback?
Mark Sanchez
, still mending from shoulder surgery, almost certainly will be jettisoned in March, leaving Smith and
Matt Simms
on the depth chart.
The Jets can't simply hand the job to Smith, not after 20 interceptions (and counting), so Idzik has to import competition or a bonafide starter. He can do it by drafting another quarterback or checking out the free-agent market, which will include a lot of mediocre talent and, possibly, the erratic
Jay Cutler
, whose big arm will cause some desperate team to wildly overpay.
Or Idzik can try for the best of both worlds, bringing in a young (and cost-efficient) veteran with upside. A player like Cousins, who still has two years left on his rookie contract.
Cousins has started only one game in two years, has just 73 pass attempts, but he's well regarded in the scouting community. Obviously, he wouldn't have lasted until the fourth round if he had RGIII's skill set, but he's a solid prospect with potential, the kind of player that should intrigue a team like the Jets.
The price for Cousins would depend on how he plays down the stretch. The Redskins are starved for draft picks, and the Jets have two third-round choices in the next draft. It probably would take more than a third-round pick to make a deal, especially if he plays reasonably well, but it's a potential investment that deserves consideration.
Hey, maybe the Jets could throw Sanchez into the deal. The Redskins were smitten with him before the 2009 draft, wining and dining him at a tony Italian restaurant in the D.C. area.
Obviously, it's buyer beware when considering a player with a small body of work. There have been many examples over the years of quarterbacks that flashed potential in a cameo role, drew the attention of a quarterback-needy team and flopped. The list of one-hit wonders includes
Scott Mitchell
,
Rob Johnson
and
Matt Cassel
.
Idzik knows this better than most because his previous team, the
Seattle Seahawks
, gave
Matt Flynn
a three-year, $26 million contract based on one impressive start for the
Green Bay Packers
at the end of the 2011 season. The Seahawks proposed after one date and ended up in divorce court before the honeymoon ended.
The Jets wouldn't be looking if they had confidence in Smith, but how can they be sure? He's tied for the league lead with 20 interceptions and he has eclipsed an 80 passer rating in only four games, including last week's win over the
Oakland Raiders
.
On Wednesday, Smith described the Oakland game as a turning point for him, saying he was "just playing freely" and instinctively. Previously, he said, he was playing "like a robot." That sounds good, makes for a headline, but it's really just player-speak.
It's easy to be loose against a mediocre defense, but quite another challenge to play that way against the No. 2 defense in the league. This week, he faces the
Carolina Panthers
(9-4) on the road, and the road hasn't been kind to him -- four touchdown passes, 12 interceptions and a 1-5 record.
The Panthers can make young quarterbacks play like ... well, robots.
Idzik's ability to rectify the quarterback situation will go a long way toward defining his tenure in New York. No doubt, he will explore all options, from Teddy Bridgewater (a pipe dream) to
Michael Vick
. The answer could be 200 miles to the south, where a young quarterback -- a pawn in a power struggle -- gets a chance on the big stage. The Jets will be watching.