New York Jets:

Kris Jenkins
December, 19, 2012
12/19/12
8:25
PM ET
Too many photo shoots, too little time with the playbook.
To former Jets defensive lineman
Kris Jenkins
, that's the root behind quarterback
Mark Sanchez
's regressions, which caused him to be benched for this week's game against San Diego.
"What Sanchez has to take responsibility for is during the time that he could have gotten better, he wanted to sit back. He wanted to pose for magazines, worry about his haircuts and do all of that stuff," Jenkins said on Wednesday's episode of "Inside the NFL." "I'm just saying, from what I saw him do, it was a lot better than what it is now. But he coasted. They coddled him. That was what was going on. This is a man's profession. You have to man up at some point in time and take care."
[+] Enlarge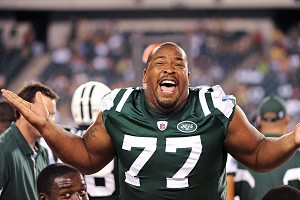 Howard Smith/USA TODAY SportsKris Jenkins said Mark Sanchez has "to man up at some point in time."
Jenkins played with the Jets from 2008 until 2010, playing with Sanchez for two years. In those years, Sanchez led the Jets to back-to-back AFC Title games only to fall short both times. Last year and this year, however, Sanchez hasn't been able to get the Jets to the playoffs.
As Sanchez's future with the Jets now comes into question, Jenkins doesn't believe Sanchez will be a good teammate if he is no longer the team's quarterback of the future. The Jets named
Greg McElroy
, a seventh-round pick in 2011, their starter for this week's game.
"I think that if you leave Sanchez in that locker room, he is going to become a bad apple," Jenkins said. "And the locker room has been fragile for the past two years."
While the Jets have lots of money tied up in Sanchez, they could pull the cord on their partnership this offseason. If that's the case, Jenkins doesn't believe that would translate into a starting gig for Sanchez. The former defensive lineman believes 49ers' quarterback
Alex Smith
, who also lost his job, would be a much hotter commodity.
"You know Alex Smith is going to get a job somewhere else, too," Jenkins said. "Sanchez won't."
Beyond Sanchez, Jenkins sees the Jets going nowhere soon.
"Unfortunately, I think the only thing that they are going to achieve for the next couple of years is being on somebody's comedy reel," Jenkins said. "It's not football that they are doing. It is an organized business. They brought Tebow in, I still feel, for a business transaction [to] sell some jerseys and make everybody feel good. You have him backing up Sanchez. He can only throw the ball so far. He does a couple of things during third-and-short, fourth-and-short. That's it. But he still played better then
Vernon Gholston
. It's a lot of the picks that the Jets have picked over this time that haven't helped."
October, 15, 2010
10/15/10
4:45
PM ET
The Jets wrapped up their week of practice at Florham Park this afternoon and got on the plane to head to Denver.
Jets CB Darrelle Revis is listed as questionable on the injury report, but will make the trip. Revis and LB Calvin Pace (foot) were limited in practice. Pace said he would play, but Revis was not sure what the final call will be after two good practices.
"We'll have a light practice out there and by then we'll be able to make our decision," Jets coach Rex Ryan said.
You can read more about that and Revis' speeding citation for going 80 mph in a 40 mph zone here.
S Jim Leonhard (elbow), C Nick Mangold (shoulder), OL Brandon Moore (hamstring) and LB Jamaal Westerman (ankle) practiced fully and are probable.
It was a typical Friday, the practice and mood was light. NT Kris Jenkins was there to watch practice and talked afterwards about his future after the ACL injury.
QB Mark Sanchez, LB Jason Taylor and C Nick Mangold got green terrycloth robes with the numbers on the front and back, and Sanchez tried to prank Taylor by hanging a picture of former NBA player Reggie Miller over his locker. In the pic, Miller looks a lot like Taylor, but it was from ESPN's The Body issue, so a PR representative removed it before Taylor saw it.
Who says they aren't trying to keep it professional?
October, 15, 2010
10/15/10
2:02
PM ET
Darrelle Revis was cited Thursday morning for careless driving and speeding on the way to practice at the Jets Florham Park facility. The Jets cornerback will be available later so we will ask him about it.
The cornerback (hamstring) was on the field today, as was LB Calvin Pace (foot), and both will make the trip to Denver even if they don't play. Both played for the first time last week after missing time with their injuries. Both felt the affects of a lot of reps against the Vikings, and both could be used in a more limited capacity against the Broncos today.
Speaking of injuries, NT Kris Jenkins, who went down in the first game of the season with a torn left ACL, was at practice this morning. His left leg appeared to have some kind of bionic-man soft cast on it. It's the second ACL tear of his career on that knee, and Jenkins has said he wants to return next season.
Jenkins flashed reporters a peace sign from the field.
August, 3, 2010
8/03/10
2:20
PM ET
It didn't take long for things to get chippy. Wayne Hunter got a few too many late hits from Kenwin Cummings and it was on. Pretty soon, Jets offensive coordinator Brian Schottenheimer and defensive assistant Bob Sutton were firing R rated words around.
"It's going to happen in camp sooner or later," said Hunter, "for us it happened sooner."
He added that Cummings is a friend of his off the field, and he should have expected something knowing how competitive the backup linebacker can be. The backup tackle said he got the last word on the field, blocking Cummings on a blitz to finish in a tie.
This kind of back and forth makes Rex Ryan smile. After practice, the Jets coach noted that he was happy with the intensity level of today's morning practice at Jets training camp in Cortland as opposed to Monday when everyone was relatively cordial. He even joked that he'd go through the league to request a fine for the cursing.
"There was a little competitive spirit out there, and it got a little sensitive, I thought. That's always great to see. You love watching it when coaches go at it and all that jazz."
The day offered a few dramatic plays to get the fans into it as well. David Clowney, a wide receiver who had his share of drops and misses, had a 30 yard catch from quarterback Mark Sanchez and would have run it in for a touchdown in a game situation. Clowney got a hug from Jerricho Cotchery as he jogged back upfield with the ball.
Marcus Henry had a nice one-handed catch from Kellen Clemens, who was very limited in practice after reporting with a calf injury. TE Jeff Cumberland got a hold of a ball over safety Emanual Cook — who also got a piece but Cumberland came down with it. In the press conference Ryan said he needed to do a better job of blocking.
Matthew Mulligan had some nice catches, two with Brunell and another with O'Connell. Brunell looked rusty, and would've been sacked three times in the scrimmage drills. He also threw away a few balls under pressure.
DE Vernon Gholston got reps with the first team defense, and Lowery knocked down a pass from Sanchez intended for Cotchery. Calvin Pace grabbed a ball popped up by Braylon Edwards, and Antonio Cromartie had a leaping pick on a ball intended for Clowney. Kris Jenkins (hamstring) didn't practice for a second day.
Damien Woody said that the practice was good, and several players mentioned feeling sore after roughly five hours of practice on Monday. This afternoon is a special teams practice, so the veterans should get some rest.
"The first day, that's probably the best you're going to feel all year," Woody said.
As far as Darrelle Revis' holdout, veteran Bart Scott said it's hard to miss him on the field right now because so much of the time is devoted to learning plays with newer parts.
"In games when guys catch a pass it counts," Scott said. "Out here we just coach a guy up for what he did wrong and get better."
More coaching up at 4:20 when special teams practice starts.
April, 17, 2010
4/17/10
11:49
AM ET
Starting today, ESPNNewYork.com is taking a look at the top two needs of the Jets and the Giants, and breaking down the best candidates at each position. Today, I look at what I think it the most pressing need -- a strong pass rusher. Jared Odrick is the top prospect there, and the Penn State DT will be in New York for the draft itself.
I targeted a pass rusher given the relative age of the D Line, and the fact that NT Kris Jenkins has struggled with injuries each of the last two seasons. Getting younger and versatile players into the system where they can be integrated into the system will serve the team in the years ahead.
When I was thinking about how to go about ranking needs, it looked like Jason Taylor was leaning toward coming to the Jets from Miami. If he did, the Jets could afford to go in a different direction with the first-round pick. Jets GM Mike Tannenbaum even said he'd like to have the Taylor situation resolved before the draft.
The longer it drags out however, the less likely Taylor's arrival seems. The OLB seems more interested in negotiating with Miami than in making a change.
In the coming days I'll take a look at the No. 2 need as I see it. Any guesses?