New York Jets:

LaRon Landry
March, 3, 2014
Mar 3
4:30
PM ET
The
New York Jets
haven't doled out a lucrative, multi-year contract for a safety since
Kerry Rhodes
signed a five-year, $33.5 million deal in 2008 -- a contract then-coach Eric Mangini, speaking to a friend years later, called one of his biggest regrets. But that's besides the point; the message here is that since 2009, in Rex Ryan's cornerback-centric system, the organization hasn't paid premium prices at the safety position.
It should take a hard look at changing the philosophy now that
Jairus Byrd
appears headed for the open market.
Byrd
The
Buffalo Bills
declined to use the franchise tag on Byrd (the deadline was 4 p.m. Monday), meaning he will become an unrestricted free agent March 11. That's assuming he doesn't re-sign with the Bills, which appears highly unlikely.
Byrd will demand serious coin -- he reportedly rejected a deal that would have paid him $30 million for the first three years -- but he's so good that the Jets should investigate. Byrd is a younger version of
Ed Reed
, sans the dynamic return ability. He's a ball hawk with uncanny instincts, a presence in the deep middle. The Jets like to play a lot of single-high safety looks, and Byrd would be a terrific scheme fit. Their problems against the deep ball would disappear with him patrolling center field.
Obviously, the Jets are doing something right on defense (five straight years in the top 11), but they've done so with a glaring lack of production at safety. Since 2009, the Jets' safeties have combined for only 16 interceptions. (We're not including six by
Dwight Lowery
, a safety/cornerback hybrid who played mostly in sub packages.) Since 2009, when Byrd entered the league as a second-round pick, the soon-to-be-former Bills star has 22 interceptions. By the way, that includes six against the Jets.
So will the Jets pursue Byrd? My gut tells me no. It sounds like they will entrust the position again to
Dawan Landry
,
Antonio Allen
& Co., perhaps adding a player in the draft. Clearly, they have bigger needs on offense, but they have enough salary-cap room to plug those needs and make a big splurge on defense. Maybe a look at the list below will change their mind.
Safety interceptions since 2009:
Ed Reed,
Eric Smith
, Kerry Rhodes -- 3 apiece
LaRon Landry
,
Jim Leonhard
-- 2 apiece
Dawan Landry
, Antonio Allen,
Brodney Pool
-- 1 apiece
January, 4, 2014
Jan 4
8:00
AM ET
Several former
New York Jets
will be playing this weekend in playoff games. In fact, there's at least one ex-Jet on seven of the eight teams. Remember these names?
•
LaRon Landry
, S,
Indianapolis Colts
: 12 games, 62 solo tackles, no interceptions, no sacks.
•
Mike DeVito
, DT,
Kansas City Chiefs
: 14 games, 18 solo tackles, no sacks, no forced fumbles.
•
Mike Nugent
, PK,
Cincinnati Bengals
: 16 games, 18-for-22 on field goals.
•
Nick Novak
, PK,
San Diego Chargers
: 16 games, 34-for-37 on field goals.
•
Danny Woodhead
, RB, Chargers: 16 games, 76 catches for 605 yards, 429 rushing yards, eight total touchdowns.
•
Brad Smith
, WR,
Philadelphia Eagles
: 6 games, two receptions for 27 yards, two rushes for 2 yards, four kickoff returns for 106 yards.
•
Kahlil Bell
, RB,
Green Bay Packers
: 3 games.
•
Jonathan Goodwin
, C,
San Francisco 49ers
: 16 games.
July, 24, 2013
7/24/13
10:35
AM ET
Breaking down the Jets, position by position, as they prepare for training camp. Camp opens Thursday; this is the final installment in the series:
Position:
Secondary
[+] Enlarge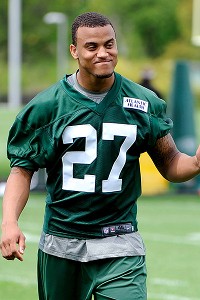 AP Photo/Bill KostrounWill Dee Milliner be ready to start by Week 1?
Projected starters:
Antonio Cromartie
,
Dee Milliner
,
Dawan Landry
,
Josh Bush
Projected reserves:
Kyle Wilson
,
Aaron Berry
,
Ellis Lankster
,
Antonio Allen
,
Darrin Walls
,
Jaiquawn Jarrett
New faces:
Milliner, Landry, Jarrett
The departed:
Darrelle Revis
,
LaRon Landry
,
Yeremiah Bell
,
Eric Smith
Player to watch:
Milliner, naturally. He was the ninth overall pick in the draft and, ostensibly, will replace Revis. He will eventually replace Wilson as a starter, allowing Wilson to return to his nickel role. Whether that happens by Week 1 remains to be seen. Milliner, who underwent shoulder surgery in March, missed the entire offseason. When he's up to speed, Milliner has a chance to be special. He's fundamentally sound and not afraid to tackle. He doesn't have elite ball skills, but his cover skills should translate nicely in the Jets' man-to-man schemes.
Potential strength:
Depth at cornerback. The Jets traded the best cornerback in the NFL to the Bucs -- Revis, in case you didn't know -- but they will survive because of Cromartie, Milliner and Wilson. Nowadays, you need three good corners in the pass-happy NFL. The Jets should be able to line up against any team without having to be afraid -- assuming Cromartie can duplicate last season's performance as the No. 1 corner.
Potential weakness:
The Jets overhauled the safety position, letting LaRon Landry and Bell walk out the door. The replacements are Dawan Landry (LaRon's older brother) and ... well, that's a good question. Bush and Allen, both second-year players, are the leading candidates for the other starting job. Take your pick: Bush is better against the pass; Allen is the better run defender. Neither is a blue-chipper. Maybe new DBs coach
Tim McDonald
, a former All-Pro, still has something left in the tank.
Wild card:
Rex Ryan and new defensive coordinator Dennis Thurman, a former secondary coach, are smart cookies when it comes to camouflaging weaknesses. Maybe, just maybe, they can coach around the safety issue, using extra corners in the sub packages. That's not a far-fetched idea, considering their three AFC East opponents employ spread offenses. The back end of Ryan's defenses is built around the corners, not the safeties.
December, 19, 2012
12/19/12
7:07
PM ET
FLORHAM PARK, N.J. --
LaRon Landry
had no problem doubling down on his own talent and health last offseason by signing a one-year contract with the Jets.
"I wanted to solidify to everybody that the (Achilles tendon) injury was a fluke," Landry said Wednesday.
Through 14 games, it seems the safety's gamble will pay off. Landry has played well for the Jets and likely has earned himself a multi-year deal, be it from the Jets or another team. Landry said he would like to be back with the Jets, but wouldn't sign another one-year deal.
"Would I sign another one-year here? No. Not at all," Landry told reporters.
The Jets signed Landry on the cheap -- one year, $3.5 million -- because of injury problems that plagued him at the end of his tenure with the Redskins. After playing in all but one game the first three years of his career, Landry missed 15 games in 2010-11 with Achilles tendon issues. He strained the tendon in 2010, and the injury lingered. He also had groin issues last season.
The injuries didn't keep teams away from Landry -- he said between four and six teams were interested in him last offseason. He ultimately signed a one-year deal with the Jets hoping to prove he could stay healthy. This season he has 93 tackles and four forced fumbles, while also picking off two passes.
"I'm not injury-prone, never been injured, and never missed a game since the Achilles happened," Landry said. "Throughout my whole college career up until my (third) year in the league, I never missed a game. Being injury-prone, that was bull. Just something that happened."
While Landry has been a stabilizing presence in the Jets secondary, it may be hard for the team to re-sign him. The Jets already have big money invested in cornerbacks
Darrelle Revis
and
Antonio Cromartie
, and Landry's contract does not allow the team to use its franchise tag on him. Other teams likely will be able to offer more money.
Landry said his impending free agency is "mind-boggling" and stressful to a certain extent. He's only worrying about what he can control, and once the season is over he plans to head to Arizona and start working.
"This is what I do. I love it. I love the game with a passion," Landry said.
Although it appears Landry has won the bet he placed on himself earlier this year, the safety isn't ready to make that declaration just yet. Two more games stand in the way of him completing his first full season since his second year with the Redskins in 2008.
"You got two more games. I just want to finish," Landry said. "We'll see."
October, 9, 2012
10/09/12
2:47
AM ET
EAST RUTHERFORD, N.J. --
LaRon Landry
refused to discuss an apparent disagreement that occurred on the sideline in the second quarter of the Jets' 23-17 loss to the Texans on Monday night at MetLife Stadium.
Landry came off the field for a few plays and sat by himself on the bench, looking upset. Players walked by, trying to talk to him, but he remained stoic. Rex Ryan and secondary coach Dennis Thurman went over to talk to him, and CB
Antonio Cromartie
ended up pulling Thurman away from Landry.
After the game, Landry bristled when asked about the incident. He called it a "miscommunication" and insisted he wasn't upset by coming out of the game.
"Hey, look, we ain't trying to make a story out of this, man," Landry said. "That's not the cause of us losing the game. It's not the cause of us not finishing. Ain't nothing wrong. ... That's nothing to do with the ballgame. You're trying to ask a personal question. That's not cool."
Landry, who missed only 12 snaps in the first four games, was replaced by S
Eric Smith
. Ryan explained that he wanted to give Landry a few plays off. Landry thought he was out the entire series, but, "I actually wanted him back out there. ... Apparently I wasn't clear on those instructions."
August, 23, 2012
8/23/12
7:23
PM ET
FLORHAM PARK, N.J. -- There was action before, during and after practice on Thursday here at the Atlantic Health Jets Training Center.
Before practice, coach Rex Ryan revealed that
Wayne Hunter
has
lost his starting job at right tackle
in favor of
Austin Howard
.
After practice,
Santonio Holmes
declared himself
fit to play Sunday night
against the
Carolina Panthers
.
In between, the Jets worked out for 2½ hours Thursday afternoon in front of a few hundred fans as training camp winds to a close. They got to see Howard take all the reps with the first unit, and Holmes get a few live reps as well -- wearing a red no-contact jersey -- as he continues to recover from a rib injury.

In terms of other practice observations:
INJURY REPORT:
RB
Joe McKnight
, who missed Wednesday's practice with shin splints, was back on the field, but limited. S
LaRon Landry
was also limited for precautionary reasons. ... TE
Jeff Cumberland
, WR
Patrick Turner
, WR
Chaz Schilens
, DT
Sione Pouha
, CB
Ellis Lankster
and LB
Ricky Sapp
did not practice.
GROUND AND POUND:
The Jets worked extensively on their running game Thursday. Gang Green averaged just 1.8 yards per carry in Saturday night's preseason loss to the Giants, gaining 58 yards on 32 totes.
OPPOSITE SIDES:
The first-team offense and first-team defense rarely matched up against each other Thursday. The Jets were likely preparing for Sunday night's game against the Panthers, having the first-stringers face scout teams.
THE HIGHLIGHT?
Mark Sanchez
completed a beautiful pass over the middle to
Royce Pollard
on one of the few plays when both the first-team offense and first-team defense matched up against each other, in 11-on-11 drills. Pollard went high to reel in the ball, in between safeties
Yeremiah Bell
and
Josh Bush
. Sanchez was fired up after the play.
On the day, Sanchez completed four of seven passes against the first-team defense.
Tim Tebow
went 2-for-3 against them, with a sack.
In 7-on-7 drills, LB
David Harris
dropped a gimme interception thrown by Tebow. But he made up for it with a nice pick on a pass thrown by
Greg McElroy
. Rookie LB
Demario Davis
also had an interception late in practice, in 11-on-11 drills.
THE KICKING GAME:
Nick Folk
nailed all three of his field goal attempts at the end of practice, including one from 53 yards away.
Josh Brown
also connected from 53 yards, but missed a shorter attempt.
REMEMBER ME?
Former Jets offensive tackle
Damien Woody
, now an ESPN analyst, visited practice on Thursday, along with his two sons. Kind of ironic, considering this was the day the Jets made a switch at Woody's former position.
August, 7, 2012
8/07/12
2:48
PM ET
CORTLAND, N.Y. --
Bart Scott
just wouldn't stop talking.
The charismatic linebacker's mouth was running 100 miles per hour during
New York Jets
practice this past weekend. Scott got on the Jets' quarterbacks,
Tim Tebow
and
Mark Sanchez
. Scott got on Jets offensive coordinator Tony Sparano. Scott got under the skin of the offensive linemen.

No one was immune in training camp -- and Jets coach Rex Ryan likes it that way.
"The funny thing is when you talk like that, it puts pressure on you to play well," Ryan said. "You can tell that Bart feels great about himself, and he feels great about this team. That is why he is the way he is right now. He is all over everybody -- offense, defense, especially offense."
The Jets were humbled by last season's 8-8 record and late-season implosion. But if Scott's mouth is any indication, it appears this team is getting its swagger back.
There have been no Super Bowl predictions and no preseason talk of supplanting the
New England Patriots
in the AFC East this season. But watching the Jets practice, you sense this team has an edge to it. Sometimes that edginess goes overboard and leads to fighting among the players, which explains the
20-player scuffle
the Jets had Monday and a second fight Tuesday.
The Jets undoubtedly will do damage this year. The question is, will they do more damage to themselves or their opponents? They first must prove that this group is bonding and will no longer be "team turmoil" in 2012.
THREE HOT ISSUES
1. Can the Jets handle the Sanchez-Tebow dynamic?
Even U.S. President Barack Obama has his concerns about the Jets' two-headed monster at quarterback. Obama said he doesn't think Tebow's immense presence will be good for Sanchez. The Jets, however, say they're unfazed by Obama's comments.
"He doesn't play football for the Jets," guard
Matt Slauson
said.
[+] Enlarge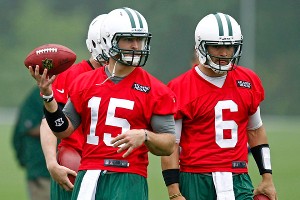 Jeff Zelevansky/Getty ImagesTim Tebow is the backup, but there will be times when Mark Sanchez is the QB in the background.
But it is clear the Jets have to keep an eye on the Tebow effect all season. At the teamwide scrimmage this past weekend, 9,200 fans packed in to watch, and Tebow received by far the loudest ovation. The cheers heard when Tebow entered the huddle for the first time had to bother Sanchez to some degree.
It appears Sanchez and Tebow get along fairly well. But things could become tense if Sanchez struggles early in the regular season.
2. Is chemistry still an issue?
The Jets didn't miss the playoffs last year because they lacked talent. They missed the postseason for the first time under Ryan because they lacked togetherness and chemistry.
Things fell apart for the Jets in the locker room, and it showed on the field. Too often players weren't on the same page, and Ryan admittedly dropped the ball in fixing those issues. It's Ryan's job to make sure those things no longer happen. But there already are ominous signs that the locker room could be combustible again in 2012. In addition to the reported scuffles, cornerback
Antonio Cromartie
created tension by claiming to be the second-best receiver on the team. These things add up. The Jets need to end the in-house silliness now before it shows up in the regular season.
Sanchez, a team leader, wasn't particularly happy about the brawl that went down.
"At this point in camp, especially after the scrimmage, tempers flare," Sanchez said. "That stuff happens; there's no excuse for it. There's no throwing the ball at a teammate. There's no shoving the guy out of bounds into the signs. One, it doesn't look good, and two, it sends the wrong message to our team. We want to take care of our guys."
3. Who is the No. 2 receiver?
Cromartie apparently thinks he's it. But despite his controversial comments, the Jets have to find other players to step into that role full time. Players such as
Patrick Turner
,
Chaz Schilens
,
Jeremy Kerley
and rookie
Stephen Hill
are all competing for the role to start opposite
Santonio Holmes
.
The Jets will rely more on the run than the passing game, but they must make the most of passing opportunities. Holmes' rib injury will allow other receivers to get more reps. This is a golden opportunity for someone to emerge and provide another target for Sanchez.
Hill appears to have the best chance to fill this role long term. But it may take an experienced player such as Turner or Schilens to step up until Hill acclimates to the NFL.
[+] Enlarge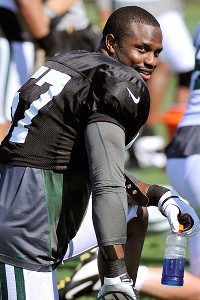 AP Photo/Bill KostrounBart Scott and the New York defense hope to pick up where they left off last season.
REASON FOR OPTIMISM
As noted earlier, New York's defense looks tremendous. The Jets were the most impressive defense of all the AFC East training camps we've visited in the past two weeks. The front seven is allowing few rushing lanes, and the cornerbacks are covering well, as expected.
"I feel great about the defense," Ryan said.
It's easy to forget that New York had a top-five NFL defense last year because the Jets didn't play that way at times. But this defense thinks it can rank No. 1 in 2012. Based on what we've seen, that goal is not out of reach. New York's defense doesn't have many holes.
REASON FOR PESSIMISM
The Jets' passing game appears shaky, which could be a major issue for the team this season.
New York wants to ground-and-pound its way to victories. But the NFL is a passing league, and winning by running the ball 40 times is becoming increasingly more difficult. The Jets at some point will have to air it out if they want to score enough to win consistently. The defense is great. But New York can't win every game 13-10 or 17-14. That puts too much pressure on one side of the ball, and the offense not holding up its end of the bargain is one issue that caused chemistry issues last year.
What if teams stack the box against tailback
Shonn Greene
and Tebow and the Wildcat? Can Sanchez make enough big throws to keep defenses honest? The Jets were 2-5 last year when Sanchez threw the football 35 or more times. Expect opposing defensive coordinators to keep that stat in mind when preparing for the Jets this year.
Sparano wants to play conservatively and win on the ground first. But defenses won't make it easy. At some point this year, Sanchez and his receivers will be forced to win games, and this team might not have enough quality personnel to pass the football consistently.
OBSERVATION DECK
Tebow admittedly never played special teams. But the backup quarterback and former Heisman Trophy winner looks like a natural in the third phase of the game. Tebow will serve as the punt protector, which gives the Jets options on fakes, as Tebow could run or pass on fourth down. Tebow also has been getting work on the kickoff team, and he looks good moving downfield and tracking the ball carrier.

New York's starting offensive line and backups appeared to have been pushed around too often during our camp visit. That should be a concern for Jets fans. New York wants to establish a physical identity on offense, but the line has been unable to establish many running lanes against its defense. Granted, most defenses aren't as good as New York's. Preseason games will provide a better indication of where the offensive line stands.

Hill needs to work on his consistency. There are days in practice when he is a nonfactor and others when he shows why he's a highly touted second-round pick. Hill beat Cromartie and Darrelle Revis on a pair of deep balls in practice in recent days. Yet Hill disappeared in Saturday's teamwide scrimmage. Hill has the physical tools; he just needs to sharpen his routes and bring strong effort consistently. "The route running is still coming. I'm not even going to say I'm perfect on it," Hill said. "I'm still working and still learning on it. Revis and Cromartie are actually helping me on it, because they're noticing I do certain things [to tip them off]."

One of the most impressive players during our visit to training camp was defensive end Aaron Maybin. The former first-round pick of the Buffalo Bills has really come into his own with the Jets. Last year, he recorded a career-high six sacks, and he looks even better in his second year in the system. Maybin says the "mayhem" is back, and it has looked that way in training camp. He had a sack and quarterback pressure in Saturday's scrimmage.

It's difficult to get a feel for new Jets safety LaRon Landry. His action in camp remains limited because of last year's Achilles injury that was never surgically repaired. Landry practices with the team about once every three days to stay fresh. He played in Saturday's scrimmage but wasn't tested much. The Jets have high expectations for Landry, so we're curious to see how well he moves in exhibition games.

Free-agent signing Yeremiah Bell is bringing exactly what the Jets expected at safety. He's made some big hits and solid plays against the run, but he hasn't been great in coverage. The combination of Bell and Landry on the back end means the Jets must do a lot of scheming to protect their safeties. That involves a lot of blitzing to get to the quarterback and playing Bell or Landry in the box.

The backup running back situation is interesting. Joe McKnight entered camp as the favorite because of his athleticism and experience. But relative unknown Bilal Powell has been outperforming McKnight. Powell has been more consistent, and McKnight still has a penchant for fumbling.