New York Jets:

Laveranues Coles
December, 1, 2013
12/01/13
5:00
AM ET
Thoughts and observations on the
New York Jets
:
1. Woe-ffense
: The common alibi for the lack of skill-position talent on offense is to blame Rex Ryan's defensive-minded influence in the draft room. While it's true the Jets have picked defensive players in each of the past four first rounds, they can't be accused of ignoring the offense. In the five drafts of the Ryan era, they've used 13 of 28 picks (46 percent) on skill-position players -- by far the highest percentage among AFC East teams. The next-closest team is the
Miami Dolphins
(13 of 40 picks, 33 percent).
The problem for the Jets isn't quantity, it's quality. Not one of those 13 picks is a productive starter for the team. WR
Jeremy Kerley
and RB
Bilal Powell
are the best of the bunch, but they're complementary players best suited for part-time roles. Obviously, the Jets can improve the success ratio by investing a first-round pick in an offensive player -- and they probably will next spring -- but smart-drafting teams are able to find impact running backs and wide receivers in the middle rounds. The Jets have failed to do that.
2. Costly miss
: The pick that hurts the most is WR
Stephen Hill
, chosen in the second round (No. 43 overall) in 2012. It cost the Jets a fifth-rounder as well, because that was the price for trading up. Why trade up? The scouting department was high on Hill. How high? This might surprise you: The Jets gave Hill a mid-first-round grade.
3. A forever drought
: The last Jets draft pick at a skill position to make the Pro Bowl was WR
Santana Moss
(2001 draft), but he was selected as a member of the
Washington Redskins
. The same could be said of WR
Laveranues Coles
(2000) and WR
Keyshawn Johnson
(1996), who made it while playing for the Redskins and
Tampa Bay Buccaneers
, respectively. The last player drafted by the Jets to make the Pro Bowl in a Jets uniform was FB
Richie Anderson
(1993), a Pro Bowler in 2000. That was a scary long time ago. RB
Thomas Jones
and QB
Brett Favre
made it in 2008, but they were drafted by other teams.
4. Slamming on the brakes
: Coaches talk about the rookie wall. Well, it seems like Powell has hit the veteran wall. One of the Jets' biggest surprises in the first month, Powell hasn't rushed for more than 41 yards in seven straight games. He doesn't have the same elusiveness as he did in September, which could be traced to training camp. Because of injuries to other backs, he was overworked in camp. Ryan expressed concern about it, and now it seems like all those reps have caught up to Powell.
5. Been there, done that
: At a community event the other day, QB
Mark Sanchez
said of rookie
Geno Smith
, "I've totally experienced what he's going through" -- probably more than he realizes. Sanchez's statistics in his first 11 career starts were eerily similar to those of Smith. Check it out: As a rookie, Sanchez posted a 5-6 record, with a 53.5 percent completion rate, 6.9 yards per attempt and 17 interceptions. Smith has a 5-6 record, a 55.2 percent completion mark, 7.0 yards per attempt and 18 interceptions. It must be déjà vu for Ryan.
6. More bad Geno
: At the risk of piling on, Smith is suffering through one of the worst statistical seasons in recent memory. He already has had three games in which his QBR was lower than 5.0 (on a scale of 100). Since 2006, when ESPN started compiling the QBR stat, only four quarterbacks have done that. The other three are
Rex Grossman
(
Chicago Bears
, 2006), Sanchez (2009 and 2012) and
Blaine Gabbert
(
Jacksonville Jaguars
, 2013). Like I said, it's déjà vu for Ryan.
7. A long (country) road from West Virginia
: On Friday, Ryan spoke of the challenges Smith has faced this season -- learning to play under center and trying to master the rhythm of five- and seven-step drops in an NFL offense. I'm sorry, but that's not what Ryan was selling at the start of the season. He downplayed those factors, insisting Smith was ready. Clearly, he wasn't. Ryan finally admitted what many have known since the outset.
8. The quarterback option
: If Ryan thought
David Garrard
was the answer, he'd already be in there. Ditto,
Matt Simms
. It's not like Smith has given the coaching staff a bunch of reasons to stick with him. He has gone 120 straight attempts without a touchdown pass, going 0-for-November.
9. Made of iron and brick:
New York is home to two of the most durable players in the league. LT
D'Brickashaw Ferguson
has started 123 consecutive games. The only non-kickers with a longer streak are Redskins LB
London Fletcher
(210) and
New York Giants
QB
Eli Manning
(146).
10. Expect the unexpected
: Weird and memorable things tend to happen whenever the Jets and Miami Dolphins play at this time of the year. In 2010, there was the Sal Alosi game. In 1994, there was the infamous Fake Spike. What will happen this time? Maybe it'll be something totally off the hook ... like, maybe, an outburst by the Jets' offense.
June, 2, 2013
6/02/13
5:00
AM ET
Checking out the Jets and the NFL:
1. Another cup of Joe
: I realize some people might be Namath-ed out after the last few days, but I'd like to share some leftovers from our conversation the other day. Joe Namath has very strong opinions (gee, what a shock) on Rex Ryan. He doesn't care for Ryan's player-friendly approach, which he believes contributed to the team's two-year slide.
"I've always said I've never seen that kind of coaching style before in my life," Namath said. "The first two seasons, you win. Hey, OK. In the meantime, those teams were inherited to some extent. The psyche of the team got in a place where they're spending more time thinking about what they've done rather than what they're doing and what they're going to do.
"Coaches, they all want to feel like they're loved. Nice. Nice. Nice. Don Shula was hated by some of his players. Coach [Bear] Bryant was hated by some of his players. Bill Belichick, Tom Landry, Chuck Noll. Come on, you can't be Mr. Nice Guy as a head coach. You have too many players that have to be disciplined. Trying to be everybody's buddy at one time, I don't what that coach is. I think that's one of the situations Rex created, being a really friendly guy. He's got everybody's back. Yeah, he's got everybody's back until you get rid of them. Excuse me, this is a business."
Namath also suggested the recent coaching defections on Ryan's staff are a poor reflection of Ryan, saying: "When your coaches are leaving you, it's not a good endorsement of the head guy. This goes back to [Bill] Callahan and [Brian] Schottenheimer. They weren't getting the offensive input in the draft they would've liked and they saw the writing on the wall, so to speak. Our defensive coordinator for the last four years [Mike Pettine], where's he? New job, OK, but I don't know if it's moving up. When it comes to coaching, if you're not happy, you move around. You leave to improve your chances of becoming a head coach or it's jumping ship because you don't like how the captain has been handling it."
Tell us how you really feel, Joe.
2. Keeping up with the Joneses
: I'm not sure if this is a good thing or a bad thing, but the Jets' actual draft was eerily similar to the player ratings on the Cowboys' draft board, which was exposed during a TV interview and pieced together by a web site called Blogging the Boys.
CB
Dee Milliner
was rated fourth on the Cowboys' board; he was picked ninth overall. DT
Sheldon Richardson
was 16th on their board; he was picked 13th. QB
Geno Smith
received a second-round grade and was 37th on the board; he was chosen in the second round, 39th overall. OT
Oday Aboushi
got a fifth-round grade and was 112th on the Cowboys' board; he went in the fifth round at 141st overall.
The only discrepancy involved G
Brian Winters
, who received a low fourth-round grade from Dallas (89th on its board). Obviously, the Jets liked him more than that, taking him near the top of the third round (No. 72 overall). If you're a Jets fan, are you feeling good, knowing that your draft aligned with Jerry Jones' view? I didn't think so.
3. Farewell to Yarnell
: Steve Yarnell, the Jets' VP of security, announced his retirement after 16 years with the team. He started in 1997, hired by Bill Parcells, who coached him at West Point back in the day. Before the Jets, he worked with the FBI as a special agent on criminal and terrorism matters. He could write one heck of a memoir if he ever decided to dish on his job experiences. Fans probably don't know Yarnell, but he was the stern-faced guy on the Jets' sideline, the man who always escorted the head coach to midfield for the postgame handshake. That alone could be a chapter in the book.
I interviewed Yarnell only once,
three years ago
, for a story on
Laveranues Coles
. If it weren't for Yarnell, the Jets wouldn't have drafted Coles, who was deemed a risk because of off-the-field issues in college. He dug into Coles' background, gave him a thumb's-up and stood his ground in a legendary draft-room showdown with Parcells in 2000. Yarnell told Parcells he'd stake his reputation on Coles, who turned out just fine. When I spoke to Yarnell, who became friendly with Coles over the years, he got emotional when he mentioned Coles' 2005 admission that he was molested as a child by his stepfather. Yarnell choked up for a few seconds, expressing his admiration for Coles' courage. It was a quick glimpse into the man behind the poker face. And that was the last time we talked.
4. Give Me the Damn Bieber
: This
Keyshawn Johnson
-Justin Bieber spat is kind of amusing. The last time Keyshawn got this fired up about one of his neighbors was 1997, when he trashed teammate
Wayne Chrebet
in his book, "Just Give Me the Damn Ball." Their lockers were side-by-side, which made for some interesting situations.
5. Pace setter
: LB
Calvin Pace
believes the Jets' offseason overhaul on defense will become the norm in the league. "I think this is the way the NFL is going to become now," he said. "You don't see a lot of guys playing 10 years. I don't think the young guys see that. I think it's going to get younger and younger to the point where you're going to look at a guy playing five years, and he's a vet. I think that's the way of the business." Everything, of course, is dictated by the salary cap, which has remained relatively flat -- but this was the deal the players agreed to.
For the record, the Jets cut two starters (both over 30), lost four starters in free agency (two over 30) and traded one.
[+] Enlarge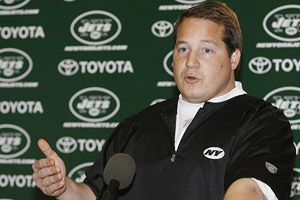 William Perlman/The Star-Ledger/US PresswireFormer Jets head coach Eric Mangini is taking a job as the 49ers senior offensive consultant.
6. Mangenius to San Francisco
: I'm not surprised by Eric Mangini's decision to take a job with the 49ers as their senior offensive consultant. Coaching is in his blood. This isn't coaching, per se, but it gets him back into a competitive environment. He's always been a defensive coach, but his expertise on that side of the ball will allow him to help the offense. The 49ers make sense. GM Trent Baalke was a Jets scout in the late 1990s when Mangini was a low-level assistant with the team.
7. Holmgren on Mornhinweg
: I couldn't fit this anecdote in a feature story on Jets OC Marty Mornhinweg, but Mike Holmgren tells a funny story about his former protégé. A few days before the Packers faced the Patriots in Super Bowl XXXI, Holmgren got so disgusted with his team in practice that he took the play cards -- used by the scout team -- and threw them in the air. "These are junk," he screamed.
Holmgren told me he did it for effect, but Mornhinweg, who stayed up all night designing the cards, didn't know that. After practice, Mornhinweg emerged from the shower with the cards and, buck naked, gave Holmgren and another coach a mini-lecture on how hard he worked to prepare them. He was Holmgren's QBs coach for the Packers. Recalled Holmgren: "He was so passionate. We did all we could to keep from laughing."
8. The Kid is All Right
: Bills coach Doug Marrone said first-round QB
EJ Manuel
has performed better so far than any rookie he's ever coached. He was around two good ones as a Saints assistant coach, G
Jahri Evans
(2006) and T
Carl Nicks
(2008). If Ryan made that comment about Geno Smith, it would be back-page news.
9. Tebow Time
: So now
Tim Tebow
's father has chimed in, telling NFL.com, "You are old enough to believe not all you hear" -- a convoluted way of dismissing ESPN The Magazine for reporting that someone in the QB's inner circle suggested that Tebow thinks his career is likely over.
Here's a novel idea: Why doesn't Tebow speak for himself?
10. June swoon
: Remember when June 1 on the NFL calendar meant a slew of cap casualties? Those days are gone. Can't say I miss them.