New York Jets:

Lavonte David
January, 18, 2014
1/18/14
8:00
AM ET
We're counting down the 10 most important plays of the
New York Jets
' season. After presenting numbers
six through 10 in one post
, we'll take it one at a time from five to one.
David
No. 2
:
Lavonte David
's greatest shove of all
It happened a long time ago -- opening day -- but that doesn't diminish its significance. The
Tampa Bay Buccaneers
' linebacker committed one of the dumbest penalties you'll ever see, allowing the Jets to go from losers to winners in a matter of seconds.
Down by two points with 34 seconds left in the fourth quarter, and no timeouts remaining, the Jets got the ball at their 20. It looked bleak, especially with a rookie quarterback,
Geno Smith
. He found
Kellen Winslow
for 25 yards and, after spiking the ball to stop the clock, Smith scrambled 10 yards, running out of bounds by the Jets' sideline. For some reason, David pushed Smith after he had crossed the boundary, resulting in a 15-yard penalty.
That changed everything. Instead of a 63-yard field-goal attempt,
Nick Folk
got his shot from 48 yards -- and he drilled it with two seconds left, lifting the Jets to an improbable 18-17 victory.
It was an emotional boost for the Jets, who began the season with so many questions and low expectations from the outside. If it weren't for David's penalty, the Jets would've been 0-2 (they lost a few days later at the
New England Patriots
) and there's no telling how things would've turned out.
David rebounded nicely, as he went on to an All-Pro season. The Bucs, not so much. They started 0-8, finished 4-12 and got Greg Schiano fired.
October, 21, 2013
10/21/13
8:00
AM ET
EAST RUTHERFORD, N.J. -- A few minutes after the
New York Jets
' 30-27 overtime win over the
New England Patriots
, I received a text from an old friend in Rhode Island -- yes, a Patriots fan.
"Fix. [B.S.] call," it read.
I'm guessing that pretty much captures the sentiment of the entire New England region.
It was, in fact, the correct call. We're referring, of course, to
Chris Jones
' unsportsmanlike-conduct penalty, the result of a new and obscure "pushing" rule. Rule 9, Section 1, Article 3 from the NFL rule book states: "Team B players cannot push teammates on the line of scrimmage into the offensive formation."
Jones pushed
Will Svitek
into Jets blocker
Damon Harrison
, resulting in the flag. This particular penalty never had been called before, according to the NFL. You know what happened next:
Nick Folk
, who missed from 56 yards, got another shot from 42 yards. He drilled it, lifting the Jets to a crazy and impressive win.
Bill Belichick argued it's only a penalty when a second-level defender does the pushing. That's not the rule, according to the game officials. Obviously, this became a huge national story. Tony Dungy, a studio analyst for NBC's "Football Night in America," said the call was correct.
"This is a new rule and a rule that the players asked for, a rule for safety," he said on the air. "You cannot push in the middle of the line of scrimmage. Chris Jones comes in from behind and pushes his teammate. This should be called and it had to be called. … It doesn't say anything about second level. ... It says you cannot push into the line of scrimmage. The officials did a good job calling it."
So maybe this should be remembered as the "Rule 9-Section 1-Article 3" win for the Jets.
When push comes to shove, they have a knack for pulling out improbable victories.
In Week 1, Tampa Buccaneers linebacker
Lavonte David
shoved
Geno Smith
late out of bounds, resulting in a 15-yard penalty. It set up a makeable field goal for Folk from 48 yards with two seconds left. Jets 18, Bucs 17.
How can one team get so lucky twice? In Week 1, it was a dumb play by David; the Jets almost certainly would've lost without that penalty. This time, it was a really dumb play by Jones, who admitted after the game he was aware of the rule. So, basically, he knowingly tried to pull a fast one on a 56-yard field-goal try, which is akin to fouling a shooter on a 35-foot shot in basketball. If he had kept his hands to himself, the Patriots would've been 15 to 20 yards from their own game-winning field-goal try.
A message to my friend: Consider this the response to your text.
ICYMI:
Geno Smith did it again, orchestrating his
fourth game-winning drive in fourth quarter/overtime.
Only four quarterbacks have done that in their first four wins; the others are Bruce Gradkowski, Troy Aikman and Lynn Dickey. ... The Jets are wildly unpredictable, but it's
time to take them seriously
. ...
Chris Ivory
hinted last week that he wasn't happy in his role.
He's happy now
. ...
Jeremy Kerley
dominated on third down
. He resembled former Jet Wayne Chrebet, who was an honorary captain. ...
Josh Cribbs
contributed in a
variety of ways
in his Jets debut. ... S
Antonio Allen
made the
defensive play of the year
.
September, 8, 2013
9/08/13
9:30
PM ET
EAST RUTHERFORD, N.J. -- Rex Ryan is supposed to be the coach in the crypt, already doomed. Frankly, there are times when he looks and sounds like it. But on Sunday, Ryan showed he still can motivate a team and still can take the X's and O's from his grease board and bring them to the field, confounding the opponent's offense.
Ryan's work began Saturday night, when he put a copy of ESPN's Week 1 Power Rankings on the big screen at the team meeting. That poll ranked the
New York Jets
at No. 32, the worst team in the NFL. Linebacker
Calvin Pace
called it "the ultimate slap in the face," and others echoed that sentiment.
The Jets brought that emotion into MetLife Stadium for the season opener. They weren't the best team on the field, not on paper, but they didn't commit 13 penalties and play like an undisciplined bunch of playground goons. Greg Schiano's team did that from the first series to the final indignity,
Lavonte David
's stupid late-hit penalty on
Geno Smith
with seven seconds left.
Ryan's team stole one from the
Tampa Bay Buccaneers
, 18-17, on
Nick Folk
's 48-yard field goal at the end, but you know what? The Jets actually deserved the win. They outplayed the Bucs and their $96 million cornerback,
Darrelle Revis
. Ryan outcoached Schiano, who might have been longing for his former days at Rutgers as he trudged off the field.
"One team, one fight," an ebullient Ryan said afterward, repeating his mantra. "Holy cow."
The bombast is gone, as we all know, but it doesn't matter what Ryan says in front of the cameras. The only thing that matters is what he says to his players, in private, and whether he can properly prepare them to play each Sunday.
On the first Sunday, they were prepared. The Bucs? They behaved like it was the first week of training camp. The Jets were anything but a juggernaut, but they played with controlled emotion, especially on defense. Ryan set the tone Saturday night, rubbing his players' noses in the disrespect from ESPN.
"For whatever reason, there's a personal vendetta against the Jets," Pace said. "Thirty-second in the league? I know the last couple of years haven't been up to our standard. We might not be the best team, but I'm damn sure we're not the worst."
Pace called it "absurd." He kept going.
[+] Enlarge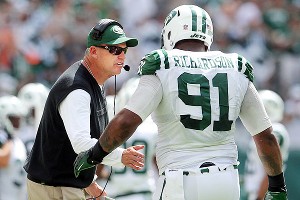 Brad Penner/USA TODAY SportsRex Ryan proved that he can still motivate his Jets.
"I've seen the worst. We've played against some of the worst, and we're not that," he continued. "There's a team out west that I know is worse than we are." That was an obvious reference to the
Oakland Raiders
.
The ESPN rankings suggested that defensive end
Muhammad Wilkerson
is the only real player on the Jets. That, too, was noted in the meeting, according to Pace, who added: "It was seen. It was taken accordingly by us. We're the ones in charge of it. We can change it by playing well."
They did -- on defense, anyway.
Ryan, the de facto defensive coordinator, cooked up a scheme that neutralized running back
Doug Martin
, who was held to 67 yards from scrimmage. The Jets use a 3-4 base defense, but they mixed in a lot of 4-3 fronts, confusing quarterback
Josh Freeman
, who was so befuddled that he took two delay penalties and burned a timeout on the opening series.
These teams had five months to prepare for the opener, and you come out with that? It was embarrassing for the Bucs and Schiano, who saves his worst for his return trips to New Jersey. See last season's amateur-hour move, blitzing
Eli Manning
in victory formation.
"I don't think it's undisciplined," Schiano said of his team.
Under Ryan, the Jets have been painted as an out-of-control team, even though their penalty totals never back it up. On this day, Ryan showed his prowess as a defensive coach. They held the Bucs to 12 first downs, recorded three sacks and forced two turnovers. They made Freeman look more inexperienced than rookie starter Smith, who held up reasonably well despite a few early mistakes.
Ryan did something a little bit unusual, staying in base personnel for much of the game -- even when the Bucs went to three wide receivers. He put a lot of pressure on his corners,
Antonio Cromartie
and rookie
Dee Milliner
, and there were a few hiccups.
Vincent Jackson
caught seven passes for 154 yards, and
Mike Williams
beat Milliner on a 17-yard touchdown.
The loudest hiccup came with 1:54 left in the game, when safety
Dawan Landry
missed a tackle on Jackson and nearly cost the Jets the game. A 10-yard completion on third-and-10 turned into a 37-yard gain, setting up a go-ahead field goal.
Ryan took the blame, claiming the call wasn't communicated clearly. They used the same call earlier in the game, resulting in an interception and a safety. This time, they didn't have a seam-flat player, "and that's trouble." Landry arrived a split-second late, but he still should've made the tackle.
"I'm responsible for it," Ryan said. "That one mistake almost cost us the game."
In the end, the Jets benefited from a "Hail Lavonte" miracle. They may not have the stuff to beat the good teams, but at least they played like they cared about winning. But maybe, just maybe, they will surprise some folks along the way.
"This team is special," Ryan said. "How many wins that is, I don't know. But I know one thing: We're going for it."
September, 8, 2013
9/08/13
4:28
PM ET
EAST RUTHERFORD, N.J. -- Quick takeaways on the
New York Jets
'
18-17
season-opening win over the
Tampa Bay Buccaneers
at MetLife Stadium:


What it means
: The Jets lost the game and they won it, all in the final 76 seconds. Capitalizing on a stupid late-hit penalty on Bucs LB
Lavonte David
in the final seconds, the Jets stole the game with a 48-yard field goal by
Nick Folk
with two seconds left. David's penalty, hitting
Geno Smith
out of bounds, put Folk in field goal range. Moments earlier, a missed tackle by Jets S
Dawan Landry
set up a go-ahead field goal by the Bucs. Yes, the Jets got lucky. But lucky ain't bad in the NFL. Get ready: There will be a lot of close games this season because the Jets' defense will keep them competitive.
Stock watch
: Smith was up. And down. And up. You get the picture. It was a typical rookie performance. Smith committed two turnovers in the first half (a fumble and an interception), but he kept his composure and finished 24-of-38 for 256 yards and a touchdown. He gave the Jets a 15-14 lead in the fourth quarter, executing a nice drive that included a few big screen passes, and his late scramble set up Folk's game-winning field goal. The moment wasn't too big for the rookie, who gave the Jets hope and something to build around.
No ground-and-pound:
New offensive coordinator Marty Mornhinweg has instilled a pass-first mentality; that has to change. The Jets won't win many games by rushing for 90 yards on 29 carries, hardly the ideal way to support a rookie quarterback.
Chris Ivory
was a nonfactor in his Jets debut, and he lived down to his reputation as a poor receiver with a key drop. They tried to mix it up, using
Bilal Powell
and
Jeremy Kerley
in the Wildcat, but they couldn't establish much against the Bucs, who owned the league's top-ranked rush defense last season.
Defense owns Freeman, Martin
: Rex Ryan predicted a top-five defense this season. If the Jets could face the Bucs every week, he'd probably turn out to be correct. Other than Landry's missed tackle, they confused QB
Josh Freeman
by changing fronts, showing some 4-3 looks, and they contained RB
Doug Martin
better than anyone could've imagined. They held Martin to 64 total yards, keeping him off the edges as a runner and receiver. The Bucs' only success came on blitz-beating slants to
Mike Williams
and
Vincent Jackson
, who beat
Antonio Cromartie
for a couple of big plays. Rookie CB
Dee Milliner
settled down after a shaky start, which included a 17-yard touchdown catch by Williams. The Jets could've used ... uh, Darrelle Revis.
What's next
: The Jets have a quick turnaround, as they face the Patriots on Thursday night in Foxborough. The Jets have dropped four straight in the series, including a 49-19 laugher last Thanksgiving -- the night of the Butt Fumble.