New York Jets:

Mario Williams
September, 21, 2013
9/21/13
6:00
PM ET
NEWARK, N.J. -- The
Buffalo Bills
were one of just three teams to open with back-to-back home games. With a 1-1 record, they travel Sunday to face the
New York Jets
.


It's the second divisional tilt in three games for the Bills, who were edged in their opener by the
New England Patriots
. If the Bills can improve to 2-1, they'll keep pace in the AFC East with the Dolphins and Patriots, who enter the weekend 2-0. If they drop to 1-2, then they will sit at the bottom of the division before heading home to meet the
Baltimore Ravens
.
This game features a matchup of the NFL's top two rookie quarterbacks this season --
EJ Manuel
of the Bills and
Geno Smith
of the Jets -- as well as a reunion of two old friends. Bills defensive coordinator Mike Pettine coached 11 seasons under Jets coach Rex Ryan, and the two defensive-minded coaches will try to scheme against each other's offense Sunday.
Here's what to watch for:
1. Spiller's impact:
Bills running back
C.J. Spiller
had 325 yards from scrimmage in two games against the Jets last season. After a slow start in the opener, Spiller came on strong last week against the Panthers, breaking open a pair of big runs while eclipsing the 100-yard mark rushing. The Jets boast the NFL's third-best rushing defense heading into Week 3, allowing an average of 59.5 yards through two games. The Bills have the NFL's fourth-most effective rushing offense. Something will have to give on Sunday, which could help decide the game's outcome.
2. How do rookies fare?
On the surface, it may seem that Manuel and Smith will be in for a long day, playing against two defenses that have ranked in the top half of the NFL in points allowed through two games. But both quarterbacks have the advantage of seeing the general framework of the other team's defense in practice each week; Pettine and Ryan run essentially the same system. Practice and games are two different animals, so it will be worth monitoring how each quarterback responds to what could be blitz-heavy packages in game action, but you almost have to wonder if the Ryan-Pettine effect is overplayed. Both teams figure to be run-first on offense, but maybe this game will feature more passing than first anticipated.
3. Mario vs. Jets O-line:
Jets outside linebacker
Antwan Barnes
said Wednesday that he expects his offensive line to hold up against Bills defensive end
Mario Williams
, who set personal and team records with 4.5 sacks last week. Barnes, of course, won't be out there having to block Williams: that duty will fall to
Austin Howard
, who handled Williams well last season. Williams played a big part in disrupting
Cam Newton
last Sunday, and if he can get to Geno Smith, you'll have to wonder if it leads to some chippiness after plays between the Bills and the Jets, who had a fracas with the Patriots late in their Week 2 game.
September, 18, 2013
9/18/13
7:04
PM ET
FLORHAM PARK, N.J. -- To Jets coach Rex Ryan, Buffalo defensive end
Mario Williams
has it all.
"The fact that God touched this guy and gave him unbelievable gifts -- you got the height, the size, the length, the arms, the speed. That's what kind of jumps out," Ryan said. "And he plays hard. He's smart."
The Jets have the tough challenge of stopping the NFL's sack leader when Williams and the Bills come to town. Williams had 4 1/2 sacks in last Sunday's game against Carolina, which is more than the Jets have as a team through their first two contests.
[+] Enlarge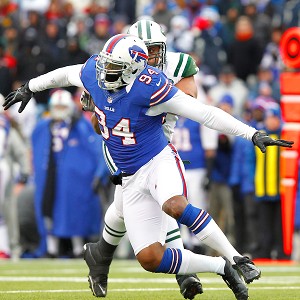 AP Photo/Bill WippertWill the Jets keep Bills DE Mario Williams away from Geno Smith on Sunday?
"Mario Williams is one of those great athletes. He's a good defensive end. They have a good defensive line," Jets right tackle
Austin Howard
said. "At the same time, I believe we have a good offensive line. As usual it's going to be a battle in the trenches and we're prepared for that."
Williams set the Bills record against
Cam Newton
in Buffalo's 24-23 win over the Panthers. The pass-rusher tallied 3 1/2 sacks rushing from the left defensive end spot, while one came from the right side. Three of those sacks could be credited as coverage sacks, though, as Newton held onto the ball for more than five seconds before Williams got him.
"I think that [4 1/2 sacks] might have been our team high last year for the season," Ryan said in reference to the Jets being led by
Quinton Coples
' 5 1/2 sacks in 2012.
The Jets did a great job against Williams last year as they held him to zero sacks in two games. In Williams' first game with Buffalo after signing a six-year, $100 million deal, the Jets held him to just one tackle in a 48-28 rout. Williams had three tackles in the second game.
After the first game, Williams said that Howard had been illegally blocking him, and allegedly using hands to the face almost on every play. Ryan defended Howard by saying he disagreed with Williams, and Howard defended himself by saying he wasn't penalized for what Williams was claiming.
Howard, who will see plenty of Williams on Sunday, said he's going to put in plenty of study time to break down Williams' game after his monstrous day.
"Study the films and learn what he does best and try and learn why and how he got those sacks," Howard said. "Going against him twice already I understand physically who he is and I believe the guys we have on defense give us a good look to prepare for what they do well as a defense."
Buffalo is running a new scheme this year under former Jets defensive coordinator Mike Pettine, who runs a scheme very similar to Ryan. Howard said preparing against Ryan's defense each day helps them prepare for Buffalo.
"We respect their line. We respect their defense very much," Howard said. "And we respect their defensive coordinator as well."
September, 10, 2012
9/10/12
1:24
PM ET
FLORHAM PARK, N.J. -- Rex Ryan didn't see
Austin Howard
use illegal hands to face to block
Mario Williams
on Sunday. He saw his right tackle playing an outstanding football game and keeping the $100 million defensive end at bay.
Full news story
here
.
September, 7, 2012
9/07/12
3:05
AM ET
Are you ready for some Tebow?
After months of anticipation, the Jets open the fourth season of the Rex Ryan era Sunday against the Bills. The last time we saw them in a real game was New Year's Day, and they were fighting among themselves in Miami. The team hasn't changed much since then, but the attitude is better (so they tell us) and they have
Tim Tebow
as their backup quarterback/Wildcat quarterback/personal punt protector/publicity stunt. (Joe Namath made me add the last one.)


Here's a breakdown of Jets-Bills:
1. Where's Tim?
It wouldn't be a surprise if Tebow gets on the field for 18 to 20 snaps, counting offense and special teams. The most drama, of course, involves the Wildcat. They're capable of using Tebow in any number of ways, but they're counting on his running/improvisational ability to spark an offense that managed only one touchdown in the preseason. Look for Tebow in the red zone and in short-yardage situations, another bugaboo from the preseason. At times, QB
Mark Sanchez
will come off the field. They won't hesitate to let Tebow throw. If he gets a zero-coverage look -- no safety in the deep middle -- Tebow will let 'er rip.
2. Super Mario
. RT
Austin Howard
makes his second career start. In his first start, a meaningless game for the Eagles in 2010, he had to block the Cowboys'
DeMarcus Ware
-- and he allowed two sacks. This time, Howard gets DE
Mario Williams
-- another killer. What's next, an old-timer's matchup against Deacon Jones? There's a lot riding on Howard vs. Williams -- the game and GM Mike Tannenbaum's reputation as a talent evaluator. Howard might surprise. He's a powerful man and could neutralize Williams' bull rush. But Williams is remarkably quick off the ball for a 292-pound man and he will cause problems with his outside rush. Tony Sparano can't leave Howard on an island or it could wreck the game.
3. Marksman
. The Jets, no doubt, will look to establish their ground game, but Sanchez can't ignore the Bills' young corners,
Aaron Williams
and rookie
Stephon Gilmore
. They like to play aggressive, press coverage, so it'll be critical for
Santonio Holmes
and rookie
Stephen Hill
to beat bump-and-run at the line. Sanchez will go after Gilmore, especially if it's a Gilmore-Holmes matchup. Gotta keep Holmes happy; they don't want a repeat of last season. If Sanchez gets time, he should be able to do some damage. In his last four games against the Bills, he has eight TD passes, only two INTs.
4. A return trip to the island
. You think
Darrelle Revis
will be motivated for this game, or what? He'll see a lot of
Stevie Johnson
, who enhanced his reputation last season with two good, but hardly great games against Revis -- a total of 11 passes for 159 yards and one TD. The Jets say Revis won't be matched exclusively against Johnson, but we'll see. By far, he's their No. 1 threat in the passing game. It makes sense to put Revis on him and let everyone else key on RB
Fred Jackson
, the cog in the Bills' AFC-leading rushing attack.
5. The oh-no-huddle
. The Jets expect to see the no-huddle from the Bills. Makes sense. In their first preseason game, the Bills went no-huddle and didn't run the ball for the entire first quarter. This poses two potential problems for the Jets, who struggled last season against no-huddle attacks: Obviously, conditioning could be an issue, especially in the September heat. Secondly, it could allow the Bills to exploit certain matchups, especially if they use Jackson and RB
C.J. Spiller
at the same time. Spiller, who has receiver-quality skills, can split out -- and that would be a real headache for the Jets, whose linebackers and safeties have trouble in space.
September, 5, 2012
9/05/12
6:03
PM ET
FLORHAM PARK, N.J. -- Rex Ryan can only think of one tougher assignment for
Austin Howard
than having to face new Buffalo defensive end
Mario Williams
in the Jets' season opener on Sunday.
"Probably the only thing worse would be the
(DeMarcus) Ware
kid," Ryan said Wednesday. "That probably would be the only bigger challenge."
[+] Enlarge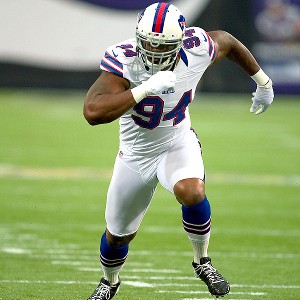 AP Photo/Scott BoehmMario Williams stands 6-foot-6, weighs 292 pounds and has been selected to two Pro Bowls.
Howard, the right tackle who will be making just his second career start and his first with the Jets, will likely see plenty of Williams when the AFC East foes clash Sunday. Howard was recently anointed the team's starting right tackle in place of the traded
Wayne Hunter
, and will have no time to ease into his new role.
"We respect their defense a lot, but we're very confident as an offensive line," Howard said. "We're all looking forward to this game and just want to get out there and play our best and prepare how we know to prepare and just get it going."
Williams, who spent six seasons in Houston, made life tougher for all AFC East tackles when he brought his 53 career sacks to Buffalo this offseason after signing a six-year deal. While Williams didn't say on a conference call if he'd be lining up more at right defensive end or on the left against the Jets, Ryan has no doubt he'll see Williams lined up against Howard.
While battles between tackles and defensive ends can be billed as one-on-one showdowns, Howard isn't looking at it that way. He wants to be solid in his entire game, from his run blocking to his pass protecting, and be part of a cohesive unit. He described Williams as a quick player with long arms, the attributes of a great pass rusher.
"As a unit we just want to play together, make sure we protect the passer and make some big holes for the runners," Howard said. "That's our goals and that's what we're going to try to do."
As he prepares to face Williams, Howard will use lessons he learned from facing Ware in his first career start in 2010, for Philadelphia. Howard is only in his third season and has played in just four games, so any experience he has is vital for his preparation.
"I learned a lot from that game in terms of sets, preparing, make sure I'm ready for the game and in terms of pass-blocking techniques," said the 25-year-old. "You learn every game you get a chance to get out there."
The Jets can help Howard out Sunday with chip blocks and double teams, but as Ryan recognized, they can't help him out on every play. He's going to have to win the individual battles. His quarterback seems confident his right tackle will keep him upright.
"We're expecting Austin to play well against someone who is very talented," Jets quarterback
Mark Sanchez
said. "A guy like Mario Williams, he's a game-changing type player. It's important to block him up and get rid of the football."