New York Jets:

Mark Gastineau
January, 29, 2014
Jan 29
12:00
PM ET
There was a time in
New York Jets
history when one of the biggest power brokers was agent Leigh Steinberg. In the 1980s and 1990s, he represented the likes of
Ken O'Brien
, Tony Eason,
Dave Cadigan
,
Browning Nagle
and
Neil O'Donnell
. And, for a brief time, Mark Gastineau.
Steinberg, the inspiration for the movie "Jerry Maguire," went off the radar as he battled alcoholism, but he's making a comeback -- and his life story is detailed in his new book, "The Agent." (St. Martin's Press). I caught up with him this week, and he did some reminiscing about his dealings with the Jets.
In 1983, Steinberg came to the aid of Gastineau, who, along with O'Brien, was involved in a headline-making brawl at the then-famous Studio 54 club in Manhattan. He tells a great story about a lengthy, late-night meeting with the late Leon Hess. The Jets' owner, who made his millions in oil and gas, told Steinberg he'd never met a sports agent before. They met at Hess' home in Manhattan.
"He had a luxury apartment with priceless art and amazing sculptures," Steinberg told me. "We were talking about the power of football and he said, 'Energy resources are what make the world go 'round.' He said, 'Let me tell you about some of the important people I know.' He takes out his Rolodex and shows me a card, with a phone number and everything, of the Ayatollah Khomeini" -- the late controversial leader of Iran, once described as the face of Islam.
Because of his oil business, Hess was well-connected in the Middle East.
"That's one of those stories you don't tell until they're gone," Steinberg said, laughing.
There's a postscript: When Steinberg returned to his home in California, he found six or seven toy Hess trucks, a gift from the owner.
Steinberg has represented some of the biggest names in the sport, but he said there was no one quite like Gastineau.
"One day, I was walking down the street in Manhattan with him, and I'd never been in public with a player who had more of a visceral effect on fans than Mark Gastineau," Steinberg said. "I've had
Warren Moon
,
Troy Aikman
,
Steve Young
, but there was no one like Gastineau. Every cab driver, every construction work was like, 'Yo, Mark! Yo, Mark!' It was like being with a rock idol. He was perfect for New York. He once sent me a fur coat and I hung it in my closest in Berkeley. I was worried about being the target of anti-fur activists."
One of Steinberg's last dealings with the Jets came in 1996, when he negotiated a five-year, $25 million contract for O'Donnell, a free agent coming off an AFC Championship with the
Pittsburgh Steelers
. The negotiations got heated at times. Steinberg said team president Steve Gutman was barking so loudly on the phone that he had to put down the earpiece and use speaker phone because he got a headache.
It turned out to be a disastrous deal for the Jets, as O'Donnell lasted only two seasons. Steinberg thought it was the right fit because of O'Donnell's New Jersey roots.
"The only thing better," he said, "would've been the Giants, right?"
October, 5, 2012
10/05/12
2:49
PM ET
FLORHAM PARK, N.J. — Mark Gastineau, who will be inducted Monday night into the Jets Ring of Honor along with Wesley Walker, spoke on Friday afternoon about the years since he retired from football. He detailed his peaceful life in New Jersey with his church, his wife and their two dogs. His pension, he said, is a blessing.
Inevitably, he was asked about the current Jets' defensive problems.
[+] Enlarge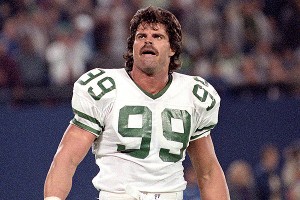 Tom Berg/Getty ImagesMark Gastineau led the NFL in sacks with 19 in 1983 and 22 in 1984.
"I don't have any right to comment on those things and I will never step on a coach's toes," Gastineau said.
The former Sack Exchange anchor has apparently turned into the anti-Namath. He didn't reference the critical former Jets quarterback, but Gastineau has definitely taken the opposite approach when it comes to discussing the Jets in public.
Jets fans may be happy about that, but it'll probably mean Gastineau doesn't get his own radio show any time soon. As it is, Gastineau seems pretty content with his life, which includes singing in the church choir and fundraising for a favorite charity.
He is looking forward to his Ring of Honor induction, something he never envisioned when joining the NFL in 1979.
"I'll probably start crying. You guys'll make me cry right now thinking about it," Gastineau said. "It'a a big honor and it's honor that I will cherish."
Gastineau, a five-time Pro Bowl defensive end, expects to see fellow Sack Exchange members Joe Klecko and Marty Lyons there to help celebrate.
"There's no words to describe something that the New York Jets have decided to give me and Wesley," Gastineau said.
He is hoping to see a Jets win on Monday, which will be tough considering Houston is the heavy favorite even though the game is at MetLife Stadium.
"They're not going to give up," Gastineau said of the Jets. "This is when the going gets tough, the tough get going. So they're going to be all right."