New York Jets:

Michael Sam
May, 11, 2014
May 11
12:45
PM ET
Thoughts and observations on the
New York Jets
' most prolific draft in 16 years:
1. Cheaper by the dozen
: The history books will show that the Jets and
San Francisco 49ers
tied for the most selections -- 12. In terms of volume, this was the Jets' biggest haul since 1998, when Bill Parcells was running the show and drafted 12 players. They'd better hope this one turns out better than '98, which produced only one quality player -- tackle Jason Fabini.
2. Balanced attack
: The Jets selected six players on offense, six on defense. So everybody in the building is happy.
[+] Enlarge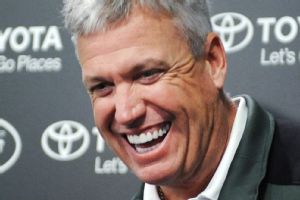 AP Photo/Bill Kostroun"I think we have a lot of excellent football players here, and I know our organization's excited about these players," said Rex Ryan about the Jets' draft.
3. Needy Jets:
They always talk about taking the proverbial "best player available," but this smacks of a "need" draft. Basically, the Jets devoted half the draft to their two biggest needs, picking three defensive backs (two corners and one safety) and three wide receivers. The last time they took three receivers was 1990, when they drafted Reggie Rembert (traded before the opener), Terance Mathis and Dale Dawkins.
4. Enough speed?
The prevailing thought going into the draft was they needed to pick a burner at wide receiver, a home run threat to play opposite
Eric Decker
. It's still an issue, as they passed on the high-profile prospects. Who are the starting receivers? Decker and ...
Jeremy Kerley
? He's better in the slot.
Stephen Hill
? Come on. The Jets are hoping one (or more) of their three receiver picks can develop into that kind of player.
Jalen Saunders
(fourth round) is small and shifty.
Shaq Evans
(fourth) had five touchdown catches of 54-plus yards in his career.
Quincy Enunwa
(sixth) set a Nebraska single-season record with 12 touchdowns, including a 99-yarder in the Gator Bowl. So we'll see.
5. John the deliberate:
There were 27 trades during the draft, but the Jets were one of only seven teams that didn't get involved. General manager John Idzik took a passive approach, letting the draft come to him, as they like to say. That's unfortunate, because the Jets -- armed with eight tradable picks at the outset -- wasted an opportunity to jump up and grab players they really liked. You're not going to have 12 rookies on your opening-day roster, so why not use some of the picks to improve your draft position? Instead of attacking, they played a read-and-react style. I wonder if everyone in the draft room was comfortable with that strategy.
6. Mission impossible:
We live in a world of instant analysis, so draft experts and folks like me are required to assign grades as soon as the draft is complete. In most cases, it's a pointless exercise. For the record, ESPN's Mel Kiper Jr. gave the Jets a B, same grade as last year. The Jets received generally favorable reviews from the so-called gurus, yet it's interesting to note that only two picks (
Calvin Pryor
and
Jace Amaro
) appeared in the pre-draft top-100 lists of Kiper, Todd McShay, Mike Mayock and Scouts Inc. As a matter of fact, eight of their picks were ranked 200 or lower on the Scouts Inc. list. Hmm.
7. Rex the restrained:
Rex Ryan, who famously gloated last season that the 2013 draft was an "A-plus" for the Jets, refrained from making any over-the-top declarations -- well, kind of. "To say it's an A-plus now, I'm not going to do that," he said. "But I think give us the season, let that thing run out, then I'll be more than happy to. But I wouldn't be surprised if it's an A-plus again because I think we have a lot of excellent football players here, and I know our organization's excited about these players." Last year's draft produced five starters; that won't happen this year.
8. Coach Mac attack:
The happiest guy in the building might have been new special teams coach Thomas McGaughey. Except for quarterback
Tajh Boyd
, the draft is filled with prime candidates for special teams. That should help improve the overall athleticism on a unit that showed signs of decay last season. The most dynamic addition is Saunders, who scored on two punt returns last season and averaged 15.4 yards.
9. I.K. is OK:
I never thought defensive
Michael Sam
was a serious possibility for the Jets because, at 6-foot-2, 261 pounds, he's not an ideal scheme fit in Ryan's base 3-4. But in the sixth round, the Jets drafted defensive end
I.K. Enemkpali
, who is 6-1, 261 pounds. Not only is Enemkpali slower than Sam, based on their reported 40-yard dash times, but his level of competition in college doesn't match that of Sam -- Louisiana Tech and Missouri, respectively.
"I don't know that we'll get into guys that we would have considered and comparing them against ours," said Idzik, when asked why he took Enemkpali over Sam. "Obviously, we felt very good about I.K. and he has a chance to fit a role here, come in and compete." The Jets did Sam a favor by not picking him. The media attention in New York would've been crazy, a major distraction for him and the team. Sam landed in the ideal place. Kudos to the
St. Louis Rams
.
10. Character issues:
At least three of the 12 picks were arrested in college. Enemkpali was arrested in the spring of 2011, and charged with disturbing the peace and battery of a police officer. He received a school suspension. In March 2012, Amaro was arrested on felony credit card fraud; the charges were eventually dropped. In December 2012, Saunders was arrested for marijuana possession. The charge was dropped when a teammate took responsibility.
11. Two firsts:
Enemkpali became the first player from Louisiana Tech drafted by the Jets. Ditto for cornerback
Brandon Dixon
, from NW Missouri State.
12. Different strokes, different folks:
Under Idzik, the Jets have drafted 19 players in two years. His predecessor, Mike Tannenbaum, selected 21 players in his last four drafts.
13. Matty Iced:
If I'm
Matt Simms
, I'm feeling a bit concerned about my job security. Ryan made it quite clear he was the driving force behind the Boyd selection.
14. The Black Holes:
I found it interesting the Jets used their first two picks on positions in which they haven't had much drafting success -- safety and tight end. The last drafted tight end to make the Pro Bowl was Mickey Shuler (1978, third round) and the last safety was Erik McMillan (1988, third round).
15. Quote of the draft:
From Ryan's post-draft news conference: "Did we get everybody we wanted? As far as you guys know, we did."
April, 16, 2014
Apr 16
3:15
PM ET
The
Michael Sam
story has died down in recent weeks, but it's sure to become hot again as the draft approaches. The former Missouri defensive end, projected as a middle-round pick, is poised to become the first openly gay player in the NFL. The speculation already is starting to swirl as to which team might draft him.
On Tuesday night, the Baltimore Sun listed the
New York Jets
among
six teams showing the most interest in Sam
. The others are the
Baltimore Ravens
,
Indianapolis Colts
,
New England Patriots
,
Atlanta Falcons
and
Cleveland Browns
.
There's a lot of smoke this time of the year, much of it created by the agents, so it's hard to quantify interest. From what I understand, the Jets have spoken to Sam at several junctures throughout the scouting process, which began with the Senior Bowl in January. They probably talked to him at the scouting combine, his pro day, a private workout, etc. -- the routine check points on the road to the draft. It's called due diligence. Whether that puts them on the "most interested" list is open to interpretation.
The Jets could use a young pass-rusher on the outside, although Sam isn't an ideal scheme fit for their base 3-4 defense. Many scouts say he's not athletic enough to play outside linebacker and not big enough to be a defensive end in a 3-4. Interestingly, four of the six most-interested teams play some form of a 3-4 defense. For the Jets' purposes, he'd probably be a situational pass-rusher. He recorded 10.5 sacks last season, winning co-SEC Defensive Player of the Year.
Sam will be a huge story wherever he plays, but he'd be really big in a market like New York. The Jets' locker room would be under a microscope, outsiders studying how it reacts.
"I think he'd be welcome," Rex Ryan said at the scouting combine. "I don't think he'd be any different than any other player we have. One thing I know for sure: We have 53 different players. They're all different -- different religious beliefs, what they look like, height, weight, married, single.
"Everybody is different. The main thing we talk about is respect in our locker room. Even though everybody is different, it's a respect thing. If a young man is a good football player and a good teammate, that's all we ask. He'd fit in just like the rest of our guys."
February, 23, 2014
Feb 23
12:00
PM ET
INDIANAPOLIS -- Notes and observations from the NFL scouting combine:
1. Backs to the wall:
This comes as a bit of a surprise, but I hear the
New York Jets
are exploring free-agent running backs -- namely
Donald Brown
(
Indianapolis Colts
) and
Ben Tate
(
Houston Texans
). Obviously, their greatest needs are wide receiver and tight end, with running back thought to be a secure position with
Chris Ivory
and
Bilal Powell
. But general manager John Idzik is a big believer in competition and depth. It also could mean that the troubled
Mike Goodson
is on thin ice. The bad boy from last offseason has legal issues, a surgically repaired knee and an upcoming $650,000 roster bonus. Why would the Jets pay that for a player in Goodson's situation? Both Brown and Tate have above-average running skills and they can catch the ball, a much-needed skill in the Jets' backfield.
2. Money to burn
: When free agency opens March 11, the Jets should have at least $22 million in salary-cap space (not counting the anticipated veteran purge), but that doesn't mean they'll be spending like Kim Kardashian in a designer clothing store. Idzik still believes in building through the draft. "The draft is your lifeline," he said. "Free agency is phone-a-friend." That said, the Jets are expected to use the phone a few times. The feeling in the organization is they will sign a No. 2 wide receiver, a tight end (if they lose
Jeff Cumberland
), a veteran backup quarterback, a running back and a kicker (if they lose
Nick Folk
). They're optimistic about their chances of re-signing tackle
Austin Howard
. Yes, they have a fairly lengthy shopping list, but I don't see them breaking the bank for anyone with an $8-million-a-year-type deal. They will use the draft to find a potential No. 1 receiver and a pass-catching tight end, along with plugging some holes on defense.
3. QB quest
: The Jets met with at least two quarterbacks, LSU's
Zach Mettenberger
and Eastern Illinois'
Jimmy Garoppolo
. The 6-5 Mettenberger, in the final stages of knee-surgery rehab, is an interesting prospect. Idzik, who scouted him in person during the season, is looking to add a developmental quarterback at some point in the draft. Mettenberger could be just that in the late rounds. I see the Jets going to training camp with
Geno Smith
,
Matt Simms
, a new veteran backup and a rookie.
4. Off the Mark:
If the Jets decide they want to retain
Mark Sanchez
(unlikely), they will try to get him to swallow a massive pay cut. The amount of their proposal will tell Sanchez just how much they really want him. If they try to slash his base pay from $9 million to $1 million, it would be insulting, a strong indication he'd have no chance to unseat Smith. If they offer in the $3 million-to-$5 million range, with a chance to make more money with incentives, it would show they consider him a viable starting option.
4a. Butt fumble revisited
: Former longtime GM and current ESPN analyst Bill Polian believes Sanchez has been unfairly stigmatized by the "butt fumble." "Unequivocally, the butt fumble wasn't his fault," Polian told me. "It's been played ad infinitum. The guard (
Brandon Moore
) got driven into him. Perception is often times reality, and that's what people think. If you ask the average person what they think of Mark Sanchez, they'd say the butt fumble. It wasn't his fault."
5. Legal tampering
: The combine is the place where agents and teams meet to discuss free-agent deals. Technically, it's not allowed, but no one says anything. Curiously, a number of agents told me that teams are reluctant this year to discuss specific dollar amounts. It's likely that teams, concerned about having their offers shopped around, are waiting for the March 8-11 exclusive negotiating period to get serious.
6. Seen around Indy
: Former Jets colleagues Mike Tannenbaum and Eric Mangini lunched together. Despite the awkward parting in 2009 (actually, Woody Johnson was the driving force behind Mangini's ouster), Tannenbaum and Mangini have remained close friends. Mangini, named last week as the tight-ends coach of the
San Francisco 49ers
, is working his way up the ladder on the offensive side of the ball. If he makes it to coordinator some day, he'll have the rare offensive/defensive coordinator on his résumé.
6a. Seen around Indy II
: Rex Ryan and twin brother, defensive coordinator Rob Ryan, took a break from the combine to eat at a local Hooters restaurant. Naturally, they ended up on Twitter, posing in a picture with a group of Hooters' waitresses.
7. Give that man a pair of ear plugs
: Former Jets defensive coordinator Mike Pettine's experience in a circus-type environment (the Jets, 2009-2012) should serve him well in his new job as the
Cleveland Browns
' coach. He got the job after 23 people turned it down (only a slight exaggeration), saw the two men that hired him get whacked (Joe Banner and Mike Lombardi) and was hit Friday with the news that the Browns reportedly came close to hiring San Francisco 49ers coach Jim Harbaugh before turning to him. Pettine called the Harbaugh story "noise -- and my goal is to quiet the noise." He recently held a staff meeting in which he used a Power Point presentation to underscore the challenge before them -- two playoff appearances, one playoff win and 141 coaches since 1991. Said Pettine: "To turn around a franchise, you have to be extraordinary." Here's wishing him luck; he'll need it.
8. Best and worst
: I thought
Michael Sam
handled himself extremely well Saturday in his first news conference since sharing he is gay. Facing perhaps the largest news conference in combine history, Sam was confident, yet not cocky, projecting the image of a young man who just wants to play football. On the other side of the news-conference spectrum was
Miami Dolphins
coach Joe Philbin, who fumbled his way through a Q & A that focused on the bullying scandal. He was all over the place, accepting responsibility in one breath but pleading ignorance in the next. How they fired longtime trainer Kevin O'Neill, portrayed in a negative light in the Wells report, was a low-class move. The Dolphins flew him to the combine and
then
fired him, two days before he was to receive an award in Indianapolis as the league's top trainer. He didn't attend the ceremony, but received a standing ovation when his prepared remarks were read to the crowd.
9. Respect for JC
: It was interesting to hear offensive linemen talk about South Carolina's
Jadeveon Clowney
, the possible No. 1 overall pick. Said Michigan tackle
Michael Schofield
: "I played a series against Clowney, and that was probably the hardest series of my life." Other linemen echoed similar sentiments. The Houston Texans, picking first, have a tough choice. They need a quarterback, but Clowney is the best talent in the draft.
10. Johnny Football speaks
: Clearly,
Johnny Manziel
's mission at the combine was to shatter his image as a rock star-party boy quarterback. Asked to describe the difference between Johnny Football and Johnny Manziel, the former Texas A & M star shifted into third person. "Johnny Manziel is a guy ... I'm from a small town of Kerrville, Texas, 20,000 people. People make me out to be a big Hollywood guy, (I'm) really just still a small-town kid" -- who jets off to Vegas to party with the rich and famous.
February, 22, 2014
Feb 22
6:00
AM ET
On the schedule for Saturday in Indianapolis:
Giants/Jets media availability:
Giants general manager
Jerry Reese
will address the media at 10 a.m., one day after his coach -- Tom Coughlin -- announced his own one-year contract extension. No doubt, Reese will be asked about Coughlin, but most of the topics will be personnel-related. The Giants' talent base has decayed the last two years, and Reese needs a home-run draft to get them back in the playoffs. There will be no Jets media availability.
Combine schedule:
This is the busiest day because there are four different player groups involved in various activities. The offensive linemen and tight ends finish up their week with on-field drills -- springs, agility stations and skill drills. ... The quarterbacks, running backs and wide receivers move to their next phase -- psychological testing, bench press and team interviews. ... The defensive linemen and linebackers get into the action with measurements, medical exams, team interviews and media obligations. ... The defensive backs arrive in town, starting with a medical pre-exam and X-rays, orientation and team interviews.
Players of interest:
The big story -- the big, big story -- will be
Michael Sam
. If you haven't heard of him, you're welcome to rejoin our society at any time now. The former Missouri defensive end, who came out recently as gay, is scheduled to meet the media. It probably will be the largest news conference in combine history, assuming it happens. The schedule got jammed up Friday because medical exams took longer than expected, causing some of the wide receivers (including the top prospects) to postpone their media sessions until Saturday. Hopefully, Sam stays on schedule because it should be fascinating.
February, 20, 2014
Feb 20
6:00
PM ET
INDIANAPOLIS -- Rex Ryan believes his locker room would have no problem accepting an openly gay football player.
"I think he'd be welcome," said the
New York Jets
' coach Thursday at the NFL scouting combine, referring to
Michael Sam
, of course. "I don't think he'd be any different than any other player we have. One thing I know for sure: You're going to have 53 different players. They're all different -- different religious beliefs, what they look like, height, weight, married, single.
"Everybody is different," Ryan continued. "The main thing we talk about is respect in our locker room. Even though everybody is different, it's a respect thing. If a young man is good football player and a good teammate, that's all we ask. He'd fit in just like the rest of our guys."
Later, in an interview with ESPN New York 98.7, Ryan said Sam "wouldn't be a problem in our room. I'm sure he'd fit right in." He added that he'd be "disappointed" if his locker room didn't embrace the former Missouri defensive end.
General manager John Idzik, addressing reporters at the combine, echoed Ryan's remarks. This was the organization's first public comment on Sam, who came out recently and could be the first openly gay player in the NFL.
Ryan declined to say if Sam would be a scheme fit for the Jets, saying he hasn't watched any tape of him. A shade under 6-2, the 255-pound Sam is considered a tweener -- too small to play defensive end, but not athletic enough to play linebacker. He's projected as a middle-round draft pick.
February, 16, 2014
Feb 16
11:00
AM ET
Catching up with the
New York Jets
:
[+] Enlarge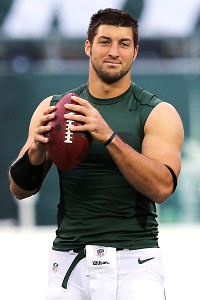 Debby Wong/USA TODAY SportsThe Jets didn't handle the Tim Tebow circus particularly well, so how would they handle prospect Michael Sam?
1. Welcome mat?
Curiously, the Jets' players were relatively quiet on Twitter when
Michael Sam
made his announcement last Sunday. How would they feel about an openly gay player on their team?
Sheldon Richardson
spoke highly of Sam, his former college teammate, in a TV interview. Another player, speaking on the condition of anonymity, told me, "Besides the amount of media, you're dealing with some guys who might not be comfortable with it. He was the Defensive Player of the Year in the SEC, so, obviously, the guy can play some ball. At the end of the day, it's all about playing football. If we could use him, I don't see why not. I think we'd welcome him. We know he's a heckuva player."
As the player noted, the media factor would be significant. Anybody who doesn't think it wouldn't be a distraction is fooling themselves. Some teams handle distractions well; some don't. The Jets didn't exactly stage a clinic during the
Tim Tebow
circus in 2012. The team has yet to comment on Sam, but general manager John Idzik and Rex Ryan will address the media Thursday at the scouting combine in Indianapolis.
1a. Not a Jets fan
: Six days ago, I examined the possibility of whether the Jets
might be interested in Michael Sam
. Maybe the question should be, why should Sam be interested in the Jets? A Sam acquaintance -- Cyd Zeigler, co-founder of OutSports.com -- doesn't think the Jets would be a good landing spot for Sam. Zeigler, who was involved with Sam's agents and publicists in the strategic planning of his announcement, trashed the Jets and other teams in an interview with a CBS radio affiliate in Washington, D.C.
"He can work on any team with decent leadership," Zeigler said. "I pray to God he doesn't end up on the
Dallas Cowboys
, the New York Jets or the
Washington Redskins
. I think those three teams -- they have poor leadership, but most of the other teams in the NFL have guys -- the coaching staff, the front office and locker room -- who are equipped to deal with this."
2. Under the microscope
: Aside from the social and cultural aspect to the story, Sam's football skills will be under intense scrutiny, starting this week at the combine. He'll generate more attention than any middle-round projection in history. Many scouts will be looking to see if he has the athleticism to make the conversion from 4-3 defensive end to 3-4 outside linebacker. One NFC scout, who watched Sam closely at the Senior Bowl, doesn't think he can do it.
"He's not a linebacker," the scout said. "He doesn't have the instincts or the movement skills. ... He's a tenacious, tough kid, but he's not a space guy."
The scout also was surprised to see Sam play defensive end in the Senior Bowl game after practicing primarily at linebacker during the week. He took that as a sign that Sam doesn't feel comfortable at linebacker. If the Jets agree with the assessment that he can't play linebacker, it's hard to imagine them drafting a defensive end whose size (6-1 5/8, 255 pounds) isn't a fit in their scheme. Besides, they don't have a pressing need for an edge player.
The scout also said "there's no question in my mind" that Sam's sexual orientation will have an impact on his draft position. "I know it's the 21st century, but you still have people who were brought up a certain way," he said. "Forget about the coaches and administrators, what about the players? You have to think twice about putting the player in your locker room."
3. Double-E
: The pre-draft speculation has focused on the Jets' need at wide receiver, but let's not forget, their tight-end depth chart is almost barren. Word is they're very intrigued by North Carolina tight end
Eric Ebron
. Projected as a mid-first-round pick, Ebron will be linked to the Jets in plenty of mock drafts over the next 2 1/2 months. He's the kind of pass-catching threat they need, but there are some questions. "I don't think he's tough enough to run down the seam and catch the ball in the middle," an AFC personnel executive said. "Is he a great athlete? Yes. Does he have good hands? Yes. Can he catch the ball in traffic? I don't think so." Ebron is the kind of athlete that will wow evaluators at the combine and workouts, but teams will have to rely on game tape to determine if the toughness questions are accurate.
4. The Idzik way
: Under general manager John Idzik, the Jets have tweaked some of their player-scouting methods. Terry Bradway, the team's senior director of college scouting, told the team web site, "We're putting a huge emphasis on the person and the character issues, both football and personal. We've done that in the past, but there's an added emphasis." Holding true to that philosophy, they didn't take any significant gambles in last year's draft -- at least not in terms character questions.
5. Say hello to T-Mac
: There hasn't been much written about new Jets special teams coach Thomas McGaughey (the team hasn't made him available to the media), but I talked to someone who worked with him on an NFL team and the feedback was positive. He was described to me as, "A really sharp guy ... a straight shooter ... takes a lot of pride in his work." McGaughey (pronounced: Mc-GAY-hee) spent the last three seasons as LSU's special-teams coach. His insight into SEC players will be valuable during the pre-draft evaluation process. Remember this name: Odell Beckham, Jr. He was a top receiver/kick returner for LSU, and McGaughey is said to be very high on him. A postscript on McGaughey: He interviewed with the Jets in 2008, when Mike Westhoff took a medical leave of absence.
6. Down on Geno
: Former longtime
Chicago Bears
general manager Jerry Angelo, who interviewed for the Jets' job last season, offers an insightful quarterback analysis on
sidelineview.com
. Grading players on a nine-point scale, the way teams grade college players on their draft board, Angelo rates Geno Smith as the 29th quarterback. He puts Smith in the 6.0-6.4 grouping, which he describes as: "Can start and compete with him with a good supporting cast and quality coaching, but lacks something, i.e., arm talent (strength or accuracy), poise, instincts. Not good enough. To win with him 2 of the 3 of the phases have to be dominate or surround him with high caliber players."
Commenting specifically on Smith, Angelo says, "Got a lot of playing time, which may have helped him or hurt him. Too many interceptions and negative plays. His numbers were terrible. His progress will depend on his learning from this year's struggles. Otherwise, defensive coordinators will have a field day with him. Quarterbacks make a living from the neck on up, not the neck on down." I agree. We know Smith has the physical talent; now we'll see how well he can process what he learned last season.
7. Brown and green:
The
Cleveland Browns
' dysfunction (clown car, anyone?) reminds me of the turn-of-the-century Jets. In a span of 364 days, from Jan. 3, 2000 to Dec. 31, 2000, they saw three head coaches quit -- Bill Parcells, Bill Belichick and Al Groh. Ah, memories. The Browns are on their third coach and third GM in three years. Former Jets defensive coordinator Mike Pettine is a promising, young coach, but you wonder if he'll get swallowed up by the Browns' ineptitude.
February, 11, 2014
Feb 11
10:55
PM ET
Sheldon Richardson
remembered
Michael Sam
as "scared and nervous" with his sexuality during their college days at Missouri. On the football field, Sam was just the opposite -- "a killer," according to Richardson.
The
New York Jets
defensive tackle, in an interview Tuesday with SportsNet New York's Jeane Coakley, said he shared a house with Sam during the 2012 season. He described Sam as a good person and a good teammate even though he seemed burdened by his then secret.
Richardson
"I'm [proud of him], actually," said Richardson, alluding to Sam's announcement that he's gay. "He had his best season when he came out to the team, so I'm actually happy for him. It worked out for him [and it] didn't go the opposite way, because I know he was scared and nervous, just for him to be himself. Just him getting that monkey off his back was well worth it 'cause he had his best season of football at Mizzou."
Sam came out to teammates last August, withholding his public declaration until Sunday. The former All-American defensive end is trying to become the first openly gay player in NFL history. Many project him as a potential middle-round pick in the May draft.
Richardson acknowledged there could be an adjustment period for the NFL team that drafts him.
He said Sam "most definitely" has a place in an NFL locker room "unless your team is immature minded. If guys can't get past that then, I mean, it's just crazy. Of course, it might be weird at first if you aren't used to it, 'cause like I said, with me living with him, it was a little bit unusual at first. But it's stuff you look past."
Richardson said Sam never revealed his sexual orientation to him.
"He didn't, but you knew," Richardson said. "You saw him."
Richardson called Sam a "regular guy. Has his own sexuality. Didn't take nothing from him. He was a great teammate, a great person. Everything you wanted out of him, you got out of him. ... I promise you, his sexuality has nothing to do with him playing on the football field. He is a completely different person. He put this face on: No smiles, serious business. He's a killer."
They played together only two seasons at Missouri, 2011 and 2012. Richardson arrived as a junior college transfer and declared for the NFL draft after the '12 season, capturing NFL Defensive Rookie of the Year.
Richardson said Sam is "my guy, my homeboy."
SNY interviewed Richardson in Houston, coincidentally not far from Sam's hometown of Hitchcock, Texas. Richardson is there training with teammate
Muhammad Wilkerson
.
February, 10, 2014
Feb 10
6:10
PM ET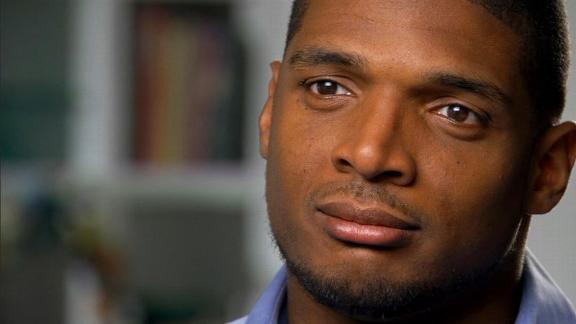 In light of
Michael Sam
's
announcement Sunday night
, we ponder the question: Could the
New York Jets
draft the former Missouri defensive end?
Sam, the first openly gay NFL draft prospect, would attract major media attention wherever he plays, but it would be magnified in a market as large as New York. The Jets are only two years removed from the
Tim Tebow
circus, a season-long distraction that ultimately factored into the firing of general manager Mike Tannenbaum. His replacement, John Idzik, did a nice job last season of eliminating the peripheral nonsense that surrounded the franchise, keeping the focus on football.
This isn't to suggest that Idzik is close-minded and would dismiss Sam as a draftable player because of his sexual orientation, but there's a risk-reward dynamic that goes into every personnel decision. He'd have to ask himself, "Is Sam worth it?" Remember, we're not talking about a blue-chip prospect here; Sam is generally considered a middle-round talent.
The Tebow madness never subsided because the Jets kept splashing kerosene on the fire, mismanaging his role and allowing the circus to get out of control. The Sam story would dominate training camp and would spill into the regular season, but it would eventually fade away -- unless it sparks friction in the locker room and the friction becomes public. Then you're talking about a mega story.

Some people believe the team that drafts Sam needs a strong locker room. Do the Jets have a strong locker room? It's hard to say. Sure, they have a few wise heads, but more than anything, it's a locker room in transition, filled with younger players trying to build careers in the NFL. Obviously, the Missouri locker room was filled with young players and they didn't let Sam's secret stop them from having a terrific season, but they also didn't have reporters poking microphones in their faces every day, asking their feelings on having a gay teammate.
"As far as I'm concerned, if a guy's a good teammate and he can help you win, I'd be open to anybody," Rex Ryan said in an interview with the Huffington Post last spring, shortly after NBA player Jason Collins acknowledged he's gay. "... It wouldn't bother me whatsoever."
Sam wouldn't be an ideal scheme fit for the Jets. Standing under 6-foot-2, weighing about 255 pounds, he's too small to play his college position -- defensive end -- in the Jets' 3-4 scheme. He'd have to switch to outside linebacker. It's a fairly common conversion, but there are no guarantees. Dare we mention
Vernon Gholston
? There are questions about whether Sam has the athleticism to play linebacker. He reportedly struggled in linebacker drills at the Senior Bowl.
Ryan generally prefers outside linebackers to be at least 6-4. There are exceptions such as
Antwan Barnes
, who is only 6-1, but Ryan had a history with him, going back to their days in Baltimore. Sam could be a "rush" linebacker in the Jets' scheme, allowing him to rush from his familiar three-point stance, but they already have a young, ascending player in that position --
Quinton Coples
. The strongside linebacker,
Calvin Pace
, is an unrestricted free agent. If Pace signs elsewhere, they'd have a hole to fill, but Sam isn't a plug-and-play prospect, especially not at a new position -- a position that would require him to step outside his comfort zone.
Sam's college production (11.5 sacks last season) jumps off the page; that alone would pique the curiosity of those in the Jets' draft room. Ryan has an uncanny ability to find a player's strength and put him in a position to succeed. If he thinks Sam can be an effective pass-rusher from a three-point stance, he'd use him that way; he wouldn't ask him to cover tight ends.
Ordinarily, a player of Sam's skill set and resume would be a steal in the middle or late rounds. But for the Jets, a Tebow-scarred team with many other needs, it might be best to go in another direction.