New York Jets:

Mike Evans
May, 3, 2014
May 3
12:00
PM ET
Our last Twitter mailbag before the draft. Here we go.
.
April, 22, 2014
Apr 22
6:00
AM ET
With draft day (May 8 ) rapidly approaching, we'll whet your appetite with a daily factoid, courtesy of ESPN Stats & Information. We'll keep it New York Jets-centric, sticking to team needs, possible selections, trends, etc.
On Monday, Texas A&M's
Mike Evans
was one of a handful of high-profile wide receivers who visited the Jets. Evans has the size and speed to take the top off a defense, which is what the Jets need. In fact, he averaged 13.4 yards per target last season, best among wide receivers from the BCS' automatic-qualifying schools (minimum: 40 attempts). Evans made a lot of magic with
Johnny Manziel
, who went 13-for-25 when targeting Evans on passes of 25 yards or longer. His 13 receptions on passes of this distance led all AQ receivers.
Unfortunately for the Jets, there's virtually no chance that Evans slips to the 18th pick. They'd have to trade up because he figures to go anywhere from seventh to 12th.
March, 1, 2014
Mar 1
8:00
AM ET
Former Texas A&M wide receiver
Mike Evans
, projected as a first-round pick, spoke with reporters at the scouting combine. Here's a little of what he had to say:

Evans
On what it was like playing with Johnny Manziel:
"It was a great experience, playing with one of my best friends. He's a great playmaker. It was real fun, being part of his success. I just love him to death."
On how his basketball background (he's almost 6-foot-5) has helped him as a receiver
: "It's helped a lot. I think a lot of other basketball players should play football. We have the qualities. If there's a jump ball in the air, treat it like a rebound. It helps me get off the press, use my quickness, like when I used to dribble. Everything just incorporates into football."
On how he's handled press coverage from physical cornerbacks
: "When I've faced it, I've had my career days, so I like man coverage. If you watch my film, I think you'll see that I like it, and I embraced it."
On whether he has modeled himself after any NFL receivers
: "Yeah, you know, I get a lot of
Vincent Jackson
comparisons, and that's a great comparison. But I think
Brandon Marshall
. He's vicious after the catch -- big, physical guy, can go up and get it, blocks real well. So I've modeled my game after him since high school."
On whether he considers himself the best receiver in the draft
: "There are a lot of great receivers in this draft, don't get me wrong. But I feel I'm the best one."
February, 25, 2014
Feb 25
6:00
AM ET
The NFL scouting combine wraps up Tuesday with on-field workouts for the defensive backs. We'll take this opportunity to put a bow on the combine, recapping it from a
New York Jets
' perspective:

1. Good hands people:
This is one of those years where the Jets' top need marries with the strength of the draft. Everybody knows they want to rebuild at wide receiver, and the combine reinforced the widespread belief that receiver is perhaps the deepest position. Nearly all of the top wideouts performed well in drills, with
Mike Evans
(Texas A&M),
Brandin Cooks
(Oregon State),
Odell Beckham Jr.
(LSU) and
Jordan Matthews
(Vanderbilt) helping themselves the most. The Jets should be able to get a quality wideout with the 18th pick if they opt to go that route. The abundance of receivers could impact how they approach free agency.
2. Thin at tight end
: The Jets may have to think twice about filling their tight-end need in the draft. North Carolina's
Eric Ebron
solidified his standing as the top tight end with a strong performance, but some of the other top prospects were limited by injuries. For players such as
Jace Amaro
(Texas Tech) and
Austin Seferian-Jenkins
(Washington), it means their pro days will carry greater importance. It's not a terribly deep position anyway.
3. Sanchez saga
: The Jets met with
Mark Sanchez
's reps to discuss the quarterback's future. Nothing was settled, but Sanchez will be rehabbing in New Jersey this week, giving the Jets a chance to monitor his surgically-repaired throwing shoulder. One source said the chances of Sanchez returning are about 20 to 30 percent. Obviously, he'd have to accept a large pay cut. Look for this to play out until March 25, when a $2 million roster bonus is due -- or until they find his replacement.
4. Higher salary cap
: The Jets aren't facing a cap squeeze, but it's always nice to have extra flexibility. The combine began with one report projecting the cap would increase to $130 million, up from $123 million last year. Then came another report saying it would be $132 million. The final number will be announced in the coming days. Either way, the Jets will have the ability to be aggressive in free agency. It'll be a departure from last year, when they were forced to bargain-shop.
5. Meet and greet
: Teams were permitted to conduct 60 formal interviews at the combine. The Jets met with many of the top players, including Central Florida quarterback
Blake Bortles
, but don't put too much stock in these sitdowns. It's called due diligence. They will conduct hundreds of player interviews by draft day. In some cases, the combine interview is just a starting point. Example: The Jets weren't blown away by
Geno Smith
last year, but they scheduled a follow-up on the eve of his pro day. That's when they became more comfortable with him.
February, 23, 2014
Feb 23
8:15
PM ET
If your favorite team needs a wide receiver, like the
New York Jets
do, you've come to the right draft.
Most talent evaluators are calling this an exceptionally deep draft for receivers, a notion that was reinforced Sunday at the NFL scouting combine. It was speed day in Indianapolis -- the receivers, running backs and quarterbacks ran their 40s -- and the Jets had to walk away smiling at their scouting reports. If they can't find a quality wideout in the first or second round, something is wrong.
[+] Enlarge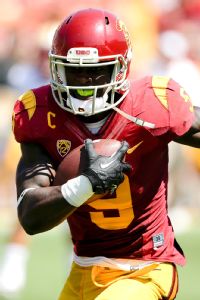 AP Photo/Chris CarlsonMarqise Lee's 4.52 40 time could mean he'll still be around when the Jets draft in the first round.
Clemson's
Sammy Watkins
solidified his status as the top receiver, running an official 4.43 in the 40 -- a time that surprised no one. Texas A & M's
Mike Evans
, a shade under 6-5, helped himself with a 4.53. With so many receiver-needy teams in the top half of the first round, it would be a surprise if Watkins (a possible top-5 pick) and Evans last for the Jets at No. 18.
The speculation will shift to USC's
Marqise Lee
, who did himself no favors by running a 4.52. A shade under 6-0, weighing 192 pounds, Lee was expected to run a sub-4.5. He'll get another shot at his pro day and private workouts. If he stays in the 4.5s, it could work to the Jets' benefit, perhaps ensuring he'd be there at 18. Everybody knows he can make plays -- he was the best receiver in the country in 2012 -- but teams obsess over 40 times.
Speed isn't always an accurate indicator of performance. The NFL Network threw out a cool stat (I hope I remember it correctly), noting that of the 15 receivers with the fastest 40 times in recent combines, only one (Mike Wallace) cracked the 1,000-yard mark in a season.
That said, a great 40 time is worth noting if there's on-the-field production to back it up. Such is the case with Vanderbilt's
Jordan Matthews
, who raised his stock with an impressive combine. Not known for his speed, he ran a 4.46. The dude is 6-3 with the biggest hands (10.3 inches) of any receiver at the combine. Oh, and he's the all-time leading receiver in the SEC. What's not to like? He probably worked his way into the first round. I'm told the Jets were very impressed with him in their private interview.
Other notable 40s: Oregon State's
Brandin Cooks
is short at 5-9 3/4, but he ran 4.33, the fastest time for a receiver. LSU's
Odell Beckham Jr.
will draw first-round consideration after posting a 4.43. He also dazzled in various agility drills.
In case you're wondering, the fastest guy in Indianapolis Sunday was Kent State running back
Dri Archer
, who burned a 4.26 -- narrowly missing Chris Johnson's combine record (4.24).
February, 23, 2014
Feb 23
6:00
AM ET
On the schedule Sunday in Indianapolis:
New York Jets/Giants media availability
: Completed.
Combine schedule
: This is the most interesting day from an on-the-field perspective, because the so-called glamor positions -- quarterback, wide receiver and running back -- perform before NFL scouts and coaches. The players will be timed in the all-important 40-yard dash, and there will be agility stations and skill drills. The 40 always attracts the most interest. Clemson wide receiver
Sammy Watkins
said his goal is to run "something crazy, maybe break the combine record" -- a 4.24 by
Tennessee Titans
running back
Chris Johnson
. Two of the top three quarterback prospects,
Johnny Manziel
and
Teddy Bridgewater
, have said they're not planning to throw at the combine. ... The defensive linemen and linebackers will have psychological testing, the bench press and team interviews. ... The defensive backs have measurements, medical exams, team interviews and a media session.
Players of interest
: Both the Jets and Giants have a need at receiver, so this should be a compelling day. Watkins will be off the board by the time the Giants (12th) and Jets (18th) pick, but USC's
Marqise Lee
and Texas A&M's
Mike Evans
could be available for one or both teams. Lee was scheduled to meet Saturday with Jets officials; Watkins met with them Friday night. Evans, a former basketball player who measured a shade under 6-5, said, "There are a lot of great receivers in this draft, don't get me wrong, but I feel I'm the best one." ... With
David Wilson
's future uncertain, the Giants are in the market for a running back. There's no running-back value at No. 12, but there are second- and third-round candidates, including Auburn's
Tre Mason
, who claimed he's been running in the 4.3s. The stopwatch never lies; players do.
February, 21, 2014
Feb 21
6:00
AM ET
On the schedule for Friday in Indianapolis:
New York Giants/Jets media availability:
New York Giants coach Tom Coughlin is scheduled to speak with reporters at 12:45 p.m. Among the topics sure to come up are his contract situation, new offensive coordinator Ben McAdoo and his potential impact on
Eli Manning
, impending free agent
Hakeem Nicks
and plans to fix the offensive line. The
New York Jets
are finished with their formal media availability.
Combine schedule
: Place-kickers and special-teamers work out for NFL personnel at Lucas Oil Stadium. They will join offensive linemen and tight ends for the bench press, psychological testing and team interviews. ... Quarterbacks, wide receivers and running backs are measured, take medical exams, participate in team interviews and meet the media. ... Defensive linemen and linebackers arrive in town for a medical pre-exam and X-rays, plus an orientation and team interviews.
Players of interest
: Because the Giants and Jets share a wide receiver need, the media sessions for Clemson's
Sammy Watkins
, USC's
Marqise Lee
and Texas A&M's
Mike Evans
will be of particular interest. But, make no mistake, the spotlight will belong to Texas A&M QB
Johnny Manziel
, arguably the most popular player in college football and the potential No. 1 overall pick. Manziel already has said he won't participate in throwing drills, saving them for a personal pro day, but he will be the headline of the day based simply on what he says.
February, 10, 2014
Feb 10
2:00
PM ET
The
New York Jets
' wide-receiver situation calls to mind the popular car-insurance commercial, the one where a guy is told he can save 15 percent in 15 minutes. He responds, "Everybody knows that."
Well, it's the same deal with the Jets at receiver: Everybody knows they need help, lots of help. It's their No. 1 priority in the offseason. Consider: A total of 94 players produced more receptions last season than the Jets' leading receiver,
Jeremy Kerley
, who had 43 catches. Get the picture?
The Jets will go into free agency next month with a depth chart that includes No. 3, No. 4 and No. 5 receivers, but no clear-cut No. 1 and No. 2. Their most accomplished wideout,
Santonio Holmes
, is a likely salary-cap casualty. The wideout with the most long-term potential,
Stephen Hill
, has disappointed. Quarterback
Geno Smith
will have no chance to improve unless the front office surrounds him with some playmakers.
Projected off-season plan
: Look for the Jets to make at least two significant acquisitions -- one in free agency, one via the draft.
Free agency
: The Jets should be able to find a solid No. 2. Two players jump out as possibilities --
Golden Tate
(
Seattle Seahawks
) and
Jeremy Maclin
(
Philadelphia Eagles
). GM John Idzik is familiar with Tate from his years in Seattle and the same can be said for offensive coordinator Marty Mornhinweg and Maclin.
Tate and Maclin are only 25, still early enough in their prime years to warrant a big contract. Maclin's familiarity with Mornhinweg's offense makes him a natural fit, but there's risk because Maclin is coming off ACL surgery. Idzik has shown he's willing to gamble on medical risks, but those were modest contracts. Maclin will be costly despite his 2013 injury. A one-year, prove-it contract won't be enough to pry him away from the Eagles.
Eric Decker
(
Denver Broncos
) will be a hot ticket, but buyer beware: His gaudy numbers are due, in large part, to
Peyton Manning
. Nevertheless, he'll get paid like a No. 1 receiver, figuring to land a deal for at least $9 million per year. The Jets would be wise to stay out of that neighborhood, focusing on a $5 million-to-$7 million-a-year receiver that can grow alongside the wideout they pick in the draft. The Seahawks'
Sidney Rice
, a possible salary-cap casualty, could be a possibility.
Draft
: Six to nine receivers could go in the first round, according to ESPN draft guru Mel Kiper, Jr. The Jets (18th) are sitting in the middle of the round, staring at the likelihood of getting the fourth- or fifth-best wideout. Forget about
Sammy Watkins
(Clemson); he'll be long gone.
Mike Evans
(Texas A&M) and
Marqise Lee
(USC) figure to go somewhere in the 13-to-18 range. Remember, the Jets could move up four or five spots by trading their extra third-rounder, putting them in position to take a top wideout. Idzik won't force a "need" pick, so it's possible they could wait until Round 2. Signing a good receiver in free agency will allow them the luxury of waiting, if necessary.
January, 22, 2014
Jan 22
11:00
AM ET
With Senior Bowl practices underway in Mobile, Ala., it means draft season is upon us.
The
New York Jets
, picking 18th, are in good position to address their No. 1 need (wide receiver). They could have needs at tight end, right tackle, cornerback, outside linebacker and safety, depending on how things shake out in free agency.
Players that could be in play for the Jets at 18:
Marqise Lee
,
wide receiver, USC
: He'd be a top-5 pick, based on his monster 2012 performance, but he was banged up last season and his numbers dropped dramatically. He's an underclassman whose combine performance and private workout will dictate how high he goes.
Eric Ebron
,
tight end, North Carolina
: Pass-catching tight ends are trending up, so Ebron -- the best in the draft -- may not last until 18. He averaged 15.7 yards per catch last season. Underclassman.
Mike Evans
,
wide receiver, Texas A&M
:
Johnny Manziel
's favorite target is a 6-foot-4 former basketball player with an impressive résumé. He averaged 20.2 yards per reception last season and scored 12 touchdowns. There are questions about his stopwatch speed. Underclassman.
Justin Gilbert
,
cornerback, Oklahoma State
: Yes, it's hard to imagine them taking a first-round cornerback two years in a row, but the Jets will be hurting if they can't find a way to keep
Antonio Cromartie
and his bloated contract. Gilbert made seven interceptions last season.
Cyrus Kouandjio
, tackle, Alabama:
It's not a need position unless
Austin Howard
leaves via free agency. If he does, there are no sure-fire answers on the roster. Kouandjio is an underclassman.