New York Jets:

mike nugent
October, 27, 2013
10/27/13
6:00
AM ET
A few thoughts and observations on the
New York Jets
for Week 8:
1. Rex & Co.:
One of the most overlooked aspects of the Jets' surprising 4-3 record is how Rex Ryan has managed to galvanize a rebuilt coaching staff. Remember, Ryan parted ways with all three coordinators after last season -- OC Tony Sparano (fired), DC Mike Pettine (contract expired) and STC Mike Westhoff (retired). Ryan also lost assistant head coach/linebackers Bob Sutton, among others. At the time, it looked like passengers jumping from a sinking ship. Ryan filled some spots by promoting from within, but he had to go outside the organization to hire eight coaches, some of whom accepted one-year contracts. That's a lot of upheaval under a head coach with little security.
[+] Enlarge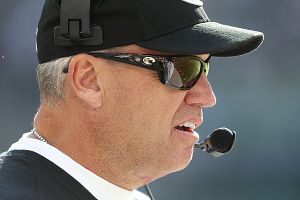 AP Photo/Peter MorganDespite having to employ a trio of new coordinators, Rex Ryan has the Jets contending in the AFC East.
"I thought the staff situation, more than anything else, was going to get him [fired]," a longtime personnel executive said of Ryan, speaking on the condition of anonymity. "I mean, who wanted to go to the Jets? Only coaches without any other job offers. To me, that part has been amazing, how he has coordinated the new staff. If you asked me a few months ago, I would've said, 'No way, no how.'"
The personnel executive praised Ryan, saying he'd be a Coach of the Year candidate if it weren't for the
Kansas City Chiefs
' Andy Reid. "I knew you'd see the best of Rex," the executive said. "I knew he'd coach his ass off, whether he was interviewing for the Jets' job or his next job. He's more focused. It's the old saying: No man sees life clearer than a dying man."
2. Sour grapes from beneath the hoodie
: The Jets didn't appreciate Bill Belichick's reaction to the "push" controversy, as he falsely accused them of the same illegal tactic on field goals. No one likes to be called a cheater (Belichick should know that), but I also think the Jets were chafed by how he handled the entire situation. At no point in his Sunday, Monday or Tuesday news conferences did Belichick say anything complimentary toward the Jets, who outplayed the
New England Patriots
; it was all about what his team didn't do. Hey, look, it's a grown-man game, and the winners aren't entitled to a pat on the back from the opposition. But Belichick tried to drag the Jets into the mud with him, and that was uncalled for. Great coach, terrible loser.
3. A push for safety:
Westhoff, who coached special teams for three decades, said he blocked "a lot of kicks" using the two-player, pushing technique, which was banned this season. Despite his success with it, Westhoff was a proponent of the rule change because he saw the other side of it, the physical wear and tear it exacted on the blockers. He said the now-retired Brandon Moore, who played guard on the field goal unit, always remarked that his chronic hip pain could be attributed, in part, to having to block defenders that were pushed from behind. Said Westhoff: "Imagine the force that generates."
4. Pirate ship be sinking
: The more the
Tampa Bay Buccaneers
lose, the better it is for the Jets, who received the Bucs' third-round pick (2014) as part of the
Darrelle Revis
trade. There's a big difference between the 65th pick (worst record) and, say, the 85th pick (a wild-card team). The Bucs are 0-7, looking like they've quit on Greg Schiano. Money can't buy happiness, right Darrelle?
5. Running for a record
:
Geno Smith
already has run for 146 yards, putting him on pace to break the team record (post-1970) for rushing yards in a season by a quarterback. Richard Todd ran for 330 in 1980. But let's be honest: There have been some glacially slow quarterbacks for the Jets -- Ken O'Brien, Boomer Esiason, Vinny Testaverde, Chad Pennington, etc.
Mark Sanchez
had some mobility, but he never eclipsed 106 yards.
6. Revisiting draft day
: The Jets were second-guessed in some circles for passing on former Notre Dame TE
Tyler Eifert
with the 13th overall pick. After picking CB
Dee Milliner
with the ninth pick, they certainly could've used a playmaker on offense. Eifert is off to a good start (22 receptions for 270 yards and one touchdown), but it's hard to second-guess the Jets' choice -- DT
Sheldon Richardson
, a possible candidate for NFL Defensive Rookie of the Year.
7. Revisiting draft day, part II
: On Sunday, the Jets will cross paths with one of their worst draft decisions ever -- PK
Mike Nugent
. He has carved a nice career for himself with the
Cincinnati Bengals
, but that's not the point. In 2005, the Jets picked him in the second round, 47th overall -- a kicker! GM Terry Bradway thought the Jets were only a kicker away from being a championship-caliber team. Talk about a bad miss. Want to know some of the players they passed? Try WR
Vincent Jackson
, RB
Frank Gore
and DE
Justin Tuck
, all of whom were chosen within 30 picks after Nugent.
8. The kids are all right
: Whenever Ryan faces the Bengals, he usually has a rookie at quarterback -- and he usually wins. In 2008, the
Baltimore Ravens
beat them twice with
Joe Flacco
. (Ryan was the defensive coordinator.) In 2009, the Ryan-coached Jets beat them twice with Sanchez, including the AFC wild-card game. (By the way, the Jets also beat them in 2010.) This time, it's the Rex & Geno show.
9. The old coach returns
. Joe Walton was fired by the Jets in 1989 amid chants of "Joe Must Go!" On Saturday, he returned to New York on his farewell tour. Walton, 77, who is retiring after 20 years as the head coach at Robert Morris, was on Staten Island to face Wagner College, which acknowledged his retirement before the game. It ended badly in New York for Walton, but it has been a remarkable football life. Of all the coaches I've covered, he's the only one who showed up to the news conference the day he got fired.
10. Mother knows best
: NT
Damon Harrison
has the best nickname on the team -- "Big Snacks," courtesy of defensive line coach Karl Dunbar. It's an obvious reference to Harrison's prodigious appetite. The nickname is so catchy that his mother, who used to call him "Heavy D," has jumped on the "Big Snacks" bandwagon.
"At first, I thought [the nickname] was something that would just hang around here," Harrison said. "I guess not."
October, 25, 2013
10/25/13
6:00
PM ET
The
New York Jets
have been riding the mediocrity train for almost two years, having won back-to-back games only once in a 26-game span. Their record following a victory is 1-9, with an eye-opening average margin of defeat -- 17 points. Can't handle prosperity? That's an understatement. They're allergic to it.
They can change the perception Sunday in Cincinnati, where they meet the red-hot Bengals (5-2), who have won three straight. As Rex Ryan continues to tell his team, there's no league rule that prohibits winning two in a row. Pushing while trying to block a field goal? Yes. A winning streak? No.
Kickoff is 4:05 p.m. ET at Paul Brown Stadium. What to watch for:
[+] Enlarge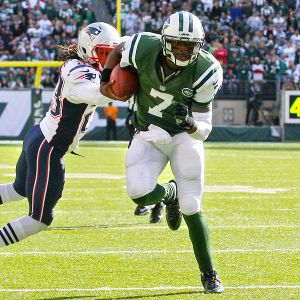 Ed Mulholland/USA TODAY SportsGeno Smith has yet to string together back-to-back wins this season.
1. Call him Geno (The Elevator) Smith
: The Jets are up and down because their rookie quarterback is up and down.
Geno Smith
is 0-3 after wins, having played poorly in each game -- a total of one touchdown and seven interceptions in those contests. He was horrible in his two previous games against top-10 defenses (
Pittsburgh Steelers
and
Tennessee Titans
), and the Bengals are ranked No. 9 in total defense. The Bengals had gone 20 straight games without allowing a 300-yard passer, the longest streak in the league, but they surrendered 357 last week to the
Detroit Lions
'
Matthew Stafford
. They won't have their top defensive back, cornerback
Leon Hall
(torn Achilles' tendon), who covered the slot on third down. That could mean another big day for Smith and wide receiver
Jeremy Kerley
, who was deadly last week in the slot.
Oh, by the way: Since 2008, under defensive coordinator Mike Zimmer, the Bengals are only 7-8 against rookie quarterbacks.
2. Battle for defensive-line bragging rights
: This game features two of the better lines in the league. The Bengals' four-man front has combined for 12 sacks; the Jets' front (counting rush linebacker
Quinton Coples
) has 10.5. Bengals defensive tackle
Geno Atkins
is the most accomplished lineman among both teams. Since 2010, he has more sacks (24.5) than any interior lineman in the league. He'll be a huge challenge for the Jets' guards,
Willie Colon
and rookie
Brian Winters
. Truth be told, the Bengals pose problems across the board. Their ends,
Carlos Dunlap
and
Michael Johnson
, are tough assignments for
Austin Howard
and
D'Brickashaw Ferguson
, respectively. Ferguson is coming off a shaky performance.
At the same time, the Bengals won't have it easy with
Muhammad Wilkerson
& Co., but they got a preview two weeks ago when they beat the
Buffalo Bills
, who run almost the identical scheme as the Jets. Center
Kyle Cook
did such a good job of reading the Bills' fronts that he received a game ball. The Bengals refer to the Jets' defense as "Buffalo on steroids." That's a compliment, by the way.
3. A pair of two-headed monsters
: The two teams share a similar philosophy in the backfield, each running the ground game through two players.
Bilal Powell
and
Chris Ivory
form a workmanlike tandem, steady if not spectacular (no runs longer than 27 yards). The Jets rode Ivory last week, but look for Powell to return to a prominent role. They need his cutback ability against the Bengals' aggressive front. The Jets are aware of a quote from Bengals linebacker
Vontaze Burfict
, who said: "They're going to figure out probably in the first 15, 20 snaps that running's going to be pretty hard against our front seven."
The Bengals split the carries between
BenJarvus Green-Ellis
and rookie
Giovani Bernard
, a
Darren Sproles
type. The Bengals are a better offense when Bernard is on the field. They average 5.8 yards per play when he's in, 5.3 when he's out, according to ESPN Stats & Information. They've also been throwing to him more the last two weeks out of the backfield. He'll be a tough cover for the Jets.
4. Green vs. Green
: The Jets have a lot of respect for Bengals wide receiver
A.J. Green
. Asked what advice he'd give cornerback
Antonio Cromartie
, who most likely will cover Green, coordinator Dennis Thurman said, "Get your hands on him and pray." This is an enormous game for Cromartie. If he can't contain Green, who has been targeted a league-high 77 times, the Jets have no shot. One out of every four throws to Green is a deep shot, so Cromartie had better stay awake. Green is third in receiving yards (619) and he has a hot quarterback,
Andy Dalton
, looking for this third straight 300-yard passing day.
Dalton has five players with at least 20 catches apiece, the kind of balance that will present issues for the Jets. Saferty
Antonio Allen
did a nice job last week on
Rob Gronkowski
, but this is Gronkowski times two. The Bengals use a lot of two-tight end packages with
Jermaine Gresham
and rookie
Tyler Eifert
, who sometimes lines up as a receiver in an isolation play. That could be a mismatch for a cornerback.
5. Special teams will be huge
: Write it down. Both teams have a tendency to play close games, so field position and field-goal kicking will be vital. Who's hotter than
Nick Folk
? He's 16-for-16 in field goals, including three game winners. Former Jets place kicker
Mike Nugent
enters this game coming back-to-back game winnners, so he has to be feeling good about himself. One thing about Nugent: He had no touchbacks in his last home game. His short leg on kickoffs could create some opportunities for new kick returner
Josh Cribbs
, who is familiar with the surroundings from his years with the
Cleveland Browns
. Oddly, Cribbs hasn't scored a touchdown of any kind in 18 career games against the Bengals.
October, 25, 2013
10/25/13
12:30
PM ET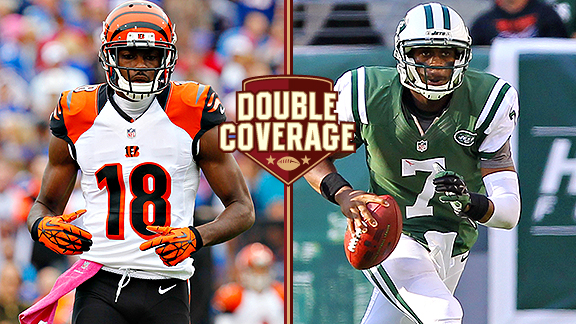 USA TODAY SportsA.J. Green, left, and the Bengals hope to stay hot against Geno Smith and the surprising Jets.
Rookie quarterbacks have caused the
Cincinnati Bengals
problems in recent seasons, as their 7-8 record against them since 2008 attests. On Sunday afternoon in the familiar confines of Paul Brown Stadium, they hope to pull that record even when
Geno Smith
and the
New York Jets
come to town.
Just like the Bengals' own young quarterback, Smith has found the winning formula the past five weeks, winning three games in that span. All four of the wins he has engineered this season have become victories because of game-winning drives he has led. While there might be other factors at play that are contributing more to New York's 4-3 record, there isn't much denying that Smith has had some hand in it, too.
As they interrupt a four-cities-in-five-weeks road tour with this home game, the Bengals are looking to extend their winning streak to four. In this edition of Double Coverage, ESPN.com Bengals reporter Coley Harvey and Jets reporter Rich Cimini look at what could contribute to that happening or to Cincinnati losing and dropping to 5-3.
Coley Harvey:
So Rich, Sunday's game will feature two of the three players in the league named Geno. Bengals defensive tackle
Geno Atkins
and Jets quarterback Geno Smith have earned rather impressive headlines this season. In Atkins' case, it was for signing his $55 million contract extension five days before the season opener. Recently, Smith's headlines have come from the four game-winning drives he's led. Both are good young players, but something will have to give. How confident are Smith and the Jets that they'll be able to keep Atkins and the rest of Cincinnati's defensive line out of their backfield?
Rich Cimini:
You just hit on one of the keys to the game, Coley. The Jets have allowed a lot of sacks (25), but I think many of those can be attributed to Smith, who tends to hold the ball too long. That said, the line needs to do a better job, especially the left side. Tackle
D'Brickashaw Ferguson
and rookie guard
Brian Winters
allowed two sacks apiece last week, bringing their totals to four and three, respectively. That's not a good number for Winters, who has started only three games. I don't see how he handles Atkins; he's simply not ready for that kind of challenge this soon. There are some tough matchups across the board for the Jets. The coaches will have to game plan ways for Smith to get the ball out quickly. I see
Andy Dalton
is coming off a big game. Is the Bengals' offense for real?
Harvey:
It's tough to really answer that question, Rich. One week the Bengals' offense looks for real, the next, it looks like a cheap imitation of its former self. Thankfully for the Bengals, though, the ineptitude they have shown offensively at times this season hasn't shown up in the past three weeks. You could say Dalton is a big reason why. He is, after all, coming off back-to-back 300-yard passing performances. The more likely reason this offense has started taking off, though, lies in something Pro Bowl left tackle
Andrew Whitworth
talks about often: the apparent "matchup problems" the Bengals create. In addition to receiver
A.J. Green
, the Bengals have quality second- and third-tier receivers in
Mohamed Sanu
and
Marvin Jones
, a pair of ball-seeking tight ends in
Jermaine Gresham
and
Tyler Eifert
and a balanced rushing attack led by
BenJarvus Green-Ellis
and the shifty
Giovani Bernard
. Cincinnati has finally figured out how to use all these weapons, and it's paying off.
The Bengals' offensive line has been a group of unsung heroes of sorts, too. They had a fairly easy challenge last week preparing for Detroit's line-first pass rush. Just how complex are the looks the Jets' multiple defensive fronts give teams this season? Could the Jets' defense be a key to this game?
Cimini:
Definitely. The Jets are ranked fourth in total defense, due largely to the line. We're witnessing the emergence of something special. The linemen are all good, and they're all young, starting with
Muhammad Wilkerson
, who is on his way to his first Pro Bowl. The next-best is rookie
Sheldon Richardson
, a high-energy player who shows up in the running game and the passing game.
Quinton Coples
is listed as a rush linebacker, but he's often in a three-point stance. He's coming off his best game of the season. This is what happens when you draft a defensive lineman in each of the past three first rounds. The Jets will control the Bengals' running game, and they will get after Dalton on obvious passing downs, but they're vulnerable to quick, short passes. That's how you neutralize the Jets' big fellas.
The Jets did a good job last week against the Patriots'
Rob Gronkowski
, but now they face a double threat at tight end with Gresham and Eifert. How are they being utilized?
Harvey:
So that's the way to neutralize the Jets' front, huh? Bad news for Gang Green: Short, quick passes are the Bengals' forte. Dalton has thrived throwing them all season. On passes that have traveled 5 yards or less, he has the league's highest completion percentage at 76.7 percent. On 66 completions from that range, he has thrown for 500 yards. Of those, 316 have come after the catch.
Eifert and Gresham certainly are major contributors to that short-passing game, grabbing balls off flare screens and slants across the middle. Last week, though, Eifert caught his first touchdown pass of the season when he ran a seam route deep into the Lions' secondary for a 32-yard reception. While they are tight ends and do their share of pass blocking and run blocking, Eifert and Gresham are true threats in the Bengals' passing game, too.
Going back to Geno Smith for a moment. What has been the trick the past few weeks to him leading these game-winning drives?
Cimini:
The trick? I go back to something Rex Ryan said a few weeks ago. I asked him what he learned from his first experience with a rookie quarterback (
Mark Sanchez
, 2009), and he said, "Make sure you have a great defense." So, yes, Smith has enjoyed some dramatic moments, but they're 4-3 because of the defense. But since you asked about Smith ...
He became the first rookie since the merger in 1970 to register four game-winning drives in the fourth quarter or overtime in his first seven games. Clearly, his signature drive came against the Falcons, when he drove them to the winning field goal in the final two minutes. In the other three game-winning drives, he attempted a total of five passes, including a 69-yard touchdown strike. Obviously, we're not talking about a lot of passing shows. But he never gets visibly rattled, he always seems in control -- good qualities to have. Do you think Smith could have some success against the
Leon Hall
-less secondary? The Lions'
Matthew Stafford
picked them apart for 357 yards.
Harvey:
It's certainly possible. The Bengals are going to be bringing in one of their own young players, second-year cornerback
Dre Kirkpatrick
to perform some of the responsibilities that had been Hall's. Kirkpatrick will be playing some in the slot, he'll be playing some outside. You'll see recently signed veteran
Chris Crocker
taking some of Hall's snaps.
Adam Jones
will be getting some, as well. And assuming he's healthy enough to play,
Terence Newman
will be getting his share of opportunities to lock down the Jets' receivers. In short, without Hall, it'll be a cornerback-by-committee setup for the Bengals. It's worked before, most notably against the Patriots in Week 5, when Hall was out with a hamstring injury. The week before, the Bengals still held the Browns in check defensively, even though they ended up losing that game 17-6.
Cincinnati's main concern, judging from last week's Jets-Patriots game, seems to be stopping New York's running game. A lot of people here this week have been comparing the Jets to the Bills with respect to the potency of their multi-back running game. As someone who will see the Bills twice this season, do you think that's a fair comparison to make for a defense that's used to facing truer pass-first offenses?
Cimini:
The Jets use a two-man committee,
Bilal Powell
and
Chris Ivory
. In that sense, they compare to the Bills. In terms of ability, they're not as potent as the Bills. The Jets don't have a
C.J. Spiller
-type, meaning a home-run threat. They are the ultimate grind-it-out rushing attack. Their most explosive back,
Mike Goodson
, blew out his knee two weeks ago, so he's done for the seaosn -- and they will miss his ability to threaten the perimeter. Powell and Ivory are a nice tandem, each capable of a 100-yard rushing day on any given Sunday, but I wouldn't say either one possesses special qualities. Powell is more of a slasher than Ivory, who reminds me of a poor man's
Marshawn Lynch
. In other words, he runs with some nasty. You won't see them running too often outside the tackles. They also mix in some Wildcat and read-option, maybe five to 10 plays a game. Recently signed
Josh Cribbs
, no stranger to the AFC North, got a couple of reps last week in the Wildcat. I wouldn't sleep on him if I were the Bengals.
There was a lot of chatter in New York before the draft about the possibility of picking Bernard. What has he brought to the Bengals' offense?
Harvey:
Yeah, I don't think anybody in Cincinnati is going to sleep on Cribbs. They know better than most teams just what he can do. With respect to the Jets' overall rushing game, it was kind of surprising to hear Bengals linebacker
Vontaze Burfict
almost nonchalantly dismiss it this week. He said he didn't think the Bengals would have much issue stopping it, saying that after "15, 20 plays" the Jets would realize it wouldn't work. Big, bold talk from the NFL's leading tackler. Then again, Burfict is the one who was scolded this training camp for bringing Bernard to the ground during a practice drill, so maybe he really can talk that talk.
Bernard really is a special player, Rich. New York had good reason to be excited about possibly drafting him. He's quick, shifty, has great acceleration and is a home run threat. His two receiving touchdowns have come on short screen passes that ended up becoming longer gains. Both scores were caught at the line of scrimmage and resulted in 20- and 27-yard touchdowns, respectively. He certainly brings a unique dimension to the passing game.
This game features a pair of head coaches who know one another quite well. When Bengals fans, like most people outside New York, think Rex Ryan, they think of his hijinks with the media and his always-second-guessed decisions. Who is Rex the coach, in your opinion?
Cimini:
Ryan has changed this season, Coley. He's not the walking sound bite he was in his first few years. A few reasons for that, I think: First, he has a new boss, general manager John Idzik, an old-school, buttoned-down guy who doesn't care for all the yapping. Obviously, Ryan is coaching for his job, so in the interest of self-preservation, he has conformed to fit Idzik's head-coaching model. Second, I think Ryan realized before the season this was going to be a very young team. He knew he wouldn't be doing the players any favors by making bold predictions. Maybe you can do that with a veteran team, as he did in 2009 and 2010, but it doesn't make sense to put that kind of pressure on kids. He also has taken on more of a teaching role, running the defense on a day-to-day basis. So far, it's all working out. I don't think there's any doubt that, through seven games, he's on his way to a contract extension.
.