New York Jets:

New England Patriots
October, 24, 2013
10/24/13
6:00
PM ET
FLORHAM PARK, N.J. -- Special teams coordinator Ben Kotwica, commenting for the first time on the
New England Patriots
' illegal "push" play, refused to confirm or deny he warned the officials beforehand to watch out for the tactic. Kotwica was more expansive on Bill Belichick's accusation that the
New York Jets
used it, too.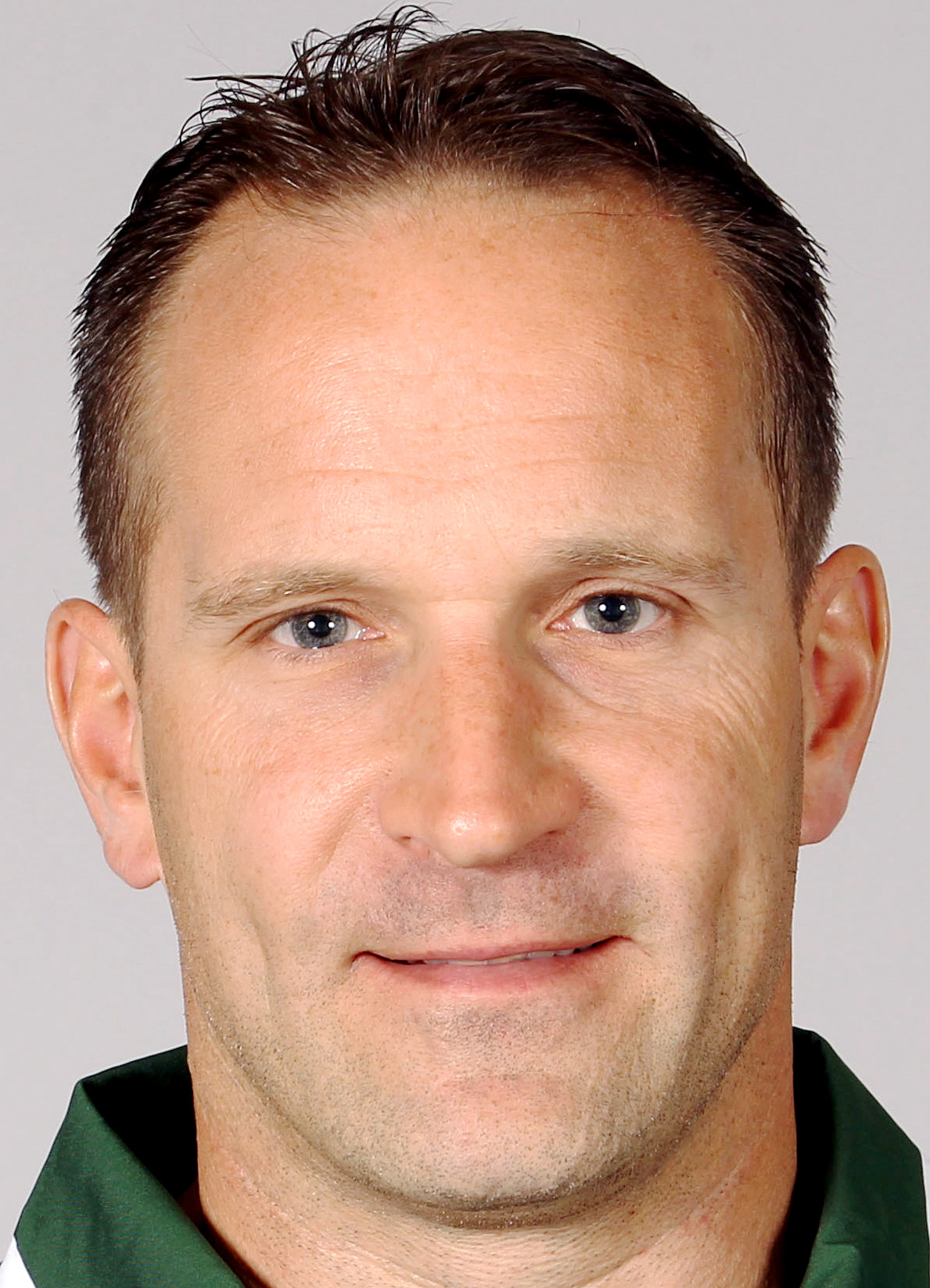 Kotwica
No way, Kotwica said.
"We don't coach pushing or anything along those lines," said Kotwica, adding: "I don't know what they were trying to do. I just know this: We teach a technique and a scheme on how to block field goals and it's within the regulations of the game."
Kotwica echoed Rex Ryan, who fired back at Belichick Wednesday by saying the allegation is "not true." It appeared that
Quinton Coples
gave teammate
Muhammad Wilkerson
a one-armed push on
Stephen Gostkowski
's field goal at the end of regulation. It was "incidental contact," according to Kotwica.
Kotwica said he took no offense to Belichick calling out the Jets.
"No, I don't take it personally," he said. "I've got a lot of respect for Coach Belichick and what he's done for the game. That's his opinion. I wouldn't take it personally."
On Tuesday, ESPN.com reported the Jets' sidelined tipped off the officials during the game. It probably was Kotwica, who routinely speaks with officials during the week and before each game. Publicly, the Jets haven't confirmed that they alerted officials to the Patriots' previous use of the push play.
Kotwica cleverly danced around questions, saying he always communicates with the league office during the week to discuss rules and points of emphasis. He also speaks with the umpire before every game to discuss "different formations you have, different guys that are eligible ... and anything else that might happen during the game."
Asked point-blank if he brought up the subject last Sunday, Kotwica he preferred to keep those conversations private.
Everybody knows what happened.
Nick Folk
's field-goal miss from 56 yards in overtime was nullified because the Patriots'
Chris Jones
was penalized 15 yards for pushing a teammate into the Jets' formation. On his second try, from 42 yards, Nick was successful, lifting the Jets to a 30-27 upset.
"My initial reaction (to the penalty) was, 'I hope it's on them,'" said Kotwica, claiming he had no idea it would for pushing.
October, 18, 2013
10/18/13
6:00
AM ET
FLORHAM PARK, N.J. -- They say the third time is the charm. We definitely know it's not the second time for the
New York Jets
, at least not when it comes to their season series with the
New England Patriots
.
In each of the past four seasons (i.e. the Rex Ryan era), the Jets lost the second meeting between the two AFC East rivals. That's not a coincidence, it's a trend. When it was mentioned to Ryan, he tried to explain it by saying the Patriots benefitted from having the second game at home. In fact, that applies only to 2009 and 2010.
"Well, there goes that theory," he said, laughing.
Turning serious, Ryan said, "I think when you look at their team, their team historically, in that second half of the season, they don't lose much. Whatever it is, they've obviously done a better job than we have."
A much better job.
In each season, the second meeting was a blowout, including last year's 49-19 debacle on Thanksgiving night -- aka the Butt Fumble Game. In 2011, the Jets lost again in prime time, 37-16, a game best remembered for Ryan cursing out a fan at halftime -- and receiving a hefty fine from the NFL. It was a similar story in 2010, 45-3, except the Jets got the last laugh, stunning the Patriots in the playoffs.
The Patriots' ability to raise their level in the rematch is a testament to Bill Belichick and his coaching staff, their ability to make adjustments and react to the Jets' adjustments.
It certainly doesn't bode well for the Jets on Sunday.
ICYMI
:
Antonio Cromartie
gave a brutally honest self-evaluation of his performance this season:
Not good enough
. ... In addition to returning kickoffs, newly-acquired
Josh Cribbs
may get a
chance to return punts
. And maybe, just maybe he'll be the personal protector on the punt team. ...
Santonio Holmes
won't play Sunday, as expected, and
blamed the media
for disrupting his rehab routine. ... Ryan has
reached a crossroads
in what he could be final season. Enough already, he needs to beat the Patriots.
September, 19, 2013
9/19/13
4:27
PM ET
FLORHAM PARK, N.J. --
New York Jets
guard
Willie Colon
said Thursday he was fined "way more than I expected" by the NFL for making contact with an official and throwing a punch in the melee last Thursday with the
New England Patriots
.
Colon refused to reveal the exact amount -- "Too much," he said -- but a league source said it was $35,000. Colon said he's planning an appeal.
Colon was relieved he wasn't suspended, but he was clearly taken aback by the amount.
"They got me for contact with an official and I guess I was throwing some jabs when I was in the crowd," he said. "I kind of got the double wammy, so to speak. It sucks, but at this point all I can do is appeal it, put it behind me and get ready for Buffalo."
The melee was sparked when center
Nick Mangold
tackled Patriots cornerback
Aqib Talib
on an interception return along the New England sideline. People on the Patriots' sideline thought it was a cheap shot because Mangold dove into the back of his legs, but it happened that way because Talib spun as he went out of bounds. On Wednesday, Talib said he had no problems with Mangold's tackle.
Mangold was penalized for a personal foul, but as of Thursday afternoon, he hadn't heard from the league about a potential fine. Left tackle
D'Brickashaw Ferguson
was fined $15,000 for throwing a punch.
September, 18, 2013
9/18/13
5:30
PM ET
FLORHAM PARK, N.J. -- As expected,
D'Brickashaw Ferguson
was fined by the league for his role in last Thursday's melee with the Patriots, the left tackle confirmed Wednesday. Ferguson wouldn't reveal the amount of the fine.
Guard
Willie Colon
and center
Nick Mangold
said they hadn't heard from the NFL as of Wednesday afternoon. Colon made contact with referee Carl Cheffers and Mangold was penalized for a late hit on cornerback
Aqib Talib
, who was returning an interception in the final minute. Mangold's tackle triggered the skirmish. Colon and Ferguson, who threw a punch at cornerback
Alfonzo Dennard
, were ejected from the game.
Some thought Mangold's tackle was a cheap shot, but Talib told ESPN.com Wednesday that he believes it was a clean hit.
UPDATE:
A league source said that Ferguson was fined $15,000 for the fight.
November, 12, 2012
11/12/12
11:28
PM ET
When you talk as much trash and lose as many games as the
New York Jets
, it's natural to be the butt of some jokes. Rival
New England Patriots
quarterback
Tom Brady
is the latest to poke fun at Rex Ryan and Co.
Brady, in an interview
with WEEI in Boston
, told the station he doesn't understand how the Jets could give up on a player like
Danny Woodhead
. The running back was cut by Ryan and Jets general manager Mike Tannenbaum in 2010. Woodhead was picked up by the Patriots soon after and he's been a valuable contributor.
Brady even pointed out how the Jets misused Woodhead as a receiver when he was clearly a running back in college. It was a subtle way of Brady saying the Jets didn't know what they were doing.
The irony is that New York could use a change-of-pace running back like Woodhead this season.
October, 20, 2012
10/20/12
12:06
PM ET
Eleven months later, the loss still stings.
The Jets were embarrassed last Nov. 13 by the Patriots, 37-16, falling on their home field before a Sunday night TV audience. It was the most lopsided home loss of the Rex Ryan era -- until this season's 34-0 rout by the 49ers. It was a rough night for Ryan, who was fined $75,000 by the league for cursing at a fan. Bill Belichick, too, used profanity, but it was directed at the Jets.
Walking off the field, Belichick put his arm around his son and, according to the New York Post, told him, "Thirty-seven points on the best defense in the league. Suck my d---."
Darrelle Revis
didn't appreciate the comment, telling reporters during the offseason that it was "ignorant" and "disrespectful." Too bad Revis won't face the Patriots tomorrow; that would've been a juicy storyline. How do his teammates feel?
Asked this week if Belichick's remark was disrespectful, LB
Calvin Pace
told ESPNNewYork.com: "You could say that.
Wes Welker
made comments about Rex's situation a couple of years ago. I think this is Jets-Patriots, New York-Boston, that's what it brings. I don't want to give them any bulletin-board material. ... At the end of the day, it does play a factor -- their dislike for us, our dislike for them."
The Jets were swept last season by the Patriots, the first time that happened under Ryan. That's a tough setback for a team that, after beating the Patriots in the 2010 playoffs, appeared on the verge of taking control of the rivalry.
"We got our ass whupped," CB
Antonio Cromartie
said, referring to the 37-16 game. "It's a sour feeling. It's a division rival, you're at home and you get whupped. Honestly, there was nothing you could do about it but sit there and take it."
Sunday, they get a chance to do something about it.
January, 12, 2011
1/12/11
6:59
PM ET
By
Mike Mazzeo
| ESPNNewYork.com


FLORHAM PARK, N.J. -- Nothing personal, Cro.

It's just that New England Patriots quarterback Tom Brady has been called worse.

Speaking on a Wednesday afternoon conference call with the New York media for the first time since being called an "ass----" by New York Jets cornerback Antonio Cromartie, Brady reacted just as he had in the morning when asked about the derogatory remark.

"Just like I told [ESPNBoston.com] earlier, I think I've been called worse," Brady said. "In fact, Bill Belichick's called me that. My offensive coordinator has called me that. And I know they like me, so maybe [Cromartie] really likes me. Because people have called me that a few times."

Joking aside, Brady has been in this situation before -- bulletin-board material included. In 2007, before the Patriots faced the Pittsburgh Steelers in a crucial regular-season matchup, second-year safety Anthony Smith guaranteed victory.

Bad idea, as Smith eventually ate his words.

He was picked on early and often -- biting on a play-action pass that resulted in a 63-yard touchdown by Randy Moss -- as New England went on to roll past Pittsburgh 34-13 to improve to 13-0.

"I don't think it has much impact on the game," Brady said. "I know the way it turned out when we played Pittsburgh that year. I don't think they were plays on the call sheet to go after particular players, but he happened to be there in those situations.

"None of it really means anything. What's most important to us is how we're practicing and how prepared we are for the game. What's going to determine who wins this game is the preparation we put in and, ultimately, how we go out and execute under pressure on Sunday."

On Wednesday afternoon, Cromartie followed up expressing his hatred toward Brady by challenging the likely NFL MVP award winner to throw his way. Of course, that didn't work out too well the last time the two teams met. Cromartie was burned twice by Brady in the Patriots' 45-3 rout of the Jets on Dec. 6. First, Deion Branch got Cromartie for a 25-yard TD strike. Then, Brandon Tate beat him for a 4-yard TD hookup.

And it would only make sense that Brady would throw in Cromartie's direction in this week's divisional playoff game -- especially considering Pro Bowl cornerback Darrelle Revis, "the best player in the NFL," according to Jets coach Rex Ryan, is lined up opposite Cromartie.

"I try to just throw to guys that are open," Brady said. "I don't think I pick out players. I look at the matchups that we have and the routes that we have versus the defense that's called. Then I determine where I'm gonna throw it based on the reads. Moreso than anything that's my job as the quarterback is to find the most-open guy. I don't think it's, 'Man I'm not gonna throw at this guy, I'm not gonna throw at this guy.' I've never played that way."

All week long, Jets players -- most notably defensive end Shaun Ellis in comments he made to the New York Post -- have been accusing Brady for pointing his finger at their sideline and taunting them after he completed a 1-yard TD pass to tight end Aaron Hernandez that put the Patriots up 38-3 with 14:57 left in the fourth quarter.

"I don't remember that," Brady said. "I'm very emotional as I play. I don't think I've ever pointed at anybody. That's really not my style.

"I think there's definitely an emotional aspect to the game, sure. I'm excited. Certainly when we score touchdowns. They're a very good defense, and I'm excited when we can score against a very good defense. One of the top defenses in the league and has certainly given us some problems since Rex has been there. And Rex gave us problems when he was at Baltimore. It's a great scheme with some great players.

"I do get excited when we score. It's tough to score against that team, so that gets me more excited than anything."

If his actions were perceived as disrespectful, Brady said, he didn't mean for them to come off that way.

"That's not my intent," Brady said. "I don't remember pointing. I'm sure there's 50,000 cameras on the game. If I was doing that, they would show that. But I have a lot of respect for those players. And for their scheme and coaches and preparation. Maybe that's a source of motivation for them, but I don't feel that way. There's enough for me to worry about. The skill of the players and coaches, that's where my energy is being spent this week."

Nevertheless, Brady expects to see a different Jets team this time around, with both team's seasons hanging in the balance. Granted, the Jets won't be the only team making adjustments. Despite beating Gang Green by 42 points in their last meeting, the Patriots are fine-tuning their game plan as well.

"I'm sure they look at the game and think these are things we need to do better," Brady said. "And we look at that game and see things we can do better as well. So we're gonna make our adjustments from the last game just like they are. We're putting together a plan that takes advantage of some things we can exploit, and they're doing the same. It's gonna be a very different game in many respects. Certainly the stakes are much higher than last time. And how well we're able to play under pressure and execute at a very high level. That's why there's going to be millions of people tuning into the game on Sunday."

Brady, a three-time Super Bowl champion, set the NFL record for passing touchdowns in a season (50) in 2007. But he may have topped that stellar campaign in 2010. The 33-year-old, who amassed 36 touchdowns to just four interceptions in the regular season while tossing for 3,900 yards, has thrown 355 consecutive passes without a pick. And what makes that even more remarkable is the fact that Moss was traded at midseason.

Still, Brady downplayed the way the offense has evolved with the implementation of more two-tight end packages and the emergence of Branch after he was reacquired from the Seattle Seahawks to replace Moss.

"I don't think it's changed a whole lot," Brady said. "I think we've just executed a bit better. We try to run it, we try to throw it, we try to put in play action, we try to throw it quick, we try to throw it deep. We screen people, we draw people, we trap people. We do pretty much everything. We always have. I think we're just executing better. The line's blocking great. They've [been] tremendous all season. And that's where it starts with us: up front. They've been a very consistent group and we rely on them so much to put us in the right direction."

While the Jets were playing the Colts in their wild-card matchup, Brady elected to see "Lombardi" on Broadway in New York City. No surprise, that prompted criticism from Ryan, who said Colts quarterback Peyton Manning would've stayed home to watch and study.

"Maybe he's right," Brady said. "Maybe I should've been watching. Maybe."
September, 19, 2010
9/19/10
9:49
PM ET
Recap
|
Box score
|
Jets Center
EAST RUTHERFORD, N.J. -- For
Randy Moss
, his freedom from Revis Island did not mean the Patriots superstar could roam free in the Jets' secondary. Instead, it was almost like Moss never left the island's uncomfortable confines.
Despite catching a 34-yard touchdown pass against Jets corner
Darrelle Revis
and not having to line up against the Pro Bowler in the second half due to Revis' hamstring injury, Moss had little effect in the Jets' 28-14 win Sunday afternoon at New Meadowlands Stadium.
Moss had just two catches for 38 yards, all of which came in the first half, and couldn't make the big plays needed when lined up against
Antonio Cromartie
in the second half.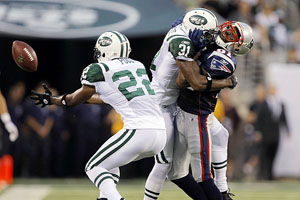 John Munson/US Presswire
This Antonio Cromartie hit on Randy Moss led to a Brodney Pool interception.

"It was very disappointing from my perspective, I gotta do a little bit better," Moss said. "The team relied on me to throw me the ball and I just really didn't make the plays in the second half, so it's just something that really hurts."
Running routes against Revis in the first half, Moss managed to best his rival on a fade to the back of the end zone with a beautiful one-handed grab that gave the Patriots a 14-7 lead with 53 seconds left in the second quarter. While the beautiful catch made many jaws drop, Moss was stoic about it, saying it was just everyday work and he didn't care that he beat Revis, who has called Moss a "slouch" in the past.
"This game, a lot of people put this game hype on me and Revis," Moss said. "And there's 10 other guys out there with me, and there's 10 other guys out there with him. In order for me to be successful, in order for Revis to be successful, all 11 guys have to be working together. Like I said, we didn't work together in critical situations."
While Revis left the game after that play with a tight, possibly pulled, left hamstring, Moss couldn't insert himself into the action in the second half. Moss and quarterback
Tom Brady
both said the Jets did not change anything in terms of their coverage with Revis sidelined, but the Jets somehow managed to neutralize Moss with the taller and heavier Cromartie.
"The biggest thing was going in, focusing and trying to do my job the best way I can," Cromartie said. "The guys in the secondary and the defense picked me up and made sure I did the right thing that I needed to do."
Moss was targeted four times in the second half, and on two of those occasions the Jets intercepted the ball. The first time, Brady overthrew a fade down the right sideline and Cromartie picked the ball off early in the third quarter. On the second pick, a tipped throw led to an interception by
Brodney Pool
to open up the fourth quarter. Just like most of the second half, Cromartie was right on top of Moss on that interception.
On this day, Cromartie -- not Revis -- seemed to be Moss' kryptonite. And that left Moss appearing to be stranded on an island -- albeit a different one -- once again.
"I got to just commend him," Moss said of Cromartie. "Revis, I guess was a little banged up, and Cromartie came in and held his own, held his ground. That's just something as a wide receiver, you go back to the drawing board, keep working. They had a good plan, they executed it right, they executed it better than we did and they won the game."