New York Jets:

Oakland Raiders
March, 12, 2014
3/12/14
1:25
AM ET
The
New York Jets
took a hit on the first day of free agency, losing right tackle
Austin Howard
to the
Oakland Raiders
. They landed him with a five-year, $30 million contract, including $15 million in guarantees, ESPN NFL Insider Adam Schefter reported.
Howard
The entire Howard negotiation provided a glimpse into general manager John Idzik's approach and his reputation as a tough negotiator. He placed a specific value on Howard, a two-year starter, and refused to budge. In the end, he decided not to match Oakland's $6 million-a-year offer, a steep price for a player of Howard's ilk.
There "wasn't a big difference" between the Jets' offer and Howard's asking price, a source said Tuesday night. "It wouldn't have been a stretch for them, but Idzik drew a line in the sand." Talks broke off Tuesday afternoon and Howard got on a plane to the West Coast, becoming an unrestricted free agent at 4 p.m. Howard has a comfort level with Raiders offensive line coach Tony Sparano, formerly the Jets' coordinator, and that played a role in his decision.
So what does this mean for the Jets? Well, it means they have to replace the right side of their line -- and that's never a good thing.
Guard
Willie Colon
is a free agent and not likely to return. A possible replacement for Howard will arrive Wednesday for free-agent visit --
Breno Giacomini
, who spent the last three seasons with the
Seattle Seahawks
. He started nine games in 2013, missing seven with a knee injury. Giacomini, originally a fifth-round pick of the
Green Bay Packers
in 2008, has 33 career starts. Idzik, a former Seattle executive, likes him a lot. Giacomini, 28, is a serviceable player, but he doesn't have Howard's upside.
The Jets also made an inquiry about right tackle
Zach Strief
, whom many believe was the
New Orleans Saints
' best lineman last season. Evidently, the Jets aren't giving strong consideration to any in-house options. Howard's backup last season was
Oday Aboushi
, who didn't dress for a single game in what amounted to a redshirt rookie year.
Idzik will get ripped, no doubt, for losing an ascending player like Howard. Let's see how he fills the void before drawing any conclusions.
December, 8, 2013
12/08/13
10:00
AM ET
Join our ESPN.com NFL experts as they break down the Oakland Raiders' visit to the New York Jets. Contribute your thoughts and questions beginning at 1 p.m. ET. And, be sure to visit our
NFL Nation Blitz page
for commentary from every game, as well as fan photos and the latest buzz from Twitter. See you there.
December, 5, 2013
12/05/13
10:00
AM ET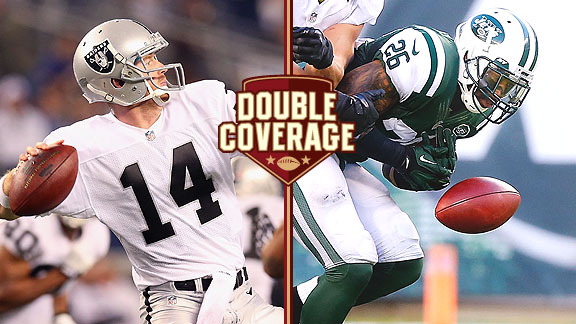 Getty ImagesRaiders QB Matt McGloin will test his mettle against Dawan Landry and the Jets' defense.
The
New York Jets
and
Oakland Raiders
are a lot alike. They're rebuilding teams, slumping and struggling for answers at the quarterback position -- and yet they remain mathematically alive in the AFC wild-card race. Go figure.
The old AFL rivals meet Sunday at MetLife Stadium. The Jets (5-7) have dropped three straight; the Raiders (4-8) have lost four of their past five, plus 12 straight in the Eastern time zone, dating to 2009. Jets team reporter Rich Cimini and Raiders team reporter Paul Gutierrez break down the matchup.
Cimini
: Paul, let's start at quarterback.
Terrelle Pryor
got hurt, creating an opportunity for
Matt McGloin
. I bet casual NFL fans didn't know anything about him until recently, but he's actually put up decent numbers. He's Ken Stabler compared to
Geno Smith
. Tell me about McGloin and his game.
Gutierrez
: Matt McGloin is your prototypical undersized, undrafted, chip-on-the-shoulder signal-caller who was invited to Napa, Calif., merely as a fourth arm, a "camp arm" who, through attrition, outlasted a fourth-round draft pick in Tyler Wilson, a purported big-money franchise quarterback in
Matt Flynn
and a new-jack, zone-read specialist in Terrelle Pryor for whom the term "moxie" was apparently invented. Whew ... hope that makes sense. Truly, though, McGloin is your standard pocket passer who is not afraid to step up in the pocket to make a throw and take a hit.
It's the skill set that Dennis Allen obviously prefers, and with a steady offensive line and sound running game, it's what works in this staff's offense under coordinator Greg Olson. Because what the offense loses with Pryor and his legs (remember that 93-yard TD run he had against the Steelers?), it gains in field vision. Many think it's actually a wash, though. Pryor, now that his sprained right knee, which he actually reaggravated on the MetLife Stadium turf against the Giants on Nov. 10, is healed, might give the Raiders a better shot against the Jets' defense. Allen has even said he wants to see Pryor on the field.
Let's stick with quarterbacks: Is Geno Smith the future in Gotham, or was his being named the starter -- again -- that vaunted kiss of death? And what about
Mark Sanchez
's prospects next year? Seems like the Jets have set themselves up for a QB controversy for the foreseeable future, with little to gain.
Cimini
: It's "Groundhog Day," Paul. The Jets went through the same uncertainty a year ago. The names have changed, but it's the same story: The Jets don't have a definitive answer at quarterback. Smith was rushed into this job when Sanchez got hurt in the preseason, and after showing some early promise, he crashed back to reality. Smith has the physical tools, but he's overwhelmed. The game is too big for him, and he needs to spend some time on the bench to gather himself, but that hasn't happened because the Jets don't have a proven backup.
Matt Simms
is the Jets' version of McGloin, and
David Garrard
(remember him?) has been stuck in mothballs for three years.
So, basically, they're going to ride it out with Smith to see if he's the future. I think they already know the answer to that question; Smith is putting up some historically bad numbers. Sanchez, recovering from shoulder surgery, will be playing elsewhere next year. Hey, maybe he'll be in Oakland.
We're talking about two bad offenses here, but at least the Raiders saw some flashes from
Andre Holmes
. Is he for real and do they have playmakers to exploit the Jets' suspect secondary?
Gutierrez
: I see what you did there with the Sanchize-to-Oaktown ploy. And, yeah, maybe a change of scenery back to his native West Coast would do him good. Well played, sir. Well played. As far as Andre Holmes goes, though, he might actually personify these Raiders -- that is, he's an undrafted player who washed out in two other spots and was thus undervalued (think of the Raiders' O.co Coliseum roomie, Billy Beane's Moneyball Athletics). Holmes looked legit against the Cowboys, his most recent team, in catching seven passes for 136 yards after coming into the game with five catches for 76 yards ...
in his career
. He's a big target at 6-foot-4 and not a burner from the days of Al Davis yore. But we're talking an extremely small sample size.
The Raiders' "playmakers" are guys who really have been either (A) phased out or (B) injured or (C) both. Paging Pryor, running back
Darren McFadden
and receivers
Jacoby Ford
and
Denarius Moore
. McFadden, though, might actually get a lot of run in the Meadowlands (they still call it that, right?). At least they don't have to deal with Revis Island (I joke, I joke).
Still, the Jets' defense as a whole can be good and the Raiders are going to have to account for rookie defensive end
Sheldon Richardson
. Has he hit the "rookie wall" yet, or is that merely something for other rookies to worry about?
Cimini
: Oakland's Holmes is doing better than the Jets' Holmes (Santonio), but that's a story for another day. As for Richardson, his pass-rushing production has dipped a bit, but he remains a good, every-down player. He plays the run very well, which has surprised many because that was supposedly the knock on him when he came out of college.
If I were Dennis Allen, I'd be more concerned about
Muhammad Wilkerson
, who has a team-high 10 sacks and deserves to be in the conversation for NFL Defensive Player of the Year. At 315 pounds, Wilkerson is mostly an interior player, but he moves around. He lines up over the center, the guard ... anywhere. He's by far the best player on defense, probably the best player on the team. He's the key to the best run defense in the league.
Speaking of defense, I'm curious to see how the Raiders attack Smith. Most teams just load the box, overplay the run and dare Smith to beat them with his arm. Clearly, the Jets' receivers don't scare anyone. How do you see the Raiders playing this game?
Gutierrez
: I see the Raiders sticking to their M.O. of blitzing with aplomb, racking up sacks early, building a quick lead and then trying desperately to finish out a game strong. That's been their formula (the jumping-out-to-a-lead part, not the blowing-leads bit) and I would imagine they would continue that line of thinking, but keeping someone to spy Smith, someone like a wily old vet in
Charles Woodson
, while being mindful of slant passes. That absolutely killed them against Tennessee.
The key for the Raiders on defense is to not get so worn down by halftime. It bit them in the season opener at Indianapolis, at home against Washington and Tennessee, and on the road against the Giants and Dallas. At least the Raiders will be coming off a long break, having last played on Thanksgiving, so a short week won't be readily available as an excuse this time, as it was against the Cowboys.
February, 14, 2013
2/14/13
11:10
AM ET
During his media sessions last season, Tony Sparano always referred to his previous employer, the Dolphins, as "the other place" -- an apparent aversion to the team that fired him.
Sparano didn't take it quite that far Wednesday as he spoke to the media for the first time since being fired by the Jets, but he employed the selective-amnesia technique a few times when he could've referenced the Jets. The Raiders' new offensive-line coach/assistant head coach,
speaking to Bay Area reporters
, didn't want to use the 'W' word -- Wildcat -- and he made no mention of
Tim Tebow
when commenting on the top running quarterbacks in the league.
[+] Enlarge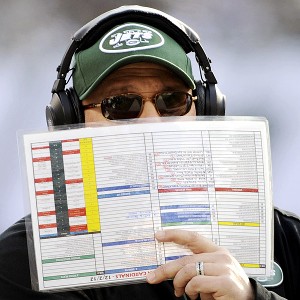 AP Photo/Bill KostrounNew Raiders assistant HC Tony Sparano is notoriously mute about former employers.
Sparano was asked about RB
Darren McFadden
, who ran the Wildcat at Arkansas under David Lee, who became Sparano's quarterbacks coach in Miami ... er, the other place when they introduced the Wildcat to the NFL.
"I don't want to say that word -- you'll bring it up soon enough," said Sparano, managing a small smile.
For the record, Sparano never liked using the 'W' word during interviews in New York. He felt "Wildcat" was an inaccurate generalization of his Tebow-specific offense. As it turned out, he never had a Tebow-specific offense; Sparano's plan was the equivalent of George Costanza's Penske file from "Seinfeld."
Later in his Oakland interview, Sparano did use the word "Wildcat," waxing nostalgic about his other-place days with
Ronnie Brown
and
Ricky Williams
. There were no nostalgic moments about his one-and-done with the Jets.
Sparano was asked what appealed to him about the Raiders, and he compared them to two of his previous employers -- but not the Jets. Surprisingly, he actually uttered the word "Dolphins." Maybe he has an expiration date on personal grudges.
"First of all, the history here, I would say without a doubt," he said. "I'm a history buff. I had a chance to be with the Dolphins and be with the Cowboys, and be in some organizations that have tremendous history and I love this history here."
I suppose the Dolphins have more history than the Jets, considering they have five Super Bowl appearances and two titles to the Jets' one, but the Dolphins haven't won anything in 40 years. Come to think of it, the same could be said of the Raiders.
Sparano gave Rex Ryan a mention. He was asked about Bill Parcells' influence on his career, and he listed Parcells, Tom Coughlin, Marty Schottenheimer and Ryan as "outstanding coaches" that he's been around.
The conversation got around to the new trend in the NFL, athletic quarterbacks running the read-option. Sparano mentioned
Russell Wilson
and
Colin Kaepernick
among the trend setters, saying, "It just brings a complete different element for the defense to have to prepare for." He didn't mention Tebow, who started it all in 2011 with the Broncos. He was supposed to bring some of that to the Jets, but ... well, we all know how that turned out.
January, 23, 2013
1/23/13
3:34
PM ET
Tony Sparano, one-and-done as the Jets' offensive coordinator, was hired Wednesday by the Raiders as their assistant head coach/offensive line, according to ESPN's Adam Schefter.
In a span of 13 months, Sparano has gone from a head coach (Dolphins) to a coordinator to a line coach. In one year under Sparano, the Jets sunk to 30th in total offense, leading to his dismissal after the season. The Jets replaced him by hiring former Eagles coordinator Marty Mornhinweg, although they have yet to formally announce it.
Now the question is, will any free agents follow Sparano to Oakland? The Jets' starting guards,
Brandon Moore
and
Matt Slauson
, both will be free agents. So will TE
Dustin Keller
and RB
Shonn Greene
.