New York Jets:

Pete Carroll
July, 7, 2014
Jul 7
10:00
AM ET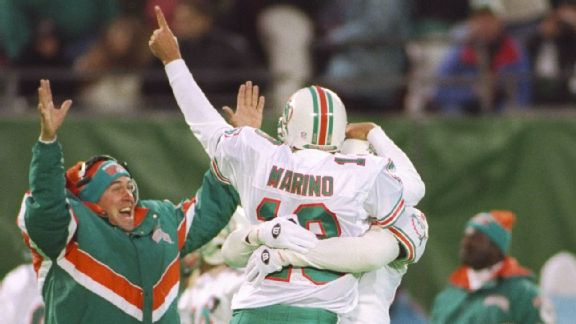 Simon Bruty/Allsport/Getty Images
»
VOTE HERE
»
NFC Plays:
East
|
West
|
North
|
South
»
AFC:
East
|
West
|
North
|
South
This is one of three nominations for the most memorable play in team history. In the next two days we'll feature:
Jumbo Elliott
's improbable touchdown against the
Miami Dolphins
in the 2000 "Midnight Miracle" and the infamous Butt Fumble on Thanksgiving night, 2012. Please vote for your choice as the New York Jets' most memorable play.
Score
: Dolphins 28, Jets 24
Date
: Nov. 27, 1994
Site:
Giants Stadium

It was a once-in-a-lifetime play and it took the Jets nearly a lifetime to recover -- or so it seemed.
With 22 seconds remaining in a critical AFC East game, Dolphins quarterback
Dan Marino
fired an 8-yard touchdown pass to
Mark Ingram
for the go-ahead score -- but this was no routine touchdown. Marino used a sleight of hand to trick the Jets. Behind center, he called for a "clock" play, giving the spike motion. The Jets relaxed, thinking Marino was going to fire the ball into the ground to stop the clock. That's what 20 players expected -- all except Marino and Ingram, both of whom performed their own ad lib. The ball was snapped and, against an unsuspecting defense, Marino found Ingram in the end zone for the game winner. They picked on rookie cornerback
Aaron Glenn
.
For the Jets, it was devastating on a few levels. For one, they lost a game they should've won. They should've finished the day in a first-place tie, but they blew a 24-6 lead in the final 16 minutes. In one of the most memorable games of his legendary career, Marino tossed three late touchdowns to rally the Dolphins. The psychologically fragile Jets never recovered, losing their final four games to finish 6-10. Their coach, Pete Carroll, was fired after only one season. The losing didn't stop, as they dropped 28 of 32 games under Rich Kotite, a sorry era that made the Jets a national laughingstock.
The Fake Spike was one of the turning points in team history, a demarcation point that separated hope and hopelessness. Finally, after two-plus years in the dark, the Jets got it right, hiring Bill Parcells, who resurrected the franchise. But the Fake Spike lives on, haunting those who were duped by Marino's chutzpah and creativity. Carroll still is asked about the play, and he doesn't particularly care to reminisce. He vanquished the demon last February, winning the Super Bowl at MetLife Stadium, the site of the old Giants Stadium -- wonderful symmetry. Sure enough, the Fake Spike came up in the Seahawks' post-celebration.
"Is this vindication for the 'spike' play?" Carroll asked rhetorically at his news conference.
Looking into the cameras, he continued, "Hey, Marino, you got a lucky freaking play, all right? It happened. That was a long time ago."
March, 26, 2014
Mar 26
2:30
PM ET
ORLANDO, Fla. --
Mark Sanchez
needed to get away from New York. At the same time, he didn't want to leave.
So says
Seattle Seahawks
coach Pete Carroll, who coached Sanchez at USC.
"It's time for Mark to get going again and get off to a new start," Carroll said Wednesday at the NFL owners meetings.
Sanchez is expected to re-boot his career with the
Philadelphia Eagles
, as ESPN Senior NFL analyst Chris Mortensen has reported. That move likely will occur in the coming days, as long as Sanchez's surgically repaired throwing shoulder checks out medically.
Carroll said it's a bittersweet time for Sanchez, who badly wanted to continue his career with the
New York Jets
, who released him last week after five seasons.
"It's difficult because he really wanted that to happen [in New York] and he did everything he could to help the team as much as possible," Carroll said. "So there's frustration for Mark, I would think -- I
know
. But I think he's ready for the next challenge."
Sanchez has regressed since 2010, but he's still a starting-caliber quarterback, according to his old coach.
"I can't imagine him not being a starter," Carroll said.
That won't happen with the Eagles, who have anointed
Nick Foles
as their starter. But Chip Kelly told reporters that he's always looking to bolster his depth chart. He also has the unproven
Matt Barkley
, another USC alum.
"There are a lot of positive qualities about [Sanchez]," Kelly said.
February, 3, 2014
Feb 3
1:11
AM ET
EAST RUTHERFORD, N.J. -- Nineteen years before his confetti shower Sunday night at Super Bowl XLVIII, Pete Carroll was a guy without a job. It was early January 1995, and he walked into his owner's office, carrying a binder that included his offseason plan for the
New York Jets
.
Carroll had gone 6-10 in his first season as head coach, but he had worked a week of 15-hour days when the season ended. Now he was looking forward to presenting his strategy to 80-year-old Leon Hess, best known for his expertise in oil, not football. Carroll sat in an anteroom with colleagues; it was like being outside the curtain, waiting to see the Great Oz.
His meeting with Hess lasted only 45 seconds, according to a person who was there -- a dark chapter Carroll has refused to discuss.
"I'm done," a stunned Carroll told a friend as he walked out.
Rock, meet bottom.
Carroll rebounded from that low point, reaching the top of his profession on the same plot of swamp land in New Jersey on which he failed in his first head-coaching gig. The Super Bowl was over almost as quickly as his meeting with Hess all those years ago, as the
Seattle Seahawks
jumped
Peyton Manning
and cruised to a
43-8 rout
of the
Denver Broncos
at MetLife Stadium.
A nice guy finished first.
Afterward, Carroll stood at an interview podium, with two pieces of green confetti shimmering in his silver hair. At 62, he was the third-oldest coach in history to win a Super Bowl, a twice-fired NFL head coach who bolted his USC dynasty before the NCAA posse arrived in town.
Now, he's a Super Bowl champion.
"Is this vindication for the 'spike' play?" he asked, alluding to
Dan Marino
's legendary fake spike in November 1994 -- the play that doomed Carroll.
Looking into the cameras, Carroll said, "Hey, Marino, you got a lucky freaking play, all right? It happened. That was a long time ago."
Carroll never got a chance to use that meticulously prepared plan in New York, but he saved it and -- with help from general manager John Schneider -- rebuilt the Seahawks with that very blueprint. It was on display on the sport's biggest stage. To say the Seahawks dominated would be like saying their owner, Paul Allen, is rich.
The Seahawks captured their first Super Bowl with a performance that reflected Carroll's personality. They were loose and confident, energetic and California cool -- not bad for a team that had no players with previous Super Bowl experience.
Carroll set an early tone with trickeration, an end around for
Percy Harvin
and a throwback pass to quarterback
Russell Wilson
. The latter didn't work, but it sent a message.
Carroll, all about having fun, was going to play this game the same way. Hey, maybe he learned something from funny man Robin Williams, an old high school classmate. In contrast, the Broncos were tight, and it showed on the first play -- a miscommunication that resulted in an errant shotgun snap and a safety.
Twelve seconds into the game, the score was 2-0.
It felt like 22-0.
Before it was over, the Seahawks had scored almost every way imaginable -- a safety, an interception return and a kickoff return. All three phases contributed to a monster performance.
"That's exactly how we try to play," Carroll said. "We've put that up pretty consistently for a lot of years -- not just [in Seattle], but for a lot of years. I'm thrilled that it came out so clearly, so obviously, because that's how we wanted to put a stamp on a world championship."
Throughout the blowout, Carroll never stopped being Carroll, bouncing around, patting rears and slapping shoulder pads. Back in the day, he was mocked for his player-friendly style, and critics claimed he was too nice to be a leader of men.
The criticism resurfaced in 1999, when he was fired by the
New England Patriots
after three seasons. The daunting challenge of succeeding Bill Parcells proved too great for Carroll. It ended with another owner, another meeting and another pink slip.
[+] Enlarge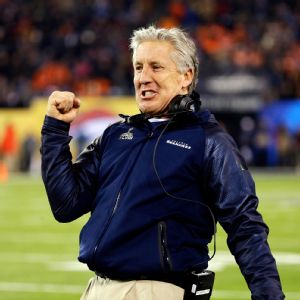 AP Photo/Matt SlocumSeahawks coach Pete Carroll stayed true to his coaching beliefs -- despite a couple of NFL pink slips -- to earn his first Super Bowl title Sunday night.
Carroll never changed his ways. He just became an older version of himself. He wore a badge of that enthusiasm on his left cheek, a three-inch scratch. He revealed that it occurred in Friday's practice, when he volunteered to return a kickoff in a drill. He stepped in because he wanted to give Harvin a rest, and -- sans helmet -- he received a glancing blow from
Derrick Coleman
.
He laughed about it. Why not? Carroll became the third coach in history to win a Super Bowl and an Associated Press national title in college. He joined Barry Switzer and Jimmy Johnson in that small fraternity.
"It feels very much the same," said Carroll, comparing a bowl win with a Super Bowl win.
Carroll put the Seahawks in the right frame of mind by balancing fun and X's and O's. Not known as a micromanager, he actually practiced halftime in Friday's practice. That's right, they orchestrated the entire thing, minute by minute, familiarizing the players and staff with the longer-than-usual halftime for the Super Bowl.
"I think Pete does a great job of making every day seem like a championship," cornerback
Byron Maxwell
said.
The "score" was 14-14 when they did it in practice. On Sunday, the halftime score was 22-0, which became 29-0 when Harvin returned the second-half kickoff 87 yards for a touchdown. That came with 12 seconds gone, same as the safety at the start of the game.
It truly was a testament to the 12th Man, Seattle's home crowd.
"He's the most forward-thinking coach for the players of today that I've ever seen," said Allen, marveling at Carroll's halftime prep.
Carroll was thinking that way in 1994, when the Jets -- a backward franchise at the time -- took their forward-thinking coach and sent him packing with a "You're fired!" that was so quick and cold that it would've made Donald Trump blush.
January, 28, 2014
Jan 28
3:50
PM ET
NEWARK, N.J. --
Mark Sanchez
didn't receive Pete Carroll's blessing when he left USC as an underclassman, but he received an endorsement Tuesday from his old college coach.
Sanchez
The
Seattle Seahawks
' coach, speaking at Super Bowl XLVIII media day, believes the
New York Jets
' former starting quarterback can rebound from his 2013 washout and become a productive player again in the league.
"Mark has everything ahead of him," Carroll said. "As often happens when you get the break, when you get to take a step back and observe and analyze and assess what's going on, you come back even stronger. I think that's what will happen with Mark. Hopefully, for him, it'll happen in New York. Wherever he winds up after that, if that doesn't work out, Mark is a good football player. I think he'll be better than ever."
Maybe Carroll and Sanchez will be reunited. Hey, you never know.
Sanchez, who missed the entire season because of surgery on his throwing shoulder, faces an uncertain future with the Jets, especially with
Geno Smith
's encouraging finish. Sanchez is under contract through 2016, but his current salary-cap charge ($13.1 million) is prohibitive. They may try to trade him before March 25, when a $2 million roster bonus is due. Failing that, they probably would release him. They'd clear $8.3 million in cap room by parting ways. Sanchez has said he'd like to return, but he'd have to take a significent pay cut -- and he may not be willing to do that, forcing the Jets' hand.
Carroll could be looking for a quarterback because his backup,
Tarvaris Jackson
, will be a free agent. Carroll is a longtime admirer of Sanchez, but he was publicly critical of Sanchez's decision to turn pro after the 2008 season.
January, 27, 2014
Jan 27
12:15
AM ET
Welcome to the Super Bowl, coach. Now about that game you lost 20 years ago. ...
That's pretty much how it went Sunday night for
Seattle Seahawks
coach Pete Carroll, who arrived in New Jersey and -- eight questions into his first news conference -- was asked about his ill-fated season as the
New York Jets
' head coach, 1994. The turning point, as every tortured Jets fan knows, was
Dan Marino
's game-winning fake spike play in the 12th game.

Carroll
"It could have been entirely different had we just hung on and won that game," Carroll said.
Quick history lesson: The Jets were 6-5, playing the
Miami Dolphins
for a share of first place in the AFC East. The Jets blew a 24-6 lead and lost in the final seconds, when Marino duped the Jets into thinking it was a "clock" play -- except he threw the game-winning touchdown pass to Mark Ingram. Carroll lost the next four games, finished 6-10 and got fired. In came Rich Kotite, who lost 28 of his 32 games.
The fake spike is regarded as one of the pivotal moments in Jets history.
"It didn't have to be," Carroll said. "When you look back on it, that's what you would point to because we lost four games after that as well. There was a time in that game when we were ahead and doing great, and it just kind of went south on us. That play has been a pretty famous play, and I'm glad for Dan. That's the only guy I'm glad for, that he pulled it off. It was a moment when things turned."
Carroll hasn't talked much over the years about his bitter divorce from the Jets, but on the first official night of Super Bowl hype -- before a packed news conference comprised of many local reporters -- he took the high road. He spoke glowingly of his five seasons with the Jets, the first four as the defensive coordinator.
No, he didn't think about it on the long plane ride, "but I have thought about it quite a bit," he said. "It has come up in the week's preparation already. I've always loved playing in New York. I loved the fact that I had a chance to be here for five years. To have a chance to be a head coach in New York is an extraordinary honor because of the history and the following and all that goes along with that.
"Unfortunately it didn't last very long, but it still was a great experience and I remember it well. I'm really proud to come back here and coach in a game like this, this status, in places we once lived and worked. It's a special honor to do that."
Well played.
January, 21, 2014
Jan 21
3:05
PM ET
Pete Carroll doesn't have fond memories of his time with the
New York Jets
, and that's understandable. He went 6-10 in his only season as the head coach and was unceremoniously fired, replaced by Rich Kotite.
Now Carroll returns to New Jersey for Super Bowl XLVIII, coaching the NFC champion
Seattle Seahawks
. On Monday, he was asked if it's a "full-circle" moment for him.
"I think my first time in New York as a head coach was kind of in the middle of the circle somewhere or maybe it wasn't even a circle, it might have been some other shape," Carroll joked. "It was kind of a hairy time."
Carroll's abrupt firing, and the infamous Dan Marino fake spike play that triggered the late-season collapse, overshadowed some good work as the Jets' defensive coordinator. From 1990 to 1993, the Jets ranked 23rd, 12th, 16th and eighth in total defense, respectively. They were even better in points allowed, finishing 17th, 10th, 18th and sixth.
Carroll demonstrated promise as a coach and then things got ... well, hairy, when owner Leon Hess decided he absolutely had to hire Kotite. The Jets went from hairy to scary.