New York Jets:

Pittsburgh Steelers
October, 13, 2013
10/13/13
10:00
AM ET
Join our ESPN.com NFL experts as they break down the Pittsburgh Steelers' visit to the New York Jets. Contribute your thoughts and questions beginning at 1 p.m. ET. And, be sure to visit our
NFL Nation Blitz page
for commentary from every game, as well as fan photos and the latest buzz from Twitter. See you there.
October, 11, 2013
10/11/13
3:00
PM ET
This game screams "letdown" for the
New York Jets
.


Before we get into the particulars, let's pause for a moment to consider the incongruity of the previous sentence. That we're talking about the Jets in that context, not the
Pittsburgh Steelers
, is crazy. But crazy is reality in Week 6 of the NFL season.
For the surprising Jets (3-2), it has all the ingredients of a trap game: an emotional win Monday night ... a short practice week ... a winless and well-rested opponent, the Steelers (0-4), coming off their bye week ... and the first-place
New England Patriots
looming ahead.
What's more, the Jets don't know how to handle prosperity. Over the last 24 games, they've compiled only one two-game winning streak -- Weeks 13 and 14 last season. There's no rule against winning two in a row, Rex Ryan has told his players.
We'll see if they listen. Kickoff is 1 p.m. Sunday at MetLife Stadium. What to watch for:
The rookie vs. the master:
Geno Smith
attended school in Morgantown, W.Va., only a couple of hours from Pittsburgh, so he knows all about the Steelers' venerable defensive coordinator, Dick LeBeau. Giving a quick scouting report of LeBeau to reporters, Smith mentioned the coach's famous recitations of "'Twas the Night Before Christmas." That's called doing your homework. LeBeau won't be in the holiday spirit for this game. His once-formidable defense has turned pedestrian, and he'll be looking to change things by unleashing his creative genius on the young quarterback.
This is a scary combination: LeBeau has had two weeks to tweak his defense and cook up new stuff to throw at Smith. And Smith lost a day of preparation because of the Monday night game. He'll see the usual array of fire-zone blitzes from LeBeau, but there will be new looks that will force Smith to think on his feet. He'll be tough to beat if he plays with the poise he demonstrated against the
Atlanta Falcons
.
Not the Steal Curtain
: Perhaps the most mind-blowing defensive stat of the season is the fact that the Steelers have yet to record a single takeaway. Consider: no interceptions and no fumble recoveries in four games. That would be hard to fathom for any team. Because it's the Steelers, who have arguably the greatest defensive tradition in the league, it's even tougher to explain. No team in history has taken an oh-fer for the first five games, according to the Elias Sports Bureau. This is one of the main reasons why the Steelers are off to their worst start since 1968.
Why the takeaway drought? The Steelers have been playing from behind, reducing the opportunities for turnovers. They also have an ancient secondary, led by S
Ryan Clark
(34), CB
Ike Taylor
(33) and S
Troy Polamalu
(32). The once-vaunted pass rush has turned benign. LeBeau is blitzing a decent amount (35 percent of the drop-backs, 14th in the league), but there are only four sacks to show for it. In other words, Jets DE
Muhammad Wilkerson
has as many sacks as the Steelers.
Big Ben is big assignment
: The Jets' chances of winning will hinge on how they defend one player -- QB
Ben Roethlisberger
. With no running game, the Steelers are more Roethlisberger-reliant than ever. He's putting up big numbers -- 308 passing yards per game -- but he's also had a handful of "Geno" moments -- four lost fumbles, five interceptions and 15 sacks. He'll hold the ball longer than most quarterbacks, trying to make a play. Sometimes it works, sometimes it leads to careless ballhandling. The Jets are aware of it, and they will be focused on ball stripping.
Coverage is key
: The Jets view the Steelers the way they did the Falcons: It's all about containing the passing game. If Jets CB
Antonio Cromartie
(knee) doesn't play, the degree of difficulty will increase. If they don't have Cromartie to cover WR
Antonio Brown
, who's averaging eight catches and 103 yards per game, it'll put tremendous stress on the rest of the secondary. Just watch, Roethlisberger will throw 45 times for 350-plus yards in this game. We know they can't run the ball, as the Steelers are averaging only 58 yards per game. The return of rookie RB
Le'Veon Bell
has helped, but the offensive line -- sans star C
Maurkice Pouncey
-- is a jumbled mess. Mike Tomlin benched struggling LT
Mike Adams
in favor of
Kelvin Beachum
or recently acquired
Levi Brown
. The Jets' front seven should be able to control the line of scrimmage.
Act like grown-ups
: This game will test the Jets' maturity level. They're feeling good about themselves, but this team is still young and tends to lose focus (see the turnovers and penalties). This won't be a walkover. The Steelers are a proud, physical team that recognizes the urgency of the moment. Tomlin set the tone by benching a couple of starters and banning games in the locker room. They've been outscored by 10.2 points per game, the third-largest margin in the league, according to ESPN Stats & Information. The Steelers are better than that; the Jets should prepare for a street fight.
October, 11, 2013
10/11/13
12:00
PM ET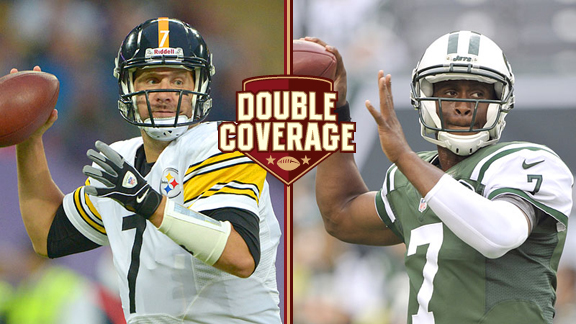 USA TODAY SportsBen Roethlisberger and the 0-4 Steelers take on Geno Smith and the surprising Jets.
Things you didn't expect to see in the standings when the NFL released the schedule last April: The
New York Jets
at 3-2, the
Pittsburgh Steelers
at 0-4.
The rebuilding Jets were supposed to struggle under a coach who already was being called a lame duck, and the Steelers ... well, they were supposed to be the Steelers, a model of consistency.
The two teams meet up Sunday at MetLife Stadium. The Steelers are off to their worst start since 1968, the year of the Jets' only Super Bowl season. If the Steelers lose this game, they're pretty much done in terms of playoff aspirations. The Jets played a similarly desperate team Monday night, and that didn't seem to faze them, as they stunned the
Atlanta Falcons
on the road. The Steelers should be well-rested coming off a bye week.
ESPN.com Jets team reporter Rich Cimini and Steelers reporter Scott Brown break down the matchup:
Cimini
: Scott, I look down the Steelers' roster and I still see a lot of those familiar names --
Ben Roethlisberger
,
Antonio Brown
,
Troy Polamalu
,
LaMarr Woodley
, etc. It's hard to imagine how the Steelers could be this bad. I'm sure you could write 5,000 words on why they're 0-4, but how 'bout a few thoughts on what has gone wrong?
Brown
: Rich, I think I have written triple that amount on everything that has gone wrong. Turnovers have been the biggest problem for the Steelers, and that is on both sides of the ball. The Steelers have committed 11 of them with six coming in the last two games by Roethlisberger alone, and they are still without a takeaway, which is unbelievable when you think about it.
Playing from behind has a lot to do with the Steelers' turnover problem, especially on defense. The defense is at its best when it puts opposing quarterbacks in obvious passing situations and forces them into the kind of mistakes that lead to turnovers. Would you believe the Steelers have had exactly two leads this season and those were 2-0 and 3-0 in the season opener against the Titans and in the second game at Cincinnati, respectively?
Rich, this defense usually confuses and frustrates rookie quarterbacks, but
Geno Smith
has hardly played like a first-year signal-caller. Has his play surprised you, and is it sustainable?
Cimini
: I was surprised by how well he played Monday night in Atlanta because he had been a turnover machine -- 11 in his first four games. All of a sudden, something clicked. I don't know if it was a one-game thing or the start of a trend.
I know the Steelers' defense isn't what it used to be, but Dick LeBeau will have had two weeks to cook up something to confuse the kid. How Smith responds to new looks from the defense will decide this game. The Jets leaned a bit more on the running game last week, taking some pressure off Smith, and I suspect they'll take a similar approach on Sunday. Blitz pick-up will be a key, as will the receivers' ability to gain separation. I remember the Steelers were very aggressive last season in Week 2 with the Jets' wideouts. While on the subject of quarterback play, how would you assess Big Ben's play to this point?
Brown
: It has been fine other than the turnovers, and I think it will get better with tight end
Heath Miller
back and running back
Le'Veon Bell
giving the Steelers a legitimate threat in the ground game. Roethlisberger is on pace to throw for almost 5,000 yards this season, which would obliterate his career-high of 4,328 yards (2009). But Roethlisberger is also averaging just over 40 pass attempts per game. That number is way too high, especially given how leaky the Steelers' offensive line has been through the first quarter of the season.
The emergence of Bell should restore balance to the Steelers' offense. My question for you is, will such balance have to wait a week? The Jets' defensive line looks awfully physical and it is hard to envision the Steelers having much luck running the ball against it.
Cimini
: You're right, Scott, the Jets have been very good against the run. They've faced some good backs --
Chris Johnson
,
C.J. Spiller
,
Doug Martin
-- and they're allowing only 76.2 yards per game and 3.0 per carry. I'd be surprised if the Steelers have much success on the ground.
The Jets' front seven is much improved from last season. They added more athleticism at nose tackle (
Damon Harrison
), tackle (
Sheldon Richardson
), weak inside linebacker (
DeMario Davis
) and rush linebacker (
Quinton Coples
). They're no longer vulnerable on the perimeter, as they were last season. I think they will make the Steelers one-dimensional, which should allow the Jets to get good pressure on Roethlisberger. Speaking of pressure ... four sacks for the mighty Steelers? What happened to that defense?
Brown:
Man, depends on who you ask. The easy answer is to say that age has finally collared a once fearsome defense, but that is not entirely accurate. Defensive end
Brett Keisel
, strong safety Polamalu and cornerback
Ike Taylor
are among the most tenured Steelers, and they have played well this season.
Age has caught up with the Steelers a little bit, and the defense needs to get more out of younger players such as cornerback
Cortez Allen
and outside linebacker
Jarvis Jones
. Jones, the Steelers' No. 1 pick last April, is going to be really good, but he has not made much of an impact as a pass-rusher. The Steelers desperately need Jones to emerge opposite Woodley, who has three of the team's four sacks.
.
September, 16, 2012
9/16/12
12:30
PM ET
Join our ESPN.com NFL experts as they break down the matchup between the New York Jets and the Pittsburgh Steelers.

Contribute your thoughts and questions beginning at 4:25 p.m. ET. See you there.


September, 10, 2012
9/10/12
4:00
PM ET
New York Jets
head coach Rex Ryan confirmed what many suspected on Monday: Pro Bowl cornerback
Darrelle Revis
suffered a concussion in the second half in their 48-28 win over the
Buffalo Bills
.
Revis
"He seems to be feeling good, but whatever those (baseline test) scores are, apparently that's low," Ryan said,
according to ESPNNewYork.com
. "I'll lean on the doctors and trainers. We'll see how he progresses during the week."
By the sheer injury alone, Revis' status is in doubt for next Sunday's big game against the
Pittsburgh Steelers
(0-1). The Jets (1-0) looked great Sunday but would have a lot of trouble beating Pittsburgh without their best player.
Concussions and head injuries are very hot topics in the NFL. Even a mild one has the potential to sit a player for a game or two. This will be a huge story to watch, as New York prepares for a good opponent and good passing game.
At the very least, Revis most likely will miss practice time this week. The Jets must make contingency plans to call the defense without him. Much of New York's scheme is based on Revis playing man-to-man against the opponent's best receiver (Revis Island), while the rest of the defense worries about everything else.
Kyle Wilson
would start against Pittsburgh Sunday if Revis cannot play. Wilson had one of three interceptions in Week 1 against Buffalo quarterback
Ryan Fitzpatrick
.