January, 11, 2013
1/11/13
5:00
AM ET
There are four divisional-playoff games this weekend, involving plenty of familiar faces. Here's our top-10 list of ex-Jets (tell us what you think of our rankings):
[+] Enlarge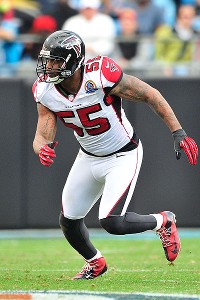 Grant Halverson/Getty ImagesJohn Abraham
1.
John Abraham
, DE, Falcons -- He has 68.5 sacks in seven seasons since being traded.
2.
Jonathan Goodwin
, C, 49ers -- A Pro Bowl in '09 for the Saints, solid pivot man for the Niners.
3.
Danny Woodhead
, RB, Patriots -- Totalled 747 yards from scrimmage this season.
4.
Leon Washington
, KR, Seahawks -- Made his second Pro Bowl, averaging 29 yards per return.
5.
Joel Dreessen
, TE, Broncos -- Caught a career-high 41 passes this season from
Peyton Manning
.
6.
Jim Leonhard
, S, Broncos -- Battled back from major knee injury. Punt returner and reserve DB.
7.
Wade Smith
, G, Texans -- A three-year starter at left guard.
8.
James Ihedigbo
, S, Ravens -- Three starts, mostly special teams and backup duty.
9.
Marquice Cole
, DB, Patriots -- Solid special teamer.
10.
Emanuel Cook
, S, Ravens -- On injured reserve.
December, 12, 2012
12/12/12
12:44
PM ET
As unlikely as it may have been earlier this year, the Jets can realistically start thinking about playoff scenarios as they prepare to face Tennessee on Monday night. Here are some scenarios to focus on this weekend, courtesy of ESPN Stats and Information.

• Baltimore can clinch the AFC North this weekend (meaning Pittsburgh and Cincinnati could only be Wild Card teams) in these scenarios:

1. A win or
2. A tie + Bengals loss or tie or
3. A tie + Steelers loss or tie or
4. Bengals and Steelers loss

ANALYSIS: The Jets would lose the tiebreaker in a head-to-head scenario against the Ravens (the Ravens will have better conference mark), so it would help the Jets if the Ravens win the division. The Jets could potentially finish with a better conference mark than the Bengals, but obviously need to finish with a better record than Pittsburgh to beat them head-to-head.

• Baltimore clinches a playoff spot this weekend in these scenarios (meaning that Pittsburgh or Cincinnati could possibly pass the Ravens for the AFC North):

1. A tie or
2. Bengals loss or tie or
3. Steelers loss or tie

ANALYSIS: Going back to the last point, it helps the Jets if the Ravens win the division because the Jets can't win head-to-head tiebreakers against Pittsburgh or Baltimore. The Jets win a tiebreaker over the Bengals so that would be their best way in.

• Indianapolis can clinch a playoff spot this weekend (the Jets hold the tiebreaker over the Colts if the teams battle for one spot) in these scenarios:

1. Colts win or
2. Colts tie + Bengals loss or tie or
3. Colts tie + Bengals loss or tie or
4. Bengals loss or tie + Steelers loss or tie + Jets loss or tie

ANALYSIS: The Jets hold the tiebreaker over the Colts so it would help them if the Colts go 0-3 the rest of the season and the Jets end up in a head-to-head scenario against the Colts for the final spot. Of course, the Colts play the Chiefs in Week 16, so it might take some help for the Jets to rely on this scenario.

• Even if the Jets win this weekend, they still need some help to get into the playoffs. Here's how it will stand this weekend if the Jets are able to beat the Titans:

Steelers & Bengals both lose: Steelers are still the No. 6 seed
Steelers win, Bengals lose: Steelers are still the No. 6 seed
Steelers lose, Bengals win: Bengals are the new No. 6 seed

--No matter what the Colts do against the Texans, they are still the No. 5 seed after this weekend.

December, 16, 2011
12/16/11
4:40
PM ET
On Thursday, Bart Scott said the Jets weren't a Super Bowl team, or even a playoff team. Surely that kind of pragmatic contemplation would be shouted down in a Rex Ryan locker room. Right Rex?

Only, when asked about his linebacker's distinct lack of braggadocio, Ryan was similarly reflective.

"We know we have to improve as a team in all phases and we challenged our team that way," Ryan said. "And that's the mentality, we've got to keep getting better."

Either something has gotten into the water supply in Florham Park, or the Jets have consciously adopted a less in-your-face persona this season. Even at the start of this year, Ryan's only Super Bowl comments came at the prompting of members of the media. Is it fair to say that the NFL's loudest team has toned down its act from last season?

"I'd say it's fair to say, but we were 9-2 at one time last year, so it's pretty obvious you're going to be in the playoffs," Ryan said. "Right now we're fighting for our playoff lives. We've got to get in the playoffs before we can talk Super Bowl. Then we will."

In the past two seasons, the Jets, now 8-5, have lost in the AFC title game, falling one game short of the Super Bowl that Ryan saw his team winning within three years of his landing the Jets job in 2009. He was ushered in as President Barack Obama took office, and Ryan speculated that his team would be hosted by Obama as Super Bowl champs.

In order to do it the easy way, the Jets were looking to win the AFC East this season. Instead, they now know a Super Bowl berth would only come as a wild card.

"Do I think we're a playoff team? I absolutely do," Ryan said, "but we have work to do."

Still it seems that Ryan has learned that you can't make something a reality just by saying it out loud, be that a division title or a Lombardi Trophy. Right now he'd be happy with making the playoffs, and starting the bragfest once that happened.

"Let's make sure we get there first," Ryan said. "I know, I should have thought about that in the offseason. I got ya."

October, 27, 2011
10/27/11
2:26
PM ET
The
New York Jets
(4-3) are enjoying their bye week following a two-game winning streak. Overall, the Jets have underachieved in their first seven games, but remain in the postseason hunt.

Here are three issues facing the team:
Can the Jets win on the road?
The Jets are a stellar 4-0 at Met Life Stadium. That's keeping the them afloat. But New York has looked awful on the road, where the team is 0-3. The Jets have to play much better away from home to make a push for the playoffs. The biggest surprise is the Jets haven't "packed their defense" when they travel. New York has allowed an average of 32.7 points per game on road. The Jets are not built to win shootouts and have little chance when the defense allows that many points. Three of New York's next five games are on the road.
Is ground and pound here to stay?
Jets running back
Shonn Greene
had his first 100-yard game of the season in last week's win against the Chargers. That's a good sign, but certainly not enough to say the Jets' ground-and-pound offense is officially back. New York rushed for a season-high 162 yards against the Chargers. The Jets' much-maligned offensive line had its best game of the season. But I need to see this group dominate the line of scrimmage for three or four games in a row before I feel comfortable saying New York's offense has turned the corner.
Will New York stay together, play together?
It is no secret the Jets can be a volatile bunch. Maybe it's the collection of personalities. Maybe it's the pressure of playing in New York, or a combination of both. But things were very close to imploding during the Jets' three-game losing streak. Players began pointing fingers and lacked focus. The Jets are a talented bunch when they have their act together. They need to do a better job of staying together, especially during rough times. It's a long season.