New York Jets:

Power rankings
December, 3, 2013
12/03/13
2:00
PM ET
A weekly examination of the Jets'
ESPN.com Power Ranking
:
Preseason
: 32 |
Last Week
: 22 |
ESPN.com Power Ranking since 2002

Our esteemed panel of voters took pity on the Jets, dropping them only one spot after their butt-ugly loss to the
Miami Dolphins
. The way they played Sunday, the Jets would've had a hard time beating the No. 32
Houston Texans
in an
Ed Reed
Bowl. It probably would've ended in a tie, considering Reed's diminished skill and karma.
The Jets have lost three in a row, dropping faster than a bad face-lift. They peaked at No. 12 after upsetting the
New Orleans Saints
, but they're nose-diving back to where they started -- No. 32.
November, 12, 2013
11/12/13
2:00
PM ET
A weekly examination of the Jets'
ESPN.com Power Ranking
:
Preseason
: 32 |
Last Week
: 14 |
ESPN.com Power Ranking since 2002

Rex Ryan said his goal was to lose the bye week -- a joking reference to the Jets' win-one, lose-one trend. That way, he figured, they'd be due for a victory Sunday against the
Buffalo Bills
.
Well, the Jets didn't lose the bye week.
They moved up to No. 12 in the ESPN.com power poll, climbing two spots -- the same bump they received the previous week after upsetting the
New Orleans Saints
. Go figure.
In the most important place -- the AFC standings -- the Jets caught a few breaks on their idle weekend. Three teams in contention for the second wild-card spot -- the
Miami Dolphins
,
Tennessee Titans
and
San Diego Chargers
-- all lost, dropping to 4-5.
The Jets are 5-4, currently holding the second wild-card berth. But there's a lot of football to be played.
November, 5, 2013
11/05/13
2:00
PM ET
A weekly examination of the Jets'
ESPN.com Power Ranking
:
Preseason
: 32 |
Last Week
: 16 |
ESPN.com Power Ranking since 2002

Hey,
Calvin Pace
, how do you like your ranking now?
The veteran linebacker hasn't stopped chirping about the infamous Week 1 poll (you know, the one in which the Jets were ranked No. 32), but he can't complain about the current ranking. With their upset of the
New Orleans Saints
, the Jets moved up two spots to No. 14, their season high.
The Jets are sixth in the AFC, which makes sense. If the playoffs started now, the Jets would be the No. 6 seed. The most interesting wrinkle in the new rankings is that, of their seven remaining opponents, only one is ranked ahead of them -- the
Carolina Panthers
at No. 12. If the Jets don't make the playoffs, they can't blame a tough schedule.
October, 29, 2013
10/29/13
2:00
PM ET
A weekly examination of the Jets'
ESPN.com Power Ranking
:
Preseason
: 32 |
Last Week
: 15 |
ESPN.com Power Ranking since 2002

The Jets are the ultimate middle-of-the-road team. At 4-4, they're exactly where you'd expect them to be: No. 16 overall. Simple, right? We're not talking nuclear physics here.
Our esteemed panel of voters must have chalked up the 49-9 loss to the
Cincinnati Bengals
to an aberration, because it cost the Jets only one spot in the rankings. Maybe the panel ... you know, actually likes the Jets. It's not often you can hold relatively steady with a 40-point loss.
Next up: The
New Orleans Saints
(6-1), ranked No. 5.
October, 22, 2013
10/22/13
2:00
PM ET
A weekly examination of the Jets'
ESPN.com Power Ranking
:
Preseason
: 32 |
Last Week
: 20 |
ESPN.com Power Ranking since 2002

Welcome to respectability.
The Jets jumped five spots with their dramatic and bizarre win over the
New England Patriots
, moving into -- are you ready for this? -- the top half of the rankings for the first time this season. A No. 15 ranking means they're considered on the periphery of playoff contention, something not many folks envisioned at the start of the season.
The next two weeks will tell us a lot about the Jets, as they face the
Cincinnati Bengals
(No. 7) and
New Orleans Saints
(No. 5). Starting to get interesting, isn't it?
March, 19, 2013
3/19/13
4:46
PM ET
At the NFL meetings Tuesday in Phoenix, Rex Ryan told reporters he doesn't see the Jets as a rebuilding team even though they're down eight starters (and counting) from a year ago.
An ESPN panel of experts disagrees.
In the
ESPN pre-draft Power Rankings
, the Jets get no love at all, finishing 31st out of 32 teams. That's rough.
The team ranked below the Jets? Hint: They were, at one point, considered the likely landing spot for
Tim Tebow
.
June, 14, 2011
6/14/11
1:00
PM ET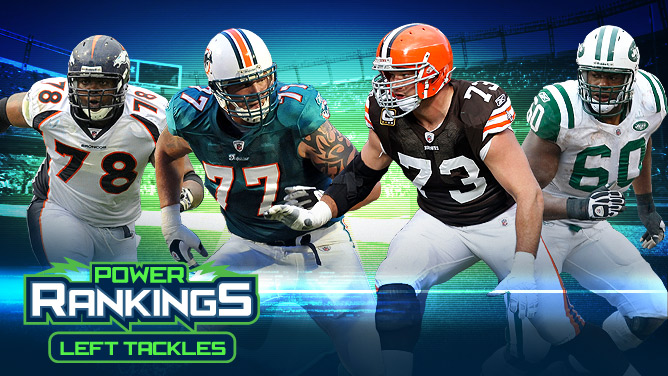 ESPN.com IllustrationOur bloggers say Joe Thomas and Jake Long are the NFL's best left tackles by a wide margin.
ESPN.com ranks the NFL's top 10 at left tackle, one of the most important positions in the league. Next week: Top up-and-coming assistants.
Take a quarter out of your pocket and look at its width. That's basically the difference between the top two left tackles in the ESPN.com Power Rankings.
Cleveland's
Joe Thomas
received 76 points from our eight-person panel of voters. Miami's
Jake Long
received 75. That put them way ahead of the rest of our top 10 list of the NFL's best blindside pass protectors.
Our panel of division bloggers gave Thomas five first-place votes, and Long received three.
"It was pretty much a coin flip for me,'' said NFC East blogger Dan Graziano.
If Graziano's quarter had landed on the other side, we might have had a different outcome. I think the same can be said for some of the other voters. I gave Thomas my top vote only after some strong consideration for Long.
But let's cut to the chase and point out the man who ultimately decided this election. It's AFC South blogger Paul Kuharsky. Every other voter had Thomas and Long in the top two spots. Kuharsky threw things off a bit by putting Long at No. 1 and Tennessee's
Michael Roos
at No. 2. He had Thomas at No. 3.
Let's turn to Kuharsky for his rationale.
"I've seen Long more, which helped him,'' Kuharsky said. "Also, frankly, I knew there could be close to a consensus for Thomas. He's very good. But we're not talking
Orlando Pace
or Jonathan Ogden. The groundswell for Thomas as top left tackle is, in my eyes, more a media creation than the view of players, scouts and coaches. I wanted to note and reflect that.''
Point taken, and I agree that we're not talking the same level as Pace and Ogden -- at least not yet. Thomas and Long are young and it's too early to put them in the category of surefire Hall of Famers. But, aided largely by Kuharsky, Roos did finish No. 6 overall.
Ryan Clady
,
Jordan Gross
and
D'Brickashaw Ferguson
rounded out our top five at Nos. 3, 4 and 5 respectively. After Roos, the rest of the top 10 was filled out by
Jason Peters
(No. 7),
Marcus McNeill
and
Donald Penn
, who tied for No. 8, and
Matt Light
at No. 10.
Let's work our way back toward the top, with one more quick stop at Roos. I had him at No. 8 on my ballot, and James Walker and Kevin Seifert didn't even vote for him. I've had a couple of scouts tell me Roos is a good left tackle, but seemed to take a step backward last season.
Kuharsky heard otherwise.
"I've had a coach and two scouts tell me Roos is as good or better than Thomas and Long,'' Kuharsky said. "I obviously see Roos a lot and think he's quite good, certainly better than he wound up here.''
Roos or ruse? Take your pick, but let's head right back to the top of the voting and back to the argument between Thomas and Long. They were drafted one year apart with Thomas entering the league in 2007 and Long coming in for the 2008 season. Each has made it to the Pro Bowl in every season played.
Kuharsky mentioned the "media creation'' about Thomas. In Cleveland? That's not where you usually turn to find guys to top Power Rankings, so our vote has to say something pretty strong about Thomas. Let's turn to the guy who covers Thomas.
"Thomas has always been focused on doing his job,'' Walker said. "You can't tell whether the Browns are 16-0 or 0-16 with the way he plays, and that's why he's been to four straight Pro Bowls. The NFL has gone the way of speed pass-rushers, and Thomas is the prototype to combat that. He's lean with very good feet and agility, but still strong enough to dominate in the running game. There's really no weakness in his game."
None of our panelists saw a weakness in Long's game.
"I thought Long's run-blocking ability put him a little bit ahead of Thomas,'' Grazianzo said. "I think he's shown improvement every year and is likely to pass Thomas soon if he hasn't already (and for me, these lists are about which guy I'd pick right now, so a guy I think is going to get better is going to get a long look from me). And he earned a bonus point or two from me for playing the last six games of 2010 in a shoulder harness and still being incredible.''
The best news is, these guys are so young we can have this same argument every year for the next decade. Now, let's move on to some other notes about the voting in the Power Rankings for left tackles.
Turn off the Light.
As we mentioned, Light came in at No. 10. That surprised me a bit because he's a big name with three Super Bowl championships and three Pro Bowl selections. I had Light at No. 6 and Walker had him at No. 4. But Light didn't even appear on four ballots, including the one from AFC East representative Tim Graham.
"Matt Light is a quality player, but Stats Inc. blamed him for 10 sacks allowed and four penalties last season, more in each category than his previous two seasons combined,'' Graham said. "I've always thought Light got more recognition simply from being
Tom Brady
's left tackle. Once you name the three or four elite tackles and you rack your brain for the next group, it's easy to understand people sorting through the great quarterbacks and asking, 'Who is so-and-so's left tackle?' Light made the Pro Bowl last year, but as an alternate. Light's reputation also is enhanced by his involvement in the union and being a truly rare species: the gregarious Patriot.''
Also-rans.
Andrew Whitworth
,
Chad Clifton
,
Doug Free
,
Russell Okung
and
Jeff Backus
didn't make the top 10, but each received votes.
"I don't think there are 10 elite or even complete left tackles in the NFL,'' NFC West blogger Mike Sando said. "I list Okung on a very short list of players with the talent and makeup to be elite at that position. Okung hasn't played enough to this point, but I think he'll join that group this season. Listing someone with considerably less ability was the alternative.''
The longest shot.
Somewhere, former Tampa Bay general manager Bruce Allen and coach Jon Gruden are smiling at Penn's name appearing on this list. It's true, they headed the regime that signed Penn as a free agent in 2007 after he was cut by Minnesota in 2006. Then again, they were also the ones who signed Luke Petitgout, and Penn only got a chance to play because Petitgout turned out to be washed up. I used to subscribe to the theory that you needed to use a first-round pick to get a good left tackle. But Penn has shown that's not necessary. In his case, he simply made the most of his shot at playing time and turned it into a $48 million contract as training camp started last year.