New York Jets:

Randy Moss
November, 2, 2010
11/02/10
1:48
PM ET
Owner
Woody Johnson
and GM
Mike Tannenbaum
love collecting "trophy" players, so
they can't be ruled out
of putting in a claim for
Randy Moss
. They're also not bashful about acquiring players with character issues.
Level of interest:
Minimal. Make no mistake, they discussed it internally, weighing the pros and cons. The Jets' receiving corps is coming off a horrendous performance versus Green Bay, but the organization still likes the talent and depth. If the Jets submitted a claim on Moss, they'd be doing it in part to block him from returning to the Patriots.
If they are interested, here's what must happen:
Based on their 5-2 record, the Jets are No. 30 on the waiver priority list. Even if they did put in a claim, the odds of Moss slipping past the first 29 teams are remote.
Salary:
There is no salary cap, so it's just of matter of whether they'd be willing to pick up the rest of Moss' 2010 salary -- $3.4 million. That's close to $400,000 per game, in case you're wondering and a lot of money for a team that doesn't need a receiver.
Final thoughts: Mark Sanchez
is having trouble with his current cast of characters. Imagine if he was given another mouth to feed. It would be a disaster waiting to happen.
October, 6, 2010
10/06/10
7:13
PM ET
Calvin Pace thinks he will be ready to go Monday night against the Vikings. Asked to put the percentage on odds he be on the field, he laughed and said 91.5 percent.
"God willing Monday it's back to normal," Pace said.
The Jets linebacker broke his foot in the Jets third preseason game, and had surgery to put a screw in the bone. He said he might have been able to play last week against the Bills, but decided to give it a long week and full time to heal.
"I just decided it would be best to give it one more week to heal up," Pace. "I just felt I wasn't ready to play in the game all the way around."
Jets coach Rex Ryan said he felt Pace and CB Darrelle Revis would be ready to play Monday against the Vikings, and they can use the two defensive player knowing they will face a new Vikings wide receiver in Randy Moss.
Although his coaches might want him to ease back in rather than play a full game, Pace said he didn't want to be held back or count reps.
"I'm full go, no turning back now," Pace said. "I think the reps are actually going to help me."
September, 19, 2010
9/19/10
9:49
PM ET
Recap
|
Box score
|
Jets Center
EAST RUTHERFORD, N.J. -- For
Randy Moss
, his freedom from Revis Island did not mean the Patriots superstar could roam free in the Jets' secondary. Instead, it was almost like Moss never left the island's uncomfortable confines.
Despite catching a 34-yard touchdown pass against Jets corner
Darrelle Revis
and not having to line up against the Pro Bowler in the second half due to Revis' hamstring injury, Moss had little effect in the Jets' 28-14 win Sunday afternoon at New Meadowlands Stadium.
Moss had just two catches for 38 yards, all of which came in the first half, and couldn't make the big plays needed when lined up against
Antonio Cromartie
in the second half.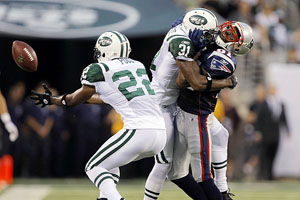 John Munson/US Presswire
This Antonio Cromartie hit on Randy Moss led to a Brodney Pool interception.

"It was very disappointing from my perspective, I gotta do a little bit better," Moss said. "The team relied on me to throw me the ball and I just really didn't make the plays in the second half, so it's just something that really hurts."
Running routes against Revis in the first half, Moss managed to best his rival on a fade to the back of the end zone with a beautiful one-handed grab that gave the Patriots a 14-7 lead with 53 seconds left in the second quarter. While the beautiful catch made many jaws drop, Moss was stoic about it, saying it was just everyday work and he didn't care that he beat Revis, who has called Moss a "slouch" in the past.
"This game, a lot of people put this game hype on me and Revis," Moss said. "And there's 10 other guys out there with me, and there's 10 other guys out there with him. In order for me to be successful, in order for Revis to be successful, all 11 guys have to be working together. Like I said, we didn't work together in critical situations."
While Revis left the game after that play with a tight, possibly pulled, left hamstring, Moss couldn't insert himself into the action in the second half. Moss and quarterback
Tom Brady
both said the Jets did not change anything in terms of their coverage with Revis sidelined, but the Jets somehow managed to neutralize Moss with the taller and heavier Cromartie.
"The biggest thing was going in, focusing and trying to do my job the best way I can," Cromartie said. "The guys in the secondary and the defense picked me up and made sure I did the right thing that I needed to do."
Moss was targeted four times in the second half, and on two of those occasions the Jets intercepted the ball. The first time, Brady overthrew a fade down the right sideline and Cromartie picked the ball off early in the third quarter. On the second pick, a tipped throw led to an interception by
Brodney Pool
to open up the fourth quarter. Just like most of the second half, Cromartie was right on top of Moss on that interception.
On this day, Cromartie -- not Revis -- seemed to be Moss' kryptonite. And that left Moss appearing to be stranded on an island -- albeit a different one -- once again.
"I got to just commend him," Moss said of Cromartie. "Revis, I guess was a little banged up, and Cromartie came in and held his own, held his ground. That's just something as a wide receiver, you go back to the drawing board, keep working. They had a good plan, they executed it right, they executed it better than we did and they won the game."