New York Jets:

Ras-I Dowling
June, 26, 2014
6/26/14
10:20
AM ET
Two of the MICs (most important coaches) in training camp will be defensive coordinator Dennis Thurman and secondary coach
Tim McDonald
. They're charged with the responsibility of guiding a young group through its formative stage, trying to minimize the growing pains along the way.
This won't be easy. In the post-
Darrelle Revis
/post-
Antonio Cromartie
era, the secondary is in transition. In fact, there are five players -- all of whom have a good chance of making the team -- who are new to the Rex Ryan defensive system: veterans
Dimitri Patterson
,
Ras-I Dowling
and
Johnny Patrick
, and rookies
Calvin Pryor
and
Dexter McDougle
.
It'll be summer school in Cortland, N.Y.
[+] Enlarge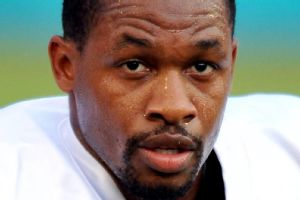 Steve Mitchell/USA TODAY SportsDimitri Patterson has impressed in his brief time with the Jets.
"(The) lack of experience that shows up at times, but the talent is there," Thurman said. "We know that we have guys that can play. We just have to make sure that we communicate the things that we are supposed to do. If we do that, I think we'll be fine."
Ryan's system isn't easy because it's predicated on communication, players communicating with teammates before the snap. The beauty of the system is that it's not rigid; it gives players the flexibility to make pre-snap adjustments. But the players have to know what the heck they're doing before the defense can perform a graduate-level curriculum, as Ryan might say.
One of the reasons why his defense has thrived with older players, vets thought to be on the downside of their careers, is because he can tap into their vast experience, providing game plans that younger players can't handle. Who knows? Maybe Patterson, 31, becomes one of those guys.
"A guy who knows how to play," Thurman said of Patterson. "(He) brings knowledge and depth to our secondary. He can play nickel as well, so right now we are very pleased with Dimitri."
The oldest member of the secondary is
Dawan Landry
, 31, whose background in Ryan's system will make him a proverbial coach on the field. Thing is, he might not be on the field as much as last season because of the young talent at safety. Pryor, drafted 18th overall, is a virtual lock as an opening-day starter.
"We'll answer that after training camp, but he's a talented kid, we drafted him No. 1," Thurman said. "We feel like he can bring a lot to our secondary, so we'll see."
By the end of the season, perhaps sooner, McDougle could have a prominent role. The Jets are high on their third-round pick, who impressed during the final two weeks of the offseason program. He missed most of the offseason, still recovering from shoulder surgery last fall.
"I think he is everything we thought he was going to be," Thurman said. "He's a young, talented kid, he is very serious (and) he loves football. There are some guys that you look at them and you say, 'All right, he was built to play this position.' He was built to play corner."
June, 23, 2014
6/23/14
9:00
AM ET
With the offseason in the books, let's take a step back to analyze some of the players who helped themselves the most in the offseason -- and some who didn't.
THREE RISERS
1. Oday Aboushi, left guard:
The former fifth-round pick, coming off what amounted to a "redshirt" rookie year, played his way into the conversation as a possible starter. He finished minicamp as the starting left guard, replacing
Brian Winters
, who moved to right guard to replace the injured
Willie Colon
. Aboushi, who struggled last year at tackle, may benefit from the move inside because it could hide his shortcomings in pass protection. Colon expects to be ready for training camp, so there will be three players vying for two starting jobs. We'll see how Aboushi responds when the pads go on.
[+] Enlarge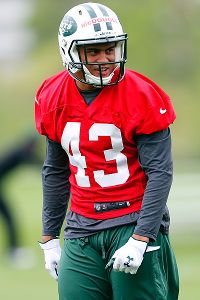 Rich Schultz /Getty ImagesThird-round pick Dexter McDougle worked his way up to second team by the end of minicamp.
2. Dexter McDougle, cornerback:
Rex Ryan admitted his concerns about drafting McDougle in the third round -- injury-related worries -- but he's a believer now. After sitting out for most of the offseason to protect his surgically repaired shoulder, McDougle returned for the final two weeks, working his way up the depth chart to second team. He's smart and aggressive, not afraid to mix it up with receivers at the line of scrimmage. The coaches now believe he could push for serious playing time.
3. Ras-I Dowling, cornerback
: When the Jets were striking out in free agency, failing to land a big-time corner, Ryan kept insisting he was happy with his current personnel. He named names, always mentioning Dowling. Cynics (including me) wondered the same thing:
Ras-I Dowling?
He spent last season on the Jets' practice squad after being dumped by the
New England Patriots
, but the talent is there. He was the 33rd pick in the 2011 draft, only three spots behind
Muhammad Wilkerson
. It was an impressive spring for Dowling, who now has a legitimate chance to make the team.
THREE FALLERS
1. Caleb Schlauderaff, center:
Only a couple of years ago, former general manager Mike Tannenbaum touted Schlauderaff as the Jets' version of
Victor Cruz
-- a super sleeper. He's almost asleep, all right. Schlauderaff, the Jets' only reserve lineman with regular-season experience (all of 14 snaps), was relegated to third-team duty in minicamp, falling behind
Dalton Freeman
as
Nick Mangold
's backup. Schlauderaff will have a tough time making the team if Freeman, an impressive former undrafted free agent, continues to develop.
2. Matt Simms, quarterback
: Last year's feel-good story got off to a hot start in organized team activities, but he cooled off toward the end of the offseason, including minicamp. Simms didn't get as many reps as the coaches would've liked, and reps will be hard to come by in training camp as well. Looking ahead, coordinator Marty Mornhinweg said he's "looking for (Simms) to make one more big step" -- an indication he's still in the team's plans. But rookie
Tajh Boyd
is lurking and will provide competition. Simms needs a strong camp if he wants to claim the No. 3 job.
3. Dawan Landry, safety
: From all indications, Landry enjoyed a terrific offseason, receiving effusive praise from Ryan and earning recognition for his work in the conditioning program. But, at the same time, Landry lost ground. How is that possible? They drafted
Calvin Pryor
in the first round and paired him with third-year safety
Antonio Allen
in the starting lineup, allowing the young tandem to learn and develop chemistry. Ryan insisted that Landry still will have an important role, but things won't be the same. You can bet he won't play 98 percent of the defensive snaps, as he did last season.
June, 14, 2014
6/14/14
9:00
AM ET
Plenty to discuss as the
New York Jets
prepare to wrap up the offseason with next week's mandatory minicamp:
@RichCimini Of the Patriots casts offs, ras I, studfeld, Cunnginham, Who has the best shot of making the 53 man roster? #Jetsmail

— Brian Carroll (@bcarroll6890) June 13, 2014
@RichCimini: You're referring, of course, to cornerback Ras-I Dowling, tight end
Zach Sudfeld
and outside linebacker
Jermaine Cunningham
. Dowling and Cunningham are both former second-round picks of the
New England Patriots
, so we're talking about players with some degree of talent. On the other hand, Bill Belichick is a smart coach, not in the habit of dumping useful players. Dowling has impressed the coaches this offseason, working his way up to the second-team defense. I wouldn't say he's a lock to make the team, but his chances are better than 50-50. Cunningham has received some reps with the first-team nickel package. If he can rush the passer, he'll make the team -- but it remains a big if. I'd say Sudfeld has the best shot, based on the lack of numbers at tight end.
Jeff Cumberland
and
Jace Amaro
are locks, but Sudfeld -- who has intriguing receiving skills -- probably will stick as the No. 3.
#Jetsmail Rich, WR & RB are looking very crowded. What does the depth chart look like on Sept 7 (assuming no injuries)?

— Mike Sprouse (@mikesprouse) June 13, 2014
@RichCimini: I think the running backs will be
Chris Johnson
,
Bilal Powell
and
Chris Ivory
, with
Tommy Bohanon
at fullback. I'd like to put
Daryl Richardson
on the team, but he's a wild card, still recovering from last year's turf toe injury. I don't see
Mike Goodson
in the picture. At wide receiver, I see
Eric Decker
,
Jeremy Kerley
,
Stephen Hill
,
Jalen Saunders
,
David Nelson
and
Jacoby Ford
. You're right, it's crowded and there will be some tough decisions. Truth be told, I think Decker and Kerley are the only true locks. Saunders and Ford are helped by their kick-returning ability. We know that John Idzik likes to protect his draft picks, so you know
Shaq Evans
will be in the conversation. If Evans impresses in camp, a veteran like Nelson could be in jeopardy.
@RichCimini do you see the Jets adding any more offensive linemen to sure up the depth and for what Idzik likes? #Competition #Jetsmail

— Justin Hallstein (@JHallstein) June 13, 2014
@RichCimini: As I've noted a couple of times, I think they need to sign a veteran for insurance. None of the backups have experience -- unless you count
Caleb Schlauderaff
, who has played only 14 regular-season snaps. Right now, their top backups are
Oday Aboushi
,
Ben Ijalana
and
William Campbell
-- a.k.a. the Idzik Redshirts from 2013. Rex Ryan is talking up Aboushi, and that's fine, but there's no substitute for experience. They a grizzled vet who can play multiple spots, someone like
Wade Smith
, formerly of the Houston Texans.
@RichCimini With all the rawness in our secondary, could you see Rex dialing down blitz pressure until the pups get acclimated? #Jetsmail

— Justin LaSalata (@JustinL81) June 13, 2014
@RichCimini: Interesting question. I did some research, and here's what I found: In 2012, the Jets blitzed on 34.3 percent of the dropbacks (11th in the league), according to ESPN Stats & Information. Last season, it dropped to 29.6 percent (22nd). I find it very hard to believe that Ryan will dial it back even further; that's not in his DNA. I could see definitely see him cranking up the pressure in an attempt to reduce the burden on the back end. One thing about "pups," as you call them: They usually can run faster than the old dogs, which, in theory, should help them in man-to-man coverage. So, no, I don't see Ryan dialing it down.
@RichCimini who's the nicest jet you've ever covered? #jetsmail

— Adam Bartolo (@wa2k1999) June 13, 2014
@RichCimini: I realize this has nothing to do with football, but I like questions like this because they give the fans an off-the-field appreciation for the players. I've covered a lot of genuinely nice guys over the years (too many to list), but I'll try to narrow it down to a few: Curtis Martin, Dennis Byrd, Brandon Moore, Kyle Clifton, Marty Lyons, Pat Leahy,
Jerricho Cotchery
, Vinny Testaverde, Sione Pouha, Mike DeVito, Damien Woody, Lonnie Young, Kyle Brady ... and I could go on. A locker room filled with these guys would be awesome for a beat writer. When I'm in a bad mood, maybe I'll name my all-nasty team.
June, 7, 2014
6/07/14
9:00
AM ET