New York Jets:

Rookie minicamp
May, 10, 2013
5/10/13
7:24
PM ET
FLORHAM PARK, N.J. -- My takeaways on the first day of rookie minicamp:
1. Growing pains
: QB
Geno Smith
can sling it. He threw a pretty fastball, a tight spiral with good velocity. But we already knew that, didn't we? The questions with him involve his intangibles. How quickly can he learn the offense? Can he handle adversity? Can he lead? The West Coast system is all about rhythm and timing, and there were times when Smith held the ball too long. In those instances, he seemed to hesitate as he went from his first read to his second. One time, he didn't reset his feet, resulting in an overthrow. These are the type of glitches you'd expect from a rookie on his first day. For the most part, he fared reasonably well, completing six of 10 passes (one drop) in team drills.
2. Rex in charge (of the D)
: Rex Ryan wasn't kidding when he said recently that he would return to an active role in the defense. During the defensive walk-through period, Ryan did all the talking and the coaching, explaining the basics of his system to a group of wide-eyed rookies. He likes the hands-on approach, the chance to teach, but it also provides fodder for his critics, those who say he's a glorified defensive coordinator. At a time in his career when he should be evolving into an all-around head coach, Ryan is reverting to his defensive roots. He feels it's necessary because the Jets are basically starting over on defense, with six or seven new starters. Maybe so, but he can't lose sight of the big picture.
3. A message to Vlad
: For a change, the Jets might have some decent depth on the offensive line. Instead of operating with a bunch of undrafted free agents, the Jets lined up with three draft picks on the "starting" line -- LT
Oday Aboushi
, LG
Brian Winters
and RG
Will Campbell
. With better numbers on the line, it could spell trouble for former second-round pick
Vladimir Ducasse
, whose scholarship has expired. Ryan appreciated the improved depth, predicting the drop-off with the second unit in preseason games won't be as severe as in the past. "Hopefully, that will be a little different this preseason because I think we'll be able to block some people," he said.
4. Minding his P's and Q's
: Obviously,
Quinton Coples
isn't participating in the camp, but his name came up in Ryan's news conference. Ryan was asked about Coples' move to outside linebacker, and he quickly used the platform to send a message to the former first-round pick, telling the world that Coples is slacking off in the weight room. It was a very Parcells-ian move by Ryan. Eventually, Ryan explained his plans for Coples at linebacker. To me, this move is a reach. A 280-pound linebacker? Why do I have the feeling we'll be reporting late in training camp that Coples is returning to the defensive line?
5. A little R&R
: Fans might not appreciate this, but first-round DT
Sheldon Richardson
kind of reminds me of
Dewayne Robertson
-- just in terms of his mannerisms and physique. Relax, it's not a commentary on his talent. In his first practice, Richardson displayed fire and energy, qualities that immediately separated him from the former Jets bust. You also have to like Richardson's versatility; he can play the 1-, 3- and 5-technique positions along the line. Ryan will have some fun with Richardson, figuring out different ways to use him.
May, 9, 2013
5/09/13
5:11
PM ET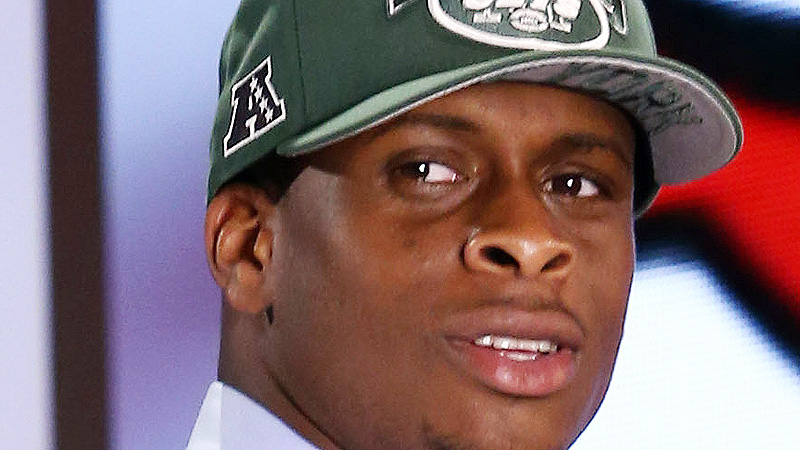 Debby Wong/USA TODAY Sports Geno Smith, the most hyped second-round pick in Jets history, will be on his best behavior.
The Jets open a three-day rookie minicamp Friday in Florham Park, N.J., and there will be no shortage of storylines:
1. Geno, meet the microscope
: After two weeks of intense, post-draft scrutiny, QB
Geno Smith
finally gets a chance to play football. Nothing he does over the next three days will determine his 2013 role, but this is his first opportunity to answer his critics -- on and off the field. He'll be on his best behavior, of course, because he knows he'll get skewered if he coasts through a drill or snaps at a teammate. Reporters and cameras will be trained on his every move, watching to see whether he's the sulking diva some have painted him to be.
The coaches will look to see how well the former West Virginia star has digested the playbook, which he received the night he was drafted. Smith has been in touch with coordinator Marty Mornhinweg, receiving long-distance guidance as he attempts to navigate a foreign offensive system. He reportedly spent two days this week interviewing prospective agents, robbing him of time he could've spent preparing for the minicamp. He fired his agents after his draft slide, as you may have heard. If he shows up unprepared, it'll fuel more questions.
It'll also be interesting to see how Smith operates from under center, in a conventional offense. In West Virginia's "Air Raid" offense, he was in the shotgun or pistol formation 96 percent of the time in his career. The footwork is dramatically different in a pro-style offense, especially the Jets' West Coast system, which is predicated on precise footwork.
2. Dee-sy, does it
: Because of Smith, the most ballyhooed second-round pick in Jets history, CB
Dee Milliner
will be an afterthought this weekend. Crazy, huh? We're talking about the ninth pick in the draft, a consensus all-American and a integral player on Alabama's national-championship team. And, oh yeah, he's the guy who will replace
Darrelle Revis
. Actually, Milliner, two months removed from labrum surgery, will be limited in drills. The Jets won't push him; they say the goal is to have him ready for training camp. They already know he's a terrific athlete. This weekend will be all about getting him immersed into the playbook.
3. Rex's new helpers
: Rex Ryan revamped his coaching staff, which features three new coordinators -- Mornhinweg, Dennis Thurman (defense) and Ben Kotwica (special teams). This minicamp will be the first time the new staff works together in a practice setting, albeit rookies only. Thurman and Kotwica are holdovers, but Mornhinweg is a newcomer to Rex World. He and Ryan have different philosophical roots. Ryan has always been a believer in ground-and-pound, while Mornhinweg comes from a pass-happy team, the Eagles. Ryan says he's willing to take a walk on the wild side, so, in essence, this represents a new beginning.
4. The new lineup
: After the draft, the Jets wouldn't divulge specific positions for their three offensive linemen --
Brian Winters
(third round),
Oday Aboushi
(fifth) and
Will Campbell
(sixth). Now we'll get to see the early stages of the plan. Chances are, Winters and Campbell will be at guard, with Aboushi at right tackle.
5. Adjustment bureau:
The transition begins for DT
Sheldon Richardson
, a probable Day 1 starter who must learn how to become a two-gapping interior lineman in the Jets' 3-4 base scheme. At Missouri he made a name for himself as a penetrating, one-gap lineman in a 4-3. This isn't an easy adjustment for young players, who have to develop a keen sense for reading blocks/keys and reacting. It's a whole new ballgame. Athletically, Richardson is freakishly gifted for a 300-pound man, so he will stick out in the crowd based purely on raw talent.