New York Jets:

Ryan Spadola
October, 8, 2013
10/08/13
10:50
PM ET
Rookie wide receiver
Ryan Spadola
, the feel-good story waived last Saturday by the
New York Jets
, tweeted Tuesday night that he has signed with the
Miami Dolphins
' practice squad.
The Jets made a concerted effort to re-sign Spadola on Monday, but he drew interest from more than one AFC East team. There was some thought that'd he be claimed on waivers, but he cleared at 4 p.m. Monday. The Jets apparently wanted him for the practice squad as well. If they had offered him his old spot on the 53-man roster, he presumably would've returned.
General manager John Idzik did some roster tinkering two days before Monday night's win in Atlanta, cutting Spadola -- on the active roster since the start of the season -- in favor of wide receiver
Michael Campbell
, who was promoted from the practice squad. Campbell ended up playing 11 snaps on special teams, none on offense.
Spadola dressed in three of the four games he was on the roster, appearing in a total of 27 offensive snaps. He had no receptions. He also had 21 snaps on special teams. Spadola, of Howell, N.J., and Lehigh, made the team as an undrafted free agent. He was one of the stars of the preseason.
The situation brings up memories of running back
Danny Woodhead
. In 2010, he was cut by the Jets in Week 2. Their hope was to re-sign him, but he landed with the
New England Patriots
, where he became a valuable contributor. He now plays for the
San Diego Chargers
.
October, 7, 2013
10/07/13
6:16
PM ET
ATLANTA -- Tight end
Kellen Winslow
, who listed as questionable after missing significant practice time due to a chronic knee condition, is active for the
New York Jets
Monday night against the
Atlanta Falcons
.
Recently signed wide receiver
David Nelson
, who did not arrive until last week, also is active. Without
Santonio Holmes
(hamstring), the Jets' receiving corps is
Stephen Hill
,
Jeremy Kerley
,
Clyde Gates
, Nelson and
Michael Campbell
, who was promoted last Saturday from the practice squad. Gates, too, was questionable with a knee injury.
Rookie wide receiver
Ryan Spadola
, who was cut last Saturday amid a flurry of roster moves, cleared waivers at 4 p.m. ET Monday, according to a league source. He's a free agent and could wind up returning to the Jets.
Aside from Holmes, the Jets' inactives are QB
Brady Quinn
, CB
Dee Milliner
, G Will Campbell, OT
Oday Aboushi
, OT
Ben Ijalana
and TE
Zach Sudfeld
.
For the Falcons, the news is that CB
Asante Samuel
is active after missing time with a thigh injury. The Falcons' inactives are RB
Steven Jackson
, LB
Akeem Dent
, LT
Sam Baker
, S
Kemal Ishmael
, S
Zeke Motta
, G
Harland Gunn
and TE
Chase Coffman
.
October, 5, 2013
10/05/13
2:20
PM ET
The Jets made four moves Saturday to set their roster before heading to Atlanta for a Monday night game against the Falcons.
Running back
Mike Goodson
, coming off a four-game suspension for violating the NFL's substance abuse policy, was added to the 53-man roster -- a confirmation that he will suit up for the game. There was some doubt Friday, when he missed some practice with a tight hamstring.
The Jets also added WR Michael Campbell, previously on the practice squad.
To make room for Campbell and Goodson, the Jets released rookie WR
Ryan Spadola
and LB
Ricky Sapp
. The Spadola move came as a surprise. The Jets are taking a calculated risk by putting him on waivers for 24 hours, as they'd like to bring him back if he clears waivers. Spadola, an undrafted free agent from Lehigh, made the team after an impressive preseason.
The Jets are down to four healthy-for-sure receivers --
Jeremy Kerley
,
Clyde Gates
,
David Nelson
(signed Tuesday) and Campbell.
Santonio Holmes
(hamstring) hasn't been officially ruled out, but he won't play. The big question surrounds
Stephen Hill
(concussion), who practice on a limited basis Friday in a red, non-contact jersey, as required by league rules.
The team has yet to release its final injury report.
August, 31, 2013
8/31/13
9:42
PM ET

Most significant move
: It wasn't a surprise, but the
New York Jets
waived
Greg McElroy
, their only quarterback not named
Mark Sanchez
who has started a game in the NFL. Granted, McElroy has only one career start, but the move is significant because it underscores the lack of experience at the position. If Sanchez (shoulder) doesn't dress for the season opener, it leaves the position to
Geno Smith
,
Matt Simms
and
Graham Harrell
, who have a combined total of four career pass attempts -- all by Harrell. The former Packers backup made the final cut despite having spent only three days with the Jets. McElroy was waived with an injury, so he wouldn't have been ready for Week 1 anyway. Still, this is a precarious situation to say the least.
Not much depth on offense:
Aside from quarterback, the Jets are perilously thin at a few spots. They have only five receivers, one of whom (
Santonio Holmes
) is a question mark because of his surgically repaired foot. The group includes a rookie free agent,
Ryan Spadola
. They also don't have an experienced backup at tackle.
Jason Smith
was supposed to be that guy, but he was atrocious in the final preseason game.
Vladimir Ducasse
can play some tackle, but that's not his best spot. Rookie OT
Oday Aboushi
(fifth-round pick) isn't ready to play. They have low numbers in the backfield -- only four backs, although
Mike Goodson
will be eligible to return from his suspension in Week 5.
What's ahead
: The Jets need help on offense. You can't go into a season with Aboushi as your No. 3 tackle, so look for them to address this over the next 24 hours. Anybody up for a
Wayne Hunter
reunion? The wide-receiver situation is interesting. Right now, the Jets have only three healthy and experienced receivers. They're either confident Holmes will return for the opener or they have plans to add a veteran. The quarterback situation bears watching, too. If Sanchez is sidelined a few weeks, it might behoove New York to import an experienced backup. A couple of former Marty Mornhinweg-ites are available --
Vince Young
and
Trent Edwards
.
Jets cuts
: QB Greg McElroy (injured), RB
Mossis Madu
(injured), WR
Michael Campbell
, WR
Mohamed Massaquoi
, WR
Ben Obomanu
, WR
Zach Rogers
, TE
Chris Pantale
, C
Erik Cook
, OT
J.B. Shugarts
, OT Jason Smith, DL
Junior Aumavae
, DL
Lanier Coleman
, DL
Tevita Finau
, DL
Antonio Garay
, LB
Troy Davis
, LB
JoJo Dickson
, LB
Jacquies Smith
, DB
Royce Adams
, DB
Mike Edwards
, DB
Rontez Miles
, PK
Dan Carpenter
.
Placed on reserve/suspended
: RB Mike Goodson.
August, 31, 2013
8/31/13
10:00
AM ET
Rookie WR
Ryan Spadola
, the feel-good story from Howell, N.J., tweeted late Friday that he's "officially a NYJ." Assuming Spadola's reporting is accurate (anything can happen on cut-down weekend), it culminates a storybook summer for him.
Spadola was undrafted out of Lehigh and went on to lead the Jets in preseason receiving, catching 13 passes for 216 yards and a touchdown. Along the way, he has drawn comparisons to former Jets icon
Wayne Chrebet
, who
sees a lot of himself in Spadola
.
That Spadola made the team doesn't come as a surprise, considering the recent praise from coaches, but it'll be interesting to see how it impacts the depth chart. Presumably, he'll be the fifth receiver, behind
Santonio Holmes
,
Stephen Hill
,
Jeremy Kerley
and
Clyde Gates
. If they decide to carry six, it figures to be
Ben Obomanu
or
Mohamed Massaquoi
.
Other cuts are starting to trickle in, as both C
Erik Cook
and DE
Junior Aumavae
tweeted they've been waived. On Friday, the Jets released PK
Dan Carpenter
and DT
Antonio Garay
, according to sources.
August, 28, 2013
8/28/13
8:14
PM ET
FLORHAM PARK, N.J. -- The Jets close the preseason Thursday against the Eagles at MetLife Stadium -- the annual backup bowl. Kickoff is 7 p.m. Stories to follow:


1. Quarterback drama on hold
:
Mark Sanchez
(shoulder) is out and, although the team hasn't made it official, rookie
Geno Smith
also will sit. This is a smart move by coach Rex Ryan. Really, it's the only move. Sure, Smith could use the work, as he showed in throwing three interceptions and taking a safety Saturday against the Giants, but it makes no sense to expose him to potential injury. After all, Smith could be the opening-day starter, depending on Sanchez's recovery. Ryan messed up last week with Sanchez, and he knows another blunder of that magnitude would put him in Woody Johnson's doghouse. (Probably the most luxurious doghouse in the neighborhood, though.)
2. The Simms spotlight
:
Matt Simms
, who entered camp fourth on the depth chart, will start under center against the Eagles. He'll probably play most of the game, considering
Greg McElroy
(knee) is out. This is the opportunity of a lifetime for Simms, son of Giants icon Phil Simms. He's having a terrific preseason, sporting a 137.5 passer rating, and could conceivably dislodge McElroy from the No. 3 job. Simms is rough around the edges, but he has the best arm on the team and the coaches love his moxie. Newly signed
Graham Harrell
, who arrived Wednesday, will be available for relief duty. The Eagles will start No. 2 QB
Nick Foles
, a former pupil of new Jets offensive coordinator Marty Mornhinweg. If the Jets were concerned about Sanchez's health to the point where they felt they needed a veteran, it would fuel heavy Foles speculation.
3. Position battles (other than quarterback)
: Placekicker and free safety remain open. PK
Dan Carpenter
was signed this week to compete with incumbent
Nick Folk
, who imperiled his spot last week with a missed field goal in OT.
Jaiquawn Jarrett
, a former second-round pick of the Eagles, is expected to start at free safety, but
Antonio Allen
is leading the competition.
4. Cinderella lives in Jersey
: WR
Ryan Spadola
, an undrafted rookie from Howell, N.J., via Lehigh, is the feel-good story of the summer. He's inching his way up the depth chart and has an outstanding chance to make the 53-man roster. Spadola leads the team with 169 receiving yards on seven catches, including a 70-yard play Saturday that set up the game-winning field goal in overtime. He's battling veterans
Ben Obomanu
and
Mohamed Massaquoi
for the fifth receiver spot; there's also a chance the Jets could keep six. It would be a stunner if Spadola is cut.
5. On the line
: This will be an important game for the three draft picks on the offensive line -- LG
Brian Winters
(third round), OT
Oday Aboushi
(fifth) and G
Will Campbell
(sixth). Aboushi and Campbell are on the bubble and need to play well to make the team. Aboushi's chances were hurt with last week's return of veteran backup
Jason Smith
. Campbell, making the transition to offense after playing defensive line in college, looks bound for the practice squad. Winters, uneven last week in his debut, could push presumptive starter
Vladimir Ducasse
as the season progresses.
August, 26, 2013
8/26/13
6:40
PM ET
By
Ian Begley
| ESPNNewYork.com
FLORHAM PARK, N.J. -- Jets quarterback
Geno Smith
called his performance on Saturday against the Giants "uneven."
Most Jets fans would probably label that an understatement. The rookie threw three interceptions, and he stepped out of the end zone for a safety.
Two days after the debacle, Smith said he doesn't feel like he blew his chance to win the Jets starting QB job. "You can't evaluate a player based on one game. Every single player has had a bad practice or game and that's part of playing this sport," Smith said.
Coach Rex Ryan was non-committal when asked if Smith would play Thursday in the Jets' preseason finale against the Eagles. Sanchez is expected to be the opening-day starter -- if he's healthy. He suffered a shoulder injury Saturday and his availability for the Jets' opener on Sept. 8 is up in the air.
Smith believes the competition is still open. "I actually do," he said. "As long as I'm given the opportunity to compete, I'm going to compete. And that's what it is now. We're still in an open competition and every single thing is going to be evaluated as it's always been. So, I'm going to do the things that I've done up until this point and that's work hard and just try to be a good teammate."
Smith completed 16 of 30 passes for 199 yards Saturday, but threw three interceptions in a span of 12 attempts. He also made a big mental mistake, taking a safety by stepping out of the back of the end zone as he tried to escape mild pressure.
"With Geno, there was the good, the bad and the ugly," Ryan said. "I think the ugly was the safety, the bad were the interceptions ... so it certainly wasn't perfect. But there was a lot of good too. I think his decision-making during the game, there were a lot of positives there."
Said Smith: "I didn't perform my best, I was spotty. I had some good plays, I had some negative plays. Like I said, they're all something that I'll eventually learn from. I feel good, still confident."
SPADOLA WOWS REX:
Ryan has been particularly impressed with the play of
Ryan Spadola
.
Spadola, an undrafted free agent from Lehigh, caught three balls for 110 yards and a touchdown Saturday against the Giants. "All he does is make plays," Ryan said. "We've been really happy with this kid."
Ryan made a point to show reporters Spadola's highlights from Saturday's game before taking questions at his news conference Monday.
In addition to running a sharp route to get open across the middle of the field for a touchdown, Spadola also found an opening on a play on which
Matt Simms
evaded a rusher. Spadola got open and Simms hit him for a 70-yard gain.
"The young man is doing a tremendous job," Ryan said.
August, 15, 2013
8/15/13
3:54
PM ET
To commemorate the Jets' three-week stay in Cortland, which ended Thursday, we present our "Cortys" -- the best and worst from Cortland:
PLAYER WHOSE STOCK IMPROVED THE MOST
:
Bilal Powell
. Without
Chris Ivory
and
Joe McKnight
for much of camp, and with
Mike Goodson
never making it to camp, Powell became the workhorse in the backfield and impressed with his all-around play. He'll be a key player, especially early in the season as Ivory works his way into top condition.
McKnight
PLAYER WHOSE STOCK DROPPED THE MOST
: McKnight. He's lucky Goodson didn't report -- or else he'd be in serious jeopardy. As it stands now, he's not a lock to make the team. McKnight is as dependable as a weather forecast in South Florida.
MOST IMPROVED
:
Stephen Hill
. It wasn't a drop-free camp -- I can recall two bad ones -- but the second-year receiver made great strides as a route-runner. He also has a better understanding of coverages. Now he has to take it to the games.
WAYNE CHREBET UNDERDOG AWARD
:
Ryan Spadola
. Tell me if this story sounds familiar? Jersey kid from non-BCS school goes undrafted, signs a free-agent contract and turns heads in camp. Spadola has a good chance to make the 53-man roster. Shades of Chrebet in 1995.
Holmes
TOUR DE FRANCE AWARD
:
Santonio Holmes
. He spent a lot of time on the stationary bike, continuing his rehab from foot surgery. No one knows when he'll return to action. If the before-after is Week 1, bet the "after." By then, he'll have logged plenty of miles.
CONSPICUOUSLY QUIET
:
Dee Milliner
. It's not often the ninth overall pick in the draft can remain relatively anonymous. He signed late and needed only a few days to leapfrog
Kyle Wilson
on the depth chart, but the rookie cornerback generated little buzz -- and that's not always a good thing.
DEJA VU MOMENT
:
Mark Sanchez
's pick-six in Detroit. First series of the preseason ... a basic screen pass ... a lob toss and ... there goes Ansah for a touchdown! It took Sanchez less than four minutes to destroy the hopes of the optimistic Jets fans who dared to think this season might be different.
Sanchez
NINE LIVES AWARD
: Sanchez. After an interception in the scrimmage, he fired a long TD pass to Hill. After the interception in Detroit, he led an 80-yard TD drive, culminating with a 26-yard scoring pass. Say this for him: He's resilient.
MOST MEMORABLE QUOTE
: Rex Ryan on
Geno Smith
's Wednesday practice -- "It was brutal. That was Geno's worst day."
MOST MEMORABLE QUOTE II
: Ryan on the Sanchez interception and Smith's performance in the opener: "I never saw it. ... You probably saw more plays than I did."
MOST MEMORABLE QUOTE III
: Ryan on his future: "It's safe to say I won't be here if we draft
[Jadeveon] Clowney
."
BEST ROOKIE NOBODY IS PAYING ATTENTION TO
:
Tommy Bohanon
-- or "Tommy Bahama," as Ryan calls him. The seventh-round pick from Wake Forest will be the opening-day fullback, count on it. Adios,
Lex Hilliard
.
"

It's safe to say I won't be here if we draft (Jadeveon) Clowney.

"

-- Rex Ryan
DREW ROSENHAUS AWARD
: McKnight. Taking a page from the agent's celebrated 2005 interview about
Terrell Owens
, when he kept answering, "Next question," McKnight tried to stiff-arm reporters when asked about his turbulent camp. In a span of three minutes, covering 17 questions, he responded seven times with, "I'm not getting into that." P.S.: Rosenhaus ended up writing a book, entitled, "Next Question." Start writing, Joe.
MOST OVERPLAYED STORY
: Sanchez hearing boos in the scrimmage. A turnover-prone quarterback gets booed for throwing an interception? Oh, my God, what's happening to society?
MOST TALENTED PLAYER WHO LEFT YOU WANTING MORE
:
Quinton Coples
. He showed a flash here and there at his new position, outside linebacker, but the coaches expect bigger things from him.
WORST MOMENTS
:
Aaron Berry
and
John Griffin
suffering season-ending injuries. They had a chance to make the team as backups, especially Berry.
ODE TO TIM TEBOW
: Mike Sielski, beat writer for the Wall Street Journal. On a dreary day early in camp, Sielski conjured up memories of Tebow (not really) by pulling off his shirt and running through the rain. Surprisingly (or not), he was actually faster than Tebow.
August, 2, 2013
8/02/13
8:56
PM ET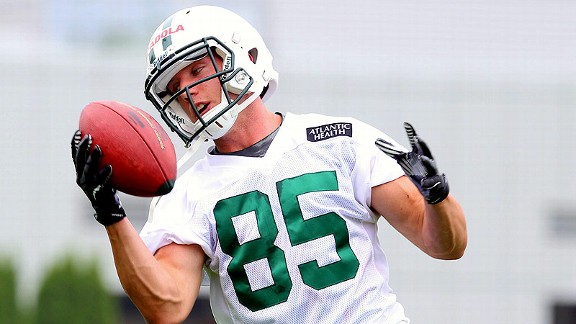 Ed Mulholland/USA TODAY SportsRyan Spadola openly discussed his Twitter-based racial slur incident and how he tried to turn it into a learning experience.
CORTLAND, N.Y. -- It didn't reach the scope of the
Riley Cooper
controversy, but
New York Jets
rookie WR
Ryan Spadola
-- formerly of Lehigh University -- was suspended one game in December 2011 for forwarding a Twitter message that included a racial slur against members of the Towson University team.
On Friday, shortly after news broke that Cooper was taking a
leave of absence
from the
Philadelphia Eagles
to undergo counseling, Spadola openly discussed his mistake, the fallout and how he tried to turn it into a learning experience.
"It was the hardest time of my life, behind my father's death," Spadola told ESPNNewYork.com.
Spadola, one of Lehigh's top players, retweeted a friend's message that included the N-word. He was suspended for the school's FCS playoff game against North Dakota State. In retrospect, he said it was good to step away. He believes Cooper will benefit as well from the time away from the team.
"I can understand where he's coming from in terms of a leave of absence," said Spadola, an undrafted free agent. "I was in that situation and you try to get yourself re-gathered, back on par, so when you come back to full speed, you don't let it affect you."
Spadola, a former high school standout from Howell, N.J., said he wrote many apology letters. Asked to describe the reaction of African-American teammates, he said: "Everyone knew me and knew my character. I had a black roommate for my first two years of college, and we had a great bond. They knew that wasn't anything I stood for. It was just an unintelligent decision I made. They're all my brothers. They came up to me and they all shared their thoughts. We were able to keep the train moving forward and not let it affect us."
Spadola said he met with the athletic director and the president of the student-athlete council to devise a plan to help student-athletes deal with "the good, the bad, the ugly" of social media, as he put it. He said he wanted to be proactive amid the fallout on campus, so there was a roundtable discussion that included the captains and star players from various teams. It was a hard lesson learned, he said.
"The biggest thing I learned is to sit and take an extra 15 seconds and think about what you're going to say -- think before you react," said Spadola, who graduated with a 3.54 GPA. "It's unfortunate, in this day and age with the media, things get blown out of proportion. But at the same time, there are barriers and lines you have to watch. Something you may say, you may not mean in a harmful way, but others might take it in a harmful manner."
Spadola said he let himself and his teammates down because "I couldn't help the team reach the ultimate goal that year. I don't want any person -- winning team or losing team -- to have that dagger put in them."
He has a new team, trying to defy the odds as he battles for a spot on the 53-man roster. He's a 6-foot-2 receiver with 4.4 speed, and he has made some eye-catching plays in camp, including a diving catch on a 50-yard pass from
Geno Smith
.
Jets coach Rex Ryan already has a nickname for him -- Spicoli, named after Sean Penn's Jeff Spicoli character in "Fast Times at Ridgemont High." The last names sound alike and Spadola, like Spicoli, has blond hair and blue eyes. Spicoli was a pot-smoking surfer dude. Spadola doesn't mind the nickname, but he added with a laugh, "I don't replicate him in any way."
The Jets signed 15 undrafted free agents at the conclusion of the draft. Here's a brief bio on each player, starting with the offense:
Dalton Freeman, C, Clemson:
The school's first center in 60-plus years to start as a freshman. Started 49 games in his career, a first-team, all-ACC selection.
Trey Gilleo, OT, Northern Arizona:
Started 33 straight games. Listed at 6-foot-6, 280 pounds. Arrived as a 219-pound freshman.
Chris Pantale, TE, Boston College:
Hails from Wayne, N.J. Missed the first five games last season with a broken foot. Finished with 21 receptions, 189 yards and two touchdowns.
Mark Popek, G, South Florida:
Started two years at left tackle. Won't find many guards taller than him -- 6-foot-7, 299 pounds.
Zach Rogers, WR, Tennessee:
Overshadowed by
Cordarrelle Patterson
and
Justin Hunter
. Slot receiver. Caught 32 passes for 491 yards and seven touchdowns last season. A real sleeper.
Mike Shanahan, WR/TE, Pitt:
No relation to the Redskins' coach. At 6-foot-4, 241 pounds, he likely will be moved to tight end. Highly productive: Finished with 58 receptions, 926 yards and five touchdowns.
K.J. Stroud, WR, Bethune-Cookman:
Raised in Brooklyn, spent two years at Rutgers. Nice-sized receiver (6-foot-2), limited by injuries last season -- only 26 catches for 283 yards. Stood out at New Jersey regional combine and was invited to national combine.
Ryan Spadola, WR, Lehigh:
From Howell, N.J. A nice-sized receiver (6-foot-1) with surprising agility. Caught 57 passes for 851 yards and four touchdowns last season. Highest-graded offensive player among the Jets' UDFAs, according to Pro Football Weekly.
Antavious Wilson, WR, Marshall:
More productive than teammate
Aaron Dobson
, a second-round pick of the Patriots. Finished with 69 receptions, 741 yards and nine touchdowns last season.