New York Jets:

Sanjay Lal
October, 6, 2013
10/06/13
3:00
PM ET
The thought of
Tim Tebow
conjures up bad memories for
New York Jets
fans. For newly signed WR
David Nelson
, it's all good.
Nelson and Tebow were teammates at the University of Florida, where they connected on one of the most famous plays in school history -- the celebrated "Jump Pass" against Oklahoma in the 2009 BCS National Championship Game. Tebow's touchdown to Nelson cemented the victory for the Gators, linking them together forever.
Nelson finds it hard to believe Tebow isn't playing in the NFL.
"I can't imagine football without Tim Tebow," said Nelson, who signed last Tuesday and likely will make his Jets debut Monday night at the
Atlanta Falcons
. "For the past seven years, he's been such a polarizing figure. The guy's a competitor and a leader. Not only does he make you better on the field, but it's well documented he makes you better off the field. He's just a proven leader.
"His competitive will in clutch time ... there's a presence about him. You want to be around him when it's game time. He just has this aura. It's contagious."
Nelson has been around the Jets for less than a week, but he observed, "I think he impacted a lot of people in this locker room." He spent time with Tebow last offseason and they discussed Tebow's ill-fated season with the Jets. Nelson said his old teammate never shared any negative opinions about the Jets.
"Obviously, he wishes he could've played and, obviously, he wishes he could've stayed," Nelson said. "But he made the most of his time."
Nelson smiled when asked about the jump pass. He was the third or fourth receiving option on a team loaded with talent, so he caught the Sooners by surprise.
"As I was running out there -- I still remember it to this day -- Coach [Urban] Meyer said to me, 'Go win the game,'" he said. "That's a memory I'll never forget. That's kind of what I'm known for back in Gainesville."
Since arriving last Tuesday, Nelson has spent almost every waking moment trying to learn the Jets' offense. He showed up at 6 a.m. to one-on-one time with receivers coach Sanjay Lal. They might need him, especially with
Santonio Holmes
(hamstring) sidelined.
September, 15, 2013
9/15/13
12:15
PM ET
A Sunday without Jets football doesn't mean a Sunday without notes:
1. Double standard
: In Idzik World, every player is in a week-to-week competition. (Note: See QB
Geno Smith
.) Okay, we get it, but how does he explain this? Despite missing the entire offseason because of shoulder surgery, and showing up a few days late to training camp because of his contract, rookie CB
Dee Milliner
(No. 9 overall pick) was elevated to a starting role after three days of practice. He replaced veteran
Kyle Wilson
, a serviceable player. He also got the job ahead of veteran
Darrin Walls
, who was praised by Rex Ryan for his play in camp. Milliner was hardly stellar, but he remained a starter even though he missed two preseason games, playing in only 84 defensive snaps.
Milliner
Clearly, he wasn't ready. Milliner was uneven in the opener, allowing a touchdown pass, and he struggled so much against the Patriots that he was benched at halftime. He may have busted the coverage on the Patriots' only touchdown, and he was saved by replay on what appeared to be another touchdown. Frankly, I'm surprised Ryan responded with a quick hook (not usually his style), but good for him. It teaches accountability. The day after the game, he wouldn't commit to Milliner as a starter for next week, letting the rookie twist in the wind. Maybe Ryan realizes they erred in anointing Milliner so quickly. It was very un-Idzik-like.
2. Positive signs
: The Jets may not win a lot of games, but they will be competitive. With good defense and a solid running game, they can overachieve as long as they get game-manager performances out of the quarterback position. All Smith had to do was throw two interceptions, not three, and they might have upset the Patriots.
3. Johnny Scout
: Idzik was in College Station, Texas, Saturday to check out the Texas A&M-Alabama game, according to the New York Daily News. A lot of talent and big names in that game, starting with Johnny Football. But maybe Idzik was there to scout more than Johnny Manziel, AJ McCarron & Co. Could it be that he also had his eye on Alabama coach Nick Saban?
4. What's up with Brick?:
This has been an uncharacteristic start for LT
D'Brickashaw Ferguson
. He already has two penalties (only three in 2012) and he has allowed one sack and seven quarterback hurries, according to Pro Football Focus. A year ago, he surrendered two sacks and 19 hurries. But the most atypical moment was his ejection for throwing a punch during the end-of-game melee in Foxborough. It was stunning because Ferguson is one of the most even-tempered players I've ever met. His outburst, clearly born of frustration, reminded me of
Shaun Ellis
flinging his helmet in the final seconds of a home loss to the Patriots in 2008. Sometimes you just can't take it anymore.
5. Another stunner
: I'm trying to figure out which was more shocking, Ferguson throwing a punch or LG
Vladimir Ducasse
pancaking DT
Vince Wilfork
on
Bilal Powell
's touchdown run? I'll say this for Ducasse: He played a nice game against one of the best interior lineman in the league.
6. Hidden gems
: Interesting note about the Jets' starting lineup. They have almost as many former seventh-round picks and undrafted free agents (six) as former first-round picks (eight). The undrafted group consists of RT
Austin Howard
, TE
Jeff Cumberland
, NT
Damon Harrison
and LB
Garrett McIntyre
, and the seventh-rounders are S
Antonio Allen
and FB
Tommy Bohanon
. That's a tribute to former GM Mike Tannenbaum and his staff. At the same time, it could be a knock because it didn't do better with first-round picks.
7. Mark of class
:
Mark Sanchez
has displayed an occasional lack of maturity over the years, most recently with the embarrassing half-naked home video that made the Internet in July, but he has handled ShoulderGate with total professionalism. He has every right to question the organization for its missteps along the way, but he's taking the high road, saying all the right things.
8. Welcome to Mark's world
: Patriots QB
Tom Brady
got a taste of what it was like for Sanchez last season, throwing to a bunch of backups and no names. One of the best quarterbacks in history was held to Tebow-esque numbers, proving that even the great ones need help. But there was one thing Brady didn't do that Sanchez did 26 times last season -- he didn't commit a turnover.
9. Colorful solution
: Look, we all know the Jets' receiving corps has drop issues, dating to last spring, but you can't say they've been avoiding the matter. Receivers coach Sanjay Lal created a practice drill to help with concentration. He painted the tips of footballs with different colors, and the receiver is required to shout out the color as soon as he identifies it. Maybe they should try to sneak some paint brushes into the huddle on game day.
10. Pee-Week rivals
: C
Nick Mangold
and QB
Brady Quinn
go back a long way. They played against each other in the fifth grade, when Quinn's travel team in Columbus, Ohio, made the 70-mile trek to Dayton to take on Mangold's team. Quinn said his team was so loaded that it had to leave the Columbus area to find worthy opponents. It found one in Mangold & Co., a team that also included Packers LB
A.J. Hawk
. Quinn lost. Twenty years later, their lockers are side by side. Kind of cool, huh?
August, 9, 2013
8/09/13
1:30
PM ET
DETROIT -- In Wednesday morning's wide-receiver meeting, Sanjay Lal highlighted a video clip from the previous day's practice --
Stephen Hill
catching a long TD pass in a one-on-one drill. Hill beat the cornerback so badly that the defender wasn't even in the frame at the time of the catch.
Lal, the receivers' coach, picked that play to show his players because he believes it demonstrates two areas in which Hill has improved from his rookie year:
[+] Enlarge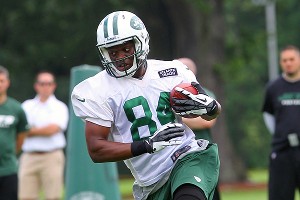 Ed Mulholland/USA TODAY SportsA former Jets scout said that the team considers WR Stephen Hill, a 2012 second-round draft choice, a "four-year project."
1. His release from the line
: On this play, Hill ran a stutter-and-go, beating press coverage -- an issue last year. "He was sudden with his press release," said Lal, describing Tuesday's play. "He showed good change of direction, kept his shoulders down. It wasn't a casual, lazy stutter, out of control. It was sudden."
2. His body mechanics:
A year ago, Hill had a tendency to turn his shoulders on vertical routes, causing him to lose speed. On Tuesday, Hill kept his shoulders square, something Lal pointed out with two different camera angles -- upper and rear views. "His body plane was parallel and he didn't lose any form," Lal said. "I tell the players it's like track. You'd never run 60 meters with your shoulders pointed sideways."
Hill, coming off a disappointing rookie year, is one of the most improved players in camp because he has refined his fundamentals. Because of his college background in a triple-option offense at Georgia Tech, he arrived with little knowledge of a pro-style passing attack.
"Compared to last year, he's really starting to understand
why
," Lal said. "Last year was getting him from A to B -- and everything in between was new to him. With his God-given gifts, he can do things other guys can't. He's finally starting to use his suddenness and his burst within a route. It's clicked to him the last couple of weeks that, 'Hey, if I do this, look what happens to the DB.'"
Hill acknowledged, "I feel like a different receiver," saying he feels quicker in and out of his breaks. As a long strider, it can be difficult to run some of the routes in a West Coast offense. For instance, there's a triple-move route that requires quick, choppy steps. Hill went to Lal with a question, wondering how he can cut down his stride lengths. Lal suggested that he drop his hips on the second move.
"He's starting to understand his body," Lal said. "He's starting to understand what he can do with his tools."
On Friday night, Hill will be on the same field as fellow Georgia Tech alum and Lions star
Calvin Johnson
, arguably the best receiver in the sport. The Johnson comparison came up last year when the Jets picked Hill by trading up in the second round -- a move that caused some grumbling in the organization. On draft day, former VP of college scouting Joey Clinkscales was asked about Hill and Johnson.
"He's a 6-foot-4 kid that's 215 [pounds] and runs a 4.32. He's a unique athlete, he really is," he said of Hill. "I mean ... Calvin Johnson, maybe. I'm not going to put that label on him, but from a height, weight, speed [standpoint] ... he's just a unique athlete."
A more realistic comparison might be
Demaryius Thomas
, another ex-Tech receiver. He caught only 54 passes in his first two seasons with the Broncos, but exploded last season -- 94 receptions for 1,434 yards. Of course, going from
Tim Tebow
to
Peyton Manning
might have had something to do with that.
June, 14, 2012
6/14/12
5:34
PM ET
FLORHAM PARK, N.J. -- For the third straight day, Jets wide receiver Santonio Holmes ducked out on media interview requests at the team's mandatory minicamp. The move is in violation of the league's access policy, which stipulates that players are available for all three days.
"We will discuss the situation with the Jets and remind Santonio of his obligations," NFL spokesperson Greg Aiello said.
Holmes took part in individual drills, but with a hamstring injury sustained on the final OTA of the season a week ago, did not take part in any team drills for the third straight day.
Last week Holmes was frustrated with the number of reps he got a week after returning from a trip to Germany, where he visited an Air Force base. Holmes tossed his helmet to the ground in apparent frustration, spoke with a trainer and then talked to wide receivers coach Sanjay Lal.
"I was talking to the coach, letting him understand it was too many reps today," Holmes said last Thursday. "I've been gone for a while, so I can't be at full tempo like the rest of the guys and where they want us to be at."
Apparently Holmes didn't like the fallout, because he hasn't spoken since.
Last season, the wide receiver walked off the field with two minutes left to play of a winnable game in Miami. Offensive lineman Wayne Hunter called Holmes out on his attitude during that final game, and it nearly erupted in a fight in the huddle.
One unnamed teammate called him a locker room "cancer," and another questioned whether he could remain on a team with quarterback Mark Sanchez.
But the Jets extended Sanchez early in the offseason, and by not cutting Holmes triggered a $7.5 million guarantee in his contract. Holmes came back this season and said he has changed, that he has put all of what happened last year behind him.