New York Jets:

Stock Watch
December, 24, 2012
12/24/12
7:00
AM ET
EAST RUTHERFORD, N.J. -- A look back at positives and negatives from the Jets' 27-17 loss to the Chargers:
THREE UP
1. Quinton Coples
: One of the few bright spots in the season. The No. 1 pick recorded 1.5 sacks, taking the team lead, and three quarterback hits. He had another roughing-the-passer penalty; he's had a major penalty in three straight games. Otherwise, the kid is all right.
2. Jeremy Kerley
: Say hello to the Jets' most efficient passer -- one attempt, 42 yards. He had another completion nullified by a penalty. Too bad he's a wide receiver.
3. Greg McElroy
: This is for courage and durability, not quarterback expertise. The man was sacked 11 times and was hit on at least five other occasions, according to the press-box stats -- and that's probably conservative. A lot of it was his own doing, but he's a tough dude.
THREE DOWN
1. The offensive line:
Yeah, they played with a neophyte quarterback. Yeah, they have an offensive system that's flawed againt the blitz. But we can't ignore 11 sacks allowed; some of that has to go on the big fellas.
2. Tim Tebow
: He was so upset at being passed over for the starting job that he told the coaches he didn't want any part of the Wildcat package. Fortunately for the Jets, it happened early in the week, allowing them to prep Kerley.
3. Special teams
: Another week, another calamity. This time it came in the form of a punt return for a touchdown, the first allowed by the Jets since 2003.
December, 10, 2012
12/10/12
10:25
AM ET
A look at the positives and negatives from Sunday's 17-10 win over the Jaguars:
THREE UP
1. The offensive line
. After a tough first half, the line turned on the Ground & Pound, controlling the line of scrimmage. The front five blew open holes in the Jaguars' 31st-ranked defense, allowing the Jets to gain 110 of their 166 yards in the second half. Players credited RG
Brandon Moore
, who delivered a fiery halftime message.
[+] Enlarge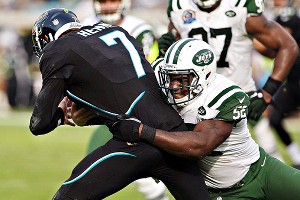 Rob Foldy/USA TODAY SportsDavid Harris kept the pressure on Chad Henne, sacking the Jaguars QB on this second-half play.
2. Shonn Greene/Bilal Powell
. It took long enough, but the Jets finally have a solid 1-2 punch. They ran for 77 and 78 yards, respectively, plus one touchdown apiece. It wasn't pretty, but this is who they are -- grinders.
3. David Harris
. This has been a relatively quiet season for the veteran linebacker, but he made several key plays in what may have been his best all-around game. He recorded six solo tackles, one sack, two QB hits and a key pass breakup in the fourth quarter.
THREE DOWN
1. Stephen Hill
. The rookie wide receiver suffered a potentially serious knee injury in the second quarter. If he requires major surgery, it'll be a crushing blow, robbing him of a much-needed offseason. He had been gaining more consistency in recent weeks.
2. Jeremy Kerley
. That was a careless fumble in the second quarter. Fortunately for the Jets, he had the good sense to touch S
Dwight Lowery
as he scooped up the loose ball. Lowery, a former Jet, returned it 62 yards for a touchdown, but the score was overturned by replay because he was ruled down by contact.
3. Greg McElroy.
Felt bad for the kid. He showed up at the stadium, thinking he would be active for the second straight week, but he was disappointed for the second time in five days. He was declared inactive, meaning he went from a possible No.1 to No. 3 in less than a week.
December, 3, 2012
12/03/12
10:35
AM ET
FLORHAM PARK, N.J. -- A look back at quite possibly the worst offensive game ever played:
THREE UP
1. Greg McElroy
-- Welcome to the big leagues, kid. The second-year quarterback exchanged his clipboard for a helmet, engineered two good drives (one for a TD), completed five passes and provided a game-winning spark -- all in 20 minutes of work. Now he's the most popular guy in town.
2. Rex Ryan
-- Talk about onions. Yes,
Mark Sanchez
deserved to get benched, but it took guts to replace him with an NFL neophyte who took all of one practice rep with the starters last week. Ryan's decision won the game, but it speaks to the level of desperation surrounding the organization.
3. Shonn Greene
-- Lost in the quarterback craziness was the fact that Greene didn't start at running back.
Bilal Powell
got the call on the first two series, but the dis seemed to spark Greene, who ran for 104 yards.
THREE DOWN
1. Mark Sanchez --
This was hard to watch. He threw three interceptions in 21 attempts, including two to
Kerry Rhodes
, of all people. That made it feel like six interceptions for Ryan, a noted Rhodes basher. Say this for Sanchez: He handled the benching with class.
2. Tim Tebow
-- You almost feel sorry for the guy. Ryan finally gets fed up with Sanchez and where's Tebow? He's inactive with cracked ribs, watching from the sideline. This has been one of those years for Tebow, who seems to be in the wrong place at the wrong time.
3. Special teams
-- This recent stretch has been nothing short of mind boggling. PK
Nick Folk
hit the upright not once, but twice, and everybody fell asleep on the Cards' fake punt, which nearly decided the game.
November, 19, 2012
11/19/12
10:57
AM ET
A look back at the Jets' 27-13 win over the Rams:
THREE UP
Mark Sanchez
. Well, well, well, look what we have here: Sanchez, the most inaccurate passer in the league, completed 75 percent of his attempts. It could've been 85 percent, if not for drops by
Stephen Hill
and
Joe McKnight
. Sanchez managed the game wonderfully, committing no turnovers (for a change) and making good run checks at the line of scrimmage. He needed it; another poor performance might have put his job in jeopardy.
[+] Enlarge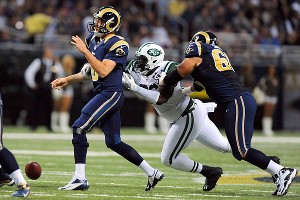 Jeff Curry/US PresswireMuhammad Wilkerson stripped the football from Sam Bradford on this second-quarter sack.
Muhammad Wilkerson
. Big Mo changed the mo' with his second-quarter strip sack of
Sam Bradford
. It changed the complexion of the game, putting some life into the Jets after a lethargic start. Wilkerson, who scored on a fumble return last week, has elevated his game in recent weeks.
Chaz Schilens
. We could go with
Bilal Powell
, who scored the first two touchdowns of his career, but Schilens gets a coveted spot on our list because of his all-around play. He caught a 25-yard touchdown pass, made two tackles on special teams and drew a holding call that nullified a 98-yard kickoff return. He did a nice sell job on the penalty, throwing his hands in the air. Hey, whatever works.
THREE DOWN
Stephen Hill
. The rookie's struggles continued. He didn't catch a ball for the second straight week, dropped another pass, committed a pass-interference penalty and lost a deep ball in the lights. Hill is experiencing a severe case of growing pains.
Tim Tebow
. He played in virtual anonymity. Get it? After a difficult week in which he was harshly (and unfairly) criticized by unnamed teammates in a newspaper story, Tebow deserved more than only three snaps on offense -- three ineffective plays. He completed a pass on a fake punt, but it lost a yard. Hey, look at the bright side: Tebow has completed six of seven passes, albeit for only 39 yards.
Brian Schottenheimer
. We usually don't mention opponents, but we'll make an exception because he spent six seasons with the Jets. The Rams' OC had his former team reeling on the first possession, but it turned real bad real fast for Schottenheimer. A third-and-1 pass out of an empty backfield? Really?
October, 29, 2012
10/29/12
2:47
PM ET
Highlighting some of the positives and negatives from Sunday's 30-9 loss to the Dolphins:
THREE UP
1. Dennis Byrd
. The highlight of an otherwise dreary day was the return of the former Jets defensive lineman, whose No. 90 was retired in a halftime ceremony. A tearful Byrd, introduced to the crowd by former teammate
Scott Mersereau
(reunited after 18 years apart), made a touching speech to the crowd. Earlier, Byrd tried to fire up the team with a brief, but passionate speech during the pre-game. Didn't work, obviously. If you're not inspired by Byrd ... well, what's the use?
2. Clyde Gates
. The former Dolphin, back in the lineup after a two-week shoulder injury, sets career highs for catches (seven) and yards (82). A lot of it came in garbage time, but it was a nice step for the speedy receiver. He has impressed recently in practice and his role could grow.
3. Isaiah Trufant
. After an impressive showing last week in New England, Trufant played the nickel-back role for another game and he played reasonably well. The 5-foot-8 cornerback had four tackles, one pass break up and one quarterback hit, which was more hits any the entire defensive line.
THREE DOWN
1. Special teams
. This was shockingly bad across the board. There was a blocked punt for a touchdown, a blocked field goal, a failure to recover an onsides kick and a 57-yard kickoff return that set up a Miami touchdown. The Jets' special teams are usually one of the best in the league. This was pure folly.
2. Mark Sanchez
. You can blame the pass protection and you can blame the receivers, but Sanchez has to take a big hit. He committed two turnovers and failed to provide any spark. His accuracy wasn't good. In fact, 14 of his 54 passes (25.9 percent) were either over or underthrown, including an interception, according to ESPN Stats & Information. At the start of the day, Sanchez had over or underthrown 23.4 percent of his pass attempts this season, the highest rate in the NFL.
3. Stephen Hill
. For the second straight week, the rookie receiver had a costly drop. This one came in the end zone. Sure, it wasn't an easy catch, but the ball was right there. Every receiver experiences growing pains, but Hill doesn't have the benefit of being eased into the lineup. He was thrown in.
October, 22, 2012
10/22/12
1:58
PM ET
A look back at some of the winners and losers from Sunday's game:
THREE UP
1. Jeremy Kerley.
It's hard to believe that he began training camp in Rex Ryan's doghouse. Maybe Ryan should get ticked off at more players. Kerley, easily their top playmaker, delivered a career game, catching seven passes for 120 yards. If he didn't slip on the third-down bootleg pass at the end of regulation … well, we'll never know.
2. Nick Folk.
He might be the most consistent player on the team. Yeah, the kicker. He went 4-for-4 on field goals, including two pressure kicks from 43 yards at the end of regulation. Folk improved to 11-for-11 on the season. Clutch.
3. Dustin Keller
. He looked like his old self for the first time since mid-August, before his hamstring issues. Exploiting two rookie safeties, the Jets' tight end made seven receptions for 93 yards and a touchdown, giving
Mark Sanchez
a consistent over-the-middle threat.
THREE DOWN
1. Stephen Hill.
Oh, what a costly drop. If the rookie makes that catch at the Patriots' 14 with 2:11 remaining in the fourth quarter, the Jets have a first-and-goal inside the 10. If they don't score a touchdown to take a four-point lead, they at least force the Patriots to use all three timeouts. Oh, what a costly drop.
2. Kickoff-coverage unit
. Allowing a 104-yard kickoff return is bad enough, but allowing it to
Devin McCourty
? Come on, that's weak. The Patriots' kickoff-return unit stinks. Before Sunday, their longest return was 28 yards. That's below Joe McKnight's average, for crying out loud. It was an inexcusable breakdown.
3. Tony Sparano
. The Jets recovered a fumble at the Patriots' 18 with 2:01 remaining in regulation and the offensive coordinator replaced a red-hot Sanchez with
Tim Tebow
. It immediately made the offense one-dimensional. Predictably, Tebow ran out of shotgun and was stopped for two yards. It was a questionable sequence of play calling by Sparano, one of the big factors in the loss.
October, 15, 2012
10/15/12
10:18
AM ET
Some of the studs and duds from Sunday's 35-9 rout of the Colts:
THREE UP
Shonn Greene
: The Colts' run defense is about as imposing as a troop of Boy Scouts, but there was something about Greene's performance (other than the 161 yards and three TDs) that made you take notice. He looked fresh and quick, the way he did at the end of his rookie season. He also ran cut backs better than he has all season -- definitely a positive sign for the running game.
The offensive line
: The big fellas have been taking a lot of grief this season, so let's make sure we give them props. This was a dominating performance for
D'Brickashaw Ferguson
,
Matt Slauson
,
Nick Mangold
,
Brandon Moore
and
Austin Howard
.
Jason Smith
also did a nice job as the jumbo tight end. The line made it look easy, which is hard to do in the NFL.
Muhammad Wilkerson
: People were starting to whisper about the former No. 1 pick, wondering if he'd live up to the pre-season hype. This was his most complete game of the season -- seven tackles, one sack, one tipped pass and one forced fumble. The only blemish was a senseless roughing-the-passer penalty. Otherwise, Wilkerson finally resembled the player they thought he'd be.
THREE DOWN
Caleb Schlauderaff
: He was active for the first time this season and was the only player that didn't get in the game.
The tight ends (in the passing game):
You know it's a weird day when special teamer
Nick Bellore
has as many receptions (one) as the entire tight-end corps.
Dustin Keller
and
Jeff Cumberland
were targeted only once apiece. On this day, against this opponent, it was all about the blocking.
Aaron Maybin
: He played his best game of the year, but his personal foul on
Antonio Cromartie
's interception return cost Cromartie a pick-six. Maybin blocked QB
Andrew Luck
, but "gave him the business" after the play, according to Rex Ryan. Maybin owes Cromartie an expensive dinner.
October, 9, 2012
10/09/12
2:41
PM ET
Some of the good and bad performances from Monday night's 23-17 loss to the Texans:
THREE UP
1. Antonio Cromartie
: The Cro was flying. He shut down WR
Andre Johnson
(one catch on six targets), intercepted a pass and played a little wide receiver, nearly connecting with
Mark Sanchez
on a deep ball. Say this for Cromartie: In
Darrelle Revis
' absence, he's playing like a No. 1 corner.
2. Joe McKnight
: The running back-turned-cornerback-turned running back is a terrific kickoff returner, and he proved it again with a 100-yard touchdown -- the second kickoff-return TD of his career. He deserves a bigger role on offense because he's one of the few explosive players on the roster.
3. Jeremy Kerley
: The Jets' longest-tenured wide receiver (yeah, really) is developing into one of the best yards-after-catch threats in the league. He had five catches for 94 yards, including a 36-yarder.
THREE DOWN
1. Anybody who blocked J.J. Watt
: The Texans' second-year DE took turns beating everyone on the Jets' offensive line. He finished with six tackles, one sack and three tipped passes. One tip probably saved a TD (
Chaz Schilens
was wide open in the end zone) and one resulted in an interception. Not only did Watt create problems for the guards and tackles, but he rolled up the ankle of C
Nick Mangold
, causing an undisclosed injury.
2. The Dropsy Twins.
You have to make that catch,
Jason Hill
. Same to you,
Jeff Cumberland
.
3. Shonn Greene
. Another subpar performance. After five games, the Jets' bell cow (as Rex Ryan calls him) has rushed for only 217 yards, a 2.9-yard average and eight first downs. For a bell cow, that's chopped liver.
October, 1, 2012
10/01/12
10:28
AM ET
A day-after look at the Jets' third-largest shutout loss at home in team history:
THREE UP
1. Tim Tebow
. Hey, he completed a pass and threw a couple of nice blocks as a fullback in pass protection. He certainly maximized his seven plays on offense.
2. Chaz Schilens
. He was targeted three times and, miraculously, he and
Mark Sanchez
connected on all three for 45 yards. Schilens will be playing a lot more now that
Santonio Holmes
is injured.
3. Dustin Keller
. You're thinking to yourself, "Wait, he didn't play in the game." Exactly. Keller sat out with a hamstring injury, managing to avoid the stench from what took place on the field.
THREE DOWN
1. The front seven
. The run defense was absolutely horrific, as the Jets allowed 245 yards. This was a mix of bad tackling, poor pursuit and a lack of fire. It brings to mind a memorable quote from former Jets DE
Marvin Washington
, who told reporters after a long-ago defensive stinker: "Three words: Hor-ri-ble!"
2. Mark Sanchez
. A 103-yard, two-turnover day for a quarterback is simply not acceptable in the NFL. He'll survive this one, but it could be Tebow Time with another bad performance.
3. The offensive line
. First, a little good news: The Jets were stopped behind the line on only one of 17 running plays. Now for the bad news: The other 16 gained only one to five yards. Jets, say hello to the brick wall. They finished with only 45 rushing yards, outrushed by the 49ers'
backup quarterback
.
September, 17, 2012
9/17/12
9:00
AM ET
PITTSBURGH -- A look at the positives and negatives from the 27-10 loss to the Steelers:
[+] Enlarge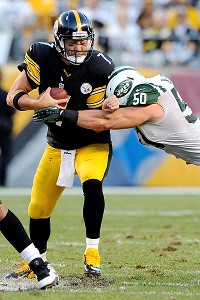 Joe Sargent/Getty ImagesGarrett McIntyre introduces himself to Steelers QB Ben Roethlisberger.
THREE UP
1. Garrett McIntyre
. Dude played his butt off. Starting for the injured
Bryan Thomas
, McIntyre finished with six tackles, two sacks and four tackles-for-loss. He's not the greatest athlete, but he always plays hard. Thomas should be worried about his job.
2. Muhammad Wilkerson
. He was one of the big reasons why the Jets shut down the Steelers' ground game. Big Mo was a beast inside, recording four tackles and a tackle-for-loss.
3. Kyle Wilson
. He held up reasonably well in place of the injured
Darrelle Revis
. When you get beat this decisively, "reasonably well" is good enough to crack the top three performances.
THREE DOWN
1. Mark Sanchez
. At one point in the second half, he went 51 minutes in real time between completions. Sanchez had no turnovers and still finished with a 66.6 passer rating. Yikes. He'll need a rebound performance against the Dolphins or else the
Tim Tebow
chatter will intensify.
2. Stephen Hill
. Someone check the milk cartons, because the Jets lost their promising young receiver. Hill was targeted only twice and didn't have any catches, unable to get open against press coverage. Clearly, he has a long way to go.
3. Antonio Cromartie
. His coverage on
Mike Wallace
's 37-yard touchdown catch was non-competitive, as Bill Parcells might say. He mispayed the ball in the air and showed no sense of urgency as he let Wallace out-position him in the end zone -- and it came on third-and-16. That's bad.