New York Jets:

Super Bowl
January, 12, 2014
Jan 12
10:00
AM ET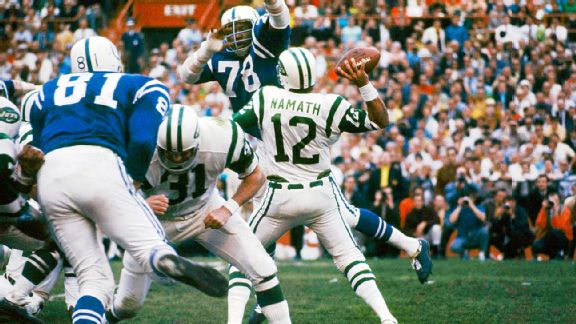 AP PhotoJoe Namath threw for 206 yards against the Colts, resulting in the first AFL's first big-game victory.
Sunday is a sacred holiday for
New York Jets
fans across the world. Forty-five years ago, a cocky quarterback and a team of better-than-advertised players made sports history, shocking the Baltimore Colts in Super Bowl III at the old Orange Bowl.
It was Jan. 12, 1969, and the score was 16-7, numbers etched into the psyche of every Jets fan. The iconic image of the game -- really, of the Jets' entire history -- is that of Joe Namath, trotting off the field, waving the No. 1 sign.
That enduring image never will be erased from the mind's eye. Only days earlier, Namath had delivered his famous guarantee. Since then, dozens, maybe hundreds of professional athletes have issued public guarantees, but Broadway Joe's boast is (and will always be) the Grand Daddy of them all. Remember, the Jets went off as an 18-point underdog.
"I'm telling you, I wear my Super Bowl ring every day and when I look at it, I can recall every play in the game," former center John Schmitt told me a few years ago. "To win when you're the greatest underdog in the history of football ... to prove to the world what you can accomplish with tremendous heart ... it's the best."
One of the best anecdotes from that historic day occurred after the game in the locker room. Unbeknownst to many, Schmitt played the game with pneumonia and, by the fourth quarter, he was on the verge of exhaustion. But he kept playing. Afterward, he was so sick that he vomited as he knelt alongside Namath during the postgame prayer. I like that story because it typified the guts (no pun intended) of that team.
One link between then and now is Rex Ryan, whose father, Buddy, was a defensive assistant for Weeb Ewbank. Rex Ryan, only 6 at the time, gets another chance to end the Super Bowl drought. He's the 12th full-time head coach since Ewbank, the 12th guy with the task of restoring glory to a star-crossed franchise.
The arrow is pointing up, as the Jets are coming off an encouraging 8-8 season. But beware: History tells us that it was a mirage.
Since the '68 championship season, the Jets have posted eight .500 seasons -- and not once did they make the playoffs the following year. In fact, they managed a winning record only once after a .500 season. That was a 9-7 record in 2000, their only season under Al Groh, when they choked in December and missed the playoffs.
A dose of reality on your holiday morning.
But maybe someday ...
February, 2, 2013
2/02/13
10:18
AM ET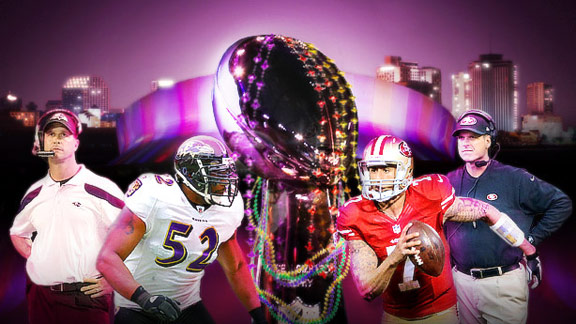 ESPN.com Illustration
If this were a game of Madden, I'd take the 49ers because, quite frankly, they're better on paper -- and a computer, too. But the team with the best players doesn't always win the Super Bowl; the best
team
usually does.
The Ravens are another example of a team getting hot at the right time, shades of last year's Giants. The defense received a morale boost with the return of
Ray Lewis
and the offense found its true identity under new coordinator Jim Caldwell, leading to an impressive playoff run.
I'm concerned about the Ravens' ability to keep QB
Colin Kaepernick
off the edges with the ball in his hands and I'm concerned about their lack of speed in the middle of the field. Lewis and
Ed Reed
have lost a step or two, and they could exposed if the 49ers can isolate TE
Vernon Davis
and a running back on them.
In the end, though, I think the Ravens will win because, with a hot
Joe Flacco
at quarterback, they're more balanced than the 49ers. They're also better on special teams, and that could be huge, especially if slumping 49ers PK
David Akers
finds himself in a pressure spot.
And, by the way, I'm picking the "under" on the length of the post-game handshake/hug between Jim and John Harbaugh -- the over-under six seconds, according to Vegas. This will be the most eagerly awaited handshake since the days of Bill Belichick and Eric Mangini.
December, 19, 2012
12/19/12
1:36
PM ET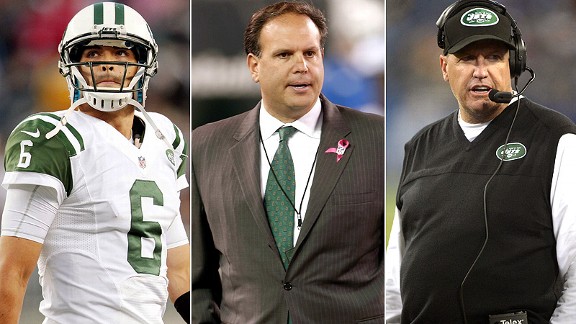 US PresswireMike Tannenbaum and Rex Ryan may have to stick with Mark Sanchez next year, but here are other ways the Jets can improve on an abysmal season.
From top to bottom, the
New York Jets
are a mess. The Jets
have quarterback issues
, an old and expensive roster and a
circus-like atmosphere
in the locker room.
New York has a gigantic cleanup project ahead in 2013.
Here are five steps the Jets should take in the offseason to turn things around:
1. Add a quarterback
Adding a quarterback will be the trickiest but most significant thing the Jets do this offseason. For starters, money is a huge issue.
Although I'm in the minority, I expect
Mark Sanchez
to be with the Jets next year. His $8.25 million salary is guaranteed for 2013, and the prorated cap hit would be much larger if he's cut. The Jets are already significantly over the cap. As much as they may be ready to move on from Sanchez, it's smarter to save the cap hit and just keep him on the roster for another season.
With Sanchez making franchise money next year, the Jets can't pay two quarterbacks the same amount. So forget about names like
Alex Smith
of the
San Francisco 49ers
. New York cannot afford to invest $16-$17 million into one position.
New York's best option would be to look for a cheaper veteran alternative. Personally, I like
Matt Moore
of the
Miami Dolphins
. He has starting experience and would take a cap-friendly contract for the opportunity to play. Moore is currently
Ryan Tannehill
's backup in Miami. Other veteran quaretrbacks like
Jason Campbell
,
Brady Quinn
and
Drew Stanton
are affordable options who can compete with Sanchez to be the starter.
The Jets can take also draft a quarterback early and hope the rookie can play right away. The quarterback class is not strong next year and head coach Rex Ryan will enter 2013 on the hot seat. He cannot afford to wait another year or two for a rookie to develop. He needs to win now.
2. Fire or demote Mike Tannenbaum
The person most responsible for putting together New York's old and expensive roster should be reprimanded.
Jets general manager Mike Tannenbaum tried to keep this group veteran together too long. New York thought it could get to the Super Bowl after back-to-back AFC title games in the 2009 and 2010 seasons. Tannenbaum locked himself into some bad free-agent contracts with older players that are crushing the team's cap.
In addition, Tannenbaum's drafts have been below average. You can start with back-to-back first-round picks of
Vernon Gholston
and Sanchez in 2008 and 2009, respectively. Both players were taken in the top six overall and the Jets whiffed. That held the franchise back. Other draft busts like
Vladimir Ducasse
also stand out.
Finally, Tannenbaum's giving Sanchez a five-year, $58.25 million contract extension in March was inexcusable. Sanchez had done nothing the year before to warrant a large extension, yet the Jets believed he was the long-term solution. It didn't take long for Tannenbaum to regret that decision.
Tannenbaum has his strengths and is a good presence within the Jets. He doesn't need to be fired, but he should no longer have final say on roster moves. The Jets need a new general manager to reshape this roster.
[+] Enlarge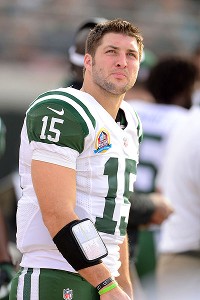 AP Photo/Scott A. MillerThe Tim Tebow experiment has failed and it's time for the Jets to move on from the quarterback.
3. Trade or release Tim Tebow
It's clear the Jets' coaching staff
doesn't think much of Tebow as a quarterback
. After benching Sanchez, New York passed over Tebow for third-stringer
Greg McElroy
. Why did Tannenbaum and the Jets ever think the Tebow experiment was a good idea?
Very few people outside of the organization thought this would work. Tebow, for starters, is not a legitimate NFL quarterback. He's a gimmick player who can help by using his rushing ability.
But Tebow brought the large following and media hype of a franchise quarterback. I remember attending training camp in August when Tebow got the loudest cheers. It immediately added unnecessary pressure to Sanchez and the team. The last thing the Jets needed was another circus, but that's exactly what they got with adding Tebow. It was a train wreck waiting to happen.
The good news is Tebow is much easier to move than Sanchez.
The New York Daily News
reports the Jets can release Tebow and take only a $1 million cap hit.
It's best that Tebow and the Jets go their separate ways after just one year.
4. Get a new offensive coordinator
Tony Sparano is very likeable and a high-energy coach, but he's a mediocre offensive coordinator.
The Jets are ranked 30th in total offense, and the play calling has been mind-numbing. New York is a team without an offensive identity. After 14 games, the Jets still haven't figured out what they do best.
Hiring Sparano in this role was a risky move from the start. He was a head coach in Miami and offensive line coach in Dallas. But the Jets hired him to call plays on offense. Sparano's Miami teams were never offensive powerhouses. There was no indication Sparano could turn the Jets' offense around. His quarterback development has been even worse, as both Sanchez and Tebow regressed on Sparano's watch.
The Jets need to hire a top-level offensive coordinator. Soon-to-be former head coaches like Norv Turner of the
San Diego Chargers
and Pat Shurmur of the
Cleveland Browns
should be available. The Jets need someone with a proven track record of developing quarterbacks and successfully calling plays next season.
5. Make cuts, rebuild through the draft
The Jets need to get younger and build through the draft. It starts by making some veteran cuts.
New York can begin by releasing expensive veteran linebackers
Calvin Pace
and
Bart Scott
. Both are 32-years-old and making big salaries. Other players like offensive tackle
Jason Smith
and safety
Eric Smith
should come off the books, as well. That should provide sizable cap relief.
The Jets won't have a lot of money to spend in free agency, which is why the draft is so important.
Using the draft to build up the offense should be the top priority. The Jets need better players at receiver, running back and tight end to help whoever becomes the starting quarterback. New York also could lose starting tight end
Dustin Keller
and tailback
Shonn Greene
, who are pending free agents, and need to fill those positions.
There is no easy way for the Jets to escape this mess. But if they follow these five steps this offseason, the Jets will be heading in the right direction.