July, 12, 2013
7/12/13
3:42
PM ET
Expectations for the Jets haven't been this low in a long time, maybe not since 1996. There are plenty of reasons to worry. Our top five:
1. That quarterback situation
: Oh, my. Rookie
Geno Smith
isn't ready, and probably won't be ready by opening day. They may have no choice but to start the embattled
Mark Sanchez
, who will enter the season knowing he'll always be one turnover away from being booed like an enemy player. It could be another unsettling year at the most important position.
2. Shortage of playmakers
: Their most accomplished playmaker, by far, is WR
Santonio Holmes
-- and he's coming off a devastating foot injury that could limit him throughout the season. The rest of the receivers and tight ends are the same as last season, sans
Dustin Keller
. Translation: It will be a struggle for the offense -- again.
3. Too young or too old
: The Jets are relying on too many inexperienced players and too many past-their-prime veterans. In other words, they lack a strong middle class -- i.e. core players with three to six years of experience. That's a recipe for trouble.
4. Still no elite edge rusher
: They signed
Antwan Barnes
and re-signed
Calvin Pace
, neither of whom showed much last season as pass rushers. They're hoping Barnes can revert to 2011, when he posted 11 sacks for the Chargers, but that was an aberration, based on his entire body of work.
Quinton Coples
will get a chance as a rush linebacker, but he might be better suited to interior rushing.
5. Leadership issues
: GM John Idzik parted ways with several team leaders, leaving a huge void.
Antonio Cromartie
is taking control of the defense, but other players will have to step up, especially on offense. A team with questionable leadership will fold when adversity strikes -- and there will be adversity, count on it.
July, 12, 2012
7/12/12
11:57
AM ET
This is our 11th "Take Five" list. From now until training camp, we'll have periodic lists -- some serious, some not-so-serious. Here, we'll examine five things that should be making you sweat as the season approaches.
1. A potential QB mess
. The Jets have done a good job of controlling the situation, but the true test comes in the regular season. How will they handle a
Mark Sanchez
slump? Will they give
Tim Tebow
more reps in the Wildcat in lieu of an outright change at QB? What if Sanchez plays well but Tebow is on fire in the Wildcat? It could get complicated -- no, it
will
get complicated. If it gets out of control, it could undermine the season.
2. Ground and Pound? Really?
They want to be a run-oriented offense under new coordinator
Tony Sparano
, but the eight positions most important to the running game -- five linemen, one tight end and two backs -- are the same as last year. And we all know how last year went; the Jets finished 22nd in rushing offense. Unless
Shonn Greene
morphs into
Earl Campbell
, the Jets won't be able to run at will.
3. Wayne's World
. Beleaguered
Wayne Hunter
is back as the starting right tackle. The Jets were either too cheap to eat his $2.45 million guarantee and sign a free-agent replacement or they honestly believe Hunter can do the job. I believe it's mostly the latter, but it's an enormous gamble. He allowed 8.5 sacks, per STATS LLC, and committed a team-high 11 penalties for 80 yards last season. If he doesn't improve, it will be a long season, offensively.
4. Safety dance
. The Jets keep talking up their defense, how they believe it can be as good as 2009, but there's one deficiency that wasn't adequately addressed: They didn't improve from a pass-coverage standpoint at safety. Neither
LaRon Landry
nor
Yeremiah Bell
shined last season with their respective teams, and Landry could be playing on a bad wheel. Once again, there could be some big days for opposing tight ends.
5. Chemistry 101
. Everything is cool, the Jets insist. Problems, what problems? Sure, it's easy to say that in the spring and early summer, but the real test comes in the fall. It's pretty much the same cast of characters as last season, so why should we believe it's going to be different than last year?
Santonio Holmes
, last season's primary instigator, already was sulking in minicamp -- not a positive omen.
To see all our Take 5 lists, click here.
July, 8, 2012
7/08/12
2:16
PM ET
This is our 10th "Take Five" list. From now until training camp, we'll have periodic lists -- some serious, some not-so-serious. In this edition, we take a look at the bright side -- the top five reasons why the Jets should be optimistic about 2012.
1. Fresh approach on offense
.
Brian Schottenheimer
is out,
Tony Sparano
is in. Sparano never has been known as an offensive guru, but he brings a clearly defined philosophy -- a heavy accent on the running game, complemented by a vertical passing game. He has instilled a level of accountability, which should keep everybody in line. Sparano's obsession with limiting turnovers will help
Mark Sanchez
.
2. More speed on offense
. Consider the lineup at the start of last season. Instead of having
Plaxico Burress
,
Derrick Mason
and
LaDainian Tomlinson
on the field in third-down situations, they will have
Stephen Hill
,
Jeremy Kerley
and
Joe McKnight
, respectively. They're giving up a ton of experience, but the speed comparison isn't even close. There should be more big plays.
3. An improved pass rush
. We're not talking about the Giants' front four here, but the Jets will be better than last year. Reasons: A full year of
Aaron Maybin
, the addition of No. 1 pick
Quinton Coples
and the maturation of
Muhammad Wilkerson
. With Wilkerson and Coples, they should be able to generate an inside pass rush, which will allow DC
Mike Pettine
to get creative with outside blitz packages.
4. The three corners
. This has become a passing league and, unless you have a white-hot pass rush, you need cornerbacks. The Jets have one of the top trios in the league,
Darrelle Revis
,
Antonio Cromartie
and
Kyle Wilson
. This will be their third season together. If Wilson can raise his game another notch, watch out.
5. More depth on D
.
Rex Ryan
wants to own the fourth quarter. Well, it helps to have fresh bodies. That shouldn't be an issue anymore. The Jets can rotate at least six players on the defensive line, they have three starting-caliber safeties and they have more bodies at linebacker than they've ever had. They have no excuses for a late-game collapse.
To see all our Take 5 lists, click here.
July, 6, 2012
7/06/12
12:05
PM ET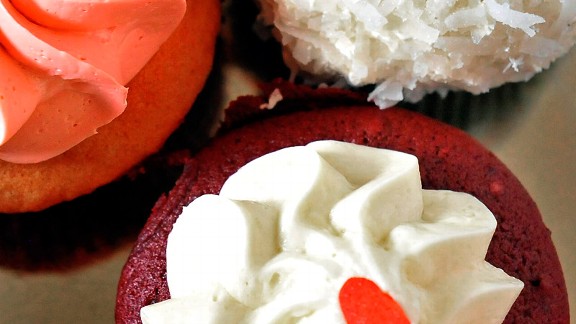 Mark Gail/The Washington Post/Getty ImagesSione Pouha loves cupcakes. But if we were you, we wouldn't call him one.
This is our ninth "Take Five" list. From now until training camp, we'll have periodic lists -- some serious, some not-so-serious. In this list, NT
Sione Pouha
shares his five favorite dishes. Pouha, listed at 6-foot-3, 325 pounds, is a man who knows and appreciates good food.
"In my culture, Tonga and Polynesia, any celebration consists of food," Pouha said. "It's probably similar to Italians. You find a reason to eat. Birthday? Let's eat. Wednesday? Let's eat. Food is very important. It's a form of celebration for my culture."
Pouha's top five:
1. Roast pig:
"Back home, this is very popular. We eat the roast pig with a starch food, something with the consistency of a sweet potato."
2. In-ground oven pig:
"We call this
Umu
. In my language, that means we use the earth as an oven."
3. Southern-style cooking:
"I love Texas brisket and beef ribs. Delicious."
4. A heavy, sweet dessert:
"Anything in this category works for me -- cupcakes, ice cream, you name it. Just lock me up in a Cheesecake Factory bakery and I'll be good."
5. Chinese:
"Can't go wrong with Chinese, right? I'd go with some General Tso's chicken, kobe ribs and the combo fried rice. It has to be the combo. You can't do just chicken. You have to do chicken, pork, shrimp. And some udon noodles. Yeah, definitely some udon noodles."
Hungry yet?
To see all our Take 5 lists, click here.
July, 2, 2012
7/02/12
12:24
PM ET
This is our eighth "Take Five" list. From now until training camp, we'll have periodic lists -- some serious, some not-so-serious. This time, we'll examine the top statistical indicators -- i.e. the numbers that will tell the tale of the Jets' season.
1. Giveaways
. The Jets led the AFC with 34 turnovers last season -- sloppy, sloppy, sloppy. It's against the Sparano religion to commit turnovers, let alone that many. His teams averaged 25 per year in his four seasons as the Dolphins' coach. If the Jets can get it below 25, it'll mean
Mark Sanchez
is being smart with the football -- and everything would flow off that.
2. Rushing attempts
. Forget about yards and yards-per-attempt. The key is rushing attempts. If the Jets are running the ball a lot, it means Sparano's offense is working. It'll take pressure off Sanchez and allow him to strike downfield on play-action. The Jets averaged 28 rushing attempts per game last season. That won't cut it in Sparano's run-heavy offense.
3. Yards-per-attempt
. Some football stat geeks believe YPA is the best barometer of a quarterback's performance. Well, Sanchez averaged a career-low 6.4 last season, 0.3 lower than his rookie year. That number is ugly; it indicates an unhealthy passing attack. Sanchez might not be a prolific passer in Sparano's system, but he has to be more efficient than 6.4. A lot of factors go into that number -- it's pass protection, the receivers' ability to get open, play calling, etc. They have to pull that number up into the 7s.
4. Rushing defense; yards per game
. The Jets finished 13th, yielding 111 yards per game. An elite defense shouldn't finish that low, no way. It's a basic tenet of football, stopping the run. There's no reason why the Jets shouldn't rebound into the top five. They added run-stuffing safeties,
Yeremiah Bell
and
LaRon Landry
, and they should have more depth on the defensive line. The Jets say they want to be as good as their '09 defense. That unit allowed only 98 per game.
5. Passing defense; yards per catch
. Hard to figure the defense last season. It finished fifth in total defense despite allowing a ton of big pass plays (
Victor Cruz
, anyone?) In fact, it yielded 12.4 yards per reception, tied for 24th in the league. Many of the same factors that contributed to that bloated number -- questionable team speed, miscommunications in coverage, lukewarm pass rush -- could be in play once again.
To see all our Take 5 lists, click here.
June, 29, 2012
6/29/12
11:30
AM ET
This is our seventh "Take Five" list. From now until training camp, we'll have periodic lists -- some serious, some not-so-serious. In this one, we list the top five candidates that could pull a Jeremy Lin in 2012 -- an out-of-nowhere player who jumps into the limelight and becomes a fan sensation.

1. TE Hayden Smith: The former international rugby star hasn't played a lick of organized football in his life -- he was born and raised in Australia -- but he has the size and physical tools to make a go of it. He struggled in minicamp, but he's upbeat and works hard. He'll be hard-pressed to make the 53, but if he does ... hey, you never know.

2. RB Terrance Ganaway: He'll enter camp as the fourth-string running back, but it's not like he has Chris Johnson or Adrian Peterson in front of him. The sixth-round pick rushed for nearly 1,600 yards last season at Baylor, so he obviously has some talent. At 240 pounds, he could start out as a short-yardage back and go from there.

3. QB Greg McElroy: It'll be hard to leap Mark Sanchez and Tim Tebow on the depth chart, but, hey, stuff happens in the NFL. McElroy has no game experience, but there's something about him that grows on you. He's a poor man's Chad Pennington -- smart, tough and instinctive.

4. OLB Ricky Sapp: The hardcore fans know that Sapp was a prolific pass rusher in college (15 sacks in '09 at Clemson) and was projected as a top-50 pick. He slipped to the Eagles in the fifth round in '10, suffered a knee injury and ... well, here he is. Rex Ryan mentions Sapp whenever he discusses his outside linebackers, always a good sign. The Jets aren't overflowing with outside rushers, so he'll get a shot.

5. TE Josh Baker: He's had quite a football journey. He was thrown out of Delaware for off-the-field transgressions, ended up at a community college while moonlighting at an office-supply store and resurfaced at Northwest Missouri, where he caught the Jets' attention. He signed as an UDFA and caught three passes last season, including a touchdown. Baker, who can play fullback or tight end, will compete for playing time. He has the back story that makes him easy to root for.
June, 25, 2012
6/25/12
12:15
PM ET
This is our sixth "Take Five" list. From now until training camp, we'll have periodic lists -- some serious, some not-so-serious. In this edition, we focus on the five players whose seats are the hottest.

1. QB Mark Sanchez -- He probably would've been at the top of the list before Tim Tebow arrived, but now it's a no-brainer. This will be the most scrutinized quarterback situation in the league. It's all up to Sanchez. If he can be consistent, protect the football and move the chains, he won't have to worry about a thing. But the specter of Tebow creates enormous pressure.

2. RT Wayne Hunter -- He gets a reprieve after a poor 2011, in part, because the Jets didn't want to eat his $2.45 million guaranteed salary. They're trying to reinvent Hunter, hoping he embraces Tony Sparano's system. It's risky business. If Hunter reverts to last season, the offense is in trouble -- and Sanchez will be subjected to another beating. The Jets open against the Bills, which means a matchup against Mario Williams. There's no room for a slow start.

3. RB Shonn Greene -- This is a crossroads season for Greene, who enters the final year of his rookie contract. It's time for him to be the runner he was in the 2009 postseason. He was okay last season, but he'll need to be better than just okay if the Jets want to bludgeon opponents with Ground and Pound. There are no proven backs behind Greene, so it's sink or swim with him.

4. WR Santonio Holmes -- He's owed $15 million in guarantees over the next two seasons, so Holmes isn't worried about job security. But, after behaving like a divisive diva last season, he needs to man up and be a true No. 1 receiver. He has gone 25 straight games (counting postseason) without a 100-yard game.

5. S LaRon Landry -- Not even newcomers can escape our list. The Jets are counting on the injury-plagued Landry to a.) be healthy for training camp and b.) be an imposing presence (physically and athletically) in the middle of the field. Landry has the ability to take the defense to a new level. This, too, is a crossroads season for him.
June, 21, 2012
6/21/12
10:19
AM ET
This is our fifth "Take Five" list. From now until training camp, we'll have periodic lists -- some serious, some not-so-serious. Here, we give the honors to Jets TE Dustin Keller, who provides his favorite New York restaurants. Keller is a foodie. In fact, he used to write a monthly food blog for The New York Times, so he knows his way around the culinary world.

1. Peter Luger Steak House, 178 Broadway, Brooklyn: "Delicious steak and potatoes. It's the best steak I've ever had, and I've had a lot of steak. Order the porterhouse; it's awesome. It's a real friendly atmosphere, a real 'guy' spot."

2. Beauty and Essex, 146 Essex Street, Manhattan: "A great spot on the Lower East Side. Best appetizers in the city."

3. Buddakan, 75 Ninth Avenue, Manhattan: "Amazing appetizers. I love Asian-Fusion and, in my opinion, this is the best Asian-Fusion in the city."

4. Tea & Sympathy, 108 Greenwich Avenue, Manhattan: "This is my favorite brunch spot. A couple of suggestions: I like the Full Monty breakfast, which is scrambled eggs and English bacon. For lunch, I'll get Bangers and mash."

5. Sushi of Gari, 370 Columbus Avenue and 402 East 78th Street, Manhattan: "Best sushi in the city. So fresh and delicious."

Honorable mention: Per Se, 10 Columbus Circle, Manhattan: "It's the most expensive place on my list. It's good for anniversaries and celebrations. Plan on going for a few hours because it's always crowded. Everything on the menu is delicious."
June, 18, 2012
6/18/12
11:13
AM ET
This is our fourth "Take Five" list. From now until training camp, we'll have periodic lists -- some serious, some not-so-serious. Here, we examine potential trouble spots on the Jets' roster:

1. Blocking tight end. Honestly, did you ever think we'd be wondering how the Jets will replace Matthew Mulligan? Right now, they don't have a pure blocking tight end on the roster. The No. 2 is Jeff Cumberland, a former college wide receiver with limited blocking skills. Look for the Jets to add a veteran at some point. A silver lining: Contrary to popular belief, new OC Tony Sparano isn't married to two-tight end formations. The Dolphins used two-plus tight ends for only 267 plays last season, fewer than all but six teams, according to ESPN Stats & Information.

2. Backup center. Nick Mangold showed last season that he's not indestructible, so they can't take this for granted. In minicamp, LG Caleb Schlauderaff worked as the No. 2 center, but he has no game experience at the position. It would behoove the Jets to address this issue.

3. Veteran depth at wide receiver. Rex Ryan said last week he's comfortable with the current group; he also said they haven't reached out to Braylon Edwards. Clearly, the Jets want to give rookie Stephen Hill, slot man Jeremy Kerley and Chaz Schilens every opportunity to be the No. 2, No. 3 and No. 4 receivers. They're putting a lot of faith in Schilens, an occasional starter in four injury-plagued seasons with the Raiders. It might not be a bad idea to bring in some insurance.

4. Punter. T.J. Conley was so-so last season, finishing 18th in net average. His competition is Travis Baltz, who has no regular-season experience. The top free-agent punters are Daniel Sepulveda, Brad Maynard and Mat McBriar. Conley will get the preseason, but the Jets will have an eye on the market.

5. Cornerback depth. With the growth of spread offenses, cornerback depth is vital. The nickelback probably will play about 50 percent of the snaps, making him a 12th starter, so to speak. The Jets' top three corners are as good as any team in the league, but there's a considerable drop-off. Right now, Ellis Lankster and Isaiah Trufant are the fourth and fifth corners, respectively. They could use another experienced hand. Did someone say Drew Coleman? He's available; the Jets should sign him back.
June, 8, 2012
6/08/12
9:56
AM ET
This is our third "Take Five" list. From now until training camp, we'll have periodic lists -- some serious, some not-so-serious. In this one, we ask Bryan Thomas -- the longest-tenured Jet -- to provide his top five memories. Thomas, a first-round pick in 2002, celebrated his 33rd birthday Thursday. Naturally, he was razzed by teammates, one of whom taped a homemade card inside his locker congratulating him on his "38th" birthday.

Here's BT's top five:

1. Divisional playoff win over the Patriots, January, 2011: "No one gave us a chance. On that Monday night game, they kicked our ass, they embarrassed us (45-3). Everybody picked us to lose again. To beat them in their place, wow, that was really emotional. Definitely my favorite memory."

2. Wild-card win at the Chargers, January, 2005: "It's funny, the only thing I remember about that game was Eric Barton roughing Drew Brees (on the final play of regulation). Eric said, 'I didn't do anything.' When we went back and looked at the tape, we all said, 'You did it.'"

3. Divisional win at the Chargers, January, 2010: "That had to be one of our best defensive games ever. Weren't the Chargers No. 1 in scoring or something like that? (They were fourth in scoring, with a 13-3 record.) We really handled them (17-14). A great win."

4. Wild-card win over the Colts, January, 2003: "That was a total annihilation (41-0). That was a really big game for us. I remember it being really cold and I remember Peyton Manning doing nothing. We were clicking on all cylinders."

5. Division-clinching win over the Packers, December, 2002: "The only thing I remember about that day was New England beating Miami. I remember the (Giants Stadium) JumboTron showing the final play of that game, and the entire stadium going crazy. I knew we weren't going to get beat that day."
June, 4, 2012
6/04/12
11:14
AM ET
Welcome to our second "Take Five" list. From now until training camp, we'll have periodic top-five lists -- some serious, some not-so-serious. Here, we'll rank the Jets' top five most improved players (projected) for 2012:

1. Muhammad Wilkerson, defensive end -- He started 16 games as a rookie, played in 59 percent of the defensive snaps, according to ProFootballFocus.com, and held up reasonably well -- considering he had no offseason because of the lockout. Look for Wilkerson to take a big step forward, especially as a pass rusher. The coaches are thrilled with his progress.

2. Jeremy Kerley, wide receiver/punt returner -- In a quiet way, the second-year receiver demonstrated the ability to get open. He was on the field for 241 pass plays, according to PFF, finishing with 29 catches -- one reception per 8.3 plays. That was the second-best mark among the receivers and tight ends, second only to Dustin Keller. Like Wilkerson, Kerley will benefit from a full offseason.

3. Kenrick Ellis, nose tackle -- He has to get better, right? Ellis was totally lost last season as a rookie, admitting to me last week, "It was my fault for not picking up the scheme." The second-year lineman told me he has dropped 10 pounds (he played last year at 345) and feels like a different person. One problem: He has to serve a minimum of 45 days in jail, which will hurt his conditioning and cost him the first four days of training camp.

4. Joe McKnight, running back -- After two seasons as a kickoff returner (and a good one), McKnight will get a chance to spread his wings. LaDainian Tomlinson is gone, so he'll get first dibs at the No. 2 job at running back. Preparing for the role, he gained 15 pounds to help withstand the wear and tear. McKnight has the talent, it's just a matter of him maintaining focus and discipline.

5. Bart Scott, linebacker -- Yeah, the older guys can make our list, too. After a poor 2011, Scott seems rejuvenated. He dropped significant weight and you can see it on the field, as he's moving better in coverage. Coordinator Mike Pettine told me Scott has lost almost 20 pounds; that means he played north of 250 last season, which explains why he looked so slow.
May, 30, 2012
5/30/12
10:26
AM ET
Welcome to our first "Take Five" list. From now until training camp, we'll have periodic top-five lists -- some serious, some not-so-serious. For our inaugural list, we'll rank the Jets' top five newcomers in terms of projected impact.

1. Tony Sparano, offensive coordinator -- He steps into one of the toughest coaching/managing jobs in New York. All he has to do is fix Mark Sanchez, manage a potential QB controversy and make sure last season's dysfunctional offense doesn't re-appear. He will change the way the Jets play offense.

2. Yeremiah Bell, safety -- At 34, he's an older version of S LaRon Landry, another newcomer. He probably isn't as talented as Landry at this stage of his career, but Bell gets the No. 2 spot on our list because he's durable -- and Landry isn't. Bell led the Dolphins in defensive snaps last season, according to ProFootballFocus.com, and he'll play a lot for the Jets. Just watch, he'll become a leader on defense. Landry is slated to play a lot, too, but injury issues make him a question mark.

3. Tim Tebow, quarterback -- Obviously, he'll move up if he unseats Sanchez, but we don't see that happening anytime soon. Tebow will see playing time in the wildcat, but don't expect it to be a heavy workload every week. Do you know how many wildcat plays the Dolphins averaged under Sparano? Four per game.

4. Quinton Coples, defensive end -- The Jets' No. 1 pick will start and will be a three-down player, so that immediately qualifies him for our list. He'll have plenty of opportunities to make an impact.

5. Stephen Hill, wide receiver -- It's unusual for a rookie receiver to make an impact, and it'll be harder for Hill because he played in a triple-option offense in college, but he'll see plenty of the field. The reason: Speed. You can't teach a 4.3 40. When the second-round pick is on the field, he'll command respect because of that speed.