New York Jets:

Tampa Bay Buccaneers
April, 21, 2014
4/21/14
9:00
AM ET
Good morning,
New York Jets
fans. One year ago, your favorite team traded its best player.
[+] Enlarge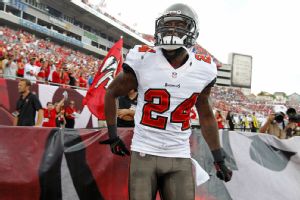 Kim Klement/USA TODAY SportsThe Jets appear to have made the right move in trading cornerback Darrelle Revis to Tampa Bay.
Yes, April 21 is the first anniversary of the
Darrelle Revis
trade, a highly controversial move in which John Idzik -- in his first significant decision as the general manager -- sent the then-injured cornerback to the
Tampa Bay Buccaneers
because owner Woody Johnson refused to meet the player's asking price on a new contract, $16 million per year.
After months of speculation, fans awoke on a Sunday morning to the news that
Revis was en route to Tampa
to take a physical. Within a couple of hours, it was a done deal, one that will be debated for years. One year later, our take on the winners and losers from the trade:
Winner
-- The Jets. Philosophically, it was the right move because no cornerback is worth $16 million a year, but the right move doesn't always work out. In this case, it did. They used the 2013 draft-pick compensation (13th overall) to select defensive tackle
Sheldon Richardson
, the NFL Defensive Rookie of the Year. They also landed a fourth-round choice in the upcoming draft. To grade the trade mainly on Richardson's performance, however, isn't fair. If the Jets had kept Revis, they wouldn't have needed a cornerback, so they probably would've picked Richardson with their own choice (ninth overall) instead of
Dee Milliner
. So, when evaluating the trade, Milliner has to be included -- and he was shaky as a rookie.
Loser
-- The Bucs. You can bet they're not celebrating the anniversary in Tampa. It was an ill-advised trade when they made it, and it turned into an all-time bust. The Bucs, under new leadership, decided to cut Revis after only one season. After all the hype, he was just a one-year rental. In the end, the trade cost them a mid-first-round pick and $16 million, and the result was a 4-12 record and pink slips for coach Greg Schiano and GM Mark Dominik.
Wealthy loser
-- Revis. Financially, he made out nicely, making $10 million more from the Bucs than he would've received from the Jets in 2013 -- not a bad raise for a guy coming off ACL surgery. His unexpected trip to free agency allowed him to make another score, landing $12 million from the
New England Patriots
. Despite a two-year, $29 million haul (including a $1 million roster bonus from the Jets before the trade), Revis has become a hired gun, a well-to-do journeyman who probably will spend the rest of his career going year to year and team to team. It's too bad because he could've gone down as one of the best and most beloved players in Jets history.
Winners
-- The quarterbacks and pass-catchers who faced the Jets. Even though the Jets will benefit from the trade over the long haul, they suffered in the short term, missing Revis' presence in the secondary. The Jets allowed a staggering 3,947 passing yards, a 900-yard increase from the previous year and the most allowed by the franchise since 1986. It was a stain on Rex Ryan's sterling record as a defensive mastermind.
Loser
--
Antonio Cromartie
. Without Revis, Cromartie became the No. 1 cornerback and was often responsible for covering the opponents' top wideout. He was torched on a fairly regular basis, contributing to his release at the end of the season. He had to settle for a one-year, $3.5 million contract from the
Arizona Cardinals
.
November, 12, 2013
11/12/13
11:15
AM ET
Former
New York Jets
star
Darrelle Revis
is fed up with "bitter" Jets fans.
Revis, under siege after poking Jets fans with a recent tweet, fired back Monday night after the
Tampa Bay Buccaneers
' 22-19 win over the
Miami Dolphins
.
Revis
In an
interview with the New York Post
, Revis said he's being harassed by Jets fans on Twitter. He also claimed he's being unfairly portrayed as a money-hungry player -- this, from someone who has staged two contract holdouts, threatened a third and recently tweeted he's happier making more money with the hapless Bucs than he would've been with the surprising Jets.
"You've got to have a backbone, because guys are saying, 'F--- you!' and 'I want to kill you!'" Revis told the newspaper, referring to tweets from Jets fans. "It's crazy, but I've been getting death threats from them since my first holdout [in 2010]. It's just bitter Jets fans."
Revis also said: "They're still not over the fact that I'm not there no more, and they give me crap all the time on Twitter. If they would understand the business of it and understand what happened, then maybe they would know and maybe they would quit trying to point the finger at me. That's where it is."
Jets owner Woody Johnson, speaking at a Super Bowl XLVIII event Tuesday in Manhattan, said he hadn't heard of the threats to Revis.
"That's horrible," said Johnson, adding that he's not surprised "because, in social media right now, anything goes. ... I don't think anybody should make those kinds of threats to anybody for any reason. It's not good social conduct."
The former All-Pro cornerback sparked a controversy with a recent reply on Twitter. A Jets fan asked him if the $16 million-a-year contract from the Bucs (six years, $96 million) is better than the $12 million-a-year (purely speculative) he might have received from the Jets -- a loaded question. In essence, the fan wanted to know if money can buy happiness on a lousy team. Revis' response: He preferred the $16 million a year.
That created a firestorm.
"I said what I said, and I meant it -- to that particular person," Revis said. "It don't have to be toward the New York Jets or nothing. They're trying to say I'm money hungry, but I'm not really concerned about that. I used to play in New York, so I'm used to getting booed. I'm a pro about that, and that's nothing I'm concerned about."
Revis insisted his goal is to win a Super Bowl. That won't happen this season, as the Bucs won their first game Monday night. Revis sealed the outcome with a late interception on a long, fourth-down pass, although the smart play would've been to simply knock it down. He unwittingly helped the Jets (5-4), who are battling the Dolphins (4-5) and several other teams for the final wild-card spot.
Revis said he responded to the fan on Twitter "because I'm getting tired of [Jets fans] always being negative. You don't want to hear that. ... It don't help with the [Bucs'] record, but at the same time, just let it go. I'm not there no more, Jets fans. I'm not there. When I left, I left with class. I didn't leave saying, 'Eff the Jets organization' or anything like that. You've got to move on."
That's a classic case of revisionist history. He apparently forgot that he accused Jets general manager John Idzik of lying to him. Revis made those comments the day after the trade.
September, 17, 2013
9/17/13
4:35
PM ET
So
Darrelle Revis
reportedly is unhappy with the
Tampa Bay Buccaneers
. Two reactions from a New York perspective: Who cares? What did he expect?
The former
New York Jets
star was traded to the Bucs last April because his New York-based agents, serving as the matchmakers, convinced the Bucs to pay Revis what the Jets refused to spend -- $16 million per year. Revis was blinded by the money, overlooking other important factors -- the coach and the defensive system. He apparently has discovered the grass isn't greener on the other side, but the money is.
Now, according to FoxSports, Revis is chafing under Greg Schiano's law-and-order regime and upset he's not playing more man-to-man coverage. This, of course, is a departure from his New York days. Under Rex Ryan, Revis played for a player-friendly coach whose scheme was tailored to his strength -- man-to-man. It was a perfect player/scheme marriage, giving birth to the "Revis Island" sensation.
In a Cover-2 defense, a big part of what the Bucs do, the cornerbacks are a dime a dozen. It's lunacy to pay a cornerback $16 million a year to play in a zone-based defense. After making such a significant investment in Revis, the Bucs should've tweaked their philosophy to suit Revis, but they apparently haven't done that to his satisfaction.
Revis knew about Schiano's reputation as a no-nonsense coach, but he looked past Schiano and saw a familiar face in Dave Wannstedt, the special teams coach. He coached Revis at Pitt. A former Pitt assistant, Jeff Hafley, is the Bucs' assistant secondary coach.
If there were concerns about Schiano and his system, Revis was willing to put them aside because of the money. He found a team willing to meeting his asking price, although his six-year, $96 million contract isn't guaranteed. He'll be there through 2014 because they'd never cut him after one year, not after trading a first-round pick, but who knows what will happen beyond '14?
Because of his contract problems in New York, Revis was perceived in some circles as a complainer. Now it looks like he's up to his old tricks. Clearly in damage control, he tweeted Tuesday, "What's going on Buc fans. Just to clear the smoke. I'm happy to be a Buccaneer & I'm happy to be a resident of Tampa. ... I'm excited for this year & I'm excited about this team as we move forward to prepare each week to get a W!!!"
Translation: As long as they're willing to pay me $765,000 per game (his actual salary), I'll act like I'm loving it.
September, 8, 2013
9/08/13
10:00
AM ET
Join our ESPN.com NFL experts as they break down the Tampa Bay Buccaneers' visit to the New York Jets. Contribute your thoughts and questions beginning at 1:00 p.m. ET. See you there.
September, 5, 2013
9/05/13
7:53
PM ET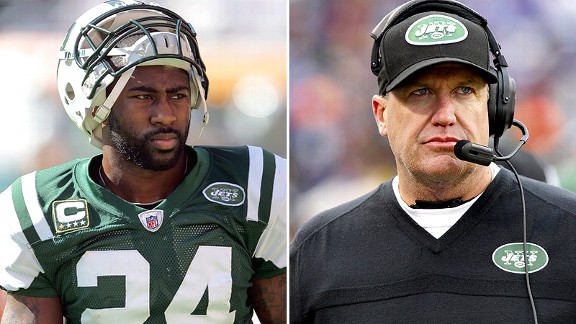 AP PhotoRex Ryan had this to say about going after Darrelle Revis: "I don't see that happening."
FLORHAM PARK, N.J. -- Bucs cornerback
Darrelle Revis
is coming off major knee surgery and hasn't played a football game in nearly a year. At his position, a player can be exposed if his reaction time is a split-second slower than usual.
So will the Jets test their former star Sunday at MetLife Stadium? What say you, Rex Ryan?
Ryan listened to the question, smiled and shook his head.
Answer: No.
"We know him well," Ryan said Thursday. "That might be some team's philosophy, but I don't think it's going to be our philosophy. I can't even lie and say, 'Oh, yeah, no, absolutely, we're attacking him.' I don't see that happening.
"If I had my way, he'd rest it one more week," Ryan added, smiling. "I think that would be the best thing for him."
Revis, who didn't play in any preseason games, is expected to start for the Bucs even though it hasn't been made official. The Jets expect to see the Revis of old, the one that made four Pro Bowls from 2008 to 2011. But he's bound to be rusty. After all, he's human, supposedly. They should test him, in the air and on the ground, seeing if he reacts tentatively on a power sweep.
Wide receiver
Stephen Hill
seemed disappointed to hear they wouldn't attack Revis (if Ryan is to be believed).
"I wouldn't mind going after him. Why not?" Hill asked. "But that's the head man, so we're just going to definitely ... If that's what he wants, we're going to do what he wants. But other than that, I wouldn't mind. I'm not going to back down from competition."
Obviously, the Jets don't have any current tape of Revis to study, but their top four receivers are familiar with his game, having practiced against him last season, longer in the cases of
Santonio Holmes
and
Jeremy Kerley
. In meetings this week, receivers coach Sanjay Lal told his players, "You must be perfect" against Revis, whom the Jets traded last April.
"As a receiver, there's no margin for error," Lal said. "If you tip it off slightly, he's going to jump the route. He's the best I've seen at doing that."
Revis has uncanny instincts, which could allow him to compensate for any loss of quickness due to the injury. But the Jets expect him to be at full strength.
"If they're putting him out there for 70 plays, they must feel he's 100 percent or close to it, because he's a huge investment to them," Lal said.
The Bucs have a different defensive scheme than the Jets, so it'll be interesting to see how they use him. The Jets play man-to-man, and often left Revis on an island (hence, Revis Island) against the No. 1 receiver. The Bucs use a lot of Cover 2, a zone with safety help over the top. A pure Cover 2 would seem to minimize Revis' man-to-man skills.
Ryan called Revis a "once-in-a-how-many-years type player. He's a tremendous player." Five months after the divorce, Ryan still sounds like he wishes he never left.
September, 3, 2013
9/03/13
12:47
PM ET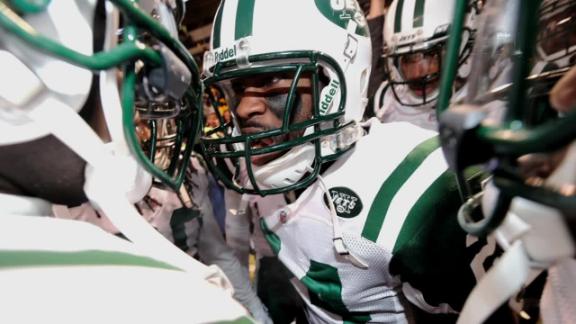 When
Darrelle Revis
was selected by the Jets with the 14th overall pick in 2007, he offered an immediate message to then-GM Mike Tannenbaum.
"I told Tannenbaum on the phone, 'This is probably one of the best things you've done,'" Revis says in an
ESPN E:60 profile
that airs at 7 p.m. Tuesday on ESPN2.
Revis
Revis was right; it was one of the Jets' best moves -- ever. He became the top cornerback in football, the glue to Rex Ryan's defense. But his marriage with the Jets ended in an ugly divorce last April, when he was traded to the Bucs. Revis felt betrayed by the Jets because they never made him a contract offer. To understand his mindset, you need to go back to his roots, all the way back to Aliquippa, Pa., where his values were formed.
The E:60 special includes interviews with former Aliquippa greats Mike Ditka, Tony Dorsett and Ty Law. It shows where Revis was raised, a boarded-up house near his high school, close enough to see the Friday night lights in the distance -- a beacon for the kids on Seventh Avenue. It was a tough neighborhood. In an interview, Revis says six members of his high school team, which won a state championship, are dead.
On Sunday, Revis makes his return to MetLife Stadium to face the Jets in what should be an emotional season opener. It will be billed as a homecoming, but as you'll see in the E:60 profile, his real home is in Western Pennsylvania.
April, 21, 2013
4/21/13
5:18
PM ET
Quick thoughts on the The Trade,
Darrelle Revis
to the Bucs:
1. BOMBSHELL
: Wow. Make that, double wow. It had been speculated for a couple of months, but it's still jarring when a player of Revis' stature -- still in the prime of his career -- gets traded. This sort of thing doesn't happen a lot in the NFL. It's sad, really. He's one of the best players in franchise history, a once-in-a-decade talent, and yet he won't finish his career with the team that drafted and developed him.
2. BLAME GAME
: I blame everyone. The Jets messed up three years ago when they had leverage and failed to execute a long-term extension, settling for the so-called "Band-Aid" contract and inserting a no-franchise-tag clause in the deal. They also didn't try very hard to sign Revis to an extension before the trade, no matter what owner Woody Johnson says. Is that any way to run a franchise? Blame Revis, too. From Day 1, he was all about the money, always looking for his next big score. He could've accepted a little less, a la
Tom Brady
, for the good of the team. But he pushed the envelope, demanding that he top the market.
3. COMPENSATION
: The Jets didn't exactly squeeze the Bucs. They received the Bucs' first-round pick (13th overall), plus a conditional fourth-rounder in 2014; it can improve to a third-round pick if Revis is on the Bucs' roster the third day of the 2014 league year. And that's it. This is considerably less than what the Vikings received recently for WR
Percy Harvin
, who netted first- and fifth-round picks 'in '13 and a third-rounder in '14 from Seattle. The Jets would've received a third-round compensatory pick in 2015 if they had let Revis walk as a free agent in 2014. So, basically, they traded him for the 13th pick. As for Revis, he signed a six-year, $96 million contract that includes no guaranteed money. Yes, no guarantees. He'll make $16 million per year.
4. IT'S GONNA BE A LONG YEAR
: The Jets are officially in a full-blown rebuilding mode. Revis was the best player on the team (when healthy), and now they're left with four or five very good players and a whole lot of mediocrity. They didn't view Revis as part of the solution; the Jets saw him as their only asset, a bargaining chip, one they hope can accelerate the rebuilding process. It's risky. Realistically, what are the odds of finding another player of his caliber? The way the Jets have drafted in recent years, it's about 1,000-to-1.
4. WOE IS REX
: Rex Ryan might have been better off getting fired after last season, because he's doomed in 2013. The Jets have parted ways with 11 starters, counting Revis, a roster strip-down that makes them only a notch or two better than an expansion team. In the big picture, it's the right approach, but Ryan doesn't have the luxury of being able to watch this grow over the next few years. He needs to win ...
now
. His new boss, GM John Idzik, has hung him out to dry. You have to wonder if Ryan was told this was coming when he received word from ownership that he'd be back for 2013. Ryan has partly responsible for this mess -- he had input into personnel decisions under GM Mike Tannenbaum -- but this still qualifies and cruel and unusual punishment.
5. DEFENSIVE FALLOUT
: The good news is, the Jets still have an above-average cornerback tandem,
Antonio Cromartie
and
Kyle Wilson
, both of whom are signed for two more years. Cromartie emerged as a legitimate No. 1 corner after Revis' injury, which -- this sounds weird -- made Revis expendable in the eyes of the Jets. The bad news is, they unloaded a unique talent, a shutdown corner with the rare ability to eliminate the opponents' No. 1 receiver. That played perfectly in Ryan's defensive philosophy, giving him more freedom to blitz. He'll have to adjust, shifting the focus to the front seven. He needs pressure players, and it's imperative they find a top-notch pass-rusher in the draft. No pass rush and no Revis equals bad defense.
April, 21, 2013
4/21/13
3:01
PM ET
Darrelle Revis was scheduled to arrive in Tampa at 2:30 p.m. Sunday to take a physical with the Bucs, the precursor to a blockbuster trade.
As ESPN first reported early Sunday morning
, the Jets gave written permission to Revis to take a physical and negotiate a contract with the Bucs, the result of a few days on negotiating.
If the Bucs are satisfied with Revis' surgically repaired knee, the trade will become official. The teams have agreed to the trade compensation, a source said, and the parameters of a long-term extension are in place. No word on the draft-pick compensation, although it does include the Bucs' first-round pick (13th overall). It means the Jets would own the ninth and 13th picks in Thursday's draft.
Stay tuned for more news developments.
April, 8, 2013
4/08/13
9:12
PM ET
The Jets won't trade
Darrelle Revis
to the Bucs unless the compensation package includes the Bucs' first-round draft pick (13th overall), the Tampa Bay Times reported Monday.
Jets GM John Idzik made that clear to the Bucs' front office, according to the newspaper, which said GM Mark Dominick is hedging on whether to offer the pick.
The Bucs are almost desperate. They have a gaping hole and there are no top-flight corners remaining in the free-agent market. If they fail to land Revis, they'd probably have to use their first-round pick on a cornerback, hoping he'd become 80 percent the player Revis is.
The Jets could be looking for a package similar to what the Vikings received from the Seahawks for wide receiver
Percy Harvin
-- first- and seventh-round picks in 2013, plus a third-rounder in 2014.
If a Jets-Bucs trade occurs, it likely wouldn't happen until the week of the April 25 draft, according to sources. The Bucs would want to give Revis a physical, examining his surgically repaired knee. Revis and the Bucs also would have to hammer out a long-term contract, but that isn't seen as an obstacle. The Bucs are willing to pay him about $15 million a year, $3.5 million more than his current annual average.
The Bucs have a self-imposed deadline of April 18 to make the trade, the Times reported. They probably will have some flexibility as the high-stakes poker game between the two teams figures to continue into draft week. The Jets will try to leverage the Bucs' pressing need at cornerback. At the same time, the Bucs know they're the only serious suitor and they suspect the Jets want to move Revis because they fear losing him for nothing in 2014, when he can bolt as a free agent.
Prediction: This trade will happen. There's too much motivation on each side for it not to happen. To use one of former GM Mike Tannenbaum's favorite expressions, it's just a matter of finding a landing place that makes sense for both sides. The feeling here is that the Jets will extract the 13th pick, giving them nine and 13 -- a chance to plug two holes in their lineup.
April, 8, 2013
4/08/13
11:06
AM ET
Clarifying some money matters with
Darrelle Revis
:
Previously, it was believed the Jets were on the hook for the $1 million roster bonus he "earned" on March 17. Remember all the attention it received that day, with stories about Revis collecting another $1 million from Woody Johnson's bank account? Turns out the Jets aren't responsible for the $1 million if they trade him before the regular season, according to sources. His new team (the Bucs?) would be required to make that payment.
As a matter of fact, Revis' entire 2013 compensation ($3 million in base salary, plus $3 million in three separate bonuses) would transfer to his new team. That, of course, would minimize the cap hit for the Jets, although not by much. If they trade him before June 1, the Jets would have a $12 million cap charge in 2013. Previously, it was thought to be $13 million. Right now, his cap number is $9 million.
There are only two ways in which the Jets would have to pay the $1 million roster bonus: They retain Revis or they cut him.
In the big picture, the money isn't big enough to influence whether he gets traded or not. The feeling here is that Revis will be dealt to the Bucs before the draft. The Bucs are willing to offer first-, third- and sixth-round picks, according to a Yahoo! Sports report, which quotes unnamed sources saying the Bucs are becoming impatient.
In that respect, Jets GM John Idzik is playing his hand correctly. Why would he trade Revis two weeks before the draft? He's probably waiting to see if another suitor emerges, creating a bidding war. The Bucs might be getting impatient, but they have no other viable alternatives at cornerback.
March, 20, 2013
3/20/13
9:16
PM ET
One of the hot topics on the final day of the NFL meetings in Phoenix was -- no surprise --
Darrelle Revis
.
Clearly, the Bucs want him badly, but you get the impression they've become unnerved by the Jets' deliberate approach to a potential trade. Team Revis, too, is getting antsy. His reps are trying to drive a trade because,
as we told you a few days ago
, they know there's a pot of gold waiting for them in Tampa -- and you'd have to be naive to think they don't know exactly how much is in it.
Bucs GM Mark Dominik, who has said nothing publicly to downplay his interest in the Jets' star cornerback, seemed a bit confused Wednesday when asked if Revis is on the market.
"I don't know if he really is, honestly," he told SiriusXM NFL Radio. "That's a tough question for me to answer. You have to get [Jets GM] John Idzik on here ... and grill him about that."
Frankly, it's surprising the Bucs appear so eager to get something done. After all, Revis is only five months removed from ACL surgery. From all indications, his rehab is progressing nicely, but there's still risk for the Bucs, especially when you're talking about a huge contract and significant trade compensation.
Coach Greg Schiano, speaking to reporters at the meetings, played it coy when asked about his interest in Revis. The former Rutgers coach related an anecdote from an old game against Pitt, when
Ray Rice
broke a 60-yard run.
"And the guy who tracked him down was ... was ... I'm not even allowed to say his name," said Schiano, alluding to the NFL's tampering rule.
Funny.
Prediction: This trade will get done eventually because there's motivation on both sides. The Bucs want Revis. The Jets, no matter what they say, want to trade him for draft picks. Revis? He wants a long-term contract and the Bucs are willing to pay it. In the meantime, the Jets will make them sweat.