New York Jets:

Tennessee Titans
September, 30, 2013
9/30/13
4:24
PM ET
A look at the key drive in the
New York Jets
' 38-13 loss to the
Tennessee Titans
:
The situation
: The Titans took over at the Jets' 46-yard line with 1:28 remaining in the first half, following
Geno Smith
's second interception. Despite a poor half, the Jets were still in the game, trailing 17-6.
The drive
: The Titans used all but two seconds of the clock, taking a commanding 24-6 lead on
Jake Locker
's 16-yard touchdown pass to rookie wide receiver
Justin Hunter
. The drive took seven plays, 46 yards. The Jets knew Locker would try a jump-ball pass to Hunter in the end zone, but they still couldn't defend it. Cornerback
Darrin Walls
was burned on the play.
The impact
: This was a crushing score for a couple of reasons. Moments earlier, the Jets forced a three-and-out and used two timeouts, setting themselves up for a potential hurry-up drive at the end of the half. They got the ball in good field position, at their 41, but Smith forced a ball to
Santonio Holmes
and was intercepted. Just like that, the defense was back on the field. Instead of cutting into an 11-point deficit before halftime, the Jets went to the locker room down by 18 points. It changed the complexion of the game.
September, 27, 2013
9/27/13
12:00
PM ET
It's Mirror City in the Music City.
There are many similarities between the
New York Jets
and
Tennessee Titans
, who play Sunday in a 4 p.m. kickoff at LP Field in Nashville: Both teams are a surprising 2-1. Both began the season with coaches on the hot seat. Both have young, developing quarterbacks. Both play aggressive, man-to-man schemes on defense. And both are highly penalized. For the Jets, it's their third straight opponent that won the previous week in the final seconds.
What to watch for:
1. Statement game
: If the Jets want people to take them seriously, they need to go on the road and beat a middle-of-the-road team like the Titans. Folks are getting a bit carried away by last week's win; remember, the Jets almost always beat the Buffalo Bills, the ideal punching bag. See the 2012 opener, the ultimate mirage. This is a very winnable game for the young Jets, who can show the skeptics that maybe, just maybe they can do something this season. They have to win these swing games because the schedule is about to get a lot tougher. If they can hit the quarter pole at 3-1, it changes the complexion of the season.
[+] Enlarge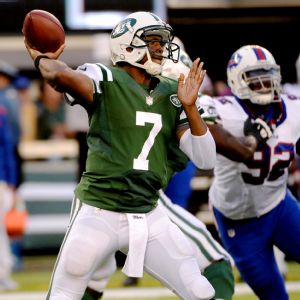 Robert Deutsch/USA TODAY SportsGeno Smith passed for 331 yards, 2 touchdowns and 2 interceptions last week against the Bills.
2. Big-play Geno
:
Geno Smith
made the
Buffalo Bills
pay dearly last week for putting eight in the box and playing man-to-man on the outside. He'll see a lot of the same looks from the Titans, who decided to change their defensive philosophy after allowing a franchise-record 471 points last season. But the difference is that the Titans' cornerbacks,
Jason McCourty
and
Alterraun Verner
, are better than the scrubs rolled out by the depleted Bills.
In other words, it'll be a challenge for the Jets' wideouts,
Stephen Hill
in particular, to get clean releases and into their routes on time. The X factor could be tight end
Kellen Winslow
, especially in the red zone. The Titans had some trouble last week with
San Diego Chargers
tight end
Antonio Gates
, so don't be surprised if Marty Mornhinweg tries to feature Winslow in the passing game.
3. Beware, the blitz:
The Titans will bring pressure out of their 4-3 front. They've blitzed on nearly 50 percent of their passing downs, significantly higher than last season. Call it the Gregg Williams factor. The disgraced former coordinator of the
New Orleans Saints
(see: Bounty Gate) doesn't call the plays, but there's no denying his presence has made an impact on the Titans' defensive mentality.
Outside linebackers
Akeem Ayers
and
Zach Brown
are fast, active players, sometimes used in zone-blitz situations. The front four is led by defensive end
Derrick Morgan
, who will be matched against right tackle
Austin Howard
. Defensive tackle
Jurrell Casey
is a strong interior pass-rusher. The Jets' offensive line played a clean game last week (no sacks), but this will be a tougher challenge, especially on the road.
4. Make him the 'Hurt' Locker
:
Jake Locker
is a great athlete still learning to play quarterback (only 11 career starts), but his confidence is soaring after last week's come-from-behind win in the final two minutes. Folks in Nashville are saying it could be the turning point in his career. Really? Locker remains a limited passer who, somehow, has managed to avoid turnovers. That's right, no turnovers in three games, compared to seven for Smith. The Jets aim to end Locker's streak. Rex Ryan has been preaching takeaways from the minute last week's game ended. (The defense has only one takeaway, which is unacceptable.)
The trick is keeping Locker in the pocket, forcing him to be a passer. His passer rating actually is significantly lower when he has extra time in the pocket, according to ProFootballFocus. If he breaks contain, watch out. He rushed for 68 yards last week, including a brilliant, 39-yard scramble. You might recall he scored a rushing touchdown against the Jets in last December's debacle.
5. Avoid the killer breakdowns
: Each week, the Jets suffer one or two defensive lapses that result in a big play. It usually shows up in the form of a busted coverage, which happened in Weeks 1 and 2. Last week they fell asleep and let
Fred Jackson
escape a pile-up for a 59-yard run. They can't do that when
Chris Johnson
has the ball in his hands. To reinforce the point, Ryan can show the clip of last year's meeting, when Johnson turned a routine, off-tackle play into a 94-yard touchdown. He leads the AFC in rushing (256 yards), but there haven't been any splash plays. The Jets need to keep it that way.
The Titans are a ground-and-pound offense (where have we heard that before?), running behind their two new guards, free-agent addition
Andy Levitre
and No. 1 pick
Chance Warmack
. The center is ex-Jet
Rob Turner
, whose shotgun snaps have been shaky. They've had some problems with inside stunting, something the Jets might try to exploit. Levitre, Turner and Warmack already have allowed 26 pressures, per PFF.
September, 26, 2013
9/26/13
6:00
AM ET
FLORHAM PARK, N.J. -- Former
New York Jets
running back
Shonn Greene
is recovering from arthroscopic knee surgery and won't play Sunday for the
Tennessee Titans
when they face his old team in Nashville.
"I know this one meant a lot to him," Titans coach Mike Munchak said Wednesday.
Munchak said Greene is "something special" and hopes to give him 10 to 15 touches per game when he returns, perhaps next week. Greene was the Jets' leading rusher in 2011 and 2012, but he was a free agent and was part of the mass exodus that marked the Jets' offseason.
They parted ways with 11 starters, but take a closer look: Only four of 11 played last week for their new teams: guard
Matt Slauson
(Bears), defensive tackle
Mike DeVito
(Chiefs), safety
Yeremiah Bell
(Cards) and cornerback
Darrelle Revis
(Bucs). Three were injured -- safety
LaRon Landry
(Colts), tight end
Dustin Keller
(Dolphins) and Greene. Two are out of football (nose tackle
Sione Po'uha
and linebacker
Bryan Thomas
) and two retired (guard
Brandon Moore
and linebacker
Bart Scott
). Their most famous non-starter, quarterback
Tim Tebow
, also is out of football.
Maybe the Jets didn't lose as much as most people thought.
ICYMI:
Tough times for the cornerback position. Rookie
Dee Milliner
, benched in Week 2,
injured a hamstring Wednesday
in practice. The team provided no details. ... Coach Rex Ryan has seen the light.
No longer married to ground-and-pound
, he's willing to live on the edge with a rookie quarterback. ...
Santonio Holmes
said he's
still not 100 percent
. Anybody surprised? ... Yes, the Jets are going through with the push-ups thing. Owner Woody Johnson
dropped and knocked out 30
.
December, 18, 2012
12/18/12
3:00
PM ET
1. CK to the House:
It was a routine inside run, but
Chris Johnson
turned it into the longest run in Titans history -- 94 yards -- to make it 7-0. It was the longest run allowed by the Jets since 1998, when the 49ers'
Garrison Hearst
bolted 96 yards in overtime. There were more defenders than blockers in the box, but Johnson found a crease and needed only 10.8 seconds to reach the end zone, according to ESPN's stopwatch. It was the second time this season that Johnson ran at least 80 yards when the Titans were outnumbered in the box, according to ESPN Stats & Information. NT
Sione Po'uha
took the blame, saying he played the wrong gap.
[+] Enlarge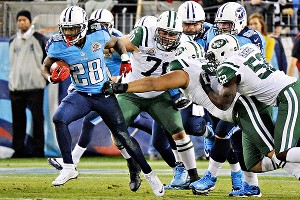 Frederick Breedon/Getty ImagesChris Johnson broke through the line and took off on a 94-yard touchdown run.
2. The Hurt Locker
: The Titans did their homework. On a second-and-8 from the Jets' 13, they ran the same play the 49ers used against the Jets in Week 4. QB
Jake Locker
, making like
Colin Kaepernick
, was in shotgun. He took the snap and ran a read-option play around left end, with several blockers providing an escort to the end zone. It culminated a seven-play, 64-yard drive, giving the Titans a 14-10 lead late in the third quarter. Locker hurt the Jets with his legs, rushing for 43 yards.
3. Sanchez Interception No. 3
: QB
Mark Sanchez
threw deep for
Braylon Edwards
and it was intercepted by S
Michael Griffin
along the Jets' sideline. Sanchez did a couple of things wrong. He stared down Edwards the entire time, allowing Griffin -- in a single-high position -- to get a great jump, providing deep help to CB
Jason McCourty
. Sanchez also threw it too late, making it easy pickings for Griffin.
4. Sanchez Interception No. 4
: This was the most egregious mistake of them all. The Jets had a chance to win, with a first down at the Titans' 23, less than two minutes to play. Sanchez threw off his back foot into triple coverage, looking for
Jeff Cumberland
. It was intercepted by Griffin. There was no reason to make that throw because it was first down. He would've had three more cracks at the end zone. Inexcusable.
5. The Hut Fumble
: You remember the Butt Fumble, of course. This wasn't as theatric, but it still was a mind-boggling mistake. Thanks to the Titans' own ineptitude, the Jets got the ball at the Titans' 25 with 47 seconds left -- another chance to win. On first down,
Nick Mangold
's shotgun snap was below Sanchez's knees. He failed to catch it cleanly. With the ball rolling on the turf,
Bilal Powell
-- in pass protection, his back to the ball -- inadvertently kicked it. LB
Zach Brown
pounced on it, and that was that. Fittingly, the Jets' playoff chances died with a wacky fumble.
December, 18, 2012
12/18/12
2:00
PM ET
December, 18, 2012
12/18/12
1:30
PM ET
A breakdown of the Jets' offensive snaps (based on a total of 67) from their loss to the Titans:
QUARTERBACK
•
Mark Sanchez
: 61 snaps/91 percent
•
Tim Tebow
: 6 snaps/9 percent
RUNNING BACK
•
Shonn Greene
: 31 snaps/46 percent
•
Bilal Powell
: 28 snaps/42 percent
•
Lex Hilliard
: 15 snaps/22 percent
•
Joe McKnight
: 8 snaps/12 percent
TIGHT END
•
Jeff Cumberland
: 61 snaps/91 percent
•
Konrad Reuland
: 35 snaps/52 percent
•
Jason Smith
(jumbo TE): 13 snaps/19 percent
WIDE RECEIVER
•
Jeremy Kerley
: 54 snaps/81 percent
•
Braylon Edwards
: 41 snaps/61 percent
•
Mardy Gilyard
: 23 snaps/34 percent
•
Clyde Gates
: 16 snaps/24 percent
•
Chaz Schilens
: 10 snaps/15 percent
Analysis
: Edwards arrived last Wednesday, practiced for the first time Thursday, started the game and played the second-highest among of snaps among the wide receivers. Yep, that about sums up the state of the receiving corps. ... Curiously, Schilens started and played his lowest snap total since Week 2. He didn't appear to be injured. ... After not playing in three games, Tebow played an entire series (five plays) for the first time this season. They picked a weird time for Tebow time. ... Backup LG
Vladimir Ducasse
received more time than he had been in recent weeks. He played 20 snaps (30 percent), compared to 47 snaps (70 percent) for starter
Matt Slauson
. ... WR
Jordan White
was active but didn't play. Rex Ryan opted to dress a sixth receiver instead of a third quarterback,
Greg McElroy
.
December, 18, 2012
12/18/12
10:43
AM ET
NASHVILLE, Tenn. -- Handing out grades from the Jets' 14-10 loss to the Titans, which mathematically eliminated them from playoff contention:
December, 16, 2012
12/16/12
12:00
PM ET
FLORHAM PARK, N.J. -- Send in the next tomato can.
The Jets, trying to continue their desperate, late-season rally, meet their third consecutive last-place opponent Monday night in Nashville. This time, it's the Titans (4-9), who have dropped three straight to put themselves on the brink of their second double digit-loss season in three years.
For the Jets (6-7), hoping to reach .500 for the first time since Week 6, it's win or start planning for 2013. A loss would mathematically eliminate them from playoff contention. If the Jets win their third straight, they'd maintain a pulse into Week 16.
Kickoff is 8:30 p.m. at LP Field. What to watch for:


1. Mistake-prone QBs:
So you think
Mark Sanchez
has a turnover problem? The Titans'
Jake Locker
has him beat in that department. The second-year QB has nine turnovers in the past three games -- seven interceptions and two fumbles. That's three more than Sanchez in the same span.
Mistakes notwithstanding, Locker can be dangerous because he does two things well: He can escape pressure (9.9 yards per scramble) and he can throw the deep ball (league-high 48.3 completion percentage on passes of 20+ yards). His most dangerous target is former Rutgers star
Kenny Britt
, who had a season-high 143 yards last week. The Jets believe they can make Locker panic by shutting down his first read. Chances are, the team with the fewest QB mistakes will win.
2. Braylon 2.0:
Braylon Edwards
has been slowed by an old hamstring injury, but the newly-acquired wide receiver is expected to make his 2012 debut for the Jets. In his first stint with the Jets, Edwards had a penchant for playing well in prime time. In his 2009 debut, in Week 5, he caught five passes for 64 yards and a TD against the Dolphins on Monday Night Football. Then, like now, he had only a few days to familiarize himself with the offense.
Edwards could be used in three-receiver sets with
Jeremy Kerley
and
Chaz Schilens
. Sanchez has a built-in comfort level with Edwards, who could be useful in the red zone because of his size. The question is, will his balky hammy hold up an entire game?
3. Run D vs. CJ:
Titans RB
Chris Johnson
reached the 1,000-yard mark for the fifth straight year, but this hasn't been a vintage year. He has been slowed by a sore ankle and upheaval on the offensive line, which has changed four starters since camp. The only original starter is LT
Michael Roos
. The weak link is C
Kevin Matthews
, who had three holding penalties two weeks ago. Don't be surprised if the Jets put DE
Muhammad Wilkerson
on Matthews in certain fronts.
Johnson was held to 51 and 44 yards in the last two games, but he remains a home-run threat because of his speed. He needs space to run because he's not the type of back to break tackles. The Titans are last in the league in rushing yards after contact, according to ESPN Stats & Information. Conversely, Johnson leads the AFC in yards
before
contact. Get the picture?
4. Kids R Them:
The Titans are very young on defense, especially at linebacker -- two second-year players (
Akeem Ayers
and
Colin McCarthy
) and rookie
Zach Brown
. They're fast and aggressive, but that means they're vulnerable to misdirection runs, counters and play-action passes.
The Jets have done a nice job in recent weeks with counters and misdirection plays, especially the wind-back run. You also could see a throwback screen. The goal, of course, is to exploit over-pursuit. One injury to watch: McCarthy, who calls the defensive signals, is out with a concussion.
5. Beware, a McCourty is lurking:
Jason McCourty
starts at cornerback for the Titans. His twin brother, Patriots CB
Devin McCourty
, already has inflicted plenty of misery into the Jets' season. He scored on a 104-yard kickoff return and, in the Thanksgiving night debacle, he set up a TD by forcing a fumble on a kickoff return by
Joe McKnight
. The ball flew into the air and landed softly in the hands of
Julian Edelman
, who returned it for a score. Not surprisingly, Jason said he called his twin bro' this week to pick his brain for some intel on the Jets.
6. Return of the 'Cat?
Rex Ryan made a big deal out of
Tim Tebow
's supposedly improved physical condition, suggesting that Tebow -- a spectator the last three games because of fractured ribs -- could be back in his old role, whatever that is. We'll believe it when we see it.
December, 13, 2012
12/13/12
12:36
PM ET
By
Dan Riccio | ESPN Stats & Information
The Jets continue their steady climb in the AFC and find themselves within one game of the final playoff spot heading into Monday Night Football in Tennessee.
Gang Green has won back-to-back games for the first time this season and will take on the Titans who have given up the second-most points in the NFL.
While
Mark Sanchez
started the year with accuracy issues, in the last four games he has the second-best completion percentage among AFC starters.
He will face a defense that has allowed a completion rate of 67.8 percent to opponents which ranks last in the NFL.
The Jets will welcome back
Braylon Edwards
who has been the best deep threat receiver Sanchez has had with an average target depth of 15.5 yards downfield. The 10 touchdowns between them is more than Sanchez has with all active Jets receivers combined.
Here are three matchups to watch in Week 15:
1. Running back
Chris Johnson
has rushed for 1,000 yards for the fifth straight season to begin his career and leads the Titans who rank second in the AFC with 4.7 yards per rush.
The ground attack can be stopped when you consider the Titans rank last in the NFL in yards gained after contact per rush. It will be up to the Jets to contain, swarm and finish tackles.
As easy as that sounds, it can be difficult against the elusive Johnson who leads the AFC in rushing yards gained on plays when he is not contacted by a defender, including all four of his touchdowns.
2. The Jets have returned to the Rex Ryan roots of ground and pound with the most rushing attempts in the NFL in winning three of their last four games.
Gang Green has scored all five of their rushing touchdowns over that stretch by running up the middle between center
Nick Mangold
and either guard. That leads the NFL along with the most rushing yards and yards after contact in that direction since Week 11.
The Titans will need to plug the middle, disrupt the backfield and add to their AFC-leading 52 tackles for loss to have success against the Jets.
3. With previous experience as a baseball prospect,
Jake Locker
has a very strong arm and leads qualified NFL passers in completion percentage on throws that traveled more than 20 yards in the air.
Locker has thrown a touchdown every 7.3 pass attempts on the deep ball, which leads the AFC, and the Titans are the only AFC team without a dropped pass on a 20+ yard throw this year.
The Jets meanwhile have been tested on the deep ball more often than any other team in the NFL.
Fortunately, their strength is a passing defense that ranks second in the AFC in both total passing yards allowed per game and Total QBR allowed on attempts of more than 20 yards.