New York Jets:

Thomas McGaughey
July, 18, 2014
Jul 18
8:00
AM ET
Breaking down the New York Jets' roster, unit by unit, in preparation for training camp, July 23
:
Position
: Special teams
[+] Enlarge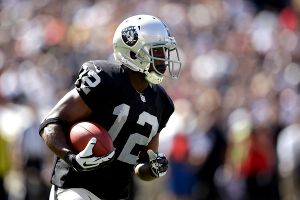 Ezra Shaw/Getty ImagesJacoby Ford has the speed to make the Jets more dangerous on special-teams returns.
Projected starters
:
Nick Folk
(PK),
Ryan Quigley
(P),
Tanner Purdum
(LS),
Jalen Saunders
(PR),
Jacoby Ford
(KR).
Projected reserves
:
Jeremy Kerley
(PR),
Kyle Wilson
(PR),
Shaq Evans
(KR).
Notables on the bubble
:
Clyde Gates
(KR).
Player to watch
: Ford. Once upon a time, he was one of the most feared kickoff returners in the league. In 2010, he flashed his 4.22 speed (his 40 time at the combine) by scoring on three returns as a rookie for the
Oakland Raiders
. If Ford can stay healthy, a problem in recent years, his explosiveness will be a major boost to a unit that disappeared last season. Rules changes have altered the game, but it never hurts to have a 4.2 guy at the ready.
Top storyline:
There's a new sheriff in town -- Thomas McGaughey, most recently the special-teams coordinator at LSU. He knows the NFL (he won a Super Bowl ring as the
New York Giants
' assistant special-teams coach in 2007), so it shouldn't be a difficult transition. For the Jets, this marks a clean break from the Mike Westhoff era. The legendary coach ran the special teams from 2001 to 2012, and one of his disciples, Ben Kotwica, was in charge last season. McGaughey will provide a much-needed new perspective for a once-formidable unit that has slipped in recent years.
Training camp will be a success if ...
: No one is longing for the days of Westhoff.
Wild card
: Saunders. If he can bring his college production to the Jets, it'll change the face of the punt-returning unit. It was awful last season, as the Jets failed to generate a return longer than 24 yards. Saunders is tiny (5-foot-9, 165 pounds), but he can take off faster than a
Johnny Manziel
tweet from Vegas. At Oklahoma, he averaged 15.4 yards per return and scored two touchdowns last season.
By the numbers
: Folk was fantastic last season, earning a four-year, $12 million contract -- his first multiyear deal since joining the Jets in 2010. One area he needs to improve, however, is his distance on kickoffs. Since 2010, the Jets rank 25th in kickoff distance, 62.4 yards, according to ESPN Stats & Information.
June, 29, 2014
Jun 29
5:00
AM ET
Cleaning out the notebook on the
New York Jets
:
1. The Geno plan
:
Geno Smith
caught teams by surprise at the end of last season, running with more frequency than before. He carried 31 times for 186 yards and three touchdowns over the final four games, accounting for roughly half his total production. Clearly, the change in strategy helped him become a better quarterback, an upswing that made the Jets buy in for at least another year. But now, as one opposing player noted, defenses will be better prepared to stop Geno the scrambler.
"I think he'll be better this year, but the other thing is, every team will have had the opportunity to watch 16 games and break him down,"
Tennessee Titans
CB
Jason McCourty
told me last week at a charity golf tournament on Long Island.
McCourty, who faced Smith last season (a brutal day for the Jets' QB) and will see him again in December, makes a good point. After studying him in the offseason, teams will scheme up ways to keep him in the pocket. They were unprepared for it late last year because he had shown no inclination to run, which frustrated the Jets' coaches at times. Facts are facts: When Smith runs, the offense runs better. The Jets were 6-1 when Smith had five or more carries and 6-0 when he scored a touchdown.
Opponents will go to school on the final four games, count on it.
2. Buying QB insurance
: Belated thoughts on Marty Mornhinweg's comment that Smith will get 70 to 75 percent of the first-team reps in training camp: It shows that, as
Michael Vick
noted on more than one occasion, it's not an open competition. At the same time, the percentage indicates the Jets aren't all-in with Smith. They're hedging their bet, giving Vick one out of every four reps to get him ready -- just in case. Normally, a veteran starter gets about 90 percent of the reps.
3. Anything you can do ... :
DT
Sheldon Richardson
, the NFL Defensive Rookie of the Year for 2013, said in a recent interview that rookie S
Calvin Pryor
has the goods to match his accomplishment. When I asked Pryor his reaction to Richardson's raising-the-bar remarks, he didn't back down one bit.
"When it comes down to it, that's one of the goals I have in the back of my head," the Jets' first-round pick said. "I'll definitely try to fill his shoes."
In case you're wondering, no team has produced back-to-back winners in the 47-year history of the award. In 1980, two members of the
Atlanta Falcons
' defense split the award, Buddy Curry and Al Richardson.
4. Home bodies:
There was some talk about the Jets having dual practices with the
Cincinnati Bengals
during the run-up to their Aug. 16 preseason game, but the Jets have decided to remain in Cortland, N.Y., for that week. From what I hear, there wasn't too much disappointment in the locker room about skipping the Cincy trip.
5. The joy of Rex
: I've heard a lot of players over the years talk about why they enjoy playing for Rex Ryan, but I was particularly interested in listening to
Dimitri Patterson
, who came from a place -- the
Miami Dolphins
-- where there was an obvious disconnect between players and coaches.
"Rex gives off this positive energy that spreads around," Patterson told me. "That's why the guys played so hard for him toward the end of the year. What stands out to me is he knows how to put his players in a positive space, mentally."
Maybe Phil Jackson isn't the only Zen master in New York.
6. Michael Vick, cont.:
In a sitdown last week, I asked Vick to name his greatest career accomplishment. He thought for a moment.
"I think my greatest accomplishment in my career was being such a young quarterback and having the guile to go into Green Bay in 2002, being a second-year player and making history, basically," he said, referring to the Falcons' playoff upset -- the first road team to win a postseason game at Lambeau Field. "Going in with confidence and winning that football game was I think my greatest accomplishment."
It was a great win, to be sure, but I don't think anything short of a championship can satisfy a "greatest accomplishment" question for 12 years.
7. Farewell to an original
: One of the original New York Titans, guard Bob Mischak, died Thursday at the age of 81. He began his career with the
New York Giants
, but he'll be remembered in Jets/Titans history as the first player to receive all-star recognition. He was the only member of the Titans named to the AFL all-star team in 1960, the franchise's first year. He won three Super Bowl rings as an assistant coach with the
Oakland Raiders
, and he also coached in Italy and London. That's what you call a full life.
8. Cro the Cardinal:
In a post on Instagram, former Jets cornerback
Antonio Cromartie
mocks his critics, saying he ran two sub-4.4 times in the 40. If we write about it, he'll find a way to rip us for misquoting him.
9. He's not Mike Westhoff:
Sensed a little edge in Thomas McGaughey's voice when he was asked about the scheme differences between him and his predecessor, Ben Kotwica, and his predecessor's predecessor, Mike Westhoff.
"I'm not Mike Westhoff. I'm not going to try to be Mike Westhoff," said McGaughey, who was hired in February to coach the special teams. "My name is Thomas McGaughey, Jr. and I can be the best me that I can possibly be, and that's where it stops. Mike Westhoff was a hell of a coach, is a hell of a coach, and he had a great career. Ben was a great coach in his own right. But I'm me. I'm not going to try to be anybody else. I'm not going to try to act like anybody else. I'm going to be Thomas Ray McGaughey, Jr."
All right, then ...
10. Vacation time
: I'll be shutting it down for the next three weeks, but make sure you stay locked to our Jets team page. The blog will be populated with interesting features, starting this coming week with another edition of the AFC East "Four Downs" segment -- four team reporters tackling hot issues as camp approaches. The following week, we'll roll out our "Most Memorable Play" series across the league, which is sure to generate debate. After that, we'll start our daily position previews for training camp, which starts July 23. Until then, I'm chilling.
April, 29, 2014
Apr 29
6:30
PM ET
The
New York Jets
' three coordinators fulfilled media requirements Tuesday by speaking to reporters via conference call. A few takeaways:
Smith
1. It's Geno's job -- for now
: Offensive coordinator Marty Mornhinweg, speaking to reporters for the first time since the
Michael Vick
signing (yes, really), made it quite clear they really want
Geno Smith
to emerge as their starting quarterback. He didn't use those words, but the tea leaves are obvious. Mornhinweg talked about how he doesn't want the competition to impede Smith's progress and that Vick is here to "push" Smith. Predictably, he said Smith would get more first-team reps than Vick in organized team activities, which became the headline. All things considered, Mornhinweg's comments weren't a revelation. I mean, when was the last time you heard an organization say it wants a 33-year-old to replace a young incumbent with upside -- a quarterback who happens to be the hand-picked choice of the general manager?
2. Chris squared
: Mornhinweg said
Chris Johnson
and
Chris Ivory
will form "a pretty good, little 1-2 punch." He spoke of Johnson as if this were 2009, mentioning his "electric" speed. Look, I get it, he's excited to have Johnson in the backfield. Even if he's not CJ2K, Johnson should have enough left to help the Jets.
3. Cornerback problem, what problem?:
Defensive coordinator Dennis Thurman insisted he's "comfortable" with the current state of the cornerback position. I'm not sure I'm buying that. It wouldn't surprise me if they use their first-round pick on a cornerback, creating more flexibility. Right now,
Dimitri Patterson
is projected to start opposite
Dee Milliner
, but he could slide inside to the slot (his best position) if another corner is added in the first round. Asked if the current secondary will be better than last season, Thurman said, "No one really knows," adding he won't know until the games start.
Milliner
4. Big Dee:
Thurman spoke optimistically about Milliner, saying he's hopeful the former top pick can build off his strong finish last season. "If he does, the sky's the limit," Thurman said. "I believe he will be a very good corner." He has to be. Otherwise, the defense is in big trouble.
5. New special teams coach
: Thomas McGaughey spoke to reporters for the first time since being hired in February (yes, really). He said his top priority is to shore up the punt coverage (the Jets finished 27th). "I've had a history of being able to coach that part of it pretty well," McGaughey said. "Hopefully, these guys can back up my words." He likes
Jacoby Ford
's potential as a kickoff returner, but he'd like to add competition. He talked about the differences between coaching special teams on the pro and college level (he spent the three previous years at LSU), mentioning that he always had to be prepared for trickery at LSU. The Tigers were usually up by a lot, prompting opponents "to do anything they can to get back in the game."
6. LSU intel:
Yes, McGaughey shared his thoughts with the scouting department on the various LSU prospects in the draft. The most high-profile player is wide receiver
Odell Beckham Jr.
, who could be the Jets' pick in the first round. McGaughey said his opinions will remain in-house.
7. Westie the consultant
: McGaughey said he speaks to former special teams coach Mike Westhoff about once a month. "Obviously, he's one of the best to have ever done it," he said. " We've had a relationship for about five, six years now. He's a great man, and he's really helped me along the process. He really has. [He's] a good dude."
February, 16, 2014
Feb 16
11:00
AM ET
Catching up with the
New York Jets
:
[+] Enlarge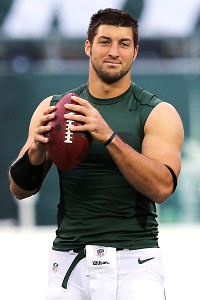 Debby Wong/USA TODAY SportsThe Jets didn't handle the Tim Tebow circus particularly well, so how would they handle prospect Michael Sam?
1. Welcome mat?
Curiously, the Jets' players were relatively quiet on Twitter when
Michael Sam
made his announcement last Sunday. How would they feel about an openly gay player on their team?
Sheldon Richardson
spoke highly of Sam, his former college teammate, in a TV interview. Another player, speaking on the condition of anonymity, told me, "Besides the amount of media, you're dealing with some guys who might not be comfortable with it. He was the Defensive Player of the Year in the SEC, so, obviously, the guy can play some ball. At the end of the day, it's all about playing football. If we could use him, I don't see why not. I think we'd welcome him. We know he's a heckuva player."
As the player noted, the media factor would be significant. Anybody who doesn't think it wouldn't be a distraction is fooling themselves. Some teams handle distractions well; some don't. The Jets didn't exactly stage a clinic during the
Tim Tebow
circus in 2012. The team has yet to comment on Sam, but general manager John Idzik and Rex Ryan will address the media Thursday at the scouting combine in Indianapolis.
1a. Not a Jets fan
: Six days ago, I examined the possibility of whether the Jets
might be interested in Michael Sam
. Maybe the question should be, why should Sam be interested in the Jets? A Sam acquaintance -- Cyd Zeigler, co-founder of OutSports.com -- doesn't think the Jets would be a good landing spot for Sam. Zeigler, who was involved with Sam's agents and publicists in the strategic planning of his announcement, trashed the Jets and other teams in an interview with a CBS radio affiliate in Washington, D.C.
"He can work on any team with decent leadership," Zeigler said. "I pray to God he doesn't end up on the
Dallas Cowboys
, the New York Jets or the
Washington Redskins
. I think those three teams -- they have poor leadership, but most of the other teams in the NFL have guys -- the coaching staff, the front office and locker room -- who are equipped to deal with this."
2. Under the microscope
: Aside from the social and cultural aspect to the story, Sam's football skills will be under intense scrutiny, starting this week at the combine. He'll generate more attention than any middle-round projection in history. Many scouts will be looking to see if he has the athleticism to make the conversion from 4-3 defensive end to 3-4 outside linebacker. One NFC scout, who watched Sam closely at the Senior Bowl, doesn't think he can do it.
"He's not a linebacker," the scout said. "He doesn't have the instincts or the movement skills. ... He's a tenacious, tough kid, but he's not a space guy."
The scout also was surprised to see Sam play defensive end in the Senior Bowl game after practicing primarily at linebacker during the week. He took that as a sign that Sam doesn't feel comfortable at linebacker. If the Jets agree with the assessment that he can't play linebacker, it's hard to imagine them drafting a defensive end whose size (6-1 5/8, 255 pounds) isn't a fit in their scheme. Besides, they don't have a pressing need for an edge player.
The scout also said "there's no question in my mind" that Sam's sexual orientation will have an impact on his draft position. "I know it's the 21st century, but you still have people who were brought up a certain way," he said. "Forget about the coaches and administrators, what about the players? You have to think twice about putting the player in your locker room."
3. Double-E
: The pre-draft speculation has focused on the Jets' need at wide receiver, but let's not forget, their tight-end depth chart is almost barren. Word is they're very intrigued by North Carolina tight end
Eric Ebron
. Projected as a mid-first-round pick, Ebron will be linked to the Jets in plenty of mock drafts over the next 2 1/2 months. He's the kind of pass-catching threat they need, but there are some questions. "I don't think he's tough enough to run down the seam and catch the ball in the middle," an AFC personnel executive said. "Is he a great athlete? Yes. Does he have good hands? Yes. Can he catch the ball in traffic? I don't think so." Ebron is the kind of athlete that will wow evaluators at the combine and workouts, but teams will have to rely on game tape to determine if the toughness questions are accurate.
4. The Idzik way
: Under general manager John Idzik, the Jets have tweaked some of their player-scouting methods. Terry Bradway, the team's senior director of college scouting, told the team web site, "We're putting a huge emphasis on the person and the character issues, both football and personal. We've done that in the past, but there's an added emphasis." Holding true to that philosophy, they didn't take any significant gambles in last year's draft -- at least not in terms character questions.
5. Say hello to T-Mac
: There hasn't been much written about new Jets special teams coach Thomas McGaughey (the team hasn't made him available to the media), but I talked to someone who worked with him on an NFL team and the feedback was positive. He was described to me as, "A really sharp guy ... a straight shooter ... takes a lot of pride in his work." McGaughey (pronounced: Mc-GAY-hee) spent the last three seasons as LSU's special-teams coach. His insight into SEC players will be valuable during the pre-draft evaluation process. Remember this name: Odell Beckham, Jr. He was a top receiver/kick returner for LSU, and McGaughey is said to be very high on him. A postscript on McGaughey: He interviewed with the Jets in 2008, when Mike Westhoff took a medical leave of absence.
6. Down on Geno
: Former longtime
Chicago Bears
general manager Jerry Angelo, who interviewed for the Jets' job last season, offers an insightful quarterback analysis on
sidelineview.com
. Grading players on a nine-point scale, the way teams grade college players on their draft board, Angelo rates Geno Smith as the 29th quarterback. He puts Smith in the 6.0-6.4 grouping, which he describes as: "Can start and compete with him with a good supporting cast and quality coaching, but lacks something, i.e., arm talent (strength or accuracy), poise, instincts. Not good enough. To win with him 2 of the 3 of the phases have to be dominate or surround him with high caliber players."
Commenting specifically on Smith, Angelo says, "Got a lot of playing time, which may have helped him or hurt him. Too many interceptions and negative plays. His numbers were terrible. His progress will depend on his learning from this year's struggles. Otherwise, defensive coordinators will have a field day with him. Quarterbacks make a living from the neck on up, not the neck on down." I agree. We know Smith has the physical talent; now we'll see how well he can process what he learned last season.
7. Brown and green:
The
Cleveland Browns
' dysfunction (clown car, anyone?) reminds me of the turn-of-the-century Jets. In a span of 364 days, from Jan. 3, 2000 to Dec. 31, 2000, they saw three head coaches quit -- Bill Parcells, Bill Belichick and Al Groh. Ah, memories. The Browns are on their third coach and third GM in three years. Former Jets defensive coordinator Mike Pettine is a promising, young coach, but you wonder if he'll get swallowed up by the Browns' ineptitude.
February, 5, 2014
Feb 5
10:50
PM ET
The
New York Jets
filled the last opening on their coaching staff on Wednesday night, hiring former LSU special teams coordinator Thomas McGaughey for the same position. He replaces Ben Kotwica, who left after the season to become the
Washington Redskins
' special teams coach.
The Jets identified McGaughey as their man more than a week ago, but they agreed to keep it under wraps until national signing day was complete on Wednesday, so it wouldn't hurt LSU's recruiting effort.
McGaughey, 40, becomes the Jets' third coordinator in three years. He has no NFL experience as a special teams coordinator, but he's not a newbie to the pro game. He served as an assistant for the
New York Giants
(2007-2010),
Denver Broncos
(2005-2006) and
Kansas City Chiefs
(2002). In 2007, he won a Super Bowl ring as a member of the Giants' coaching staff.
At LSU, McGaughey's special teams were dynamic, but he was blessed with tremendous talent. His returners included
Morris Claiborne
,
Tyrann Mathieu
and Odell Beckam, Jr. LSU scored six special-teams touchdowns in three seasons under McGaughey. In 2013, the Tigers allowed a 100-yard kickoff return.
This hiring is a bit unusual because Rex Ryan went outside his coaching tree, but he took that same leap last year by hiring Marty Mornhinweg as offensive coordinator. The Jets' special-teams job was kept in the family, so to speak, from 2001 to 2012, with Mike Westhoff (2001 to 2012) and Kotwica, an assistant under Westhoff. Ryan's decision to hire McGaughey, as opposed to a recycled NFL coordinator, shows he was seeking someone with fresh ideas.