New York Jets:

Tommy Bohanon
January, 2, 2014
Jan 2
2:00
PM ET

Final power ranking:
19
Preseason power ranking:
32
Biggest surprise
: The rookies. The
New York Jets
played most of the season with five rookie starters -- cornerback
Dee Milliner
, defensive tackle
Sheldon Richardson
, quarterback
Geno Smith
, guard
Brian Winters
and fullback
Tommy Bohanon
. The Jets figured to be a young team because of how the roster was purged last offseason, but you didn't think they'd be this young. The five draft picks combined for 65 starts. Their performances ranged from exceptional (Richardson) to inconsistent (Smith) to shoddy (Winters), but coach Rex Ryan -- perhaps on orders from general manager John Idzik -- stuck with them through difficult stretches. The growing pains hurt, but all five were ascending by the end of the season.
Biggest disappointment
: Cornerback
Antonio Cromartie
was supposed to anchor the rebuilt secondary, but he regressed from a Pro Bowl year in 2012. A season-long hip injury obviously factored into his performance, but it didn't cause him to miss any games. He surrendered far too many big plays, exacerbating the absence of
Darrelle Revis
, who was traded last offseason. Instead of shutting down the opponents' No. 1 receiver, as he did on a consistent basis in '12, Cromartie struggled along with Milliner. Unable to rely on his corners to supply tight man-to-man coverage, Ryan was forced to adjust, taking a more passive approach with regard to blitzing.
Biggest need
: Playmakers on offense. We're talking about wide receivers and tight ends, but mainly wide receivers. The Jets had only two pass plays more than 50 yards, and they came in the same game. Without a game-breaking element on the perimeter, the offense faced a steady diet of eight-man fronts and consistent blitzing.
Stephen Hill
didn't take that big step in Year 2, as the organization had hoped.
Santonio Holmes
is a goner, so now New York must find a No. 1 receiver through the draft or free agency. Actually, the Jets could pluck one from each because, yes, the need is that glaring.
Team MVP
: Defensive end
Muhammad Wilkerson
was the best player on the dominant side of the ball, so we're picking him over running back
Chris Ivory
, whose physical running sparked the offense late in the season. Wilkerson recorded a career-high 10.5 sacks and, although he wasn't selected to the Pro Bowl (an injustice), he established himself as one of the better defensive linemen in the league. He faced double-teams and often rushed from an interior position, hurting his ability to produce gaudy stats. His steady, blue-collar approach set a tone for the run defense, which dominated for most of the season. Wilkerson was voted MVP by his teammates, which says something. The Jets will try to lock him up to a long-term deal before next season.
December, 8, 2013
12/08/13
5:00
AM ET
Thoughts and observations on the
New York Jets
:
1. Rex being Rex
: Rex Ryan went overboard by claiming the Jets' draft was the best in the NFL, giving it an A+ grade. Mind you, this is the same coach who once called
Wayne Hunter
the best backup tackle in the league. He should've said it has the
potential
to be the best draft, because it does. It has produced five starters, which is rare. In fact, no other team can say it has five draft picks that have started at least seven games, based on stats from ProFootball-Reference.com. No team has four picks that meet that criterion, and only five teams have three.
Judging on quantity, yes, it's a grade-A draft for the Jets, but the problem is that only one player -- defensive tackle
Sheldon Richardson
-- has proven he can play at a high level in the NFL. Cornerback
Dee Milliner
, quarterback
Geno Smith
and left guard
Brian Winters
are question marks, and fullback
Tommy Bohanon
is a serviceable player at best.
Obviously, there may have been ulterior motives for Ryan's gush fest -- praising his new boss, general manager John Idzik, and trying to infuse confidence in a couple of his embattled rookies, Milliner and Smith. I solicited an objective viewpoint. Here's an AFC personnel director, speaking on the condition of anonymity, assessing the Jets' draft:
"It's one thing to say five starters, but it's another thing to say they're playing well or with a winning performance. [Richardson] is a real good player, but the quarterback is struggling, [Milliner] is struggling and [Winters] has had his struggles, too. Two offensive linemen [
Oday Aboushi
and Will Campbell] don't even get a jersey, and [Bohanon] is an ordinary talent.
"With that said, they're young players and they all may develop in time, but they've taken some rookie lumps. I don't know yet about the cornerback and the quarterback. I think the guard has a chance, but this is probably too much, too fast for him. The offensive linemen are future developmentals and the fullback is what he is."
In my book, it's a B draft.
2. The big man speaks
: On Wednesday morning, left tackle
D'Brickashaw Ferguson
received a standing ovation from his teammates. It came in response to an announcement by Ryan, who told a team meeting that Ferguson was about to become the first player in team history to start the first 125 games of his career.
Wednesday was an eventful day for Ferguson, who joined linebacker
David Harris
in addressing a players-only meeting, as first reported by the New York Post. That two of the most reserved players on the team became the point men illustrates two things: The situation is dire. The team lacks fiery leaders.
Harris didn't want to discuss what he told the team, and Ferguson wasn't around to comment. Ferguson is a man of few words, so a speech by him evokes memories of the old EF Hutton commercials. One player told me Ferguson's message stressed the importance of team over individuals, adding of the meeting: "Two guys stepped up to the plate, commanded the stage, said their piece and took on leadership roles, just to make sure that, 'Hey, this is where our mindset should be. We're in a rough spot right now, but we're not going to die. We're not going to throw in the towel, we're going to keep fighting.' "
3. Tribute to Brick
: A 125-game streak is impressive. As a side note, Ferguson has missed only one snap in seven-plus years. He began in 2006 as a gangly rookie and developed into a Pro Bowl-caliber player. Former left guard
Pete Kendall
, who played alongside him in 2006, offered this recollection:
"We could tell he'd likely be successful, and it turns out we were right. It wasn't necessarily natural for him. He had to work at it. I think he struggled with his weight his rookie season, and there was an adjustment, learning to play in the Sunday league. But you could always see the ease with which he was able to move. You knew that with a tweak here and there, getting to understand how the pieces fit together, he'd turn out to be a very good player."
4. Special K
: Don't get me wrong, I like
Jeremy Kerley
as a player, but it's not like
Victor Cruz
or
Wes Welker
is returning to the lineup, which is how it sounded all week in Florham Park. Kerley isn't a savior; he's a good role player on an offense desperate for something positive.
5. Welcome home, Chad
: Former Jets quarterback
Chad Pennington
will lead the player-walk through the parking lot Sunday at MetLife Stadium. It's good to see that Pennington has reconnected with his old team, which kicked him to the curb when
Brett Favre
arrived in 2008. A lot of players would've carried a grudge forever. Pennington made an appearance two summers ago in training camp, but that was a favor to then-coordinator Tony Sparano, his former
Miami Dolphins
head coach.
6. Belichick and the Jets
: Patriots coach Bill Belichick tweaked them last week, saying he habors nostalgic feelings for all his former teams -- except the Jets. No surprise there. We all know he hates the Jets, but he apparently hasn't shared that part of his past with his players. I mentioned Belichick's tweak to recently signed linebacker
Jermaine Cunningham
, who played with the Patriots from 2010 through last summer. Cunningham's response: "He coached with the Jets? I never knew that."
7. A tale of the rookie QBs:
Smith and
EJ Manuel
commanded most of the attention before, during and after the draft, but the most impressive rookie quarterback is
Mike Glennon
of the
Tampa Bay Buccaneers
. He was chosen in the third round, 34 spots after Smith. Playing in a dysfunctional environment for most of the year, Glennon has 13 touchdown passes, only five interceptions and a 90.3 passer rating. He's growing into the job; Smith is growing out of the job. The Jets spent a lot of time with Glennon before the draft (he was tutored by former Jets quarterback
Ken O'Brien
), but they obviously didn't like him as much as Smith.
8. What a tweet
: When the Jets inform
Kellen Winslow
they have no intention of re-signing him for 2014, they should do it via Twitter. That would be poetic symmetry.
9. Rex-speak
: This is what Ryan said the other day about offensive coordinator Marty Mornhinweg: "I think Marty is doing a terrific job. The numbers sometimes can be a little misleading. I think the job he's done and this staff, with some of the challenges we've faced, I think guys have done a great job."
This is what Ryan said 13 months ago about Sparano: "I'm happy with the job he's done. I'm not happy with our results, but to say I'm going to pin that on Tony, there's no way." A few weeks later, he fired Sparano.
This time, Ryan won't fire Mornhinweg. They'll either leave together or stay together.
10. Central castoffs
: The Raiders opened some eyes last week by dressing 16 players who entered the league as undrafted free agents. The Jets weren't far behind with 13.
October, 8, 2013
10/08/13
2:15
PM ET
An examination of four hot issues from the
New York Jets
' 30-28 victory over the
Atlanta Falcons
on "Monday Night Football":
[+] Enlarge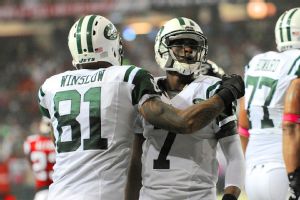 Dale Zanine/USA TODAY SportsRookie Geno Smith leads the NFL in game-winning, fourth-quarter drives. He has three for the Jets this season.
1. Broadway Geno:
This is what makes the NFL so compelling: A week ago,
Geno Smith
was a turnover-prone rookie, hearing whispers about his job security. Now he's Mr. Clutch, delivering one of the Jets' best two-minute drives in years to stun the Falcons. Years from now, this could be remembered as a turning point in his career. For now, he should savor the moment. Consider: He became the first rookie quarterback in the Super Bowl era to compile this trifecta on the road -- 80 percent completion rate, three touchdowns and zero interceptions, according to ESPN Stats & Information. Oh, by the way, he leads the NFL in game-winning, fourth-quarter drives -- three. How meaningful is that? Prior to this season, it happened only
twice
in Jets history by a rookie quarterback. One word: Wow.
2. Three-headed monster:
Asked about the wide receiver injuries last week, Rex Ryan joked that maybe they should play the wishbone. Was he really joking? On a few plays, they actually used two halfbacks and a fullback in a pistol set --
Bilal Powell
,
Chris Ivory
and
Tommy Bohanon
, respectively. In fact, they opened the game in that formation. Overall, the Jets averaged 5.4 yards per carry and used their personnel to the max. They had their full complement of backs for the first time, with Ivory (healthy) and
Mike Goodson
(suspension served) joining Powell. Ivory and Goodson combined for only eight touches, but the workload included 19- and 26-yard runs, respectively. David Lee's fingerprints were on the game plan. He's a former college coach who helped bring the Wildcat to the NFL. The Jets ran five plays for 33 yards out of the Wildcat. The emphasis on the backs, as well as the tight ends, was designed to exploit the Falcons' patchwork linebacker corps.
3. Don't say the words:
There might not be a phrase in the English language that Rex Ryan despises more than "bend but don't break." As an aggressive defensive coach, that philosophy simply isn't in his DNA -- but it sure looked that way in this game. The Jets allowed 363 total yards, didn't put up much of a fight on third down (6-for-12) and let the Falcons control the ball on four drives of at least 10 plays. If you didn't know better, you might have thought the strategy was to play soft between the 20s and crank up the pressure in the red zone -- where the Falcons had been struggling. If that was the plan, it didn't work, as the Falcons scored touchdowns on four of five trips to the red zone. In the past two games, the Jets' once-formidable red zone defense has slacked off, as opponents have converted seven of nine visits for touchdowns.
4. The tough guys won:
Overshadowed in the pregame hype, which focused on Falcons QB
Matt Ryan
and his weapons, was the Jets' superiority on both lines. It played out that way, as they dominated in the trenches. The Falcons ran up some pretty offensive numbers, dinking and dunking and claiming an 11-minute advantage in possession time, but they got pushed around up front. Coach Mike Smith, perhaps trying to convince his players they could outmuscle the Jets, took that fourth-and-1 gamble at the end of the first half, passing up three easy points -- the difference in the game. The Jets were forced to play a near-perfect game, but they did, thanks to Smith and PK
Nick Folk
(3-for-3).
September, 22, 2013
9/22/13
6:00
AM ET
Some quick thoughts and observations on the Jets as we head into Week 3:
1. Arms race:
The perception that
Geno Smith
was the Jets' slam-dunk quarterback preference going into the 2013 draft isn't accurate. Smith and
EJ Manuel
, whom they face Sunday at MetLife Stadium, were "very close" on the Jets' draft board, according to former scout Joe Bommarito. "We had both guys up there high," he said.
Bommarito declined to divulge anything more specific than that, except to say both quarterbacks were grouped together on the same line on their board, meaning they probably had similar grades. If Smith hadn't been available in the second round, Bommarito said, they would've happily picked Manuel at No. 39 overall. Manuel took a pre-draft visit to the Jets' facility and felt the coaches liked him enough to take him.
As it turned out, the Jets passed twice on both quarterbacks (with the ninth and 13th picks). By the time they got to 39, Manuel was long gone, picked 16th by the Bills.
Bommarito's take on the two rookies: Smith has the stronger arm, Manuel gets the edge in accuracy. So far, you'd have to give the early lead to Manuel, who has made fewer mistakes than Smith. But we'll learn more about Manuel by the way he handles his first road game.
[+] Enlarge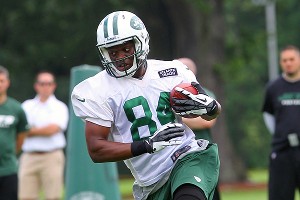 Ed Mulholland/USA TODAY SportsA former Jets scout said that the team considers WR Stephen Hill, a 2012 second-round draft choice, a "four-year project."
2. The Hill Project:
Bommarito, whose contract wasn't renewed after the draft, spent a dozen years as a Jets scout. One draft pick that caused a considerable amount of angst among fans (and some in the organization) was WR
Stephen Hill
, whose inconsistency is maddening. Bommarito is a Hill fan, but he acknowledged, "One minute, you're excited about the guy. Other times, you're like, 'Oh, really?' He's a four-year project. You have to be patient with him." He was alluding to Hill's limited background in the passing game. But four years? That's a lot of waiting in the NFL, especially for a second-round draft pick in 2012.
For more Jets-related insights from Bommarito, check him out on Twitter. His handle is @AskTheScout.
3. Rex's coaching tree
: Both Rex Ryan and Bills defensive coordinator Mike Pettine insist everything is cool between them, and that there was no falling out at the end of last season. Ryan told me he wants Pettine to succeed in his new gig. Another former Ryan assistant, Chiefs defensive coordinator Bob Sutton, is off to a great start. Before Thursday night, the Jets and Chiefs were ranked first and second in total defense, respectively, among AFC teams.
"I'm proud of Bob Sutton, too," Ryan said. "Somehow, maybe I helped a little bit. I'm proud to have a little bit of a coaching tree."
4. Nate (Can) Hackett:
Speaking of coaching trees, what's better than a father-son deal? Bills offensive coordinator Nate Hackett is the son of former Jets OC Paul Hackett, who served under Herm Edwards from 2001-04. Hackett, a Bill Walsh disciple, was a lightning rod for criticism. He got beat up pretty badly in this town, so much so that he resigned under pressure after the Jets' playoff run in Jan. 2005. The tabloids cranked out plenty of "Paul Can't Hack-it" headlines.
His son, 33, the second-youngest coordinator in the NFL, is a rising star in the business. Bills coach Doug Marrone, the offensive line coach on that same Edwards staff, hired Nate at Syracuse. That's where they developed the up-tempo offense they're using in Buffalo, and it happened almost by accident. About two weeks before the 2012 opener, the Syracuse offense was getting dominated by the defense in practice. They needed to shake it up, so Marrone and Hackett junked their old offensive system and developed a hurry-up attack on the fly. That's what you call a true hurry-up.
5. The big trade
: Jets OT
Ben Ijalana
, a former second-round pick of the Colts, was "excited," but not surprised his old team made the blockbuster trade for RB
Trent Richardson
. Ijalana said, "This is now for the Colts. There's no later. They have Lombardi aspirations. It's no secret. They talk about it all the time."
It's great to have an aggressive organization, but I think this was a panic move by the Colts, who surrendered a first-round pick to the Browns. Richardson gives them a legitimate running back to help QB
Andrew Luck
, but he won't be a game changer behind that offensive line. Luck is only a second-year player, so the window of opportunity will be open for many years. Like I said, they panicked.
6. Impact on the Jets:
The Colts/Browns trade could affect the Jets in 2014. Clearly, the Browns are in the market for a franchise quarterback, and now they have two first-round picks to wheel and deal their way to the top passer in the '14 draft, presumably Teddy Bridgewater of Louisville. The Browns own five picks in the first three rounds, plenty of ammunition to make trades. If the Jets don't like what they see from Geno Smith and want to draft another quarterback, it'll be really hard to move ahead of the Browns.
Then again, after trading their best player, the Browns could up with the No. 1 pick without having to trade up.
7. Rex and Marty Show:
Mark my words, you'll be hearing the phrase "run-pass ratio" a lot throughout the season. The chatter already has started. Ryan is saying all the right things, claiming he's all-in with Marty Mornhinweg's pass-heavy approach, but this bears watching. Ryan is a defensive-minded coach and defensive-minded coaches have "ball control" in their DNA, especially when there's a rookie quarterback involved. Under Mornhinweg, they're running the ball in only 37 percent of the plays. In 2009,
Mark Sanchez
's rookie year, they ran 59 percent of the time.
8. Class of '13
: GM John Idzik is getting a lot of bang out of his first draft, at least in terms of playing time. Smith and FB
Tommy Bohanon
have played in 100 percent and 43 percent of the offensive snaps, respectively. For DT
Sheldon Richardson
and CB
Dee Milliner
, it's 90 percent and 78 percent of the defensive snaps, respectively. Milliner, benched at halftime last week, will be part of a rotation against the Bills.
9. The Iron Man
: LT
D'Brickashaw Ferguson
has started every game in his career (114) and has missed only one play. There have been 7,330 offensive plays since his rookie year, 2006, according to ProFootballReference.com
10. Keeping up with Mr. T
: Former GM Mike Tannenbaum is off to a fast start in the agent business, having signed at least 20 new clients from the coaching and media ranks. Sports Business Journal
catches up with Tannenbaum
to see how he's enjoying his new gig.
September, 7, 2013
9/07/13
11:24
AM ET
We sat down with DT Sheldon Richardson, one of four rookies in the Jets' opening-day lineup. Some of our conversation
:
Q: The Jets drafted you 13th overall, with the pick they acquired in the Darrelle Revis trade. You're facing Revis on Sunday. Feel any pressure
?
A: (Defensive coordinator Dennis Thurman) calls me, 'Spot No. 9, Four Spots Behind.' That was one of my names in training camp. (A reference to top pick
Dee Milliner
). No, not at all, I don't feel any pressure. I don't worry about what other people think. I wasn't supposed to make it out of junior college. I'm here to do me. I'm here to make my own name in the league. Darrelle Revis is Darrelle Revis. Of course, he's an outstanding lockdown corner, but he still has to show up at games on Sunday.
Q: What do you mean, you weren't supposed to make it out of junior college?
A: People get lost in the shuffle. Guys get beside themselves, egos get to them. I was the fourth overall recruit (in the country) coming out of high school and I went to a junior college (College of the Sequoias in California), so it's a culture shock. You go from being promised all this stuff, this and that ... this is what the school is like ... gorgeous weight room. In junior college, you're living on the floor. It's a humbling experience. Coming out of high school, I was a hot head. You couldn't tell me nothing. I felt I was better than anything walking. I still do, but I do it at a cooler level than that. I used to have problems. People say it's a slice of humble pie. Well, I had the whole pie.
Q: The Jets haven't started four rookies on opening day since 1979. What does that say about this team?
A: There's always time for a change. There's nothing wrong with starting rookies if they're ready, and I believe we're ready. Geno (Smith) had a rough start (against the Giants), but it was one game. Now he has to start again. I told him, 'Let that go, you have to have a short-term memory, go out there and let loose.' He's a good player. He can make every throw on the field. I talked to Dee and told him, 'Do what got you here. Number nine overall, baby.' Gave him some confidence even though he doesn't need any. That's my brother. We were roommates throughout the whole rookie period. We're real tight. Tommy (Bohanon), he's been consistent. I haven't see a day off from him. We're a tight-knit group.
September, 2, 2013
9/02/13
6:00
AM ET
The rebuilding
New York Jets
could start four, maybe five rookies on opening day -- a rarity in Jets history.

Quarterback
Geno Smith
, fullback
Tommy Bohanon
, defensive tackle
Sheldon Richardson
and cornerback
Dee Milliner
(if healthy) are expected to have starting roles. If
Brian Winters
gets the call at left guard, the Jets could have their version of the Fab Five.
The last time the Jets started five rookies on opening day? According to the Elias Sports Bureau, it occurred in 1976. The rookies were linebacker Steve Poole, linebacker Greg Buttle, linebacker Bob Martin, running back Louie Giammona and defensive back Shafer Suggs. The team finished 3-11.
The last time they started four rookies was in 1979: linebacker Stan Blinka, guard Eric Cunningham, defensive back Donald Dykes and defensive tackle Marty Lyons. That team went 8-8.
Wonder if Walt Michaels preached "competition" way back then.
August, 21, 2013
8/21/13
11:13
AM ET
Fullback
Lex Hilliard
, who played in 12 games last season for the Jets, will have season-ending surgery next week to repair a fractured shoulder blade, a league source confirmed Wednesday.
[+] Enlarge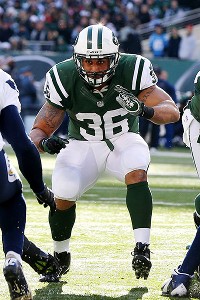 Jim McIsaac/Getty ImagesLex Hilliard's second season with the Jets will be spent rehabbing an injured shoulder blade.
The Jets placed Hilliard on injured reserve Wednesday and signed wide receiver Marcus Rucker.
"That's really unfortunate because Lex is a tremendous player and also a tremendous person," Rex Ryan said.
Hilliard, who missed the first two preseason games due to a rib injury, left the practice field Tuesday in severe pain. Afterward, Rex Ryan mentioned a possible shoulder dislocation.
Even if he had remained healthy, Hilliard would've been hard-pressed to retain his roster spot. Rookie
Tommy Bohanon
, a seventh-round pick from Wake Forest, has impressed the coaching staff and is in line to win the starting job.
Ryan said the Jets would keep their options open but he was complimentary of Bohanon after Wednesday's practice.
"He's been impressive," Ryan said. "I've been very pleased with Tommy."
Hilliard was one of the few unrestricted free agents that new GM John Idzik decided to retain. Hilliard signed a one-year, $780,000 contract, including a $65,000 signing bonus. The Jets picked him up last season because of his background with former offensive coordinator Tony Sparano. Hilliard rushed eight times for 31 yards and made four receptions for 23 yards in 2012.
He played in only 25 percent of the offensive snaps last season, a total of 271, but he was a steady contributor on special teams (203 snaps).
Bohanon said that he's confident that he can handle the starting role, if necessary.
"I definitely think that I'll be able to go out there and do everything they asked me to do," he said. "That's why I'm out there before practice and after practice working on my technique."
August, 9, 2013
8/09/13
6:00
AM ET
CORTLAND, N.Y. -- The Jets open the preseason Friday at the Lions. Kickoff is 7:30 p.m. Here is what to watch for:
1. Quarterback battle, Round 1
:
Mark Sanchez
starts,
Geno Smith
relieves. Sanchez figures to play a series or two with the starters before yielding to the rookie, who might get a series with the first unit. Smith will stick around and play with the backups as he attempts to convince the powers-that-be that he's ready to take over the team. The focus is on Smith, but it'll be interesting to see Sanchez in Marty Mornhinweg's West Coast offense. He loves the system. We'll see if it loves him back.


2. The rookies
: The Jets could open with three in the starting lineup -- DT
Sheldon Richardson
, CB
Dee Milliner
and FB
Tommy Bohanon
, the only fullback on the traveling roster. Incumbent
Lex Hilliard
didn't make the trip with an undisclosed injury. Milliner is rusty, which is to be expected. He missed the offseason and the first few days of camp, so his conditioning and technique still need work. Just for kicks, Rex Ryan should let Milliner cover
Calvin Johnson
for a couple of plays. Now
that
would be a welcome-to-the-NFL moment. Rookie LG
Brian Winters
(ankle) didn't make the trip, hurting his chances of winning a starting job.
3. Empty stable:
Chris Ivory
(hamstring) and
Joe McKnight
(head) are out, so the workload will fall to
Bilal Powell
. There's some concern among the coaches that Powell is being overworked, so don't expect a super-heavy work day.
John Griffin
and
Chad Spann
will see some carries as well. Mornhinweg, known for his pass-happy philosophy, will have no problem throwing it all over Ford Field.
4. Mega Who?
When the Jets drafted WR
Stephen Hill
last year in the second round, they made the mistake of comparing him, from a size-speed standpoint, to another Georgia Tech alum -- Johnson, aka. MegaTron. Hill is nowhere close to Johnson, but he has made strides on the practice field, especially with his technique. Now he has to take it to the game. With
Santonio Holmes
in limbo, they could be relying on Hill to be their No. 1 receiver.
5. New-look defense
: They have seven new starters, so there's bound to be growing pains. They could show up in the secondary, which was overhauled in the offseason. The only returning starter is CB
Antonio Cromartie
. The Lions like to spread the field, and they have a quarterback (
Matthew Stafford
) who can get the ball anywhere on the field. This should be a nice first test for the Jets' sub packages. Watch LB
Demario Davis
; he brings a pass-coverage dimension to the linebacking corps.
6. Q's debut
: Former No. 1 pick
Quinton Coples
plays his first game at outside linebacker. It has been a quiet camp for the former lineman. Part of that could be attributed to the position switch. But the coaches also want him to play with a greater sense of urgency. The feeling around the team is that Coples is the key to the defense. If he thrives in his new role, the defense has a chance to be really good.
7. Safety in numbers
: The most unsettled position is free safety.
Antonio Allen
has received most of the reps, but he's hardly a sure thing. Former Eagle
Jaiquawn Jarrett
has impressed the coaches with his approach and he could sneak in and grab the job.
May, 7, 2013
5/07/13
11:06
AM ET
QB
Geno Smith
wasn't the only player drafted by the Jets, you know. They made six other selections, including two in the first round. In advance of this weekend's rookie minicamp, we'll post a mini-profile on each player, including highlights from his post-draft comments. Here you go:
Player: Tommy Bohanon, seventh round
[+] Enlarge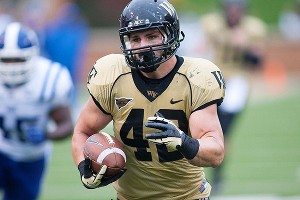 Jeremy Brevard/USA TODAY SportsTommy Bohanon
School
: Wake Forest
Position
: Fullback
Projected impact
: The Jets are hoping this "T-Bo" contributes more than the last "Tebow." Bohanon's main competition is incumbent FB
Lex Hilliard
, but his ability to play H-Back will help his chances of making the team. Obviously, Bohanon will have to make a niche for himself on special teams.
SOUND BITES
On his versatility and how he feels he'll fit in:
"I think that I'll be able to [fit] in well. I think that's one of my strong suits, my versatility, and being able to block, run, as well as catch the ball out of the backfield. I think the West Coast offense suits me well, and I think that I'll be able to come in and do well in that type of offense."
On if he has any experience as a tight end:
"Yes, I played some tight end at Wake this past year. Like I said, I played H-back and I played on-the-line tight end, so I have experience in that, and I believe that I can do that if I'm asked to do that as well."
On if he thought the NFL was a possibility coming out of high school:
"It was always my dream and it was always a possibility to me. I mean, I've seen plenty of people ... I mean,
Deion Sanders
went to my high school, so I thought throughout my life with people in the NFL from Fort Myers, I knew it was a possibility. I just knew I had to work hard to be able to get to it."
On if he is better than Deion Sanders:
"Not at all" (laughing).
On what type of offense he played at Wake Forest:
"My first three years, I would say was more of a pro-style, multiple offense where there was '21' personnel [two backs, one tight end], there was '11,' [one back, one tight end] and there was '10' [one back, four receivers]. There was definitely multiple offenses. I think there was a pro-style offense my first three years, and this past year it was more like a spread type, more [of a] college offense."
April, 27, 2013
4/27/13
6:25
PM ET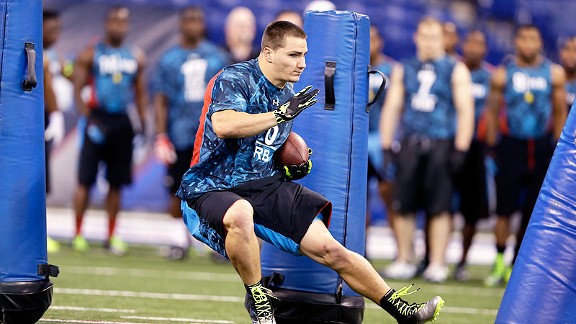 AP Photo/Michael ConroyWith only one fullback on the roster, Tommy Bohanon will have a good chance to make the team.
PICK
: Seventh round (215th pick overall)
PLAYER
:
Tommy Bohanon
SCHOOL
: Wake Forest
POSITION
: Fullback/H-Back
HEIGHT
: 6-foot-1
WEIGHT
: 246 pounds
What it means
: GM John Idzik had some inside intel on this pick; his son plays for Wake Forest. The Jets selected Bohanon because of his versatility and pass-catching ability. He made 13 starts at fullback last season, but he evolved into an H-Back. He caught 23 passes for 208 yards and five touchdowns last season. He was a four-year starter, widely projected as a fifth- or sixth-round pick. He doesn't have great speed; he ran the 40 in 4.86 seconds at the combine. His most impressive moment at the combine came on the bench press -- 36 reps of 225 pounds. He attended the same high school as
Deion Sanders
in Fort Myers, Fla.
How he fits the offensive scheme
: Bohanon fits because he can catch the ball, a must in Marty Mornhinweg's West Coast system. He can line up as a fullback in a two-back set or he can flex out as an H-Back. The only H-Back on the roster in
Konrad Reuland
.
Projected impacted
: The Jets have only one fullback on the roster (
Lex Hilliard
), so Bohanon will have a very good chance to make the roster. Obviously, he'll have to make a name for himself on special teams.