New York Jets:

Tony Sparano
March, 16, 2014
Mar 16
11:00
AM ET
A few thoughts and observations on the
New York Jets
:
1. Reality bites
: The irony of the
Eric Decker
signing is that general manager John Idzik, who has spent a year trying to eliminate the Jets' "Hard Knocks" image, took on a player with his own reality TV show. Decker and his wife, country singer Jessie James, are preparing for their second season on E!'s "Eric and Jessie: Game on." The season premiere is March 30. His former team, the
Denver Broncos
, said last year it had no problem with Decker doing the show. "To each his own," team exec
John Elway
said.
[+] Enlarge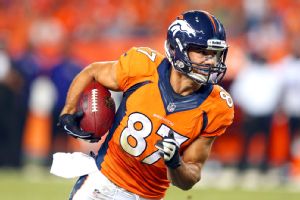 AP Photo/Paul SpinelliIt doesn't appear that new Jets receiver Eric Decker's reality show was a huge deterrent in the team's decision to sign him.
Privately, the organization wasn't thrilled, especially when Decker's impending free agency was mentioned in one of the early shows. It wasn't a distraction to the team because there were no cameras at the facility. Obviously, it didn't affect Decker, as he finished with 87 receptions for 1,288 yards. It was one if E!'s top-rated new shows, so they booked another season -- obviously, long before he signed his five-year, $36.25 million contract with the Jets. The network didn't waste any time jumping on the New York angle, releasing new promos: "New Team, New City (and coming soon), New Baby."
Some people wonder if Decker picked the Jets over the
Indianapolis Colts
because he wanted to raise the show's profile by playing in the No. 1 media market. He downplayed that notion, saying he picked the Jets with football in mind. As for his wife's input, Decker said, "She obviously wants what's best for me in my profession. She spent a lot of time in New York with her career when she was younger, and she's excited again to have an opportunity to work now again and to be able to have some resources and things. I think that overall it is a great decision and place for us as a family and career wise."
Idzik isn't a show-biz kind of guy, and I find it hard to believe he likes the idea of a player having his own show. It creates the perception that he's bigger than the team. But in the end, the No. 1 reality was this: Idzik was willing to put aside any concerns to land their top-rated free-agent receiver. The GM hasn't been made available to comment on any of his signings.
2. Decker vs. Holmes
: Not to pick on
Santonio Holmes
or anything, but ...
Decker produced five 100-yard receiving games last season, one more than Holmes managed in four years with the Jets. Decker is counting $4 million on this year's cap, $6.5 million less than Holmes would've counted. Just saying.
3. Strength in numbers
: The Jets have six experienced wide receivers under contract, and they could add another two through free agency and the draft. Overkill? Not really. Teams always look beyond the current year when making personnel moves, and when the Jets look at 2015, they see only two of those six receivers under contract -- Decker and
Stephen Hill
. That's why stockpiling makes sense.
4. Go west, men
: Offensive coordinator Marty Mornhinweg , accompanied by two members of the scouting department, attended two important pro days on the West Coast -- USC and Oregon State. The main attractions were wide receivers
Marqise Lee
and
Brandin Cooks
, respectively. In each case, the Jets' contingent spent private time with the players. It's not unusual for Mornhinweg to scout on the road. In fact, he attended
Geno Smith
's pro day last year, taking him out to dinner the night before. With the 18th pick, the Jets are thinking strongly about a receiver.
5. Revis Inc.:
Darrelle Revis
' contract with the
New England Patriots
sheds light into his thinking as a player/businessman. Technically, it's a two-year, $32 million deal, but the second year is bogus because of a $25 million cap charge. They added a second year for cap purposes and because Revis is hellbent on a $16 million-per-year average. Has been since 2010, when he staged his second holdout with the Jets. At the time, he proposed a 10-year, $160 million deal. He refused over the years to bend on the APY, finally finding a team (the
Tampa Bay Buccaneers
) willing to pay it. Why $16 million? I think it goes back to
Nnamdi Asomugha
's $16 million-a-year deal from the
Oakland Raiders
in 2009. As soon as Revis surpassed Asomugha as the top cornerback, in the eyes of many, he considered $16 million his birthright.
For an interesting take on the Revis contract from the Patriots' perspective, check out
ESPN.com colleague Mike Reiss
.
6. California dreaming
: The quarterback-needy Raiders are targeting two players likely to be released --
Matt Schaub
and
Mark Sanchez
(in that order), according to a report by
ESPN.com colleague Paul Gutierrez
. Sanchez makes a lot of sense. Joey Clinkscales, the team's director of player personnel, is a former Jets executive and was heavily involved when they drafted Sanchez in 2009.
The Jets are running out of time to make a decision on Sanchez, who's due a $2 million roster bonus March 25. If they don't sign another quarterback (
Michael Vick
?) before then, what then? Do they turn to Sanchez, trying to get him to take a major pay cut? If Sanchez balks, he will be released -- unless the Jets pay the $2 million, buying more time. It's not Idzik's style to cut a player before his replacement is on the roster. It hurts leverage. If the Raiders want him badly enough, maybe they'd be willing to make a trade.
7. Tony the recruiter
: Former Jets offensive coordinator Tony Sparano, now the Raiders' offensive-line coach, was instrumental in recruiting right tackle
Austin Howard
. Said Howard: "I really love his style of coaching. Once we got that call, it was honestly a no-brainer decision to get on the plane and make the trip out to Oakland." Obviously, the five-year, $30 million contract had something to do with it, too. Sparano was a key Howard ally in the summer of 2012, when the Jets replaced
Wayne Hunter
.
8. A tale of two kickers
:
Nick Folk
was the only kicker this year to receive a franchise-tag designation, which usually translates to a top-of-the-market contract. In Folk's case, his four-year deal is actually similar to what
Dan Carpenter
just landed from the
Buffalo Bills
-- at least in terms of first-year compensation. Folk gets $3.6 million in total compensation (the amount of the franchise tender), Carpenter scores $3.425 million. Carpenter was given a chance, albeit brief, to take Folk's job last preseason, but he lasted only a few days. Now he's making nearly as much as him.
9. DRC on ED
: Came across this quote from Super Bowl week. Broncos cornerback
Dominique Rodgers-Cromartie
was asked which of his team's receivers is the hardest to cover. His answer:
Wes Welker
. "
Demaryius Thomas
and Eric Decker are great receivers, but you can kind of break their moves down," he said. "Wes, he does too much." DRC could end up reunited with Decker.
10. Hurting at OLB:
It didn't get any attention, but the Jets decided not to tender restricted free agent
Garrett McIntyre
, making him unrestricted. It would've cost them $1.4 million. It came as a surprise because McIntyre was a decent backup, good for about 20 defensive snaps per game. With
Calvin Pace
also an unrestricted free agent, the Jets are perilously thin at outside linebacker.
December, 4, 2013
12/04/13
8:22
PM ET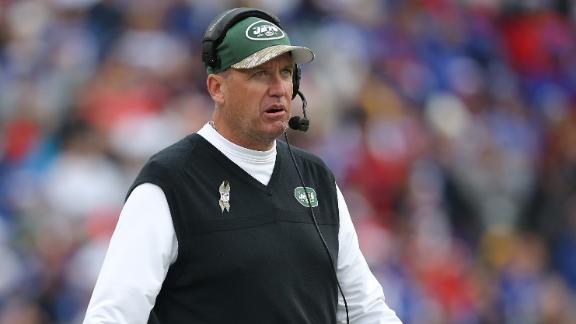 Offensive coordinator No. 2 will be at MetLife Stadium on Sunday, watching Rex Ryan and Coordinator No. 3 attempt to figure their way out of the worst offensive slump the NFL has seen in a few years.
Statistically, the
New York Jets
are every bit as bad as they were last season, when Coordinator No. 2 was running Ryan's offense. The situation was so dysfunctional that No. 2 was fired after only one season, lasting three years less than No. 1 under Ryan.
Ryan is out of lifelines, so he won't get a chance to pick No. 4. He and Marty Mornhinweg have to generate some offense over the final quarter of the season -- or else. If they happen to stink it up Sunday against the
Oakland Raiders
, it will make Tony Sparano -- now Oakland's offensive-line coach -- appear like a wrongful scapegoat.
That wouldn't be a good look for Ryan, the one constant through the Brian Schottenheimer-Sparano-Mornhinweg years.
Ryan put himself on notice after last season, when he came out publicly and admonished himself for messing up the offense. Brutally honest, the defensive-minded Ryan said, "I've come up short, in my opinion, in that area. ... I've failed in that area."
[+] Enlarge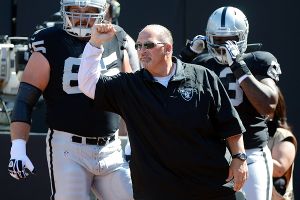 Kyle Terada/USA TODAY SportsTony Sparano, a one-and-done offensive coordinator with the Jets, will be at MetLife Stadium on Sunday as a member of the Raiders' staff.
He tried to make it right by hiring Mornhinweg, a nice addition, but there's no tangible proof that it's any better. A year ago, the Jets finished 30th in total offense. Right now, they're 30th.
A year ago, they averaged 17.6 points per game. Right now, the average is 15.8.
We could go on and on with the numbers, but all you need to know is this: The statistics in all the major categories are close or virtually even.
Even isn't good enough. It has to be better than that. There has to be some evidence that the arrow is pointed up. There's still time to make that happen. Four games is a lot in the NFL, but you can't be too optimistic after watching eight straight quarters without a touchdown.
It's a tough situation because Ryan is stuck with an overwhelmed rookie,
Geno Smith
, at quarterback and a supporting cast filled with waiver-wire talent. It's the blind leading the blech. In a way, it's unfair to pin this on Ryan and his coaches, but there's nothing fair in the cut-throat world of the NFL.
"It doesn't take long for a head coach or a quarterback to find the outhouse," said a former general manager, speaking on the condition of anonymity. "The problem is when they're doing it together. It's too bad. I thought they were going to be a great story."
Despite the early signs of Smith's regression, things still looked promising at 5-4. Mornhinweg did a nice job of coaching around the rookie's weaknesses. But opponents adjusted, crowding the box, overplaying the run and daring Smith to beat them with his arm.
The Jets haven't been able to counter, resulting in an epic collapse. They've gone 114 plays without a touchdown. They're headed to their 15th straight season without a top-10 offense, the third-longest streak in the league.
Let's be honest, Smith wasn't ready for this gig. You can't take a quarterback out of a spread offense in college, throw him into a foreign system and expect immediate results. There's a reason why most of the league passed on him before the Jets stopped his draft-day fall in the second round. He needed to spend time on the bench, watching and learning. That, of course, got blown up the night
Marvin Austin
blew up
Mark Sanchez
.
An AFC personnel executive, commenting on Smith's struggles, said the Jets "have played more to his weaknesses and inexperience." He also believes Smith has been victimized by a lack of continuity at wide receiver and tight end. The defense hasn't helped, either.
"The defense has given up points in big losses, and the game falls on the shoulders of the offense -- and the offense can't respond when that happens," the executive said.
The former GM blamed Mornhinweg, saying, "He should be given a cigarette and a last meal."
That's too harsh. There are myriad reasons why Smith and the offense have gone off the cliff. Ryan said statistics don't tell the whole story. That's what coaches say when the numbers look bad.
"Clearly, we've had our ups and downs this year with our offense, there's no ifs, ands or buts about that," he said. "It's not as good as what we'd wish it would be. We haven't been as consistent. Sometimes it's been really good, and sometimes, especially as of late, it's been really bad."
Maybe Ryan can start the turnaround Sunday against Coordinator No. 2.
No one expected great this season. Good might have been a stretch, too. But bad is unacceptable. A coach can't survive two years of bad.
Two years of playing like No. 2.
February, 14, 2013
2/14/13
11:10
AM ET
During his media sessions last season, Tony Sparano always referred to his previous employer, the Dolphins, as "the other place" -- an apparent aversion to the team that fired him.
Sparano didn't take it quite that far Wednesday as he spoke to the media for the first time since being fired by the Jets, but he employed the selective-amnesia technique a few times when he could've referenced the Jets. The Raiders' new offensive-line coach/assistant head coach,
speaking to Bay Area reporters
, didn't want to use the 'W' word -- Wildcat -- and he made no mention of
Tim Tebow
when commenting on the top running quarterbacks in the league.
[+] Enlarge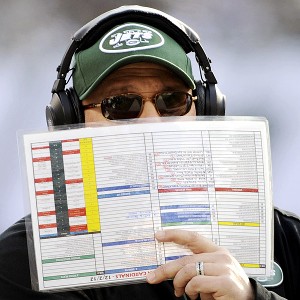 AP Photo/Bill KostrounNew Raiders assistant HC Tony Sparano is notoriously mute about former employers.
Sparano was asked about RB
Darren McFadden
, who ran the Wildcat at Arkansas under David Lee, who became Sparano's quarterbacks coach in Miami ... er, the other place when they introduced the Wildcat to the NFL.
"I don't want to say that word -- you'll bring it up soon enough," said Sparano, managing a small smile.
For the record, Sparano never liked using the 'W' word during interviews in New York. He felt "Wildcat" was an inaccurate generalization of his Tebow-specific offense. As it turned out, he never had a Tebow-specific offense; Sparano's plan was the equivalent of George Costanza's Penske file from "Seinfeld."
Later in his Oakland interview, Sparano did use the word "Wildcat," waxing nostalgic about his other-place days with
Ronnie Brown
and
Ricky Williams
. There were no nostalgic moments about his one-and-done with the Jets.
Sparano was asked what appealed to him about the Raiders, and he compared them to two of his previous employers -- but not the Jets. Surprisingly, he actually uttered the word "Dolphins." Maybe he has an expiration date on personal grudges.
"First of all, the history here, I would say without a doubt," he said. "I'm a history buff. I had a chance to be with the Dolphins and be with the Cowboys, and be in some organizations that have tremendous history and I love this history here."
I suppose the Dolphins have more history than the Jets, considering they have five Super Bowl appearances and two titles to the Jets' one, but the Dolphins haven't won anything in 40 years. Come to think of it, the same could be said of the Raiders.
Sparano gave Rex Ryan a mention. He was asked about Bill Parcells' influence on his career, and he listed Parcells, Tom Coughlin, Marty Schottenheimer and Ryan as "outstanding coaches" that he's been around.
The conversation got around to the new trend in the NFL, athletic quarterbacks running the read-option. Sparano mentioned
Russell Wilson
and
Colin Kaepernick
among the trend setters, saying, "It just brings a complete different element for the defense to have to prepare for." He didn't mention Tebow, who started it all in 2011 with the Broncos. He was supposed to bring some of that to the Jets, but ... well, we all know how that turned out.
February, 3, 2013
2/03/13
5:00
AM ET
Looking at the Jets and the NFL in our expanded, Super Bowl edition:
1. Tim-sanity
: Since the season ended, we've come to learn that the relationship between Tony Sparano and
Tim Tebow
was strained, and that Sparano's lack of faith in Tebow was a big reason why he didn't play much, according to sources. This raises a larger issue: Where was Rex Ryan in this? Ryan gave autonomy to Sparano, just as he did with Brian Schottenheimer, but he's the head coach and he should decide playing time. Ryan's expertise is defense -- we get it -- but he'll never be a complete head coach until he takes control of the entire team.
Former special-teams coach Mike Westhoff discussed this topic the other day on ESPN New York 98.7 FM, offering a candid (what else?) evaluation of Ryan in this area. "Maybe he has to be more forceful in getting his philosophy across," Westhoff said. "If he doesn't feel someone is doing it a particular way, he'd better step in there and say, 'This is what we have to do.' You can't keep going through coordinators."
It's an excellent point. Ryan has tried in recent years to become more involved in the offense, but he has to do more than show his face in meetings. He needs to take charge and do it his way; time is running out.
2. The shadow of Revis
: You're a disgruntled Jets fan, preparing to watch the 44th consecutive Super Bowl that doesn't include your favorite team. That's no fun, so you're wondering how Ravens-49ers can impact the Jets. Here's how: If the 49ers lose the game and their secondary gets torched by
Joe Flacco
, it will create a groundswell of sentiment for them to trade for CB
Darrelle Revis
. He'd be the proverbial missing piece.
The 49ers are an aggressive team with the ammunition to pull off that kind of trade. They have a bargaining chip in backup QB
Alex Smith
, who, despite what owner Jed York said the other way, is done in San Francisco. They will try to trade him before April, when his $7.5 million salary becomes guaranteed. If they can't, they'll release him. The Jets surely would consider dealing Revis for Smith and a first-round pick (31st or 32nd). Unless they're willing to go heavy on QB salaries in 2013 -- remember, they're into
Mark Sanchez
for $8.25 million -- the Jets probably have to restructure Smith's contract. He has two years left on his deal. Keep this in mind if Flacco gets hot.
2a. Core of the Revis issue:
Unless new GM John Idzik has a different philosophy than the previous administration, the Jets won't be willing to satisfy Revis' demand to become the highest-paid defensive player in the NFL. Their stance, shared by many teams, is that cornerbacks aren't worth as much as pass rushers. They'll make him the highest-paid corner (he's already close to it at $11.5 million per year), but it's hard to imagine them going into the $16 million-a-year neighborhood -- unless Idzik revamps the organization's value system.
3. Caponomics
: Much has been said and written about the Jets' salary-cap plight. But are the problems really that bad? This year will be a struggle, no doubt, but they have only $5 million in guaranteed money committed to the 2014 cap, according to a source. That's when the Sanchez and
Santonio Holmes
guarantees will be off the books.
4. Mike-crophone Tannenbaum
: Former GM Mike Tannenbaum spent the week in New Orleans, doing interview after interview on radio row. Clearly, he's angling for a job in the media. He gave scripted answers to all the tough questions, but there was a moment of candor in an interview with a Boston radio station. The hosts grilled about him the highly criticized Sanchez contract extension. "That's one of the reasons why I'm sitting here today," Tannenbaum cracked.
4a. Brad on the brain
: I'm tired of hearing Tannenbaum drop
Brad Smith
's name every time he's asked about Tebow. The reason for the trade, he explains, is they wanted a replacement for Smith in the Wildcat. Wait a minute, when did Brad Smith become
Emmitt Smith
? In his final season with the Jets (2010), Smith carried the ball a grand total of 38 times. So what Tannenbaum is saying is, he was willing to live with the Tebow circus just to replace 38 carries. That's not what you call sound risk-reward management.
4b. Mad Mike
: Tannenbaum also spent a lot of time defending the cap situation. In three weeks, he said, the entire world will see his space-clearing plan unfold. Plan? The Jets will clear $30 million by releasing
Calvin Pace
,
Bart Scott
,
Eric Smith
and
Jason Smith
. That would put them about $10 million under the cap, but then what? With less than 40 veterans under contract, they'd still be in a tight situation.
5. LT speaks (again):
I know people are tired of hearing
LaDainian Tomlinson
take shots at his former team -- he's become the new Joe Namath -- but the man doesn't sugar-coat his opinions. On ESPN New York 98.7 FM, he was asked if Sanchez can snap out of his funk and become a winning QB again. Tomlinson: "Can he do it? Man, I don't think so."
6. Deer, Ray -- go away
: Ravens LB
Ray Lewis
is an iconic player, but his act is wearing thin. Has there ever been such a legendary team leader so absorbed with himself? He's such a contradiction. Lewis has the rare ability to galvanize a team, yet he morphs into the ultimate "me" guy with his pregame "Squirrel" dance. He seemed to relish the attention from AntlerGate -- his reported use of a deer-antler spray that naturally produces a banned substance connected to HGH. Lewis denied the report. Forget Pinnochio; if Lewis' nose turns red and it starts glowing, we'll know if he's lying about the deer-antler stuff.
7. Hatched from the Parcells nest:
The man behind the 49ers' success is GM Trent Baalke, who began his career as a Jets scout. He was about to give up on his football dream when he received a call from former Jets personnel man Dick Haley, who interviewed him and offered him a job. Baalke worked three years with the Jets (1998-2000), catching the eye of then-coach Bill Parcells, who was selected Saturday night to the Pro Football Hall of Fame.
One thing about Parcells: He surrounded himself with talented people. Three members of scouting/personnel went on to become GMs and six assistant coaches became head coaches in the NFL and/or college.
8. Jet setters
: Only eight players in Super Bowl XLVII have previous Super Bowl experience, and two of them are former Jets -- Ravens S
James Ihedigbo
and 49ers C
Jonathan Goodwin
(Saints).
9. Super Bowl on TV
: Interesting nugget from "Sports on Television," a wonderfully informative book written by former ESPN producer and current Syracuse professor Dennis Deninger: Only 36 percent of American homes watched Jets-Colts in Super Bowl III -- the lowest-rated Super Bowl in history. Two days before the game, NFL commissioner Pete Rozelle, concerned the Super Bowl would lose its appeal because of the perceived disparity between the AFL and NFL, announced the league was considering a new postseason structure that would allow two NFL teams to meet in the Super Bowl. It was yet another insult directed toward the Jets and the AFL. Everything changed, of course, after Joe Namath got through with the Colts.
10. Enjoying the holiday
: For the first time in 24 years, I'm not covering the Super Bowl. I intend to find out why America is so fascinated with Super Bowl Sunday. Pass the chicken wings, please.
January, 8, 2013
1/08/13
7:59
AM ET
You think Rex Ryan is second-guessing his decision last year to hire Tony Sparano as his offensive coordinator? You bet. You think Sparano is second-guessing his decision to take the job? Probably.
This was a marriage doomed to fail. Sparano didn't have enough talent at his disposal, and he didn't have the ability to craft creative game plans to make up for the lack of playmakers. He also has to take a large share of responsibility for botching the
Tim Tebow
experiment.
Now Ryan must hire a coordinator with expertise in developing quarterbacks. That was the oddest thing about the Sparano hire; he had no background with quarterbacks. He's a former offensive line coach.
Mark Sanchez
regressed -- a lot. It wasn't all Sparano's fault, but there wasn't a QB guru around to help fix the problems. The QB coach, Matt Cavanaugh, was fired Monday. He should've been fired last year.
The top names on Ryan's wish list are Norv Turner and Cam Cameron. Turner would be the ideal choice, but the chances of luring him to the Jets are remote. Ryan has only two years left on his contract and, unless Woody Johnson opens the vault for Turner and makes a ridiculous offer, it's not going to happen.
This will be the Jets' third coordinator in three years. Not many head coaches get that many mulligans.
December, 31, 2012
12/31/12
4:43
PM ET
FLORHAM PARK, N.J. -- Reports, speculation and just plain common sense indicated that offensive coordinator Tony Sparano could be fired today. But although the Jets were outscored 69-36 by teams with losing records in their last three games, Sparano was back at work at the Jets' facility in Florham Park.
Mark Sanchez
said he had met with his coordinator that morning, and Sparano is keeping up the routine.
"He's working his butt off and starting to go through player evaluations and things like that that coaches do right after the season ends and these next couple days I'm sure they'll do that," Sanchez said. "But he's a fighter, he's a tough guy and he's doing his best to try and help the team."
Sparano also made it through the staff meeting at 1 p.m. even though team owner Woody Johnson was there in person. It seems the Jets may be waiting to make any additional moves until a new general manager can be installed.
So the fact that Sparano hasn't been fired yet may just be a delay of the inevitable.
November, 16, 2012
11/16/12
11:47
AM ET
FLORHAM PARK, N.J. — Never mind the scoreboard in Seattle last Sunday, or the fact that the Jets offense has scored just six points in the last two games. Rex Ryan wasn't about to blame new offensive coordinator Tony Sparano.
"I'm happy with the job he's done," Ryan said Thursday. "I'm not happy with our results, but to say I'm going to pin that on Tony, there's no way."
Many blamed former Jets offensive coordinator Brian Schottenheimer for unproductive games in the first three years of Mark Sanchez' career. The thing is, Schottenheimer's Rams have produced slightly more total offense than the Jets this year.
But Ryan has his rose colored glasses firmly on his nose, and said he knows the Jets are getting better each week even as the losses keep mounting.
"I know our offense is getting better," Ryan said. "I know our defense is getting better."
Sparano was asked for specifics on how the offense is improving.
"I think we're improving in the run game," Sparano said. "I think we're improving in the protection area. I think that we're improving within the structure of identification of front coverages, all those areas. I think our short yardage and goal line, although not reflected in the last game, is improving tremendously, we've gotten better and better each week there, we lead the national football league in that area right now. And I think that over the last five games, our third down production has been better."
Which sounds really good, except for the fact that the Jets have failed to score more points than their opponents in five of the last six games. The 3-6 start is so rough that owner Woody Johnson came out in the middle of practice to say this isn't what he expected this season after passively agreeing to hire
Tim Tebow
and not for the purposes of selling PSLs.
"In a lot of pain this week again for losing this game," Woody Johnson said. "It's a miserable experience for us, for our fans, people in the media as well."
Which makes it sound like Johnson has a more realistic idea of what a losing streak is about than either his head coach or his offensive coordinator.
As a side note, when defensive coordinator Mike Pettine was asked about the anonymous comments regarding Tebow, he said that the Jets defense has Tebow's back. When Sparano was asked, he said he was limiting his comments to the Rams.
Ryan gave his offensive coordinator, who last year was the Dolphins head coach, his full measure of support in spite of the offensive slump.
"He's a guy that I lean on a bit having a former head coaching background," Ryan said. "He's been a huge help. I knew he would be and I knew he was a guy that I really wanted."
Ryan said Sparano has a burning desire to win, and is able to do well with the players he has on offense.
"I think the mark of a good coach is to maximize the talent that you have around you," Ryan said, "and I think without question, we do that."
November, 15, 2012
11/15/12
12:52
PM ET
FLORHAM PARK, N.J. -- The Jets are preparing to face their old offensive coordinator, Brian Schottenheimer, who holds the same title for the Rams. On Thursday, Rex Ryan declined to revisit Schottenheimer's departure from the team after last season.

"I don't even want to get into it because several things went into it -- this person's decision, that person's decision," Ryan said, cryptically. "I'd rather not re-visit it. I will say this: We won a lot of football games together. I admire and respect Brian."

Schottenheimer was the Jets' coordinator from 2006 to 2011, the last three seasons under Ryan. He was signed through 2013, but he left the team in what was described as a mutual parting. The Jets were hoping he'd land the Jaguars' head-coaching vacancy. As soon as Schottenheimer lost out on that job, the Jets announced the decision to part ways. That night, they hired Tony Sparano, a curious bang-bang development.

The Jets' offense has sputtered under Sparano, but Ryan backed his new coordinator even though they're ranked 30th in total offense and 24th in scoring offense.

"I'm happy with the job he's done," Ryan said. "I'm not happy with the results. To say I'm pinning it on Tony, there's no way."

Ryan lauded Sparano's work ethic and determination. But in seven of their nine games combined, the Jets have managed only six touchdowns.

During the latter stages of last season, with speculation swirling that Schottenheimer was in trouble, Ryan also consistently backed him with public votes of confidence. And then Schotty was gone, the announcement coming in the form of a late-night press release.

Ryan said he will enjoy the "cat and mouse" game with Schottenheimer on Sunday.

November, 5, 2012
11/05/12
5:00
PM ET
I know what you're thinking.
Tebow
Everyone who reads the blog wants to know how the
New York Jets
will use better
Tim Tebow
better, right?
The popular backup quarterback has been a virtual non-factor offensively in the first half of the season. Tebow's Wildcat package has been a bust both on the ground and through the air.
New York's brain trust had the bye week to figure this out. Jets head coach Rex Ryan and offensive coordinator Tony Sparano vowed before the bye that New York would increase Tebow's production in the second half of the season.
The AFC East blog has three suggestions for Tebow and the Jets:
No. 1: Use Tebow at running back
It sounds like a gimmick. But putting Tebow, a career quarterback, at tailback could actually work. The Jets lack depth at running back. New York has a pair of injured running backs in
Bilal Powell
(shoulder) and
Joe McKnight
(ankle).
Shonn Greene
is the unquestioned starter but he occasionally needs a breather. Tebow could add to the pile with several carries a game. He's a strong runner between the tackles.
No. 2: Don't be afraid to play Tebow at QB
I'm not condoning benching
Mark Sanchez
. The leash is short, but Sanchez probably deserves at least another week or two to show he can turn the Jets around. But New York should not be afraid to let Tebow run the base offense. He comes in for Sanchez several plays a game anyway. Why not let him run New York's usual plays instead of the gimmick Wildcat?
No. 3: Tebow the fullback
The Jets have used Tebow a little at H-back, tight end and split him out wide. But none of it worked. Sanchez either refuses to throw to Tebow, even if he's open, or hits Tebow in the helmet. The Jets should use Tebow more at fullback. He could be a physical blocker and catch passes out of the backfield. This might sound a bit out of left field, but what the Jets were doing with Tebow before didn't work. Everything should be on the table.
September, 14, 2012
9/14/12
8:00
AM ET
FLORHAM PARK, N.J. -- There's been plenty of debate surrounding the Jets' Wildcat package since the team acquired
Tim Tebow
in late March.
One of the most recent critiques goes a little something like this: if
Mark Sanchez
is throwing the ball well, inserting Tim Tebow in a Wildcat package -- or in at quarterback in any formation -- will just throw off his rhythm.
Offensive coordinator Tony Sparano doesn't buy that theory one bit.
In fact, he sees an added benefit with putting Tebow behind center; it gives him a chance to talk to Sanchez in the middle of a possession without burning a timeout.
"As soon as Mark gets to the sidelines he's like, 'Oh what's next? What are you thinking?" the Jets first-year offensive coordinator said. "For me, it's an additional timeout ... it's another way to get more information to him. I think those are real positive things during the course of a game."
Sparano also downplayed the idea that Tebow would ruin Sanchez's rhythm.
"There's so many people that say well, 'There's this flow and you interrupt this flow. (But) we interrupt that flow when you're on the sideline and the defense is on the field too. So it happens during the course of a game. It's not something that I get too worked up about."
Sparano said that he hasn't addressed it with Sanchez or Tebow. The Wildcat didn't seem to have a negative affect on Sanchez in the Jets' win over the Bills.
Sanchez threw for 266 yards and three touchdowns. He was picked off once, but connected on 19 of 27 passes.
Two of his touchdowns came directly after plays in which Tebow was the quarterback.
In all, Sparano and the Jets went to the Tebow package for eight plays against Buffalo. It produced just 22 yards, with Tebow running five times for 11 yards.
September, 7, 2012
9/07/12
9:00
AM ET

The New York Jets' first game of the regular season is not until Sunday. But the calls for
Tim Tebow
are already underway.
NFL Network analyst Heath Evans
is the first to jump the Tebow bandwagon. Evans says the Jets can win 10 games this season if they don't waste their time with starter
Mark Sanchez
.
Start Tebow now, Evans advises, and the Jets will make the playoffs.
"A Rex Ryan defense and a Tebow-led offense could work together to easily frustrate 10 teams on the Jets' schedule. New York's defense matches up extremely well with almost every squad the Jets play this season, except for the Patriots, Houston Texans and Pittsburgh Steelers. If the Jets turn Tebow loose under new offensive coordinator Tony Sparano, and truly play "ground and pound" football, they could make the playoffs in 2012, rather than miss out for a second consecutive season."
Are the Jets a playoff team with Tebow this year? I don't see it.
I think New York's best chance to win is with Sanchez passing well and Tebow running well. Asking Tebow to be the primary passer on the team is risky given his very bad mechanics and lacking accuracy.
The Jets would have to change their entire offense and this is a team that probably couldn't handle something so drastic. Tebow worked his magic last year as the starter with the
Denver Broncos
, but I can't see a repeat of that with the Jets. New York should stick with Sanchez unless he struggles.
August, 20, 2012
8/20/12
8:59
PM ET
FLORHAM PARK, N.J. -- Observations from Monday:
1. Austin Howard isn't a serious threat to Wayne Hunter
: If he was, he'd have received more than four or five reps Monday with the starters. Obviously, that could change as the week goes on -- still four practices before Sunday night's game against the Panthers -- but the vibe I get is that the organization still thinks Hunter is the best right tackle on the roster. That, of course, doesn't preclude them from importing a right tackle.
2. Tony Sparano is a patient man
. It belies his on-the-field demeanor -- i.e. barking at players -- but the new offensive boss actually seemed rather calm when questioned about the brutal start by his unit. He certainly was a lot calmer than than call-in yahoos who already have decided the Jets have no chance in 2012. It's a smart approach by Sparano. If he's too critical and starts getting hot and bothered, it conveys a bad message to his players and the public -- panic. Remember, they're learning a new system and there will be growing pains. Sparano must be mindful of that while maintaining a sense of accountability.
3. Tone Time is approaching
. Injured WR
Santonio Holmes
(ribs) wore a red jersey and participated in positional drills, running full speed and catching passes. That's a positive development for the offense. Rex Ryan didn't rule out Holmes for Sunday night, but I'd be surprised if he plays. Why risk it? As much as they'd like to see him out there, stabilizing the Kiddie Corps of receivers, the Jets have to realize the most important thing is opening day.