New York Jets:

Two-Minute Drill
December, 28, 2013
12/28/13
8:00
AM ET
Our weekly Q&A is with
New York Jets
nose tackle
Damon Harrison
, who has one of the best nicknames in the NFL -- "Big Snacks." Defensive line coach Karl Dunbar gave him the name because of his voracious appetite.
Two years ago, you were a relative unknown at William Penn University in Iowa. Now you're finishing your first season as a starter in the NFL. Tell me what it's been like:
DH
: It's been a fun ride. All the credit goes to the guys on the defensive line and Coach Dunbar and Rex (Ryan) for having the faith in me. Without them, I wouldn't be in this position. It's definitely not all me. Without those guys, I'd be just somebody else on the roster.
[+] Enlarge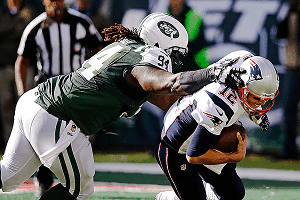 AP Photo/Seth WenigNose tackle Damon Harrison has become a key member of a promising Jets defensive line.
Do you ever take a moment at a game to reflect on how far you've come, from an undrafted free agent to a productive starter?
DH:
I do that every week, just living in the moment. During the warmups, if you watch, there's always a moment I'm by myself, just looking around. During the course of a game, it always seems surreal to me, thinking about where I came from and last year to this year. I always take a moment some time during the game. Even during practice, I'll walk up to
Kenrick (Ellis
) and say, 'This is crazy, man, we're doing this for a living.'
You have to be excited about the future of this defensive line.
DH
: The sky's the limit, man. With players like
Muhammad (Wilkerson
), taking a step to the next level, and
Sheldon (Richardson
) ... he's only a rookie and he hasn't even come close to his ceiling. (
Leger) Douzable
is a rotation guy and Kenrick, too. With Q (
Quinton Coples
) off the edge, it's crazy, man. We could be a scary group of guys.
Do you get recognized in public?
DH
: A lot of times, I get confused with
Willie (Colon
). When we do the Jets walk (through the stadium parking lot), you have people in the crowd yelling your name. I try to wave to everybody. One guy yelled, 'Hey, Snacks, I love you!' I turned around to look at him and he wasn't even looking at me; he was looking at Willie. That was funny. Me and Willie laugh about it every week because there's always someone who confuses him for me. Even around the city, they confuse him for me.
Does anybody call you Damon anymore or is it Snacks all the time?
DH:
Everybody, man. They all love the name, so they don't even call me by my real name. It's just Snacks. Even my mother calls me Snacks. I learned to embrace it.
What are your plans for the offseason?
DH:
I'll take a couple of days off, but I'll be right back at it within a week. I can't afford to take time off. I've got to be there to take the next step like Mo did, going into his third year. It's all about progression in life. I don't want to look back at the end of the offseason and wish I had done something different. Knowing from last offseason, I took too much time off and tried to come back to it, and it took too long.
You're a legendary eater, so I imagine you have to watch your weight
.
DH:
Hell, yeah, I can't get back big. I weight 333 now. After the break last offseason, I was about 356.
So you can put on 20 pounds quickly
.
DH:
In a week. I have to watch everything I eat.
December, 21, 2013
12/21/13
8:00
AM ET
Our weekly Q & A is with New York Jets defensive end Muhammad Wilkerson, who has recorded a career-high 10 sacks:
You're a Jersey guy, playing for a hometown team. You're only 24 years old, with an unlimited future. Do you ever pinch yourself?
[+] Enlarge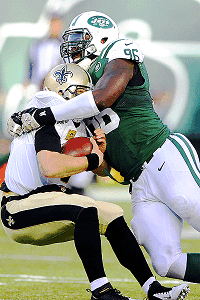 Robert Deutsch/USA TODAY SportsThe Jets' Muhammad Wilkerson has 10 sacks this season.
MW:
I talked to my friends, and they're still in awe or shock that I'm playing professional ball. It's starting to get by me now, but being this is only my third year, I still catch myself sometimes watching TV and I may see myself and I'm like, 'Damn, I'm really playing professional football.' I dreamed this when I was growing up as a young kid. Now it's really happening, and I'm being successful as well. It's cool.
What's the best thing about playing in the New York/New Jersey area?
MW:
Even though we have some crazy fans, being around home, being around this organization, a great group of guys in the locker room, great fans ... They can be crazy and say some crazy stuff, but I love these Jets fans around here.
You went to a Rangers game the other night at the Garden. Did you get recognized?
MW
: They put me up on the darned JumboTron (laughs). But I had no problem with it, it's cool. I was with
Jaiquawn (Jarrett)
. He was getting on me. I was just smiling, laughing. I enjoyed it.
Next year is the final year of your rookie contract. Do you want to be here long-term?
MW:
Yeah, definitely. I love Rex (Ryan) as a coach, I love this organization. I'm thankful and blessed they brought me here. I would like to be here for a long time, but we'll see. I can't control that.
The defensive line is the strength of the team, and all the key pieces are 26 or younger. You must be excited about the future
:
MW
: Yeah, definitely. We can be a great group, but we have to put in the work. We have the talent, but we have to work together and do our part, individually and as a team.
Are you happy with your season?
MW
: I'm a team guy, man. You can't ask me about individual stuff.
Are you happy with the Jets' season?
MW
: I'm not happy. I think we shot ourselves in the foot in some games, but we can't dwell on that. This offseason, we have to find ourselves and find out what went wrong, learn from them and get ready for next year.
December, 14, 2013
12/14/13
9:00
AM ET
Our weekly Q & A is with
New York Jets
kicker
Nick Folk
, who is having a Pro Bowl-caliber season. He leads the NFL in field-goal percentage (96.6), having made 28 of 29 attempts. His only miss was a 48-yarder in heavy wind.
This has been a remarkable season for you. What's it like being almost perfect?
NF
: I feel like last year I had a pretty good year, too (21-for-27). If you look at the stats, the three blocks didn't help. I felt like I was hitting the ball really well last year, too, so I tried to carry that over into the offsesaon and keep progressing with my consistency. I had a pretty good training camp. I tried to build a good rapport with Rob [Malone, the former holder], and now with Ryan [Quigley]. I've been with Tanner [Purdum, the long snapper] for four years, so I have a good feel for what Tanner's got. I'm just trying to keep it going. I'm not worried about any of the past stuff. I say it all the time: The most important kick is the next one.
You made the Pro Bowl as a rookie with the Dallas Cowboys in 2007. How much would it mean to go to Hawaii this season as a member of the Jets?
NF
: It would probably mean a lot more to my wife than me (laughs). It's always good, but the only real stat I pay attention to is our won-lost record at the end of the year. I'd much rather hold a Lombardi trophy at the end of the year than be in Hawaii, that's for sure. It obviously would be nice, but right now the only focus I have is on Carolina, going down there and getting a win.
Who has been the most influential person in your career?
NF:
Probably my kicking coach, Chris Sailer. We actually went to the same high school (Notre Dame, in Sherman Oaks, Calf.) He got me started with it, way back in the day. He got me my scholarship to Arizona. Without that, I probably would've been playing soccer in college. I had more soccer scholarship offers than football scholarships coming out of high school. Every offseason, I try to go back and get a day or two with Chris to get back on track. I try to start my kicking offseason program with him for a day or two, and go from there.
Where would you be now if you had accepted a soccer scholarship? How good were you?
NF:
Oh, man, my brother [Gregory] was a lot better than I was. He played with the Under-14 to Under-21 national team, all the way through, about seven years. He went to UCLA and went to the national championship. He was a lot better than I was. He's now working at Merrill Lynch. I don't know where I'd be right now if I went and played soccer. But I did have a few schools interested in me -- American, Portland State, San Diego State, Cal-Northridge. A lot of schools wanted me to walk-on, like UCLA, for football and/or soccer. At this point, I kind of think I made the right choice.
How do you think the United States will do in the World Cup?
NF
: Tough draw. I'm actually a German citizen as well, so once the U.S. is out, I'm rooting for Germany. I hope we get a good result against them. That'll be a tough game, obviously. They're the No. 2 team in the world right now, so they're a good squad. I think Ghana will be a tough game, but I think we can win that one. If we squeeze out a result against Portugal, if we get a win, I think we'll be all right. I'm rooting for them. I'd love to go down to Brazil, but I've got the kids.
You ever attend a World Cup?
NF
: I was at the World Cup final in '94, Brazil-Italy in the Rose Bowl. I watched Robert Baggio put it over the net in a PK (penalty kick). First World Cup ever to end in PKs, and I was there. Pretty cool.
November, 30, 2013
11/30/13
8:00
AM ET
Our weekly Q & A is with New York Jets wide receiver David Nelson, who played with the Buffalo Bills from 2010 to 2012:
As a high-school senior, you were called out on national TV by Regis Philbin, a Notre Dame alum who didn't appreciate your decision to de-commit from the Fighting Irish in favor of Florida. It happened on "Live! With Regis & Kelly." What was that like?
[+] Enlarge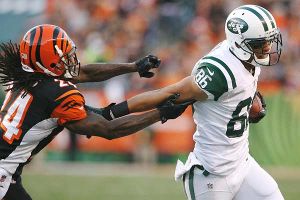 Mark Zerof/USA TODAY SportsWide receiver David Nelson has 17 catches for 211 yards with the Jets this season.
DN
: He looked into the camera and said, 'Big mistake for you, kid.' They were excited for Charlie Weis coming in. I committed to Tyrone Willingham, and he got fired and they brought in Charlie. I was the first one to leave Charlie and go somewhere else. My mom still has that tape, it's recorded on a VHS. My mom loves Regis Philbin, so the fact that he mentioned my name on national TV was really cool for her. To be an 18-year-old kid and having a nationally known name mention me, even if he was bashing me for making the wrong decision, it was pretty cool. Looking back, I think I made the right decision.
You grew up in the Dallas area, dated a Dallas Cowboys cheerleader, and got a chance to experience a storybook moment in your hometown. Tell me about it
.
DN
: When I was in Buffalo and scored a touchdown against the Cowboys, I ran the ball over and handed it to her (Kelsi Reich). A lot of people think I proposed to her. They say, 'You're the guy who proposed to his girlfriend.' I'm like, 'No, that was the guy from Boise State.' I just gave her the football, gave her a hug and walked away. We were dating, that was my girlfriend. I'm from Dallas. I had 80 family members in the stands. It's so random that you're playing the team your girlfriend cheers for in your hometown. I happened to score a touchdown, so all the stars aligned.
You played with Tim Tebow at Florida. What's your favorite Tebow story?
DN
: My favorite story was, day of the national championship (January, 2009). We had three or four hours off, a time when guys get their minds right, go over the game plan, last-minute preparations at the hotel. I remember receiving a text message from him: 'Hey, can you come to my room?' When the starting quarterbacks calls you to come to his room four hours before the national championship, you get a little alarmed. What's going on? What's happening?
I walked into his room and there were five other guys and our team chaplain sitting there. He was sitting on his bed, and he opens the book of Matthew from the Bible and reads this verse: 'Come to me all who are weary and burdened, and I will give you rest.' Before the biggest game of our lives, he was humbling himself before us. He was saying, 'I have so much pressure on me, so much attention, so much expected of me, but after reading this verse, I want to humble myself in front of my peers. What happens tonight, let's just go out and have fun. Give whatever we have and enjoy the moment.'
A lot of times, guys put out this image that they have it all figured out and have all the answers. For him to say that and do that at that time, it truly meant something. A lot of us grew closer to him and connected on a deeper level. It was truly powerful. (Note: Florida defeated Oklahoma, with Nelson scoring on Tebow's famous jump-pass.)
You and your brothers, Patrick and Daniel, are raising money to build a residential village for orphans in Haiti. How did you get involved in that?
DN:
About three years ago, I was on a mission trip to Haiti. It was my first time there. I've always loved kids. I'm the oldest of eight. I've always been surrounded by kids, and I knew I'd do something with kids when I got older, I just didn't know what. I spent a weekend at an orphanage and met a couple kids whose mother and father passed away in the earthquake. They're kids who don't have anything to call their own, except for a pair of clothes and some shoes, but they still have so much hope for life. I came back and my life was changed by those kids, by their hope and perspective on life.
I called two of my brothers and asked if they'd go back with me. We went back and stayed for a week. Our lives radically changed because of those kids. I was playing in the NFL, but these kids didn't care who I was, they didn't care what I did, they didn't care what I was bringing them, material wise. All they wanted was love and attention, and for me to hold them and play soccer with them. It rocked my world. My brothers and I made it our mission to provide for these kids any way we can, so we started this non-profit organization back in January.
November, 23, 2013
11/23/13
8:00
AM ET
Our weekly Q & A is with Josh Cribbs, one of the most prolific kick returners in NFL history. The former longtime Cleveland Brown has more than 12,000 return yards and 20 total touchdowns. At Kent State, he played quarterback and passed for more than 7,000 yards.
You'll be remembered as one of the best kick returners in history. How does that make you feel?
[+] Enlarge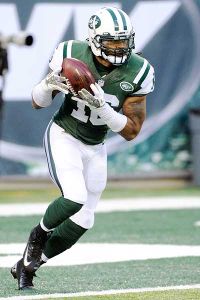 Bill Kostroun/AP PhotoVeteran Josh Cribbs has continued to be a solid kick returner and wide receiver in four games played for the New York Jets this season.
JC
: It's humbling, it really is. I had that goal in mind. I wanted to emulate
Brian Mitchell
, him being a college quarterback as well. Actually, my coach I came in with was Jerry Rosburg, who coaches for Baltimore now. His standard was high. Looking back on my accolades, and looking at what I have now, it's about production and the upgrade. I feel like since I've been here our return game has improved. The production is up. We moved from 24th to 14th. My goal is to keep climbing every week, to bust a return and get to the 40 every return. It's all about production. Even in my latter years, I can still produce.
Do you ever wonder how your career might have turned out if you had remained a quarterback?
JC
: I'm not sure. Everything happens for a reason. I don't think the league was ready for my style of play. It's the style now. If I was coming out now, I'd be highly sought after. I think I could've made it as a quarterback, but when I worked out for the Browns before the (2005) draft, they told me I'd pretty much make the team if I switched positions. I wanted to be in the league, so I did.
Who has been the most influential person on your career?
JC:
I'd say my wife, Maria. When I first got in (football), I was a quarterback and the quarterback is the head of the team. I really didn't get into too much trouble in college. I didn't get yelled at. When I came into the league with the Browns, I was getting yelled at and cussed out. I was like, 'Man, this NFL thing ain't for me.' I don't cuss people out, that's not me. There was a time in camp when I called my wife and I called my mom. I said, 'You know what? I don't think this is the direction I want my life to go.' My wife was the one who said, 'Baby, you've been doing this since before I met you. Your life led up to this for a purpose and you're going to stay the course.' I wanted to leave camp, it was terrible, my rookie season. My wife has been that driving force, even when I went out to Oakland for a short time and I was hurting. I wasn't quite healthy and she was massaging my feet, pressing me on.
You're 30 years old and you've played nine years. How long do you want to do this?
JC:
I always said I'd play until the wheels fall off. They haven't quite fallen off. The screws are loose, but they never fell off. On game day, I light up. I still have a passion to go down there and still make the tackles. I'm smart in the game, so I don't have to be out of control when I run. I know where the holes should be, so that's why my production still is solid. I'm smart when I play. I still take a lot of hits. It's unfortunate, but I love this sport. I love getting hit. It's a powerful game. Like the last game, we're losing and everybody is looking down. I'm like, 'No, I love this. This is what football is all about.'
There were concerns about your surgically repaired knee in the offseason. How is it now?
JC
: Some teams (in the offseason) were worried about my knee. I'm like, 'Look, I've played through so much pain.' It was like this last year, and I played through it and I made the Pro Bowl. It was hurting. When I was in the Pro Bowl, it hurt, but I played. I didn't come all the way to Hawaii not to play. I told all the teams I worked out for, 'Look, I've played in pain.' I didn't miss any games last year. That's what I boast -- durability. I boast durability. My 80 percent is better than some guys at 100. The injury rate in the NFL is 100 percent, but you play through it. If I can still move my leg up and down, I'm out there.
November, 16, 2013
11/16/13
8:00
AM ET
Our weekly Q & A is with Hall of Fame running back Curtis Martin, who was in the news recently. He accepted an invitation by
Miami Dolphins
owner Stephen Ross to serve on an advisory committee to review the Dolphins' conduct policies and make recommendations in the aftermath of the
Richie Incognito
-
Jonathan Martin
bullying scandal:
How does a former Jets great end up on a Dolphins committee?
Martin
: It doesn't have anything to do with it being the Miami Dolphins; this is a universal problem. It's this situation. You know all about the turmoil it has caused. Stephen wanted to pick out individuals he trusted, people like (former Dolphins)
Jason Taylor
and
Dan Marino
. I'm more of an outside point of view.
You don't see anything weird about it?
[+] Enlarge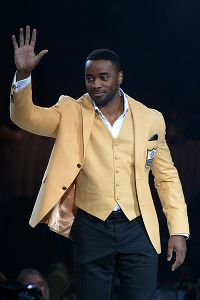 Kirby Lee/USA TODAY SportsCurtis Martin is going to serve on an advisory committee to review the Dolphins' conduct policies in the aftermath of the Jonathan Martin-Richie Incognito situation.
Martin:
No. At the end of the day, the NFL is part of my family now. It wouldn't matter what team it was. This is something I wanted to do. It's a very important issue.
In all the years you played, did you ever witness this type of bullying?
Martin:
No, I've never seen anything like it, personally. I'll be really interested to see the final facts. In a situation like this, you have to get all the facts and make a judgment. When I was playing, there's no way I'd be aware of a situation like this and not address it. I take this issue very seriously. I hear a lot of people saying a lot of things. People say [the Dolphins] had to know it was going on, but that's not necessarily true. Really, I'd rather wait until we have all the facts before I say anything more about it.
How did you get to know Stephen Ross?
Martin
: We've had some interactions in the past. I definitely have a lot of respect for him. From his words, I think he appreciates the way I think about things.
When you retired in 2007, you said you were close to becoming involved in the ownership of an NFL team A short time later, Ross purchased the Dolphins. Were you talking to him about becoming a part owner of the Dolphins?
Martin:
When I was freshly retired and looking to buy into team, he was one of the guys generous enough to give me good advice. I was seeking out the expertise and experience from different owners. I wanted to talk to some owners who had been around a long time, and I wanted to talk to new owners.
Let's talk about the Jets. Are you surprised they're doing so well?
Martin
: I don't necessarily feel surprised about it. I always like to see how things play out. I'm glad they're doing well. Say what you want, but 5-4 is encouraging. There's a lot of potential there. Geno [Smith] is growing and growing.
What do you think their record would be if Mark Sanchez still were the quarterback?
Martin:
That's a real guess. To be honest, if I knew, I'd say. Sanchez has had pretty decent years, but I like Geno's talent. He's versatile. He has escapability, along with a pretty good arm. Once this kid totally understands the game … I equate it to chess. When I started to learn to play chess, I made some good moves, but I didn't have a sense of the whole board. It's the same thing with playing quarterback. You have to know where everybody is on the field. That will come in time. Geno will be very dangerous as he develops that quality.
You're also a member of the Super Bowl XLVIII committee. How's that going?
Martin:
It's been a learning experience. I always thought the teams just showed up at the game, there was more traffic and that was all there was to the Super Bowl. But it's so much more than that. You have to work with the lighting on the field, transportation, sponsorships. What if it snows? It's really a huge, huge task to put on a Super Bowl. Woody Johnson wanted me to sit in on the committee, on hehalf of the Jets, and I consider it a tremendous honor. This is going to be one of the biggest, best Super Bowls ever.
November, 9, 2013
11/09/13
8:00
AM ET
Our weekly Q & A is with quarterback David Garrard, who returned to the New York Jets last month, in part, to serve as a mentor to rookie Geno Smith
:
It has been nearly a month since you came out of retirement. Being back in the locker room, what are your impressions of this team?
Garrard
: Great resolve. It's been a little bit of a rollercoaster -- that's been self-explanatory -- but to be able to bounce back, it shows this is a team that can put things behind them and move forward. It's a young team because there have been those dips in certain weeks, but you have to start learning from them and not allowing them to creep back in. I know we're heading on that path, but we have to prove it. We just can't talk about it.
Geno's passing numbers against the New Orleans Saints were ugly, but he didn't have any turnovers. Do you think he's learning how to manage a game?
Garrard:
Talking to him during the game, I told him, 'This is how this game is going to be. I've been in quite a few of these, where the defense is playing great and you're running the ball really well, so we put our pride to the side.' In a game like that, it's not about slinging the ball downfield, because you don't want to make a mistake and give the ball back to a potent offense. Let the big horses pound the rock. You don't want to do that as a quarterback, but there are times when you have to. That's what you have to learn as a young guy. That was huge. That was a good learning lesson.
Geno put up prolific numbers in college. Do you think this is a tough transition for him?
Garrard:
He's never been in that situation, where you had to let the running game take over -- but you have to. In this league, you have to do whatever it takes to win. Sometimes, as a quarterback, you have to swallow your pride and hand that ball off. Whenever you can take a team's will like that, which is basically what we did, you have to do it. It was our will against their will, and we took it.
Geno has made some big plays with his legs in the last couple of wins. What do you think of that aspect of his game?
Garrard:
Me being a mobile guy most of my career, I tell him all the time, 'Defenses hate a quarterback that runs.' He wants to be a quarterback that throws it. He says that. But I'm like, 'Dude, you have the wheels to get it done. You ran a 4.5 (in the 40).' I ran a 4.7. He has the wheels, he has the instincts. In the red zone, if you can make it third-and-3 with your legs, it makes it so much easier to pick up the first down. He's seeing that. When I was recruited by Rex [Ryan] to come here, in our first meeting we sat down and he was like, 'You take care of the ball and you use your legs. Those are the two things I love about you.' As a defensive coach, you know a mobile quarterback hurts you and stresses your defense.
November, 2, 2013
11/02/13
8:00
AM ET
Our weekly Q & A is with former New York Jets wide receiver Al Toon, whose son, Nick, will play for the New Orleans Saints Sunday at MetLife Stadium
.
So, Al, what will it be like seeing your son play against your old team? Will it be weird?
Toon:
It's a unique situation for any family. It's unique to have a child in the same arena, wearing the same number (88) and playing the same position -- even though it's for a different team. It's pretty cool. Hopefully, he can take it like any other week and perform as well as he can, and not add any psychological or emotional pressure just because it's where I used to play. That's what I conveyed to him.
So you had a father-son chat about the game?
Toon
Toon
: Yeah, it lasted about 30 seconds. I told him, 'Do your thing, perform as well as you can.' The other stuff is cool, but it's irrelevant.
Nick can look up in the stadium and see your name in the Jets' Ring of Honor. That sort of thing doesn't happen every day
.
Toon
: It is special. Those are the things we talk about and reminisce about -- the induction ceremony (in 2011), when he was there. It's a snapshout in our history, something we can reflect back on. But his focus needs to be on his job and the moment. That's what he's paid to do.
Wouldn't it be something if the crowd brings back the old "Tooooon!" cheer if he catches a pass?
Toon:
(Laughs) Yeah, I think that would be kind of cool, but I don't think you'd hear that from a Jets crowd.
It's hard to believe, but it's been 21 years since you retired at the age of 29 with post-concussion syndrome. I know it was tough for a period of time, but how are you, physically?
Toon
: I've been very blessed. I'm recovered to a point where I'm able to function relatively normally. Occasionally, I have issues, but I've been fine. What more can you ask for?
What kind of issues?
Toon
: I don't want to get into that. It's medical information, and it's very personal. I don't want people to feel sorry for me. I'm loving life, day to day. I know people are curious about me, but enough of my information is out there.
How do you feel about the way the NFL is handling the concussion issue?
Toon:
It's a major step. It has been the flavor of the day for a while. The players and owners have taken significant strides in trying to improve the playing conditions for the athletes. They're recognizing the seriousnes of concussions and post-concussion syndrome and the neurological issues that go along with having concussions. They're implementing rules that are beneficial to the players.
Would you have played football if you knew then what we know now about concussions?
Toon:
Sure, I was passionate about the game. We weren't ignorant to the fact that we could get concussions while enjoying this profession. It was part of the game, part of the risk you took. It's like being a deep-sea scuba diver. There's risk, but they get paid very well, and I got paid very well. There are a lot of positives. It opens a lot of doors for you.
So what do you make of your former team this season?
Toon
: You just never know what's going to happen. Some teams you just know aren't very good. At the same time, other teams you know are really good. This team is on the fence. There were a lot of question marks about the quarterback situation and about Rex Ryan's future, but they've been hanging in there. I think Rex is very entertaining. Woody Johnson is a smart guy and he knows how to be successful. There's no quesion in my mind this will work out.
October, 19, 2013
10/19/13
8:00
AM ET
Our weekly Q&A -- an offbeat conversation with a player -- is with New York Jets center Nick Mangold. He's a four-time Pro Bowler and the veteran leader of the offense:
You've worked with an interesting collection of quarterbacks over the years -- Chad Pennington, Kellen Clemens, Brett Favre, Mark Sanchez and Geno Smith. Give me a quick sentence on each guy, starting with Chad
.
Mangold
Mangold
: One of the smartest guys I've ever been around. Taught me a lot about how to look at defenses. Kellen, we came in together [in the 2006 draft], so it was neat playing with him. Favre is a legend. I watched him growing up. To be able to play with him was really cool. Mark, coming in, was my first experience with a rookie, so I learned a lot of total offense. Geno, my second time around with a rookie. I have a lot more experience to fall back on.
Some day, you'll be able to tell some great stories. You worked with quarterbacks at both sides of the spectrum. Favre was 39 when he was here. Now you're with a rookie
.
Mangold
: Yeah, Geno is 22 [actually 23]. I mean, Geno was born in the '90s. I have to deal with that.
Favorite Favre memory:
Mangold
: The second day he was in there, Eric [Mangini] had the penalty lap. We committed a penalty and we both had to run. The crowd [at training camp] was cheering as we were running around -- cheering for a penalty, which is kind of funny. That was my first real interaction with Brett. We talked the whole time. I was like, 'Hey, I'm Nick, nice to meet you.' I think we were a YouTube sensation before we even got into the locker room.
You've developed a strong interest in wine over the years. Tell us how that got started
:
Mangold
: My wife and I always had wine with dinner. It was one of those things where we saw everyone else do it, so we should probably do it, too. The first time we went out to Napa, we went to Vineyard 29. It's in St. Helena, set on the west side of 29. We sat there and the lady, Holly, gave us a bottle and she had to run off. She said, 'Here,, enjoy the bottle. Here's some crackers, some wine, I have to go.' She let us sit on their deck, overlooking the valley. We had the wine. A month later, we ordered some stuff from her and it came in. We opened up a bottle and I was taken straight back to sitting on her deck, with the sun setting. From that moment on, I was sucked in.
Offensive linemen are known as grunts or "Hogs," but you're a sophisticated wine lover. Do you think you're shattering the stereotype of linemen?
Mangold
: I never thought of it image-wise. The wine just tastes really good, so I'll go with it.
Your sister, Holley, is famous in her own right. She was a member of the 2012 U.S. Olympic weightlifting team and is currently appearing on the TV show, "The Biggest Loser." You must be proud of her
.
Mangold
: It's amazing, what she's been able to do. Think about it: She represented our country in the Olympics. That's an amazing feat. I couldn't be prouder. Now she's on TV, doing "The Biggest Loser." We taped it the other night, but I haven't had a chance to see it yet. It's kind of neat to me. I always liked that show; now I have a vested interest.
October, 12, 2013
10/12/13
8:00
AM ET
Our weekly Q&A -- an offbeat conversation with a player -- is with New York Jets linebacker Demario Davis. He's a first-year starter who already has emerged as an emotional leader on defense:
The late Steve McNair, the former Tennessee Titans and Baltimore Ravens great, was your cousin. What kind of impact did he have on your career and your life?
Demario Davis:
He was a first cousin. His dad and my mom are brother and sister. Definitely, having a cousin playing in the NFL is huge. He was a generation in front of me, so it wasn't like we were hanging out every day. I saw him on holidays when I was young. We'd throw the football around, talk football in the offseason.
[+] Enlarge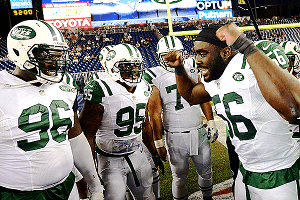 AP Photo/David DrapkinLinebacker Demario Davis, right, said he enjoys bringing energy to his Jets teammates.
McNair was known for his toughness. Did you get that gene, too?
DD:
Our family is built on toughness. Adversity is going to happen, in life and on the football field. You have to be able to shrug it off. Life isn't about how much you can dish out; it's about how much you can take.
How much did his tragic death impact you? You were 20 years old when he was murdered.
DD:
Anybody's death is tough, not just because he was a significant player. I have fond memories. It was tough. You see it, and it hurts. But it was huge to see how many people respected him and how many people were at his funeral, and to see what kind of impact he had in this world.
You grew up in a small town in Mississippi. Describe what that was like.
DD:
Collins (pop. 2,600) is a very small town, very family oriented. Pretty much everybody knows everybody. It's very rural, with a lot of hunting and fishing-type stuff. Brandon (pop. 22,100) is a little bit bigger, little more of a city feel. It's more of a city versus a town. It's more of an impoverished type of area. I was raised in Brandon. My mom had me when she was 16, so I stayed with my grandmother in Collins. I came to Brandon when I was in third grade.
You've been here only a year, but you're already a vocal leader on defense. We've seen clips of you firing up the defense. Have you always been that kind of leader?
DD:
I think it comes with the territory. I like doing that type of stuff. I'm a high-energy guy and I try to let my team feed off that. Guys look for me and want me to do it, so I don't mind doing it.
When the Jets drafted you, Rex Ryan compared you to Ray Lewis in terms of intangibles. How'd you feel when you heard that?
DD:
He said my character kind of reminds him of Ray Lewis. It's probably just our passion for the game, our love for the game, our energy. Ray is a believer, I'm a believer. We live to encourage other human beings. It's not just about us. We're very selfless. I sense all of those things out of Ray. That's why he's a role model of mine, somebody I look up to. I kind of watch how he does things. I have a lot of respect for him for the way he does those things. Life is about being selfless. It's not about you, it's about the people around you. Every day I come into this locker room, it's about my teammates. It's not about me.
October, 5, 2013
10/05/13
8:00
AM ET
We sat down for a conversation with New York Jets tight end Kellen Winslow, Jr., a former first-round pick (Cleveland Browns, 2004) who grew up around football. His father, of course, is Hall of Famer Kellen Winslow, the former San Diego Chargers' great
:
How much of an impact has your father had on your career?
Kellen Winslow
: A lot, but it's mostly self-driven. I've been wanting to do this since I was 5 years old. It's self-motivated. He used to have to tell me to stop watching football. I used to watch his highlights all the time, the Chargers' highlights. He'd be like, 'Read a book or something, stop watching that.' But I knew what I wanted to do. Ever since I could remember, that's what I've been wanting to do. That's why I work so hard at it. It's expected from me. I want to do a lot more in this game. I don't know how much longer I have, but I want to give it my all until I'm done.
[+] Enlarge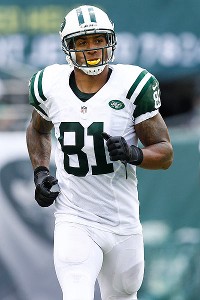 Jeff Zelevansky/Getty ImagesKellen Winslow will tell you that he's never lacked motivation to succeed in the NFL.
There had to be pressure on you, being the son of Kellen Winslow
:
KW
: My first year playing in high school, I had to ... there were certain expectations for me, but that was my first year playing. But after that, it was just my motivation. I wanted to be better than him.
You're a cycling enthusiast. Why are you so passionate about cycling? Did you start after your motorcycle crash in 2005?
KW
: I do it every day, even Sunday on home games. I have to do it in order to be able to run. It's just what I have to do. In the offseason, I do it because I don't run in the offseason. My (surgically repaired) knee just won't allow me to, so that's all I do. I'm able to still play because of cycling. Yeah, definitely, it's because of the motorcycle accident and the staph infection. I actually started in 2009, and I haven't gone off since. Those three or four years I didn't find cycling, it was a real struggle. It still is a struggle, but it's easier for me to be able to run now because of cycling.
You ever look back at the motorcycle accident and say to yourself, 'What was I thinking?'
KW
: Of course. How do I put this? I guess everything happens for a reason. I could say a lot of things, but my career has gone the way it's gone because of my drive. I could've easily stopped playing after the accident immediately. Ninety-nine percent would've quit right there. The doctor told me I'd never play again. That motivated me to get back to what I love. I was 22, in Cleveland, bored. Nobody knew, except me, about the bike. I am who I am because of that. It made me a better man. I'm not the same player, but it made me a smarter player. I had staph infection on top of that, and I had to overcome that also. That can end careers also. It's been tough, man.
On Monday night, you'll be on the same field as Tony Gonzalez, arguably the greatest tight end in history. Is there competition in the tight end fraternity?
KW
: I haven't had the career he's had. He's been playing so long. I don't know how he does it. He's got those two Pro Bowl receivers over there. He's got a Pro Bowl running back and he's got a Pro Bowl quarterback. It's tough, man. If I'm trying to match him, it's tough. It's fun, though. It's competition and I love it. (Antonio) Gates, (Jason) Witten, Gonzalez, I try to compete with those guys as much as I can and make the best out of my situation.
September, 28, 2013
9/28/13
8:00
AM ET
We sat down with New York Jets right tackle Austin Howard, who played a superb game last week against Buffalo Bills defensive end Mario Williams. Howard has an interesting background: He began as an undrafted free agent from Northern Iowa, where he played basketball and football:
Q: Was basketball your first love?
Howard:
I always loved basketball, but the biggest role model for me was my oldest brother, Marcel, and he went out for football. He had a lot of success at Iowa State and was in the league for a little bit [training camp with the
Detroit Lions
]. So that's what I wanted to do. I wanted to follow in his footsteps. But basketball, I had fun doing it. It just got to a point where I realized I was too big -- a 6-foot-7, 290-pound power forward/center. I kept growing and growing and growing. I had a blast at Northern Iowa. We went to the NCAA tournament and played Georgetown [in 2006]. I didn't play in that game, and I didn't play much overall [five games, eight points], but it was a once-in-a-lifetime opportunity. I remember we played "Big Baby" Davis. We actually beat LSU at LSU.
Q: What was it like coming out of a smaller school and trying to make it as an undrafted free agent?
Howard:
I've never been used to big-time lights. I've always felt that, even through high school and college, I need to give 110 percent to really show myself. I was blessed to go to Northern Iowa because, one, I felt like it gave me an opportunity to focus on my education. In terms of sports, it was an opportunity to be a big fish in a small pond. I felt I could succeed there and show off my skills. At other places, I might not have had that type of chance.
Q: Kurt Warner went to Northern Iowa, and he had a storybook career. Is he the inspiration for undrafted guys out of Northern Iowa?
Howard:
He has a great story, but, I mean, you can't look at him as someone you want to model yourself after and have that same type of mentality when it comes to the small schools. You know, guys make it. I believe we had three offensive linemen during my career at UNI that went to the league. It happens. If you're good, they'll find you.
Q: You weren't really on the radar here until the start of the 2012 training camp, when you reported at about 330 pounds. You dropped almost 30 pounds that offseason. Was that the turning point for you?
Howard:
I never felt I was at a weight that was inhibiting my performance, but the coaches here know a lot about the body and science and the work that goes into this sport, and they felt it would be better if I was at a lighter weight. Obviously, it has worked. I have to give a lot of credit to my fiancee [Larissa Johnson]. She works out a lot. She was cooking all the meals and dragging me to her [fitness] classes at six o'clock in the morning. We did rollerblading, mountain biking, you name it. That helped me become the player I am now.
September, 21, 2013
9/21/13
8:00
AM ET
We sat down with New York Jets guard Willie Colon, who has been in the news because of his role in last week's melee in New England. Colon was fined $34,125 for making contact with an official and punching an opponent. Some of our conversation:
Q: You arrived at the fight scene quickly, rushing to support a couple of teammates. Is that the kind of player you are?
Colon
: I've always been that guy. The way I was taught and raised into the game, as an offensive line, we're one. We're five moving parts. If one of my guys is in a fox hole and I'm not with him, there's a problem with me. I've always been raised like that. If one of my family members is in trouble and I'm not there to help him out or come to the rescue, there's something wrong with me. That's how I approach this game. That's why I reacted the way I reacted.
Q: How much of that mentality was formed during your childhood in the Bronx? You grew up in a tough area, the Melrose projects on 156th street
.
Colon
: I grew up in an area, pre-Giuliani (Rudy, the former mayor), where the city was kind of rough. My neighborhood was infested with drugs. There are a lot of drug dealers. There were a lot of bad things going on. It was definitely a fight or flight thing in my neighborhood. You had to fight for respect or guys would walk all over you. It made my personality. I always stood my ground, always fought for me or my brother, had a no-nonsense approach. Every New York kid has a fearless mentality. Every corner is a new adventure, so you have to be edgy. It's the way I was raised.
Q: What was it like on the streets?
Colon:
You had a dope dealer on one corner, a neighborhood bully on the other. It just so happened that me and my brother were the only kids that went to Catholic school. The way the projects were set up, we had to walk a long path to get to the school (Cardinal Hayes). We ran into drug dealers, we ran into winos. It was a big drug zone and there were a lot of things going on, but we had each other's back. We had to walk it every day and we couldn't leave each other. That's why me and my brother (Antonio) are so close.
Q: You, Wayne Chrebet and Marques Colston are the biggest names to come out of Hofstra, which no longer has a football program. Why Hofstra?
Colon
: It was an amazing experience. I went to Hofstra because my mother suffered from Lupus. She was up and down with her sickness and I didn't want to be too far away. I could've went to UMass or somewhere else. Hofstra was in the Atlantic 10 at the time; it was solid and well-respected, and it was in my backyard. If something would've happened to my mother and I couldn't get there, it would've killed me.