New York Jets:

Upon Further Review
December, 2, 2013
12/02/13
8:00
AM ET
A review of four hot issues from the
New York Jets
' 23-3
loss
Sunday to the
Miami Dolphins
:
1. Triple option at quarterback
: Unless they switch to the single wing, the Jets will have to name a starting quarterback for Sunday's home game against the
Oakland Raiders
. Rex Ryan will consider all three quarterbacks -- the slumping
Geno Smith
, the unproven
Matt Simms
and the ancient
David Garrard
. It's a no-win selection. Smith, in a serious funk, needs a timeout. He needs to watch a week or two from the sideline, perhaps gathering himself for another shot at the end of the season. Simms isn't ready, but at least he has a live arm and young legs. Garrard, 35, is a grizzled vet, but he has a bad knee and hasn't played since 2010. He'd be a sitting duck in the pocket. My prediction is that Ryan will go with Simms, although he's been known to bypass the No. 2 in this type of situation. Does
Tim Tebow
/
Greg McElroy
ring a bell?
2. Blowouts are bad:
The Jets' 5-7 record isn't troubling; after all, we all expected this to be a rebuilding year. It's how they're losing that sends up a red flag. A 20-point loss to the offensively challenged Dolphins at home? There's no alibi. The Jets' last four losses (in order) were by 40, 23, 16 and 20 points. Earlier, they lost by 25 points to the
Tennessee Titans
. The Jets have a minus-121 point differential, which is staggering. The only team with a worse differential is the
Jacksonville Jaguars
(minus-178). This league is built on parity, and there's no excuse for being noncompetitive in so many games. Yes, there's a talent gap between the Jets and probably half the league, but coaching and effort can narrow the gap. We haven't seen that from the Jets in a month.
3. The Ed Reed jinx:
The decision to sign Ed Reed hasn't exactly paid huge dividends. The Jets are 0-3 since Reed's arrival (he's a combined 0-11 with the Jets and
Houston Texans
) and their pass defense has gone south with him at safety. With the future Hall of Famer in the secondary, opposing quarterbacks have completed 67 percent of their attempts for 849 yards, five touchdowns (all over 27 yards) and only two interceptions. It's unfair to blame it all on Reed, as cornerbacks
Dee Milliner
and
Antonio Cromartie
have contributed to the mess, but the nine-time Pro Bowler has made no impact. In fact, he missed a tackle on
Brian Hartline
's 31-yard touchdown. Showing no accountability, Reed dodged reporters after the game.
4. Bad day for John Idzik:
The general manager's first draft pick, Milliner (No. 9 overall), was benched after a feeble tackle attempt on
Mike Wallace
's 28-yard touchdown in the third quarter. That makes three in-game benchings for Milliner. Idzik's third pick, Smith (second round), was benched at halftime. Suddenly, his bountiful draft doesn't look so bountiful. Idzik inherited a tough salary-cap situation, but other than trading for running back
Chris Ivory
, his pro personnel moves are easy to pick apart, especially at quarterback. This team is woefully devoid of talent on offense, and some of that falls on the GM.
October, 21, 2013
10/21/13
1:00
PM ET
A review of four hot issues from the
New York Jets
' 30-27
overtime win
against the
New England Patriots
.
The "push" heard 'round the world:
There's no doubt that
Chris Jones
pushed teammate
Will Svitek
into blocker
Damon Harrison
on
Nick Folk
's 56-yard field goal miss, violating a new rule on the NFL books. On Monday, Patriots coach Bill Belichick came clean, admitting his postgame interpretation of the rule -- that it's illegal only if the push comes from a second-level defender -- was wr ... wr ... wr ... wrong. Yes, he actually said the word. Asked why he had the notion that second-level pushing was illegal but pushing at the line was within the rules, Belichick replied, "Because obviously we are wrong. What else is there to say? We're wrong." Jets fans might want to tape that quote to the refrigerator.
[+] Enlarge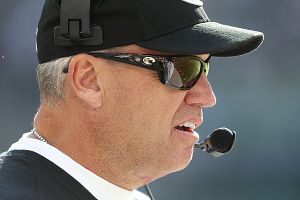 AP Photo/Peter MorganDespite having to employ a trio of new coordinators, Rex Ryan has the Jets contending in the AFC East.
Now there's a new wrinkle: I checked the tape of the Patriots-
New Orleans Saints
game from the previous week, and the Patriots ran the exact same technique on the Saints' 39-yard field goal late in the game. Same technique, same two players, Jones pushing Svitek. There was no penalty flag.
But wait, there's more to this story: The Jets might have been guilty, too. On
Stephen Gostkowski
's 44-yard field goal at the end of regulation, the Jets'
Quinton Coples
appears to shove a teammate into the Patriots' formation. It's hard to get a clear view from the TV tape. The coaches' tape, which should be released later Monday, will have a better angle.
Yep, another chapter in the Jets-Patriots rivalry.
Ground & Pound & Pound:
Did Rex Ryan call the plays in this game? I say that jokingly, but there's no denying the game plan had Ryan's fingerprints on it. The Jets ran 52 times, their most rushing attempts since a 57-attempt day against the
Cincinnati Bengals
in the 2009 season finale. This was a radical departure for coordinator Marty Mornhinweg, who averaged 26 rushes per game last season with the
Philadelphia Eagles
. The game-winning drive was way out of character for Mornhinweg, who ran on 11 of 12 plays. He got conservative at the end, calling an inside handoff on a third-and-5 from the Patriots' 36. The message was clear: Mornhinweg/Ryan had more faith in Folk from around 50 yards than they did in
Geno Smith
dropping back to pass. They almost got burned. The "push" play saved them from heavy criticism.
Crazy Legs Geno:
Smith has rushed for 146 yards, already surpassing
Mark Sanchez
's career season high by 40 yards. Smith was at his best against the Patriots, with six runs for 32 yards. His 8-yard touchdown run was a thing of beauty, as he cut and slashed his way through three defenders. He made former Jets cornerback
Marquice Cole
look silly with an open-field move. Smith should run more often. If the Jets continue to see a lot of man-to-man coverage, meaning the defenders' backs are turned to the quarterback, it makes sense for Smith to take off if no one is open.
Defense rocks:
Ryan called off the blitz, sending five or more rushers on only six of 49 dropbacks by
Tom Brady
, according to ESPN Stats & Information. It was a highly unusual approach by the aggressive coach, but it worked. Confident in the front four's ability to generate pressure, Ryan emphasized coverage. Part of the reason was because the secondary was healthier than it had been in several weeks, with the return of rookie cornerback
Dee Milliner
. It turned out to be one of the most impressive defensive days of the Ryan era. It's hard to believe, but the Jets held the Patriots to only two field goals on their final 10 possessions.
October, 14, 2013
10/14/13
12:30
PM ET
A review of four hot issues from the
New York Jets
'
19-6 loss
to the
Pittsburgh Steelers
:
[+] Enlarge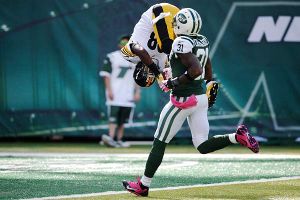 Seth Wenig/AP PhotoSteelers WR Emmanuel Sanders flips into the end zone for a touchdown as Jets CB Antonio Cromartie chases him in the second half.
A tale of two throws:
This might be an oversimplification, but you could say the game came down to two wide-open passes.
Ben Roethlisberger
made his,
Geno Smith
didn't. In the second quarter, Smith wasted a great opportunity, overthrowing
Stephen Hill
(51 air yards) on what should've been a 77-yard touchdown. Hill, showing his vertical speed, blew past CB
Ike Taylor
and S
Troy Polamalu
, the only time the Steelers' aging secondary looked embarrassingly slow. A touchdown in that spot would've given the Jets a 10-6 lead, changing the complexion of the game. The misfire was emblematic of the type of day it was for the rookie, who completed only 2 of 10 passes of 15 yards or longer. Meanwhile, Big Ben capitalized on his chance, hitting a wide-open
Emmanuel Sanders
(35 air yards) for a 55-yard touchdown to make it 16-6 in the third quarter. Roethlisberger showed why he's a two-time Super Bowl champion. Smith showed his inexperience.
What's up with Cro?:
This was another subpar performance for CB
Antonio Cromartie
, who allowed the long touchdown pass and was called for a 25-yard pass interference. This has to concern the Jets because they assumed Cromartie, coming off a Pro Bowl season, would be able to hold down the No. 1 corner job for the second straight year. It's one of the reasons why they felt good about trading
Darrelle Revis
. According to the Pro Football Focus ratings, Cromartie is ranked 101st among 103 cornerbacks. He has been targeted 41 times, tied for the fifth-highest total, and has surrendered three touchdowns. Interestingly, Roethlisberger went after Cromartie more than anyone else in the Jets' secondary. In case you're wondering, who is PFF's No. 1-rated corner? It's Revis.
Open the screen door:
Opponents have discovered the Achilles' heel of the Jets' defense -- short, quick passes, neutralizing their pass rush. The Steelers staged a clinic on screen passes, throwing no fewer than 10, mostly bubble screens to wide receivers. The Jets should've expected this, as the Steelers used 10 screens in their previous game against the
Minnesota Vikings
. Rex Ryan and Dennis Thurman have to figure out a way to stop the trend, because the defense is getting sliced and diced. In the past three games,
Jake Locker
,
Matt Ryan
and Roethlisberger have completed 77 of 99 attempts for 732 yards, six touchdowns and no interceptions. That's a 117.7 passer rating. For a defense, that stinks.
What happened to MartyBall?
Offensive coordinator Marty Mornhinweg, widely praised for his aggressive play calling in the first five games, got conservative. In the first half, he called 12 runs and 14 pass plays -- and the pass plays were of the dink-and-dunk variety. Ryan acknowledged the Jets tried to run the ball, perhaps thinking they could exploit the Steelers' 25th-rated run defense. Actually, their run defense is a lot better than the ranking, as the Jets discovered. Clearly, Mornhinweg has become more cautious with Smith over the past two games, perhaps because of a directive from Ryan in the aftermath of the Tennessee debacle. It worked against the
Atlanta Falcons
, but Smith struggled against a Pittsburgh defense that was determined to eliminate the deep strike.
September, 30, 2013
9/30/13
12:50
PM ET
Four hot issues that emerged from the New York Jets' 38-13 loss to the
Tennessee Titans
:
[+] Enlarge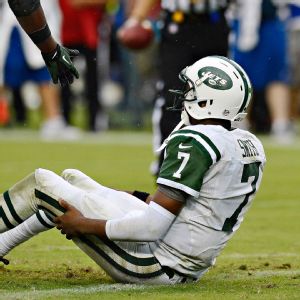 AP Photo/Mark ZaleskiDespite their 2-2 record, the Jets and quarterback Geno Smith are performing unevenly.
Who are these guys?
The Jets finished the first quarter of the season at 2-2, demonstrating many of the qualities we expected from this group -- a defense-minded team with a mistake-prone rookie at quarterback. For the most part, they've been terrific on defense, especially at the line of scrimmage. Other times, such as Sunday in Nashville, they've suffered from shaky coverage on the back end. Offensively, they've been what we expected for 12 out of 16 quarters -- a struggling unit. They were prolific against the
Buffalo Bills
, but was that a mirage? Sure looks like it. The lack of discipline (44 penalties) is uncharacteristic and alarming.
Help the kid:
Smith will remain the starter for the time being, so it's up to offensive coordinator Marty Mornhinweg to figure out a way to help him. On Sunday, he should've leaned more on the running game instead airing it out.
Bilal Powell
averaged 5.7 yards per carry in the first half, gashing the Titans on some first-down runs, but he carried it only three times in the third quarter, when it still was a game. Look, I'm not going to rip Mornhinweg for being aggressive -- a week ago, he was hailed for his attacking mentality -- but he should dial it back a little when Smith slips into one of his funks. He already has eight interceptions, a season's worth for some quarterbacks. It makes sense to feature the run against the
Atlanta Falcons
, considering wide receivers
Santonio Holmes
(hamstring) and
Stephen Hill
(concussion) are banged up and running back
Mike Goodson
is returning from a four-game suspension.
Cornerback issues:
For three-plus years, Rex Ryan enjoyed the benefit of having two excellent cornerbacks,
Darrelle Revis
and
Antonio Cromartie
. He never had to worry about bad matchups on the outside. Now that Revis is gone, Ryan is experiencing what most coaches go through.
Darrin Walls
became the third player to start at right corner, following
Dee Milliner
and
Kyle Wilson
. The once-formidable secondary doesn't scare anyone anymore. The run-oriented Titans compiled a 129.8 passer rating, beating Cromartie twice for touchdowns and Walls once. I'm not second-guessing the Revis trade, but you can certainly criticize the Jets' post-Revis plan, as Milliner was struggling before he got hurt.
Self-inflicted wounds:
The numbers are damning -- 12 giveaways and 44 penalties. Let's simplify: That's 56 bad things in four games. If you throw in the 14 sacks allowed, it's 70 bad things. It's hard to win football games at that rate. That they have only two takeaways, meaning a minus-10 turnover margin, compounds the issue. It has to get better or else the Jets will be out of the race by Halloween, especially with a tough October schedule. Ryan's team is leaking oil in a lot of places, and it's too late for a full-service oil change.
September, 23, 2013
9/23/13
12:30
PM ET
An examination of four hot issues from the
New York Jets
' 27-20 victory over the
Buffalo Bills
:
1. Broadway Geno
: A week ago in this space, we wondered how
Geno Smith
would respond to his awful fourth quarter in New England. The answer: The way the Jets had hoped. He became the first rookie in Jets history to pass for 300 yards and two touchdowns in a game. Not even Joe Namath did that in 1965, when the AFL was a wide-open passing league. In some ways, Smith's performance was Namath-esque, because he threw a couple of interceptions (that makes a total of six). But he also demonstrated the ability to attack downfield, as the Jets unleashed a seldom-seen vertical passing game. Smith averaged 11.4 yards per attempt. You can win a lot of football games with that number. He made one big play in crunch time, the 69-yard touchdown strike to
Santonio Holmes
, and that was enough.
[+] Enlarge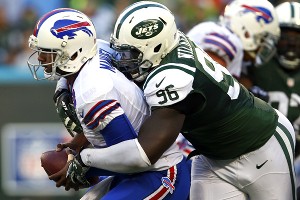 Rich Schultz/Getty ImagesMuhammad Wilkerson sacked EJ Manuel twice in Sunday's win over the Bills.
2. Paging Rex, spill on Aisle 3
: Rex Ryan has a lot of stuff to clean up. The Jets have committed 34 penalties, including a franchise-record 20 Sunday, and they're minus-six in turnover margin -- but they're off to a 2-1 start. Go figure. Tom Coughlin would love to have these problems at 2-1. Of course, the Jets won't keep winning if these issues persist. Ryan needs to figure out a way to tidy up the mess; expect a heavy emphasis in practice this week on penalty prevention. It was a team breakdown, as the offense was responsible for 11 penalties, the defense nine. The worst offenders were CB
Kyle Wilson
(four for 49 yards) and G
Vladimir Ducasse
(four for 35). If it weren't for one declined penalty and one offsetting, the Jets would've tied the league record at 22. Ryan contributed to the meltdown with an ill-advised replay challenge on a potential first-down spot. Note to Ryan: There's only a 40 percent success rate on those type of challenges this season. Ryan had no challenges remaining in the fourth quarter, and he could've used one on a possible fumble by
EJ Manuel
.
3. Get the quarterback
: Essentially, that was Ryan's message to the team in the Saturday night meeting. The defense heeded his message, recording eight sacks. The last time the Jets made eight sacks in a game was 1988, when the quarterback was
Matt Simms
' dad, Phil. Fortunately, Matt wasn't around to see that beatdown; it was three months before he was born. The Jets haven't been a big sack team under Ryan, who usually has to manufacture pressure with clever schemes, but the trend is turning. With
Muhammad Wilkerson
,
Quinton Coples
and
Sheldon Richardson
rushing the passer -- first-round picks from 2011 to 2013 -- Ryan has the horses up front to frighten quarterbacks. Manuel, who came into the game with a growing reputation for being calm under pressure, was hit 16 times and rattled by the pressure. Wilkerson recorded the first multisack game of his career.
4. From third-string to lifesaver
: Before training camp,
Bilal Powell
was projected as the No. 3 running back, behind
Chris Ivory
and
Mike Goodson
. It changed quickly when Ivory hurt his hamstring and Goodson didn't show because of off-the-field issues. Powell ran with the opportunity, won the starting job and saved the Jets Sunday with a career day -- 149 rushing yards, including 109 in the second half. His day began on the bench, as Ivory got the start. He lasted only four plays before he injured his "good" hamstring, setting it up for Powell. He's the most underrated player on the team, a steady, if not flashy runner who grinds out the yards. With Ivory likely to miss time, Powell will be a very important player over the next few weeks.