New York Jets:

Wes Welker
October, 17, 2012
10/17/12
9:25
AM ET
Two words that always increase the heart rate of every Jets fan -- Patriots week. Let's take a quick look at the Belichicks:
1.
The big news about the Patriots is they're 3-3, coming off a brutal road loss to the Seahawks. The last time they didn't have a winning record after six games was 2003, when they were also 3-3.


2.
As you know, every team in the AFC East is 3-3. This is the first time in 25 years that every team in a division enters a week with the same record in Week 6 or later, according to the Elias Sports Bureau.
3.
Yes, the Patriots already have equalled their loss total from last season, but keep in mind they've lost by a combined total of only four points -- two points to the Cards, one point to the Ravens and one point to the Seahawks.
4.
It wouldn't be a surprise if
Tom Brady
's arm is tired this week. He threw a career-high 58 passes in Seattle. Brady still is Brady (97.1 passer rating), but he made a few bad decisions and his pass protection continues to be spotty (13 sacks).
5.
The Patriots' up-tempo offense is operating at a breakneck pace. They've run a league-high 471 plays, nearly 100 more than their opponents. They've recorded at least 440 total yards in three straight games, tied for the longest single-season streak of the Brady-Bill Belichick era. They average a league-high 8.2 yards on first-and-10 pass plays. WR
Wes Welker
continues to be a pain in the rear, with 48 receptions for 622 yards and two touchdowns.
6.
Despite Brady's greatness, the Patriots have become run reliant -- just like, you know, normal teams. They're 3-0 when designed rushes make up at least half their plays, 0-3 when they don't.
7.
Their pass defense ... ugh! Year after year, it continues to haunt the Patriots. You'd think a coach as smart as Belichick would be able to solve the problem, but injuries and poor play have left the secondary a mess. They're allowing 288 passing yards per game, as opposing QBs have thrown 15 TDs for a 100.9 passer rating.
8.
A defensive bright spot is rookie DE
Chandler Jones
, who was drafted after
Quinton Coples
and already has five sacks. Go ahead, groan Jets fans.
October, 9, 2011
10/09/11
10:28
PM ET
FOXBOROUGH, Mas.--All eyes on the Jets' defense focused on the league's leading receiver
Wes Welker
on Sunday and finding ways to keep him from burning Gang Green. That strategy brought some success -- and as to be expected -- some failures in Sunday's 30-21 loss.
"One thing is we didn't want Wes to beat us this week but he did come out with some big plays," said cornerback
Darrelle Revis
, who matched up with Welker for most of the day.
While the Jets for the most part did a good job containing Welker on Sunday, they did yield some big plays to the speedy receiver, notably a 73-yard pass in the second half. Welker beat a zone coverage when he ran by Revis and
Eric Smith
for the 73-yard catch that lead to an eventual Patriots touchdown.
Welker finished with five catches for 124 yards but did not score. That marked his fewest catches this season and his second-lowest yardage total through the first five games of the year.
In the matchup between Revis and Welker, Revis did an admirable job against the slot receiver. According to ESPNBoston.com, Revis covered Welker on 42 plays and held him to two catches for 77 yards, with 73 of those yards coming in a reception against a zone scheme. Welker was targeted three times against Revis and beat him once in man-to-man coverage.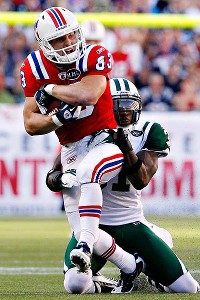 David Butler II/US PresswireWes Welker's 124 yards on five catches went a long way as the Patriots beat Gang Green 30-21.
"We tried to switch it up on him a little bit," Revis said of the coverage against Welker. "I was on him a couple of times, in zone a couple other people were on him,
Kyle (Wilson)
,
Donald Strickland
. We tried to give him a mixture of things. He made a couple great plays today, especially the big one."
Said Revis with a laugh: "Overall, it didn't look like he had a 216-yard game as he usually does."
For most receivers, a five-catch, 124-yard game would be a great day of work, but for Welker, it didn't meet his season average. Coming into the game, he averaged 10 catches per contest to go with 154 yards per game. To put into context, that's more than the trio of
Santonio Holmes
,
Plaxico Burress
and
Derrick Mason
is averaging combined.
Welker acknowledged the challenge of facing off against Revis, who has been known to shutdown some of the top receivers in the league.
"He's always a factor. He's a great player," Welker said. "You definitely have to make sure you're very crisp with all your routes and really set him up with stuff and be smart about it. Every play is go-time when he's across from you. He does a great job with all that. It's a little game of cat and mouse sometimes with him. You just have to keep lugging away and hopefully and hopefully get some big plays every once in a while."
While Welker ultimately did not score in the game, he still helped his team get the win in the big divisional showdown. The Jets and Revis might have limited Welker as much as any team this season but he still had his moments.
"Right now with as hot as Welker is you have to do what you can to take care of him," safety
Jim Leonhard
said. "He really had two big plays and we made mistakes on both of them and outside of that I thought we did a decent job and you look at the numbers at the end of the day and he has a huge day. It's frustrating, you have to execute for 60 minutes against them, they are tough. They give you a lot of different looks, they do a lot of different things offensively and a lot of matchups you have to make adjustments too and point blank we didn't do a good enough job to win."