February, 14, 2013
2/14/13
11:10
AM ET
During his media sessions last season, Tony Sparano always referred to his previous employer, the Dolphins, as "the other place" -- an apparent aversion to the team that fired him.
Sparano didn't take it quite that far Wednesday as he spoke to the media for the first time since being fired by the Jets, but he employed the selective-amnesia technique a few times when he could've referenced the Jets. The Raiders' new offensive-line coach/assistant head coach,
speaking to Bay Area reporters
, didn't want to use the 'W' word -- Wildcat -- and he made no mention of
Tim Tebow
when commenting on the top running quarterbacks in the league.
[+] Enlarge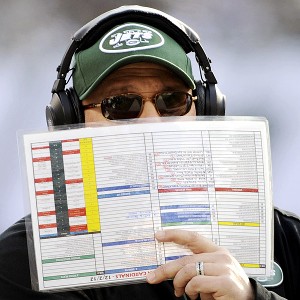 AP Photo/Bill KostrounNew Raiders assistant HC Tony Sparano is notoriously mute about former employers.
Sparano was asked about RB
Darren McFadden
, who ran the Wildcat at Arkansas under David Lee, who became Sparano's quarterbacks coach in Miami ... er, the other place when they introduced the Wildcat to the NFL.
"I don't want to say that word -- you'll bring it up soon enough," said Sparano, managing a small smile.
For the record, Sparano never liked using the 'W' word during interviews in New York. He felt "Wildcat" was an inaccurate generalization of his Tebow-specific offense. As it turned out, he never had a Tebow-specific offense; Sparano's plan was the equivalent of George Costanza's Penske file from "Seinfeld."
Later in his Oakland interview, Sparano did use the word "Wildcat," waxing nostalgic about his other-place days with
Ronnie Brown
and
Ricky Williams
. There were no nostalgic moments about his one-and-done with the Jets.
Sparano was asked what appealed to him about the Raiders, and he compared them to two of his previous employers -- but not the Jets. Surprisingly, he actually uttered the word "Dolphins." Maybe he has an expiration date on personal grudges.
"First of all, the history here, I would say without a doubt," he said. "I'm a history buff. I had a chance to be with the Dolphins and be with the Cowboys, and be in some organizations that have tremendous history and I love this history here."
I suppose the Dolphins have more history than the Jets, considering they have five Super Bowl appearances and two titles to the Jets' one, but the Dolphins haven't won anything in 40 years. Come to think of it, the same could be said of the Raiders.
Sparano gave Rex Ryan a mention. He was asked about Bill Parcells' influence on his career, and he listed Parcells, Tom Coughlin, Marty Schottenheimer and Ryan as "outstanding coaches" that he's been around.
The conversation got around to the new trend in the NFL, athletic quarterbacks running the read-option. Sparano mentioned
Russell Wilson
and
Colin Kaepernick
among the trend setters, saying, "It just brings a complete different element for the defense to have to prepare for." He didn't mention Tebow, who started it all in 2011 with the Broncos. He was supposed to bring some of that to the Jets, but ... well, we all know how that turned out.
December, 13, 2012
12/13/12
5:40
PM ET
FLORHAM PARK, N.J. -- When
Tim Tebow
was acquired by the Jets, he was going to bring a new dimension to the team's offense. Whether you call it the wildcat or the option, the idea was it would be a puzzle for opponents to have to prepare for every week.
But without much fanfare, Jets coach Rex Ryan has skinned the 'cat. With two of Tebow's ribs broken, the Jets haven't been scheming or practicing wildcat plays.
"It's not something we practice doing a lot of the other stuff," Tebow said. "We just try to run the offense."
[+] Enlarge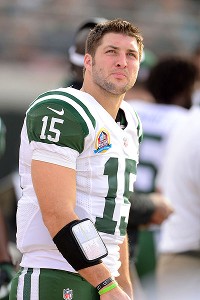 AP Photo/Scott A. MillerTim Tebow's rib injury has taken the Wildcat out of the equation.
Ryan said Tebow would still be the team's No. 2 quarterback, but that if brought into a game he would be expected to run conventional offensive plays.
"I don't really see him in that (punt team) role," Ryan said. "As far as the wildcat obviously (not) with the ribs the way they are. Hopefully once we get the OK with those ribs we can expand that but that's probably not necessarily going to be a big factor in our game plan."
Before he came to the Jets, Tebow was often successful because of the threat he poses outside of the pocket. But on Thursday he seemed to bristle at the idea he couldn't manage the Jets' offense.
"Everyone thinks the whole time in Denver we had this read triple option," Tebow said. "I mean, it started with no read plays, a few weeks later it was one, maybe two, maybe three, then you have a few option plays -- but that was five, 10 percent of our game max. So we did a lot of other plays from under center, shotgun -- just normal football plays. So it wasn't just the read-option. I can do other things other things than just read a defensive end."
Ryan said earlier in the week that this year has been frustrating for Tebow, who a year ago was about to lead Denver to a playoff win. Now his role -- the little there was of it -- has been curtailed by injury and the Jets need every win every game in a longshot bid for the playoffs.
"It's definitely been somewhat frustrating because you would love to be healthy," Tebow said, "and the few opportunities you get, you get banged up one one of them kind of crazy. That's a little frustrating but, hey, you try to deal with them as best you can and have a good attitude."
Tebow said his ribs feel better and that he is improving every day. In fact, he has come a long way in one week. Asked if this season has been a test for him, he conceded that perhaps it has been.
"Maybe in some ways, but I think every situation is a little bit and how you handle it," Tebow said. "Whether its good, you get too much praise and you don't really deserve it or vice-versa. You just try to handle everything in stride and handle it humbly. Just thankful for the opportunity you've been given."
Ryan couched the change as concern for Tebow's ribs, saying that a he didn't want to risk Tebow by running him while he is still healing, but the truth is that the wildcat plays have rarely gained a lot of yardage, or even taken opponents off-guard.
"Sometimes you have ups and downs and you just try to deal with them as best you can," Tebow said. "They're all a learning opportunity and when you believe everything happens for a reason it makes it all a lot easier and also you try to find the good in every situation."
September, 30, 2012
9/30/12
6:42
PM ET
EAST RUTHERFORD, N.J. -- The Jets finally saw a read-option offense work well and garner big plays.
It just happened to be the other team doing it.
While the Jets have gotten headlines for their Wildcat package with
Tim Tebow
, the 49ers' version of the read-option with backup QB
Colin Kaepernick
led the team to a touchdown and another big first down in Sunday's 34-0 win. Kaepernick finished with five rushes for 50 yards and also threw an incomplete pass.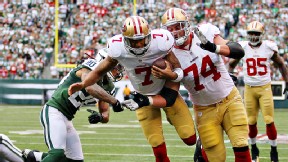 Ed Mulholland/US PresswireSan Francisco backup QB Colin Kaepernick did what Tim Tebow couldn't on Sunday.
"We gotta be ready for whatever. We rep Wildcat since OTAs," safety
LaRon Landry
said after the game. "It's nothing we haven't seen before, no matter what team we face. We've repped it. We just have to go out there and execute, and they dominated us today. Nothing else we can say about it."
Coming into the game, Kaepernick had only run once for 17 yards all season. San Francisco coach Jim Harbaugh said his team used the package Sunday for "creativity" and felt that it could be successful. Kaepernick added that the team had a few plays that were put in the playbook for potential use this week.
Asked if he took the 49ers' use of the Wildcat as a slight, Jets linebacker
Aaron Maybin
said: "You have to. ... They dictated the tempo of the game to us, and they ran the football, they controlled the clock and we didn't do anything to stop them and as a defense. That's pretty embarrassing. So this is a time where we've all definitely got to go some soul searching and we've got to look in the mirror and figure out how we can get better."
On the 49ers' second drive, Kaepernick took a direct snap and scampered 17 yards for a first down. He threw a deep pass later that drive to
Randy Moss
that fell incomplete. His payoff came when the team inserted him on a 3rd-and-6 at the Jets' 7-yard line in a scoreless game in the second quarter.
Kaepernick took the ball and ran a sweep to the left. Fullback
Bruce Miller
paved the way to the end zone to give the 49ers a 7-0 lead with 13:37 left in the half. It marked the first touchdown of Kaepernick's career and naturally brought up comparisons to the Jets' famous backup, who was brought in to run the package this season. Tebow, however, rushed two times for zero yards in the loss.
"I want to be me," Kaepernick said of the comparisons. "That's all I'm worried about. I want to go out there and play like myself."
While the 49ers used the play for success, Jets defenders insisted they weren't caught sleeping on the plays and knew what type of packages they might use. Safety
Yeremiah Bell
said the play is set up like a regular offense with wide receivers on the field, although he did add there isn't a certainty of whether the play is going to be a pass or a run.
Kaepernick later tacked on a 30-yard run in the final minute of the game. The 49ers finished with 245 rushing yards.
"It didn't catch us off guard. We've seen him on tape, we know what he likes to do. They did some different things out of it instead of they just didn't run the zone read, they did a couple other things," Bell said. "We know when he comes into the game what they're trying to do. It didn't catch us off guard, they just hit us with some good plays."