New York Jets:

Yeremiah Bell
July, 29, 2013
7/29/13
6:54
PM ET
CORTLAND, N.Y. –
Antonio Allen
is in the lead for the starting safety spot opposite
Dawan Landry
, Jets coach Rex Ryan said Monday.
"It's good competition, because
Jaiquawn Jarrett
is behind him. That's going to be real fun to watch because both guys [are] physical players. I love Allen's length and he's been impressive at times. He's not there yet, but some of the things he's done, he made a couple real nice plays the other day.
"Both of them can blitz, both of them are aggressive in the run game and we'll just let that play out."
Allen, going into his third NFL season, has been getting a lot of the first-team reps alongside Landry. As for safety
Josh Bush
, who many thought would compete for the starting role, Ryan said he is studying to back up Landry.
Allen intercepted a
Mark Sanchez
pass in 7-on-7 drills on Saturday, coming down with a ball intended for
Stephen Hill
. In that play, the 6-foot-1, 210-pound Allen had an advantage. Jarrett is about the same height, while Bush is 5-11.
Last season the Jets had
LaRon Landry
and
Yeremiah Bell
, a solid combo, but both free agents signed with other teams after the season.
[+] Enlarge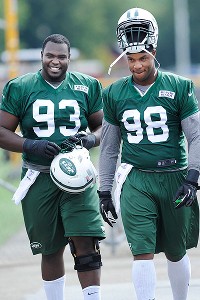 AP Photo/Bill KostrounKenrick Ellis and Quinton Coples lead a talented defensive line.
BEST IN LEAGUE?:
There is reason to be optimistic when it comes to the Jets' defensive line.
Quinton Coples
,
Kenrick Ellis
and
Muhammad Wilkerson
are developing into formidable players. Ryan was asked if he thought the Jets could have one of the best defensive lines in the league, as Coples had said earlier.
"I think we got a long road before we can say that," Ryan said. "How about we play a couple of games? But they certainly are a talented group."
NOT ABOUT THE BIKE:
Ryan is frustrated with the numbers of players who worked on the bikes Monday. WRs
Jordan White
,
Joe Collins
and
Marcus Davis
worked with trainers instead of doing team drills.
"How many more wideouts are over there?" Ryan said. "Like really, That kid again? Eventually you get tired of seeing it. We want football players, guys who play football and availability is an important thing in this league."
LINE PLAY:
Ryan praised offensive linemen
Willie Colon
and
Austin Howard
for their solid wall. "I might have been able to run behind that," Ryan said. He compared them to
Brandon Moore
and
Damien Woody
.
QUICK HITS:
Ryan said DT Kenrick Ellis dominated Sunday in pads, but was shut down Monday ... Asked about how well second-year receiver Stephen Hill has played at camp, Ryan said, "I'm not going to comment of Stephen, because he's doing so well I'm not going to comment on him." ... Ryan said the next live practice is likely to be the goal line and short-yardage drills planned for Thursday ... Last up, Ryan was asked about the
Dee Milliner
signing and joked, "I made that call." Then he started laughing, "Oh my goodness."
March, 23, 2013
3/23/13
7:00
AM ET
The Jets had a lot of unrestricted free agents heading into the offseason, and the better players were snapped up quickly. A few linger, waiting for new teams or to re-sign.
Rex Ryan said Friday the Jets weren't in a rebuilding phase. Check out the list and see if you agree.
WHO IS GONE
TE Dustin Keller:
Drafted by the Jets in 2008, Keller signed a one-year deal with the Dolphins worth $4.25 million. Keller was injured for much of last season, but was one of the most familiar targets for quarterback
Mark Sanchez
.
S LaRon Landry:
Landry's Pro Bowl year with the Jets helped him rehabilitate his foot and elevate his profile. Ultimately he became too expensive to keep and signed a four-year, $24 million contract with the Colts with $14M in guaranteed money.
DE Mike DeVito:
The New York-born DeVito will play in Kansas City after getting a three-year, $12.6 million deal from the Chiefs. He will be tough to replace as a player and locker room presence.
RB Shonn Greene:
Drafted in the same class as Sanchez, Greene heads to the Titans or a three-year, $10 million contract. He'll be paired with
Chris Johnson
, and Johnson already bristled at the idea.
S Yeremiah Bell:
Bell will replace former Jet
Kerry Rhodes
with the
Arizona Cardinals
. Bell signed a one-year worth $965,000, which was a number in the Jets' neighborhood but they passed.
WHO RE-SIGNED
K Nick Folk:
Signed a one-year deal to return to the Jets.
RB Lex Hilliard:
Another one-year deal for Hilliard, who replaced
John Conner
at fullback last season.
WHO IS IN LIMBO
OL Brandon Moore:
The veteran right guard has options, and seems to be weighing them before deciding on his future.
OL Matt Slauson:
Slauson, drafted by the Jets in 2009, had for his left-guard job with
Vlad Ducasse
. The two split time during the season, a move that even offensive line coach Dave DeGuglielmo said was a decision made above him.
WR Braylon Edwards:
The former and current wide receiver has said he wants to be a Jet, although Ryan didn't mention him on Friday's list of receivers he expects to excel in 2013.
LB Bryan Thomas:
Thomas, 33, played 11 seasons with the Jets -- and has likely played his last.
WR Chaz Schilens:
He has barely been with the Jets a year, and his deal is up. Schilens played well at times, but there seems no hurry to bring him back.
March, 7, 2013
3/07/13
2:51
PM ET
Everything you need to know about free agency, analyzing the Jets' unrestricted and restricted free agents, with positional grades (scale of a 100) and rankings by Scouts, Inc.:
MOST LIKELY TO STAY PUT
DE Mike DeVito:
He's a blue-collar lineman with scheme versatility, so he should draw considerable interest from other teams. The Jets want to re-sign DeVito, but with
Quinton Coples
poised for a larger role, it might be a financial squeeze to bring him back as the fourth linemen -- unless they're planning to play more 4-3 fronts. The Chiefs could be interested.
Grade
: 64.
Rank
: 15.
PK Nick Folk:
The Jets have kept him off the market the last two years with one-year contracts before free agency, but it looks like they're prepared to let him test the waters. They'd better be careful; Folk is an under-rated kicker and could get scooped up.
Grade
: 66.
Rank
: 5.
[+] Enlarge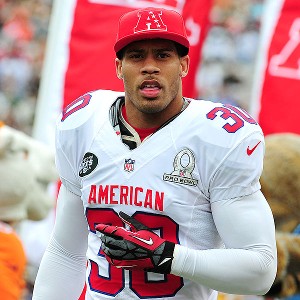 Scott Cunningham/Getty ImagesLaRon Landry was elected to the Pro Bowl in his first -- and possibly only -- season as a Jet.
MAYBE, MAYBE NOT
TE Dustin Keller:
He's expected to hit the open market, as the Jets have shown little interest in re-signing him. They will let the market dictate his value. He'd be an ideal fit in Marty Mornhinweg's West Coast offense. This offense should be collecting playmakers, not sending them away.
Grade
: 77.
Rank
: 4.
G Matt Slauson:
He won't command big bucks on the open market, so there's always a chance he could return. The Jets made Slauson take a pay cut last season and rotated him with
Vladimir Ducasse
, but he's better than Ducasse. Maybe new GM John Idzik will recognize that. Slauson may draw interest from the Cowboys and Raiders.
Grade
: 69.
Rank
: 6
WR Braylon Edwards:
He's a journeyman player at this point in his career. The Jets need size and depth in the receiving corps, but there's no sense of urgency with Edwards, who could be a post-draft option.
Grade
: 66.
Rank
: 17.
S Yeremiah Bell:
They have no experienced safeties under contract, so there's an obvious need. Bell was a nice hold-the-fort player last season, but he's 35. He could be another post-draft option.
Grade
: 69.
Rank
: 16.
GOING, GOING ...
S LaRon Landry:
He bet on himself last year, signing only a one-year contract -- and he won. Landry stayed healthy, made his first Pro Bowl and figures to cash in. The Jets would like to re-sign him, but they won't pay $6 million a year. Chances are, it'll be one-and-done.
Grade
: 78.
Rank
: 4.
RB Shonn Greene:
He's a between-the-tackles thumper, and the Jets need a No. 1 back with breakaway speed and pass-catching skills to excel in Mornhinweg's offense. Greene could draw interest from the Broncos and Falcons. There's little chance of him returning.
Grade
: 76.
Rank
: 4.
G Brandon Moore:
Their longest-tenured player on offense probably will move on, and that's too bad because Moore has been one of the Jets' most consistent and durable players. He'll be 33 before the season, so age is an issue. He could draw interest from the Bills, Cowboys and Raiders.
Grade
: 81.
Rank
: 1.
THANKS FOR THE MEMORIES
LB Bryan Thomas:
Their longest-tenured player is a true warrior, but injuries and age (34 in June) are concerns. It's time to say goodbye.
Grade
: 64.
Rank
: 13.
WR Chaz Schilens:
Well, he was always good for a sarcastic quote.
Grade
: 58.
Rank
: 35.
FB Lex Hilliard:
He was a midseason fill-in who played like a midseason fill-in. Adios.
Grade
: 56.
Rank
: 37.
RESTRICTED FREE AGENTS
RT Austin Howard:
The Jets really like his upside. They're deciding whether to make him a first-round tender ($2.86 million) or a second-round tender ($2.02 million).
Grade
: 68.
Rank
: 17.
TE Jeff Cumberland:
If he receives the second-round tender, it means Keller is a goner. The Jets could take the cheap route and assign the low tender ($1.32 million), which would give the team the right of first refusal but no draft-pick compensation.
Grade
: 61.
Rank
: 22.
LB Josh Mauga:
He missed most of last season with a torn biceps. He won't be tendered a contract.
Grade
: 20.
Rank
: 86.
LS Tanner Purdum:
A very good long snapper, but there's little chance of him getting even the low tender ($1.3 million).
Grade
: 59.
Rank
: 8.
February, 13, 2013
2/13/13
5:00
AM ET
This is Part 8 in a nine-part analysis of the Jets -- a position-by-position breakdown as we head toward the scouting combine and free agency:
SECONDARY
2012 depth chart
:
Antonio Cromartie
(starter),
Kyle Wilson
(starter),
LaRon Landry
(starter),
Yeremiah Bell
(starter),
Ellis Lankster
,
Eric Smith
,
Antonio Allen
,
Josh Bush
,
Aaron Berry
,
Darrin Walls
,
Donnie Fletcher
,
Darrelle Revis
(injured/starter),
Isaiah Trufant
(injured).
[+] Enlarge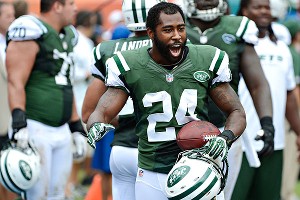 Doug Murray/Icon SMIWould the Chiefs trade the No. 1 pick in the NFL draft to acquire star Jets CB Darrelle Revis?
Overview:
The Jets finished No. 2 in pass defense, but that rank is deceiving because they weren't tested that often. Only 494 passes were attempted against the Jets, the third-lowest total in the league. Their opponents didn't have to play a lot of catch-up, so there was no reason to air it out. That said, the Jets' secondary still was solid across the board, highlighted by the performances of Cromartie and Landry. It would've been a special group if Revis had remained healthy, but Rex Ryan & Co. were forced to change on the fly when Revis went down in Week 3. Overall, this was the best unit on the team, although it came up short in the big-play categories.
Free agents
: Landry, Bell.
2013 personnel preview
: In a perfect world, Revis would return healthy and they'd re-sign Landry and Bell, forming one of the best defensive backfields in the league. But that won't happen because of the economic realities of the sport. Concerned about their ability to re-sign Revis, the Jets might trade their best player -- a controversial move that would be debated for years. They probably will lose Landry, who is believed to be seeking at least $6 million a year. They'd have to rebuild around Cromartie and Wilson, which won't sit well with an impatient fan base. Allen and Bush aren't ready to take over at safety, so they might have to retain Smith ($3 million cap charge) and keep Bell on the backburner unless a better option comes along.
Salary-cap situation
: The Jets need to make a decision soon on Revis. He's due a $1 million roster bonus in mid-March, and Cromartie is scheduled for a $2.3 million roster bonus a few days earlier. It's the first of three $1 million bonuses for Revis, who will make a total of $6 million in 2013 -- $3.5 million less than Cromartie. And you can bet that isn't sitting well with the Revis camp.
December, 2, 2012
12/02/12
8:55
PM ET
EAST RUTHERFORD, N.J. -- It was a good day for the Jets' defense in a 7-6 win over the visiting Cardinals, and one stat that player after player kept pointing to was that Arizona was 0-for-15 on third down.
"I'd have to say it's probably our best defensive game of the year," Jets safety
Yeremiah Bell
said. "I think they were 0-for-15 on third down, so that's a nice improvement from where we came from."
[+] Enlarge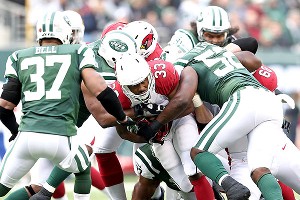 Debby Wong/US PresswireYeremiah Bell (37) and David Harris (52) helped the Jets swarm William Powell on this play.
Bell and other players got that stat from Jets coach Rex Ryan during his postgame address to the team. The Jets said it was the most failed conversions for an opponent since Tampa Bay went 0-for-14 on Dec. 13, 2009.
"We knew coming into the game that they were going to try to keep the game conservative and run and take their shot at the passing game," linebacker
David Harris
said. "We did a good job of stopping them on first and not allowing any big plays."
Harris (three solo, three combined) and cornerback Kyle WIlson (five solo, one combined) led the defense with six tackles each. Harris also combined with
Bart Scott
(five tackles) for a sack. Safety
LaRon Landry
(three tackles) had an interception.
"I think our defense has made strides during the season," Ryan said. "That's what I saw and that's what I know to be the truth, but it really showed today.
"I'm really proud of all the defensive coaches: (defensive coordinator) Mike Pettine, (defensive backs coach) Dennis Thurman, (linebackers coach) Bob Sutton, (defensive line coach) Karl (Dunbar), (assistant defensive backs coach) Jim O'Neil and (outside linebackers coach) Mike Smith. The communication over the headset was great. We were dialed in. The adjustments we needed to make were spot on. I thought they did a tremendous job."
November, 18, 2012
11/18/12
7:55
PM ET
ST. LOUIS -- Even with a win, the Jets can't avoid controversy.
Linebacker
Bart Scott
, who's had his share of run-ins with reporters, tried to orchestrate a media mutiny among the defensive players after the Jets' 27-13 win over the Rams Sunday at the Edward Jones Dome.
Scott told his defensive teammates to answer all questions with, "Both teams played hard" -- and that's it.
Initially, at least two players, CB
Antonio Cromartie
and DE
Muhammad Wilkerson
, were willing to go along with Scott's edict. When Scott emerged from the shower and saw LB
Bryan Thomas
chatting with a group of reporters, he barked, "Really, Bryan? Really?"
Scott wasn't irate -- there seemed to be a hint of levity in his voice -- but he kept haranguing Thomas. He called Thomas a "f------ sellout." To his credit, Thomas kept talking to reporters.
Yeremiah Bell
called over to Scott and told him to stop.
In the end, the boycott fizzles and players cooperated with the media, including Scott, who stood in front of his locker for an interview. He accused the media of trying to divide the team.
Some players were upset with the media in the wake of a New York Daily News story in which unnamed players ripped backup QB
Tim Tebow
.
September, 6, 2012
9/06/12
7:58
PM ET
After being responsible for most of the playcalling on defense last year, coordinator Mike Pettine acknowledged that Rex Ryan will be more involved with those duties in 2012.
"We used the word collaboration and that's the way we do it. There are some opponents that I have a better feel for, that I'll do the bulk of it and vice versa. Sometimes it's during a game, we'll switch it in game, we'll always talk and have a plan for it," Pettine said. "I think that's the strength of what we do is that we have the ability to bounce calls off of each other. When the offense is up, almost have like a gameplan meeting over the headset. ... We bounce it back and forth and I think it's worked for us."

After Ryan was responsible for the calls in his first two seasons with the Jets, he ceded the duties to Pettine last year. In the offseason, Ryan said he was going to be more involved with the all units of the team, including the defense and the playcalling. Pettine believes Ryan has been more involved with the offense and special teams so far than the defense.
The coordinator added that calling the game is sometimes like being on autopilot as there are predetermined calls and it's just a matter of reading that play off a script. He added that the team didn't feel it had a broken system so they weren't looking for an overhaul.
"I think that's a little overblown," Pettine said of Ryan's involvement. "It's basically what it's been. It will depend on the opponents and sometimes it's in-game. Sometimes it's I'll take first or second down, he'll take third down or vice versa or 'Hey, it's a two minute, you take it.' We're ego free when it comes to that."
SCALE DOWN:
As the Jets try to implement new players into their defensive system, particularly at safety, the team has scaled down some of their packages. Safeties
LaRon Landry
and
Yeremiah Bell
were signed this offseason while rookie
Josh Bush
is in the mix. Rookie defensive end
Quinton Coples
also will be seeing playing time in the trenches.
"I think a big part of what we wanted to do was get the new safeties acclimated and I think we've done a great job of that," Pettine said. "Between Dennis Thurman and Jimmy O'Neil,
Brian Smith
, I think they've put in a lot of extra time with those guys getting them up to speed, especially LaRon, who was not here and was rehabbing off site in the offseason. A credit to those players as well that they've put in the time. That to me was the biggest concern, getting those guys up to speed and we have a lot of things that have some moving parts."
REVIS-JOHNSON:
Darrelle Revis
will get his shot at
Stevie Johnson
after the Bills receiver caught 11 passes for 159 yards and one touchdown in two games against the Jets last year. Bell believes Revis will have revenge on his mind.
"As a competitor in this league, anytime anybody does something special and people make a big deal out of it, you want to go out and shut it down," Bell said. "As a player, we tend to take matchups as a personal challenge."
Rich Cimini contributed reporting
August, 26, 2012
8/26/12
7:31
PM ET
EAST RUTHERFORD, N.J. -- The story line is obvious: Can the
Mark Sanchez
-led offense, buoyed by the return of wideout
Santonio Holmes
, find a rhythm and the end zone? The Jets have yet to score a touchdown this preseason, covering 24 possessions in two games.
That's the big story Sunday night against the
Carolina Panthers
. Other things to watch:
1. RT
Austin Howard
makes his second preseason start, but this time he's The Guy. This is the chance of a lifetime for the journeyman lineman, who can lock up the starting job with a solid performance. Either way, I'm still looking for the Jets to acquire a backup-type tackle before the opener.
2. Remember
Wayne Hunter
? Of course you do. I have a feeling Howard's predecessor will have a semi-significant role in this game, playing as a sixth lineman/tight end in the jumbo package.
3. No surprise here: S
Yeremiah Bell
(knee) and DT
Mike DeVito
(calf) are inactive for the game. On Friday, Rex Ryan indicated he'd err on the side of caution if there was any concern about their injuries. Bell and his situation is more precautionary than DeVito, whose injury bears watching as they start early preparations for the regular season opener.
Josh Bush
and
Quinton Coples
, both rookies, will start for Bell and DeVito, respectively.
4. This is an interesting spot for Coples. He's had a productive preseason, but he hasn't done much against the starters. Facing the Panthers might stir emotions for him, because there was a lot of pre-draft speculation about the former North Carolina standout going to Carolina with the ninth overall pick. The Panthers took LB
Luke Kuechly
, and Coples slipped to the Jets at No. 16.
5. Perhaps the kicking battle will be decided in this game. It's a close competition between incumbent
Nick Folk
and challenger
Josh Brown
, with Folk holding a slight statistical advantage in practice performance.
6. A pregame analysis wouldn't be complete without a mention of backup QB
Tim Tebow
, who is slated to replace Sanchez after three quarters. Until then, Tebow probably will be used only on the punt team; there are no plans to use him in the Wildcat, according to Ryan. He's coming off a horrible passing performance; let's see if Tebow can get it together against the Panthers' backups.
7. Other inactives: NT
Sione Pouha
, CB
Ellis Lankster
, S
Eric Smith
, CB
Ryan Steed
, LB
Ricky Sapp
, T
Dennis Landolt
, WR
Chaz Schilens
and TE
Jeff Cumberland
.
8. The Panthers will be without WR
Steve Smith
and LB
Jon Beason
.
August, 23, 2012
8/23/12
7:23
PM ET
FLORHAM PARK, N.J. -- There was action before, during and after practice on Thursday here at the Atlantic Health Jets Training Center.
Before practice, coach Rex Ryan revealed that
Wayne Hunter
has
lost his starting job at right tackle
in favor of
Austin Howard
.
After practice,
Santonio Holmes
declared himself
fit to play Sunday night
against the
Carolina Panthers
.
In between, the Jets worked out for 2½ hours Thursday afternoon in front of a few hundred fans as training camp winds to a close. They got to see Howard take all the reps with the first unit, and Holmes get a few live reps as well -- wearing a red no-contact jersey -- as he continues to recover from a rib injury.

In terms of other practice observations:
INJURY REPORT:
RB
Joe McKnight
, who missed Wednesday's practice with shin splints, was back on the field, but limited. S
LaRon Landry
was also limited for precautionary reasons. ... TE
Jeff Cumberland
, WR
Patrick Turner
, WR
Chaz Schilens
, DT
Sione Pouha
, CB
Ellis Lankster
and LB
Ricky Sapp
did not practice.
GROUND AND POUND:
The Jets worked extensively on their running game Thursday. Gang Green averaged just 1.8 yards per carry in Saturday night's preseason loss to the Giants, gaining 58 yards on 32 totes.
OPPOSITE SIDES:
The first-team offense and first-team defense rarely matched up against each other Thursday. The Jets were likely preparing for Sunday night's game against the Panthers, having the first-stringers face scout teams.
THE HIGHLIGHT?
Mark Sanchez
completed a beautiful pass over the middle to
Royce Pollard
on one of the few plays when both the first-team offense and first-team defense matched up against each other, in 11-on-11 drills. Pollard went high to reel in the ball, in between safeties
Yeremiah Bell
and
Josh Bush
. Sanchez was fired up after the play.
On the day, Sanchez completed four of seven passes against the first-team defense.
Tim Tebow
went 2-for-3 against them, with a sack.
In 7-on-7 drills, LB
David Harris
dropped a gimme interception thrown by Tebow. But he made up for it with a nice pick on a pass thrown by
Greg McElroy
. Rookie LB
Demario Davis
also had an interception late in practice, in 11-on-11 drills.
THE KICKING GAME:
Nick Folk
nailed all three of his field goal attempts at the end of practice, including one from 53 yards away.
Josh Brown
also connected from 53 yards, but missed a shorter attempt.
REMEMBER ME?
Former Jets offensive tackle
Damien Woody
, now an ESPN analyst, visited practice on Thursday, along with his two sons. Kind of ironic, considering this was the day the Jets made a switch at Woody's former position.
August, 13, 2012
8/13/12
4:58
PM ET
CORTLAND, N.Y. -- Two of the NFL's most inaccurate passers last season tore it up Monday in practice -- albeit in a 7-on-7 drill, with no pass rush.
Mark Sanchez
and
Tim Tebow
completed 14 straight balls at one point, finishing a combined 15-for-17. That's hard to do, even against air. Afterward, Rex Ryan remarked that he'd "never seen that before."
The quarterbacks didn't fare as well in the team drills -- especially Sanchez, who went 4-for-12 with an interception (CB
Darrelle Revis
) and two sacks. Tebow was 5-for-6, with two sacks.
The Jets also practiced plays out of their Wildcat package, but everything was top-secret. If we gave you a breakdown of the plays here, this blog would self-destruct in 30 seconds. For a story on the Wildcat,
click here
.
HILL AND VALLEYS
: WR
Stephen Hill
is an interesting study because he possesses scary size and speed, but he also makes his share of rookie mistakes. He made a diving catch on a comeback route, receiving a shout-out from Sanchez. But a short time later, he ran the wrong route and got an earful from offensive coordinator Tony Sparano. Ah, growing pains.
HERE'S THE BEEF
: Ryan wasn't blowing smoke Sunday when he said RT
Austin Howard
will play this season. The coach wasn't referring only to right tackle, either; the 333-pound lineman could be used as a tight end in the jumbo package. The Jets had a lot of success with that two years ago, when RT
Wayne Hunter
was the extra blocker.
Can Howard overtake Hunter at right tackle? Probably not for the season opener, but there's no doubt that he'll get his shot in the jumbo. You could say it fills the void for a blocking tight end, but it makes the offense predictable when you use a 330-pound road grader as a tight end.
DEFENSE
: Former Raiders DE
Jay Richardson
, who had a strip sack in the opener, recorded a sack in another solid day. He's having a good camp and could be a tough cut if he continues to progress ... Good day by Revis, who might have a future at cornerback ... With
Eric Smith
(knee) out and
LaRon Landry
resting for the day, the starting safety tandem was
Yeremiah Bell
and rookie Josh Bosh ... CB
Kyle Wilson
and LB
Josh Mauga
had sacks.
INJURY REPORT
: Smith, NT
Sione Pouha
(back), WR
Santonio Holmes
(rib) and WR
Jeremy Kerley
(hamstring) were among those who didn't practice ... RB
Joe McKnight
returned after missing part of Sunday's practice with a foot injury. He said he's fine.
August, 6, 2012
8/06/12
2:55
PM ET
CORTLAND, N.Y. -- We've reached the dog days of training camp, but there was nothing tedious about Monday's practice. Along with
a brief melee that involved about 20 players
, the practice included a number of memorable moments.
Let's start with the play of the day, maybe the play of camp. In a 7-on-7 drill, QB
Mark Sanchez
threw a 50-yard TD bomb to rookie WR
Stephen Hill
. What made the play so special -- aside from the perfect throw and nice catch -- was that Hill beat the best cornerback in the NFL,
Darrelle Revis
. Beat him by a step, maybe two.
Hill brings a vertical dimension to the offense, something they haven't had since
Braylon Edwards
, but he still needs to work on his underneath and intermediate route-running, as Sanchez noted later.
QB TRACKER
: Aside from Hill, it wasn't a particularly good day for the offense. Sanchez went 5-for-11, with three sacks in team drills. Without C
Nick Mangold
(returning from London), there were some pass-protection issues in the middle of the line.
Caleb Schlauderaff
continued to struggle with his snaps. His best completions were a nice in-cut to WR
Chaz Schilens
, a sideline pass to WR
Royce Pollard
and an out-cut to TE
Dustin Keller
, who made a diving catch.
KILL TIM
: Backup QB
Tim Tebow
spent most of the practice scrambling, eluding pass-rushers and generally running for his life. Well, not really -- he was wearing the no-contact jersey -- but you get the drift.
In 19 reps with the second team, Tebow was "sacked" six times. He ended up completing three of eight passes. His best throw was a seam route to TE
Jeff Cumberland
, who scuffled briefly with Revis after the play.
Q SHOWS UP
: No. 1 pick
Quinton Coples
was having a nondescript camp until Monday, when he recorded two sacks. Both came against the second-team offensive line, so let's keep it in perspective. Still, it was a positive day for him.
SACK ATTACK
: LB
David Harris
, LB
Bart Scott
, DE
Jay Richardson
(1.5 sacks), NT
Damon Harrison
(two), LB
Aaron Maybin
and OLB
Garrett McIntyre
recorded sacks.
NEW LOOK AT SAFETY
: This was inevitable. For the first time in camp,
LaRon Landry
received the bulk of his work with the first team, replacing
Eric Smith
. Landry and
Yeremiah Bell
are projected as the starting tandem, with Smith rotating in. Landry made his presence felt with a loud hit on RB
Bilal Powell
. Three plays later, Powell came back strong, making an aggressive block on Landry on a blitz.
INJURY REPORT
: WR
Santonio Holmes
(ribs), RT
Wayne Hunter
(back), NT
Sione Pouha
(head), WR
Jeremy Kerley
(hamstring), OLB
Ricky Sapp
(undisclosed), WR
DaMarcus Ganaway
(hamstring) and WR
Dexter Jackson
(undisclosed) didn't practice ... RG
Brandon Moore
returned to practice after spending the weekend in Canton, where he attended
Curtis Martin
's Hall of Fame induction ... RB
Joe McKnight
went out with a stinger late in practice, but he said he was fine.
CRO FAN
: One fan held up a sign acknowledging CB
Antonio Cromartie
as "the second-best receiver" on the team -- a reference, of course, to his controversial quote. Cromartie spotted the sign and ... well, let's say he didn't disagree with it.