October, 15, 2013
10/15/13
6:37
PM ET
Floyd Mayweather has emerged as the face of boxing this year. His Sept. 14 bout against Canelo Alvarez vaulted him to another level of awareness in the minds of folks outside the hardcore fight crowd, including casual viewers of boxing. After last month's win, he was booked on "The Colbert Report," and even MSNBC, if you need proof that "Money" has transcended the narrow channel of boxing stardom to something a bit beyond that.
[+] Enlarge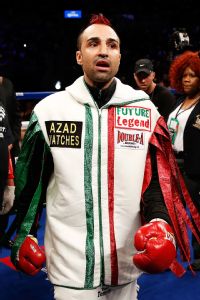 Nick Laham/Golden Boy/Getty ImagesCould Paulie Malignaggi be in line for a big payday?
Paul Malignaggi and Zab Judah -- talented pugilists who have toiled as professionals since 1996 and 2001, respectively -- face off, in a battle of Brooklyn, at Barclays Center, on Dec. 7.
No title will be at stake, but "bragging rights" will be on the line, as Barclays (and Nets) CEO Brett Yormark noted during Tuesday's news conference to hype the Golden Boy promoted clash, which will run on Showtime. And maybe more than bragging rights will be at stake.
The bout will take place at 147 pounds, which is Mayweather's territory. Do not be surprised, boxing fans, if the winner of this bout gets kicked up a notch higher in the Floyd-stakes, that short list of boxers who could be Floyd's opponent in the near future (Floyd has had two fights in his six-fight deal with Showtime, and is booked to fight next May, and September).
Judah said he'd be keen to tangle again with Mayweather. They battled in 2006, and fought some tight rounds before the bout dissolved in disarray (Mayweather won a unanimous decision after 12 rounds, but the flow was interrupted when a fracas, involving both corners, broke out in round ten).
"That sounds great, where the check at?," Judah said when I asked him about that prospect. "I'd like some of that Mayweather money. They call him 'Money May,' check it out, let's work," he said.
As for Malignaggi, he's proven himself to be one of the best self-managers in the game. He has the incredible ability to mix severe candor -- when he excoriated the boxing press, or portions of it, at Tuesday's news conference for being "fanboys" instead of real-deal journalists -- and activist trash-talking (a couple times, he publicly chided promoter Golden Boy for low-ball monetary offers), yet he retains a seat as a Showtime analyst and secures himself high-profile bouts. I have zero doubt that he'd love to finish out his professional run with a clash against Mayweather, the desired IRA bout for practically every world-class boxer from 140 to 160 pounds.
Showtime executive Stephen Espinoza agreed that this bout could in fact be something of a Mayweather eliminator.
"If the winner gets some solid wins, why not?" he told me.
October, 15, 2013
10/15/13
5:13
PM ET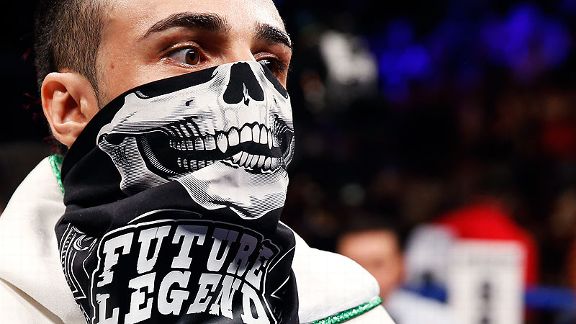 Nick Laham/Golden BoyGetty ImagesPaulie Malignaggi will battle Zab Judah at Barclays Center on Dec. 7.
Both boxers are coming off clashes they lost at Barclays Center, scraps which featured heated trash talking. But Zab Judah and Paul Malignaggi were on their best behavior Tuesday afternoon as they hyped their Battle of Brooklyn, which will unfold at Barclays Center on Dec. 7, on a Golden Boy card which will run on Showtime.
That isn't to say the presser at Barclays Center didn't feature some verbal bomb-dropping. But it was the Bensonhurst-bred Malignaggi (32-5 with seven KOs; age 32) who put that forth, with a scathing takedown of the boxing media, which he slammed for being too keen on printing gossip. He was riffing off resentments which bubbled up in the leadup to his last outing, against Adrien Broner on June 22. Malignaggi said the boxing media too often acted like "The National Enquirer," because material was printed about a relationship he had with a woman who later became involved with Broner.
Also, he said, boxing writers are often too busy crafting pound-for-pound lists, instead of reporting on substantive issues, like performance-enhancing drugs. He took a slap at "experts" who didn't think he was neck-and-neck with Broner, who won a split decision in their bout. He took the stance that writers who don't take serious stands on deep issues have no right to opine on a boxer, for example, coasting to a decision win instead of gunning for a stoppage.
Brownsville native Judah (42-8 with 29 KOs; age 35), who looked solid in dropping a UD12 to Danny Garcia on April 27, was comparatively mellow. There was zero hint of danger, or premature violence, as there was during the first Judah-Garcia presser, which nearly devolved into a full-scale brawl.
Judah said that he had an edge over Malignaggi in "hand speed and power," and predicted Malignaggi doesn't have the pop to rebuff him at all. "Paulie has fast hands, too," he allowed. "But he doesn't have what it takes to hold Zab Judah back."
September, 24, 2013
9/24/13
11:35
AM ET
The "boxing is dead" bunch got a kick in the groin on Sept. 14, when Floyd Mayweather took on Canelo Alvarez at the MGM Grand and more than 2.2 million households ponied up to watch the 12-round Mayweather master class unfold on pay-per-view.
If we're measuring the vitality of a business with a dollars and sense metric, and we usually do, the Mayweather-Canelo tussle was a Powerball home run, as it set a new mark as the highest-grossing PPV ever, generating $150 million plus.
The naysayers will counter that Mayweather is the "last star" and the sport will fall off a cliff and turn to a skeleton in a graveyard next to horse racing when he exits the scene. They'll stick to their rigid stance of negatavism, showing their ignorance of the time-honored tradition of the birthing of new megastars to replace the old ones. I semi-respectfully disagree with their reasoning, which is myopic at best. Sounds to me like the CEO of Barclays Center and the Nets, Brett Yormark, is in my camp. Yormark chatted with NYFightblog on Monday morning, and sounded beyond upbeat about the state of the sport, especially within the sphere of the five boroughs.
You'll recall that Yormark flew to Vegas
to begin setting the table for a pitch to
bring the next Floyd Mayweather fight to Barclays
, so I asked him for an update on that junket.
"I'm a big-event guy," Yormark told me. "Do I want to do the Super Bowl of boxing here? Darn right I do. And I will work tirelessly to convince promoter Golden Boy and any other partner that a Mayweather fight could be that much bigger, in the biggest city, New York. In Vegas, I made it known my interest. His nickname is "Money," well, "Money" needs to come to the money city. Mayweather transcends boxing, everywhere I went in Vegas and on the way, people were talking about the fight, and I think people who attended will look back at the event, and say, 'I was there.' "
Yormark said he will be putting together a pitch within a month for Team Mayweather and Golden Boy which will play up the success Barclays has enjoyed, like the buzz pop (including a 66% year-over-year ratings jump) the Video Music Awards received when they unfurled at Barclays on Aug. 25.
"It's about building the story," the Barclays boss said, when asked about the critics who say that the revenue derived from the gaming upsurge a Mayweather-in-Vegas bout spurs means Floyd will never fight outside Nevada. "The money will work itself out. The overall package will excite people. We have Madison Avenue, we have the talk shows, we have the media, things Vegas doesn't have. And I love Vegas. I was there for the fight, and I want to bring the next Mayweather fight here to New York, to Brooklyn, and have it be an 'I was there' event."
Follow Woods on
Twitter.
September, 18, 2013
9/18/13
12:05
AM ET
I've been mocked in the not too distant past for suggesting that Floyd Mayweather is such a ring talent that it would be wise to widen the scope of the search for future foes beyond the 147-to-154-pound region. I got whacked around like a piņata at a kids party for suggesting super-middleweight Andre Ward may be the only person anywhere near Floyd's weight class to test him. I was dismissed for being a Floyd hater, with the critics deeming me a lunatic for suggesting that Mayweather, really best suited to fight at welterweight, tangle with Ward, even if Ward offered to make a catchweight of say, 162 pounds. And what if Ward's contract called for him to gain no more than two pounds post weigh-in, he could come in to the ring weighing about what Canelo weighed on Saturday? I still think I'm not a lunatic.
We should not, I don't think, dismiss potential matchups like Mayweather-Ward or Mayweather-Bernard Hopkins, because I still don't see anyone at or near the 147-154 pound class giving "Money" problems. But, what about 160 pounds? How about Peter "Kid Choclate" Quillin? Maybe Floyd could be persuaded to edge up to 160 pounds and challenge Quillin for his WBO strap? They could do the bout in Brooklyn, and the fantasy matchup gets one step closer to reality with the knowledge that Quillin is a Golden Boy fighter, and fights on Showtime, which is the company Mayweather signed has his mega-deal with.
I reached out to Quillin's co-manager, Jon Seip, and broached the subject with him. Could he see a Mayweather-Quillin faceoff?
"I can't see Floyd going to 160," he told me. "Not when Sergio Martinez and Gennady Golovkin can go to 154."
OK, but if an overture were made, would Quillin do it?
"We will listen to any fight," he said.
And would Quillin shrink down to, maybe, 156, to even the playing field?
"No," Seip said.
Regarding Martinez and Golovkin, both those gents work under the HBO umbrella and I don't see that relationship switching. Just to be sure, I reached out to Team Martinez's Nathan Lewkowicz; his dad Sampson Lewkowicz advises Martinez, who is promoted by Lou DiBella. "Sergio has a contract with HBO and he's loyal to HBO and HBO has done right by him," Nathan told me.
Sort of sounds like as of now you can shelve the Mayweather-Martinez meetup, eh?
Readers, you dig a Mayweather-Quillin scrap, if "Money" signed off on it, and liked the idea of questing for a middleweight crown?
Follow Woods on
Twitter.
September, 15, 2013
9/15/13
12:42
PM ET
The list of viable challengers for Floyd Mayweather has narrowed, after Mayweather so handily dismantled Canelo Alvarez on Saturday, at times toying with the 23-year-old Mexican en route to winning a majority decision at the MGM Grand in Las Vegas.

Alvarez was younger (by 13 years) and stronger, a natural junior middleweight. But those elements proved immaterial, as Mayweather's hand speed, reflexes, ring smarts and all-around skill set had Alvarez unable to adapt to things he's never seen, and never will again.

The fight was scored a majority decision because an arbiter named CJ Ross scored the scrap 114-114, a draw -- a scorecard which drew immense scorn on social media, including a hashtag of #BanCJRoss on Twitter.

Mayweather certainly looked fit and fast at age 36, with no evidence of slippage. Fight fans looked left, right and center ring, actually, for who could conceivably test Mayweather next. One candidate is Danny Garcia, the 140-pound ace from Philadelphia who came in Saturday as the underdog, as usual, but exited the ring right before Mayweather entered it with a new pile of admirers after the way he boxed Argentine bomber Lucas Matthysse. Garcia was smart, using movement, combo punching and a Teflon chin to get the W.

On Twitter, there was also talk of middleweight ace Gennady Golovkin, the Kazakh mauler who fights on Nov. 2 in New York against Curtis Stevens in a 160-pound tangle. Golovkin has expressed willingness to fight anywhere from 154 to 175 pounds; would he be keen to test himself against Mayweather, who is chipping away at doubters who scoff when he deems himself an all-time great?

"Gennady would fight Floyd at 154 pounds," Golovkin's promoter, K2's Tom Loeffler, told ESPNNewYork.com on Sunday morning. "Whether it's doable is another story."

Mayweather does business with Showtime and Golden Boy, and Golovkin is an HBO fighter -- HBO doesn't buy fights from Golden Boy now, so to get all those entities on the same page would be a task. "Gennady's trainer Abel Sanchez says that Gennady is the only guy who can beat Floyd at 154," said Loeffler. "I don't want to give the wrong impression, I think Floyd has proven over and over that he is the best pound for pound fighter in the world today. But Floyd would clearly be the most compelling fight for Gennady out there. Golovkin is, though, completely focused on Curtis Stevens."
June, 20, 2013
6/20/13
4:51
PM ET
NEW YORK -- If I had to turn in a scorecard, I'd say Paul Malignaggi won the first part of Thursday's news conference at Barclays Center ahead of his Saturday title defense against Adrien Broner.
Broner, the (maybe) next big thing out of Cincinnati, won the second half of the event.
Promoter Richard Schaefer of Golden Boy asked the gents to play nice, requesting they stick to the topic and sphere of boxing and not digress into personal matters, as has occurred repeatedly in the buildup to this Showtime clash. Broner months ago had started the ball rolling when he referenced a woman he said he was friends with who said she'd dated Malignaggi. The nature of that relationship and quality of interaction was debated, and often in some rather raw terms, in the public sphere and on the Internet.
So Schaefer -- rightly, in my opinion -- asked that the fighters not go there again.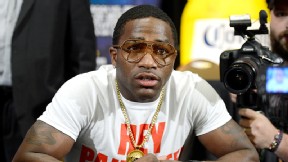 Jeff Bottari/Golden Boy/Getty ImagesDid Adrien Broner's stunt get in Malignaggi's head?
Broner, though, fancies himself a provocateur in the Floyd Mayweather vein, and brought his lady friend to the presser, and pointed her out to Malignaggi. The Brooklyn-bred boxer tried, it appeared, to not delve into the subject, but couldn't help himself. He addressed the lady, and quizzed her, asking if she knew the name of his mom, as a test to prove her true level of history with him.
The issue died down, and the two men did a staredown for the cameras, but Malignaggi, who works as an analyst for Showtime when he's not gloving up, kept fuming. He looked to exit the building posthaste, and only slowed down long enough to answer a few questions from Showtime. He then collected his crew and strode to the exit.
Broner was left with a gaggle of media around him. He insisted he didn't bring the lady to Brooklyn to get under Paulie's skin, but declared that her presence did just that.
Malignaggi scored with lines like, "Stop trying so hard. People see through you. Be yourself," and "Broner is a talented fighter but [adviser] Al Haymon has got him where he is." But when Malignaggi defied Schaefer's wishes and spoke to Broner's guest, it seemed as though, perhaps, his focus was shifted. And when he appeared salty after the event, one had to wonder if Broner's ploy worked.
Could Malignaggi fight a different fight than perhaps he should on Saturday, in an attempt to punish Broner for his stunt?
Maybe, but I'm guessing the 12-year vet collects himself, shrugs it off, gets on message and fights the sort of fight, tactically, he intended to all along.
Your thoughts, readers? Did Broner get into Paulie's head and plant a bad seed?
June, 16, 2013
6/16/13
1:06
AM ET
Paul Malignaggi is not universally loved in the fight world. Some fans don't take to that Brooklyn edge, the pride almost incessantly on parade with no apologies. But gosh, if you ponder it, you do have to respect his game, even if you don't adore his persona.

I watched the hitter work out on Friday, a little more than a week away from the biggest bout of his career, a June 22 title defense against young gun Adrien Broner, a possible heir to Floyd Mayweather, which is set to unfold at Barclays Center in Brooklyn. I came to the workout at The Fight Factory, in the Gravesend, Brooklyn neighborhood, with a fair amount of respect for the 32-year-old who is letting the up-from-lightweight challenger have a crack at his WBA welterweight title. And I left an hour later with a bit more respect for him, and a bit more of a cautionary flavor message to my readers: I wouldn't be so quick to assume that Broner has his way with the Bensonhurst-bred pugilist, just because he holds an edge in hand speed and power, or so it might seem. I saw a Malignaggi (32-4), and crew surrounding him, that didn't give off the vibe of people pulling a cash-in score, an exit-strategy gig. I sensed cautious confidence.

"I feel sharp," he told me while boxing a shadow in a near empty gym, while trainer Eric Brown looked on. "This has been one of my better camps."

Of course, I wasn't there long before Malignaggi started busting on Broner, saying that he had a title handed to him, that he'd beaten nothing but nonentities to this point, that his hoopla has been manufactured because he has an influential advisor, Al Haymon, in his corner.

I asked the significance of the red-hued Mohawk he sported, and the fighter said he was styled to harken back to his earlier days. He debuted as a pro in 2001, and said he's happy to provide some color to the promotion, because he feels Broner is a dud as an attraction.

I informed Malignaggi that believers in his prospects on June 22 are outweighed by doubters. I got the sense that doesn't bother him. Correct?

"I've gotten accustomed to people not believing in me," he said. "From the amateurs, they said I wasn't strong enough, that I run too much. ... I'm still here, aren't I? My whole career is proof. Naysayers are nothing more than an opinion."

He said after he lost to Amir Khan in 2010, and heard people saying that he was signed by Golden Boy merely to be fodder for their stars, he shifted his thinking. No longer, Malignaggi said, did he take to heart the critiques. "I instead focused on fighting instead of trying to make everybody happy," he declared. "I fight for money, not legacy. I want to beat Broner so I can keep making millions of dollars."

Now there was some of that candid talk which is deemed too pointed for some. But that fearlessness to offer the raw truth has made me appreciate Malignaggi as an athlete and interviewee, and put him on a path to stay relevant and busy post-boxing, as Showtime uses him for analysis on fights in which he doesn't participate.

Maybe the guy was doing a great sales job, but I found myself agreeing with him that he is under-appreciated. I mean c'mon, he has seven KOs to his credit. It is pretty rare that you have someone with below-average power, who isn't a Pernell Whitaker-level defender, stay in the realm where Malignaggi is.

Please check back from more straight talk from Malignaggi, as he addresses people who insist this is his last hurrah, and that he's about to transition full-time to the talking side of the sport.
May, 30, 2013
5/30/13
12:17
AM ET
All-time great boxer Floyd Mayweather is throwing it in the faces of doubters who thought he might avoid Canelo Alvarez, the 22-year-old Mexican hitter with a 42-0-1 (30 KOs) record.
Shortly after 10 p.m. on Thursday, Mayweather (44-0 with 26 KOs), the 36-year-old Las Vegas resident, took to Twitter to announce that he'd be returning to the ring on Sept. 14 in Las Vegas.
"I chose my opponent for September 14th and it's Canelo Alvarez," he tweeted. "I'm giving the fans what they want. It will be at the MGM Grand."

The fight will be the second of his six-fight deal with Showtime. Showtime executive Stephen Espinoza told NYFightblog that he sees Alvarez, who turned pro at age 15 in Mexico, as a stiff test for Mayweather.

"Floyd Mayweather and Canelo Alvarez are the two biggest stars in boxing, and Mayweather versus Canelo is by far the biggest fight possible," Espinoza said. "Boxing fans worldwide have been clamoring for it. Neither Floyd nor Canelo ever wavered in their desire to make the fight happen and to give the fans what they want. Rarely has a fight this big gotten done so quickly and painlessly."

The two junior middleweight title belts held by Canelo will be up for grabs, but the bout will be fought at a catchweight of 152 pounds or less. Mayweather has campaigned at 154, but his frame is more comfortable at 147 pounds, so this arrangement is somewhat of a compromise.

The Sept. 14 date is a bonanza for Mexican fight fans, and the promoters of A-list fight cards featuring A-grade Mexican talent, as it will fall on Mexican Independence Day weekend. Canelo exploded as a certified ticket mover with his last fight, which took place on April 20 in San Antonio against Austin Trout. Canelo knocked down Trout in the seventh round and took a unanimous victory in 12 rounds in front of 39,472 fans at the Alamodome.

This matchup, with the Mexican who has taken the matinee idol reins from Oscar De La Hoya, who now promotes him, comes as a surprise to Floyd doubters who thought Mayweather might steer a path around the sturdy and composed boxer.

Mayweather and Canelo each fought Shane Mosley. Floyd did it first, in May 2010, and after being buzzed in the second round, he coasted to a unanimous win. Canelo scored a unanimous decision over Mosley in May 2012, and Mosley hung up the gloves shortly after, though he re-entered the ring two weeks ago, with a win over Pablo Cano.
May, 1, 2013
5/01/13
2:10
AM ET
Seems like everyone I come across is impressed with Marcus Browne's progress as a pro thus far. The Staten island hitter, a light heavyweight, rose to 4-0 with a KO2 takeout of Taneal Goyco at Barclays on Saturday night.

I asked the lefty, who repped the U.S. at the London Olympics, for his takeaway on the victory.

"It was a good win, now for our next time out we're doing six rounds for the first time," the 22-year-old told me. "We're trying to get a decent opponent and I'm just going to continue to work hard so fights can be easy, although not every fight will be."

Browne is being guided by Al Haymon, who is sort of a "Wizard of Oz," man-behind-the-curtain type who is rarely seen in public -- he didn't even appear to accept his Boxing Writers Association of America Manager of the Year award at the April 11 awards gala in NYC -- but is one of the three (two, one?) most powerful people in the sport. Haymon is not prone to risk-taking as he builds his prospects, to the point that many fans grumble that Haymon fighters don't subject themselves to risk early or often enough, but if you're a fighter, you have to feel comforted that your manager isn't one to throw you into waters that might be too deep, or shark-filled, before you're ready.

Browne said Haymon told him he would likely fight on the June 22 Barclays card which is topped by Paul Malignaggi's welterweight title defense against Adrien Broner, who is coming up from 135 pounds.

And who does Browne like in Saturday's Floyd Mayweather-Robert Guerrero fight? "Floyd is in a higher class than this kid, to me personally we'll see that display itself from the fifth round on," Browne told me. "If it even goes that far ... I got Floyd in round eight or nine."




April, 26, 2013
4/26/13
1:09
PM ET
Often, in defending the sport of boxing against those who see it as pointless brutality, I point to the multitudes who have been lifted up by the sport. On an annual basis hundreds of children in the United States and thousands worldwide find the gym, lace up the gloves and find a positive outlet, a way to escape the lure of the street and instead focus on a meaningful goal. Yes, I concede that the road they have chosen isn't without bumps. But, as I heard Jim Lampley of HBO say once, do the people calling for the abolition of boxing think working in a coal mine for 40 years doesn't do things to a person's body, long-term?

I was reminded of the uplifting nature of the sport when talking to Fernando Guerrero (25-1 with 19 KOs; age 26; sole loss to Grady Brewer in June 2011, has won four straight against B or lower grade opposition) who fights WBO middleweight champion Peter Quillin at Barclays Center on Saturday night, in a bout to be shown on Showtime.

Guerrero told NYFightblog that he came to the US from the Dominican Republic in 1995, with his parents. "My dad brought us here to get an education, to better ourselves," he said. They settled in Salisbury, Maryland, a community Guerrero is proud to be part of. "The most famous person from Salisbury is that woman from "The Terminator" (Linda Hamilton)," he said. "I want to beat Quillin and represent all the people touched by poverty."

Young Guerrero grew up poor and didn't truly realize how much so till he came here. Without shoes in DR, he came to America, and realized what was missing. He's hoping a win over Quillin sends a jolt through his homeland. "In the Dominican Republic, it's all about baseball, they've never had that person to idolize in boxing. I want to be the Sammy Sosa of boxing."

The left-hander Guerrero took some hits on the message boards that he got this shot not because of his talent, but who he knows. He's repped by influential advisor Al Haymon; I asked Guerrero if that line of thinking insulted him. "Those people are opinionated," he said. "I'm not a matchmaker. I'm trying to do my dream. Whoever they put in front of me, let the best man win."
April, 11, 2013
4/11/13
5:15
PM ET
Paul Malignaggi has signed to fight Adrien Broner on June 22 at Barclays Center, the WBA welterweight champion told NYFightblog today.

Broner is making the leap from 135 pounds to 147 and Malignaggi tells us he will be too strong for the young Cincinnati-based hitter who holds the WBC lightweight title and calls himself "Mr. HBO."

The scrap, promoted by Golden Boy, will air on Showtime, as HBO announced a couple weeks ago they will not buy fights from Golden Boy any longer.
March, 19, 2013
3/19/13
11:26
AM ET
Not long after I chatted with
George Foreman about the new boxing promotion he is forming
with his sons, and we touched on how Big George might handle a fighter under the Foreman umbrella who shows troublemaker tendencies outside the ring, word got out that Adrien Broner had been arrested in Miami.
The 23-year-old Cincinnati resident, who holds the WBC lightweight title, is slated to fight WBA welter champ Paul Malignaggi on June 22 at Barclays Center in Brooklyn. Both fighters are promoted by Golden Boy, which has an exclusive deal to put on pro fights at Barclays.
Broner posted his mug shot and booking info on his Instagram account, tweeted that link, and subsequently scrubbed the Instagram post. The Miami-Dade report,
first pointed out and confirmed by David Greisman of Boxing Scene
, said Broner was booked on a battery charge on Monday. He was released after a $1,500 bond was paid.
In an interview with Ring TV's Lem Satterfield
, Broner made light of the arrest. He accused, jokingly I think, that Malignaggi "sent the police to arrest me for nothing." Satterfield said Broner wouldn't part with details of his arrest.
Foreman touched on how he'd handle a Foreman fighter who seems to be going off the rails, or dealing with self-imposed drama, in his personal life. The ex-fighter is an ordained minister who has been giving sermons in churches for decades. "That (background) will get me an edge with fighters," he said. "I've got all the stories you can tell them. But I will not preach too much, I'll save the preaching for Sunday morning. You've got to let them be an American, let the guys get the foolishness out of their system. If boxing can't knock the foolishness out of their system, I sure can't."
He pointed to the stunning turnaround enjoyed by Mike Tyson, the former Baddest Man on the Planet who did time for rape and has since seemed to reform himself to be a gentle soul who adheres to a vegan diet. The message is clear: never give up hope that anyone, even someone who seems to be lost in a fog of self-destruction, will see the light, and find the narrower path of rightness.
March, 9, 2013
3/09/13
9:23
PM ET
Paul Malignaggi flew in from the West Coast for the Hopkins-Cloud fight and at Barclays Center reported to NYFightblog that it is looking like his next fight will be against Adrien Broner, June 22, in Brooklyn at Barclays.

The WBA welter champ was supposed to fight Ricky Hatton, then Shane Mosley, then Diego Chaves -- with one or two rumored in that time frame -- since he beat Pablo Cano last October.

Broner, the flashy fisted, trashy talking lightweight who'd make the leap from 135 to 147, said he'd like the fight. They've been sparring on Twitter, so far in good humor, but you could expect the mud slinging to get thick in that one before they got physical.

Malignaggi drew buzz this week with an interview on Boxing Scene, in which he was unfiltered all the way through. Foul language, shots at HBO, at know-nothing fans, he didn't pull a single punch. In that chat, he said he respects Broner's talent, but doesn't think he should be anointed before he's properly tested. "There are weight classes for a reason," he told NYFightblog.

The boxer does commentary on Showtime fights, and has a one-year deal with them. They'd be fine with him fighting on HBO, though, he said.
March, 5, 2013
3/05/13
8:02
PM ET
Sounds like we got a fight, or at least the main ingredients for one. Adrien Broner's trainer Mike Stafford said he'd love to have his kid fight Paul Malignaggi, and got the trash-talking parade marching when he took a couple shots at the Brooklyn boxer.

"If Paulie think Adrien's not a welterweight, please, Adrien spars with middleweights," the trainer told NYFightblog on Tuesday night after I spoke to him about the proposed Malignaggi-Broner fight in Abu Dhabi or Brooklyn. "That fight sounds good. I like the fight. Adrien would come in around 141, 142. I'd rather have it in Brooklyn than in Abu Dhabi. That'd be perfect. They've been trying to get Adrien to New York for a fight for a long time. May or June? I say June, give Paulie some time to talk up his s---t."

When informed that Malignaggi told NYFightblog that he didn't see Broner as a true welterweight, Stafford scoffed. "It ain't about being a welterweight, it's about being a true fighter. Paulie's not a welterweight, he's a blow up 140. It ain't like he's walking around at 160. He's a little, itty dude, got no knockouts. It's the hands, it ain't the weights."

Stafford said he's pretty sure Brit Ricky Burns, rumored for well over a year to be a Broner foe, doesn't want a piece of Broner, so a fight with Malignaggi makes sense. "The public doesn't know the other guys," he said of other potential matches for the brash Cincy standout.

Now, it'd be up to promoter Golden Boy to get Broner advisor Al Haymon to sign off and come to terms with Team Malignaggi.

March, 1, 2013
3/01/13
11:37
AM ET
I was talking to a boxing manager the other day and he was telling me he doesn't care for the attitudes of many of the boxers today. When he hears a kid he is contemplating signing say, "Skills pay the bills," he said, he's inclined to put away the pen and paper. No, signing cuties who prize not getting hit more than inflicting punishment isn't on his to do list. That manager doesn't manage Keith Thurman, but Thurman, a welterweight who fights March 9 at Barclays Center, is the sort of throwback attacker he'd like to have in his stable.

The 19-0 (1 NC, head clash) Florida resident, who has 18 knockouts to his credit, spoke to NYFightblog about his March 9 bout in Brooklyn against ex-champ Jan Zaveck (32-2 with 18 KOs, ex-IBF welter champ; from Slovenia), his rise to this place and why he calls out the top names in the game.

"I'm psyched to fight in NYC on March 9 at the Nets Center [aka Barclays Center]," Thurman told me. "New York is one of those legendary boxing capitals I've yet to enter, and it feels really great to hit New York up." Thurman-Zaveck is support to a Bernard Hopkins-Tavoris Cloud mainer, on a card promoted by Golden Boy which will run on HBO (9:30 PM ET start).

Thurman opened eyeballs when he took out Brandon Hoskins on the May 5, 2012, on the Mayweather-Cotto PPV undercard, more yet when he stopped Orlando Lora on the July 21, 2012 Broner-Escobedo undercard on HBO, and exponentially more when he stopped (TKO4) slick vet Carlos Quintana on Nov. 24, 2012, underneath the Guerrero-Berto scrap, again on HBO. Zaveck is probably a step up from Quintana, and Thurman isn't assuming he's going to blast him out with ease.

"Zaveck I know is a very tough and durable fighter, he's been in with world champs, he's an ex-world champion, he's 36 and knows if he wants to be champ again the time is now," Thurman said. Good assessment from the fighter, who grew up in a single parent household, with his mother holding the fort after dad left.

He got into boxing at age 7, and found a mentor in trainer Benjamin Getty, who was with Thurman until he died in May 2009. Thurman won silver at the 2008 Olympic trials, to Demetrius Andrade, and turned down a slot as an Olympic alternate. He turned pro in November 2007.

Thurman isn't shy about trying to separate his foes' heads from their shoulders, or calling out those presently higher than him on the ladder. "I called out big fighters in my HBO debut, I called out Malignaggi, Bradley, Floyd Mayweather, I created buzz," he said. "People maybe said why is he calling people out, he hasn't done anything. I don't claim to have done anything but to I want to show you what I'm about to do. It's about letting the world know the future of boxing is Keith "One Time" Thurman."

And that nickname, "One Time," where does that come from?

Thurman said his dad back in the day would throw hands with buddies, and he'd often put someone down with a single body shot: "I am Keith Thurman Junior, I might as well take his nickname. I didn't announce that nickname till I had eight first-round KOs, I didn't want to brand myself right off the bat, I wanted to show what I can do."

My takeaway: His inclination to finish fights, paired with a smart mix of chutzpah and humility has placed Thurman on my must-watch list.