November, 26, 2013
11/26/13
4:13
PM ET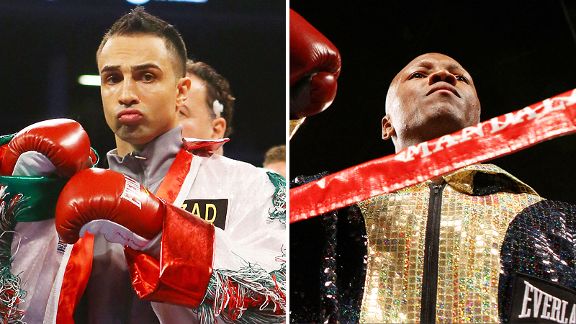 Getty ImagesPaulie Malignaggi and Zab Judah will go at it in 'The Battle of Brooklyn' on Dec. 7.
Both men can be combustible, and often are.
Paul Malignaggi showed his zest for trash talk
not long ago
at the presser to announce his Dec. 7 clash, "The Battle of Brooklyn," against Zab Judah, when he laced into the media for being know-nothings more interested in parading their ignorance and delving into National Enquirer-level material than being respectable journalists.
And Zab Judah showed a wide range of his personality the week of his April 27 clash against Danny Garcia, when he was up in arms at the prefight presser for that Barclays Center bout, because, he said, he'd been
cooped up in a room, for hours
, without water, because event planners didn't want
him and Garcia
to
fight
before the fight.
Those two gents, though, were nowhere to be found on a Tuesday conference call to hype their showdown on a Golden Boy card, which will determine if rooters from Judah's Brownsville or Malignaggi's Bensonhurst will be more merry that evening. The 36-year-old Judah and the just-turned-33 Malignaggi were the height of professionalism, and had basically nothing but kind words for each other.
Both made sure to mention while they had mutual respect, this wouldn't be a sparring match, a pugilistic "friendly," and all involved made it clear the two vets are both still in the mix with the elite.
"This is nowhere near my last fight," said Judah, who noted that Floyd Mayweather, Juan Manuel Marquez and Bernard Hopkins are all still competing on a high level, though they are up in years. "I am the best pound-for-pound fighter in the world," declared Judah, 1-2 in his past three bouts.
"This fight has the potential to be the greatest fight the Barclays Center has seen," said Malignaggi, a skilled seller who was labeled the best color commentator working today by promoter Richard Schaefer. He surprised to the upside, in the eyes of many, in a loss in his last outing to Adrien Broner.
These are two slick, smart pugilists, and the fight will likely not be a slobberknocker special, one to appeal to the masses who aren't as keen on the sweetly scientific elements of the sport. But even if the scrap isn't a Fight of the Year candidate, the card is pretty packed, and tickets start at $25, so it should be a good night of fights.
September, 15, 2013
9/15/13
12:42
PM ET
The list of viable challengers for Floyd Mayweather has narrowed, after Mayweather so handily dismantled Canelo Alvarez on Saturday, at times toying with the 23-year-old Mexican en route to winning a majority decision at the MGM Grand in Las Vegas.

Alvarez was younger (by 13 years) and stronger, a natural junior middleweight. But those elements proved immaterial, as Mayweather's hand speed, reflexes, ring smarts and all-around skill set had Alvarez unable to adapt to things he's never seen, and never will again.

The fight was scored a majority decision because an arbiter named CJ Ross scored the scrap 114-114, a draw -- a scorecard which drew immense scorn on social media, including a hashtag of #BanCJRoss on Twitter.

Mayweather certainly looked fit and fast at age 36, with no evidence of slippage. Fight fans looked left, right and center ring, actually, for who could conceivably test Mayweather next. One candidate is Danny Garcia, the 140-pound ace from Philadelphia who came in Saturday as the underdog, as usual, but exited the ring right before Mayweather entered it with a new pile of admirers after the way he boxed Argentine bomber Lucas Matthysse. Garcia was smart, using movement, combo punching and a Teflon chin to get the W.

On Twitter, there was also talk of middleweight ace Gennady Golovkin, the Kazakh mauler who fights on Nov. 2 in New York against Curtis Stevens in a 160-pound tangle. Golovkin has expressed willingness to fight anywhere from 154 to 175 pounds; would he be keen to test himself against Mayweather, who is chipping away at doubters who scoff when he deems himself an all-time great?

"Gennady would fight Floyd at 154 pounds," Golovkin's promoter, K2's Tom Loeffler, told ESPNNewYork.com on Sunday morning. "Whether it's doable is another story."

Mayweather does business with Showtime and Golden Boy, and Golovkin is an HBO fighter -- HBO doesn't buy fights from Golden Boy now, so to get all those entities on the same page would be a task. "Gennady's trainer Abel Sanchez says that Gennady is the only guy who can beat Floyd at 154," said Loeffler. "I don't want to give the wrong impression, I think Floyd has proven over and over that he is the best pound for pound fighter in the world today. But Floyd would clearly be the most compelling fight for Gennady out there. Golovkin is, though, completely focused on Curtis Stevens."
April, 24, 2013
4/24/13
5:31
PM ET
Security was tight at Gleason's Gym in Brooklyn on Wednesday, the day after
Team Garcia and Team Judah skirmished
at Modell's across from Barclays Center during a meet'n greet for fans ahead of the Saturday Golden Boy/Showtime card, topped by Danny Garcia's title defense against Zab Judah.
Judah on Tuesday night crashed the party at Modell's and riled up Angel Garcia, the trainer-father of junior welter titleholder Danny; this was a virtual repeat of their clash during a December presser to hype the fight, which was originally set for Feb. 27 but was postponed after Garcia injured a rib in training. This scrum actually lasted a bit longer, spilling out into the parking lot. Garcia the elder told NYFightblog that Judah spit at the car he and Danny were in, and slammed his fist on the hood after the two teams butted heads inside. "He's lucky I wasn't driving," the dad told me. "I would have run the car in reverse." But he held his temper, he said, and didn't hop out of the car because he realized where it would have ended up. "If we had gotten out we would've ended up in jail or prison," he said. "You don't spit on a vehicle. Little girls do that."
To make sure the Gleason's media gathering was without incident, security made sure to double-check that only invited media and people who had business at the gym were in the building when the Garcias were there. I was carded twice entering. We can be sure that the press conference on Thursday will be overloaded with security.
The dad, to NYFightblog, said the conflict would only make his son more focused. "Judah has never faced people like us," he said, with confidence and menace.
Follow Woods on Twitter here.
April, 24, 2013
4/24/13
10:45
AM ET
If you enjoy analyzing and dissecting characters in boxing, then you have to like Zab Judah, who will fight Danny Garcia Saturday night in Brooklyn.
Only a few hours after
impressing me with his poise and apparent serenity
on the subject of the combustible Angel Garcia, the trainer-father of Danny Garcia, the 35-year-old Judah crashed Garcia's press event at the Modell's Sporting Goods store across the street from Barclays Center, where they will tangle in a few days.
Judah did a press event at Judah Brothers Gym in East New York on Tuesday afternoon and Garcia had his own event at Modell's at 6 p.m. Judah knew about it, but nobody thought he was going to attend. But he did and that's when things went off the rails. (Video link
here
-- caution, language is NSFW.)
Judah and his posse approached Garcia and his father-trainer, Angel. The elder Garcia did what he often does. He went off. "You don't scare me. If you kill me, so what?" said the senior Garcia, as he gestured wildly, as his son looked on, slightly bemused, among a crowd of crew members, some boxing fans and a lone Modell's employee trying to calm the budding drama.
"Who wanna kill you?" Judah answered, as the elder Garcia let loose some profanity and then slammed a table set up for the event, while undercard boxer Danny Jacobs, ready to greet autograph seekers, looked on. Judah egged Angel on, and Garcia's father then tried to flip the table, but was stopped.
A "Broooooklyn" chant started from the Judah crew, to taunt the Pennsylvania interlopers. "Do that s--- outside, not in here," yelled the Modell's employee, a young lady who deserves a combat-pay bonus in her next check. The two teams yelled at each other while Team Garcia was ushered out the rear exit amid flyers advertising the Saturday card at Barclays laying on the floor. "Who's talking about killing you, man? He's scared. Shut up," said Judah to remaining press.
As Judah headed to the door, a member of his posse, with eyes on the bottom line, said, "Yo, buy your tickets. It's gonna be a good fight."
I can't figure out who is in whose head, or if everyone involved is in everyone's head. What do you think?
Follow Woods on Twitter here.
January, 28, 2013
1/28/13
10:02
AM ET
Junior welterweight champion Danny Garcia injured a rib in training, so his fight against Zab Judah, scheduled for Feb. 9 at Barclays Center, has been postponed. The entire card, including Peter Quillin's middleweight title defense against Fernando Guerrero, will shift to April 27.

Tickets purchased for the Feb. 9 show will be honored April 27.

I feel for those fans who bought plane or train tickets to travel to Brooklyn, or booked hotel rooms, and are left in the cold. Hopefully their purchases are refundable or transferable.
December, 1, 2012
12/01/12
8:41
PM ET
Zab Judah's dad Yoel will be back in his corner for the Feb. 9 fight against Danny Garcia, Yoel Judah told NYFightBlog Saturday after the atmosphere simmered down following a near melee at a press conference at a midtown steakhouse.

Yoel Judah played peacemaker at Gallagher's, as did Bernard Hopkins of Golden Boy, and Sam Watson, who works with advisor Al Haymon, who all tried to deescalate the beef between Zab and Angel Garcia, the trainer and father of Danny.

Yoel, a former kickboxer, said that come Feb. 9, he will work Zab's corner, as head trainer, after some time apart from his kid. Judah was trained by Yoel's brother James in his last fight, against Vernon Paris. Zab's pairing with ex-fighter Pernell Whitaker didn't play out well, as Judah looked listless ion a count-out loss to Amir Khan in 2011. James will also corner Zab in Brooklyn, the boxer said.

Yoel said he was happy to be back working with Zab, and that he knew the Whitaker style of fighting wouldn't work against Khan, who needs to be pressed. Zab will be the aggressor, and ferocious on fight night against Garcia, he promised.

"They made a mistake," he said of Angel Garcia's chopsbusting, while offering to "discuss" the matter with Angel instead of involving the boxers. "They poured gasoline on the fire."
December, 1, 2012
12/01/12
8:31
PM ET
A fight almost broke out before the fight, as the junior welter champ Danny's Garcia's trainer-father Angel needled his son's Feb. 9 opponent, Zab Judah, sparking a brouhaha today at a press conference at Gallagher's Steakhouse in NYC.

The WBA and WBC titlist Garcia will tangle with the vet Judah at Barclays, in the second fight card at the new building in Brooklyn. Garcia headlined the inaugural event, on Oct. 20, almost taking off Mexican legend Erik Morales' head in a KO victory. Garcia the elder, no stranger to causing ruckuses at press conferences--he ranted about Morales' PED usage at the final presser before the first Barclays card--started in on Judah. He said that Judah's time was past, that Danny had thumped the last man Judah beat, Vernon Paris, in sparring. The ribbing got to Judah, who barked back at the Philly fighter's papa.

Garcia the elder is a combustible sort, not one to shrink from being shouted at. He screamed that his son would drop and stop Judah, who rose and advanced to the Garcias. Some of the Judah posse also surged to the hot zone, and some minor shoving, and major league yelling occurred. Judah told the Garcias that the trip back to Philly is a long one, and mentioned a possible trip to the ICU. Promoter Richard Schaefer tried to quell the disturbance with a reminder that steak was still due to be served, but that didn't de-escalate the heat. After a few minutes of back and forth, the boxers and their crews were sent to different sides of the room.

Judah said to ESPN NY after that he didn't like being dissed like that, and it took him by surprise because the day before, he'd come across Team Garcia, and they'd been polite. He said that this diss-fest might be a blessing in disguise, and that Garcia the elder's insults will only be detrimental to the son. "I will punish danny Garcia," Judah vowed.