Boxing:

Anthony Catanzaro
October, 8, 2013
10/08/13
3:26
PM ET
Fight fans, fire up the DVRs, because we have a dueling dates situation emerging, on Dec. 7.
Showtime will present fights taking place at Barclays Center in Brooklyn that evening, and HBO will also put on a show, topped by a Guillermo Rigondeaux title defense against Ghana-born Bronx resident Joseph Agbeko. Top Rank will lead the Atlantic City promotion, which will unfold most likely at Boardwalk Hall's intimate theater.
The Barclays card is still in a state of flux, though it is getting close to being fully firmed up. Showtime boxing boss Stephen Espinoza told me that it is looking like an NYC duel between Bensonhurt's Paul Malignaggi and Brownsville's Zab Judah in a welterweight clash will be the main event, while a title defense by WBA interim welterweight champion Keith Thurman against journeyman-turned-contender Jesus Soto Karass will be chief support.
Follow Woods on
Twitter.
October, 8, 2013
10/08/13
1:53
PM ET
On the night of December 7, Brooklyn's Anthony Catanzaro will be the slightest bit frazzled, but in a good way.
A boxer he advises, welterweight Paul Malignaggi, will be fighting at Barclays Center against Zab Judah, on Showtime.
At around the same time, another fighter he advises, middleweight Matthew Macklin, will be fighting in Atlantic City, on HBO, against Willie Nelson. Top Rank will be the lead promoter of that card, to be topped by Cuban artiste Guillermo Rigondeaux defending his bantamweight titles against Joseph Agbeko of the Bronx.
"My stomach will be in shambles," Catanzaro told me, "but it's a great problem." Another Catanzaro boxer, Sadam Ali, might be fighting on TV as well, on Showtime Extreme, on the Brooklyn card, which will be put together by Golden Boy. "Maybe three of my fighters on primetime? At the end of a day, it's great problem to have," he said.
Catanzaro said it's still up in the air whether Malignaggi-Judah will be the feature bout at Barclays.
My take: that absolutely is a compelling and appropriate feature for Brooklyn. It has been rumored that the super skilled Devon Alexander might snag the main event. But I must show my bias here, being a Brooklyn guy, no diss on Devon, I'd be more amped to see the New Yorkers get the brightest spotlight in Brooklyn, for what it's worth.
Follow Woods on
Twitter.
August, 9, 2013
8/09/13
11:50
AM ET
Brooklyn's Anthony Catanzaro, who advises former two-division champion Paul Malignaggi, has signed a new client. Middleweight Matthew Macklin, an Anglo-Irish hitter with a 29-5 record, will now ask Catanzaro to help steer his course.

"I'm very excited and honored that a fighter like Matt put his trust in me," Catanzaro said.

The recent ride has been choppy. The 31-year-old Macklin was stopped in Round 3 of his last fight, against natural-born detonator Gennady Golovkin. And he had dropped two of three before that, to champions Felix Sturm and Sergio Martinez.

There's no shame in that -- Macklin's recent history simply shows he seeks to take on the top guns in the game. But don't be surprised if Catanzaro seeks to get a W or two tucked under Macklin's belt, against lesser-grade foes, to help Macklin regain his swagger.
July, 16, 2013
7/16/13
12:25
PM ET
Paul Malignaggi is enjoying the freedom that comes with not having to monitor every calorie that enters his orbit, if not the sting that remains from being on the short end of a split decision, which came June 22 at Barclays Center against Adrien Broner.
Malignaggi, 32, chomped pizza at his adviser Anthony Catanzaro's pizza place in lower Manhattan on Monday, and chatted with NYFightblog about his near future. Beyond unfettered bites of pizza and munchkin doughnuts, the fighter said he isn't thinking about when he will glove up just yet -- though
he did say he didn't think Broner is going to push for a rematch
, to try and remove lingering doubt about his win or his performance.
Malignaggi, when not in fight mode, works for Showtime as an analyst, and will be in the booth July 27 to call the Andre Berto-Jesus Soto Karass bout put on by Golden Boy, from Texas. I asked him to assess that scrap between Berto, who has lost two of his last three, to Victor Ortiz and Robert Guerrero, and needs a solid win to regain lost buzz and momentum, and the 30-year-old Soto Karass, a Mexican journeyman-type who through perseverance has elevated himself to a place where he could obtain a title shot soon.
"I think it's an entertaining fight," Malignaggi said. "I have my doubts as to how much it deserves to be a main event, but I do think the fight is entertaining. I think Soto Karass has earned his way up the ladder, the hard way. I think Soto Karass is catching Berto at a time where you might want to catch an Andre Berto."
Berto (28-2, age 29), in a bid to freshen things up, dumped Tony Morgan and is now with trainer Virgil Hunter. Will that pay dividends so quickly?
"We'll see," Malignaggi said. "You need time to adapt. About Andre Berto, I'm not going to say he's overrated, but does he have any wins over big-time opposition? This fight is a tossup in that way, you can't take Soto Karass and see his record (27-8-3) and say Andre Berto is going to walk through him. Berto hasn't beaten anyone high level. This is a tough fight for Andre Berto. If he wins it, you got to give him some credit."
Follow Woods on Twitter
.
July, 12, 2013
7/12/13
2:56
PM ET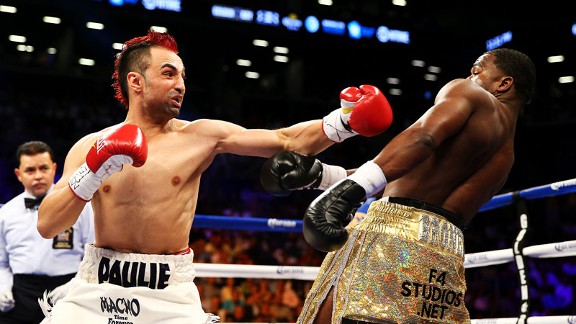 Al Bello/Getty ImagesCould we see a Paulie Malignaggi and Adrien Broner rematch sometime in the future?
Paulie Malignaggi, many smart and studied boxing folks said leading up to his June 22 clash with Adrien Broner, was quite likely to get steamrolled into oblivion at the Barclays Center. Broner -- the younger, stronger, faster fighter -- would be a bridge too far for the Brooklyn-bred Malignaggi, who turns 33 in November. The fight itself would be simply a formality, a torch-wresting exercise, they reasoned.
It didn't play out that way, as is often the case.
Then-welterweight titlist Malignaggi didn't disgrace himself in the least and proved he wasn't in over his head against a man tabbed by some as a leading contender to be the sport's top performer within a few years. One judge, Tom Miller, was taken with Malignaggi's showing, especially his volume edge, and scored the fight for the vet 115-113. He was outvoted by Tom Schreck (117-111) and Glenn Feldman (115-113), who both decided Broner's power edge spoke louder than Paulie's busy work.
In the week after the bout, Team Malignaggi litigated the scrap, making their case that Broner didn't win and in fact was exposed as an overhyped attraction, and pushed for a rematch.
Malignaggi adviser Anthony Catanzaro makes some solid points when he lobbies for a rematch:
It was a success at the gate, with 11,461 fight fans showing up at Barclays Center to take in the card that night, he pointed out. Also, the headline clash drew a peak of 1.3 million viewers during the broadcast on Showtime, he noted. Since Showtime began tracking individual fights in 2009, Broner-Malignaggi is its second highest-rated bout, trailing only Austin Trout's victory over Miguel Cotto in December. This being the boxing
business
, that the fight did well in that arena looms large. Money and eyeballs were generated, which has to factor into a decision to do it again.
"It was a very entertaining fight that Paulie won, so why not?" Catanzaro said to NYFightBlog.
Barclays and Nets CEO Brett Yormark told me he thought Malignaggi won as well, so Catanzaro has good backup to point to.
I'd be curious to see what Malignaggi could and would do differently in a sequel. From my semi-expert seat, I think he'd have to at least consider factoring in that many, if not most, judges prize power over volume and might have to alter his strategy to attack the body and sub in more head shots. That could open him up to fire and potentially make a more explosive, and less tactical, bout.
What are your thoughts?
April, 12, 2013
4/12/13
12:21
PM ET
As of yesterday (Thursday), both Paul Malignaggi, the WBA welterweight champion, and Adrien Broner, the WBC lightweight champion, had signed their contracts to face off, on June 22 at Barclays.

When that fight was floated, the reaction of many pundits and fans' initial reaction was that Malignaggi, the 32-year-old Brooklyn-born hitter who now lives in LA, would have trouble with the speed-strength package of Broner.

I asked Malignaggi (32-4) advisor Anthony Catanzaro why Team Malignaggi took the fight and why he likes Paulie to beat The Next Big Thing (26-0) in a Golden Boy fight on Showtime.

"I see nothing but upside," Catanzaro told me. "Broner is projected as the future face of the sport. He's undefeated. He's extremely outspoken. Everyone thinks he's the second coming of Floyd Mayweather ... but we're fighting at 147. We like the welterweight limit. We're in our hometown, our home borough. There's no reason not to take the fight. We're very excited."

And what, if any, edges does Paulie have going in to the bout, apart from the weight class and locale? "Paulie is the bigger, stronger guy," Catanzaro said. "Broner is fast up top, moves his head and at the waist, and has good hand speed. But his foot speed is not at our level, and his stance is extremely wide. He's got to plant to get off. We've got the much better resume, the bigger fight experience. He's been the main event but against who? The only real viable person he's faced is Antonio Demarco, who couldn't match him on skill. Paulie is a fighter through and through and once you get past the glitter, I represent a fighter in every sense of the word. I've got to pull him back, if the money was right he'd fight a Klitschko."
April, 11, 2013
4/11/13
5:15
PM ET
Paul Malignaggi has signed to fight Adrien Broner on June 22 at Barclays Center, the WBA welterweight champion told NYFightblog today.

Broner is making the leap from 135 pounds to 147 and Malignaggi tells us he will be too strong for the young Cincinnati-based hitter who holds the WBC lightweight title and calls himself "Mr. HBO."

The scrap, promoted by Golden Boy, will air on Showtime, as HBO announced a couple weeks ago they will not buy fights from Golden Boy any longer.
November, 26, 2012
11/26/12
11:38
AM ET
Ricky Hatton looked better in his comeback fight after 42 months of inactivity, depression, and suicidal ideation than I thought he might.

Yes, he got stopped out Saturday by a liver shot in Round 9 by Vyacheslav Senchenko. Yes, he's 34, and yes, he's been stopped three times now, by Floyd Mayweather, Manny Pacquiao and now the Ukrainian. After the count-out, in the ring in Manchester, England, Hatton said he'd need to think about his next move. Then, a short time later, at the post-fight presser, he announced his next move: retirement.

"I found out, and as upsetting as it is, I think I'm being the man now and saying, 'Listen, I give it my best. It wasn't there. And that's the end of Ricky Hatton.' A fighter knows when they're in there, and I knew," he said, emotional, but proudly defiant, his swollen right eye testament to the rigors of the game. "It just isn't there anymore. It's too many hard fights. I burned the candle at both ends. I'd like to thank my fans. But I am proud to say, and you may think this is arrogant but I don't really care to be honest at the minute, but it'll be a long time before anyone brings crowds like I brought. And I'm very proud to take that title into retirement with me."

His exit, this version, seems final, doesn't it? I just wouldn't be too sure.

I am hoping that he is graced with a full dose of acceptance of where he is and who he is in life, that he truly does feel content with how he went out this time. But this was a man who floundered mightily when he left the ring after a KO loss to Pacquiao in 2009. This is a man who battles demons of self-worth and substance addiction and crippling depression, a guy who hasn't talked to his parents in two years because of a rift. The ring, the sense of purpose, the desire to climb a high hurdle, kept Hatton on a straight and narrow path. I'm hoping he can continue on the right road after calling it a day, again ... but I am slightly dubious.

Maybe today, maybe a week, a month, or a year, his brain is likely to focus on the best parts of the Senchenko fight. And allow the possibility of ... one ... more ... fight ... to creep back in.

Promoter Richard Schaefer of Golden Boy focused on the upside of the scrap. "I don't think that Ricky Hatton should let his head hang, and that he should build on this," said Schaefer to Lem Satterfield of Ring TV. "If he should want to have a [rematch] against Paulie Malignaggi, and fight for the WBA welterweight championship, I'll be happy to see if we can put that fight together."

And does Team Malignaggi think the door is shut tight on a Hatton rematch? "As always as a team we will weigh all our options when they are presented to us from Golden Boy and we'll make the best decision for Paulie," answered adviser Anthony Catanzaro.

Most fight fans I chatted with think Hatton should stay on the sidelines. But the sidelines, for a complicated lad like him, have in the recent past proven to be more dangerous than the ring. Bottom line: Just don't be surprised if Hatton gives it one last go, and if he does, I recommend you afford him some leeway. Because boxing is maybe his one truest love, and it is beyond hard to cut that cord when even a hint of romance remains.



October, 22, 2012
10/22/12
6:25
PM ET
Paul Malignaggi's advisor Anthony Catanzaro will be scouting the Hitman, Ricky Hatton, in his comeback tussle Nov. 24 against Vyacheslav Senchenko in Manchester, England. Hatton hung up the gloves after a May 2009 KO loss to Manny Pacquiao, but couldn't kick the jones. He will see, at age 34, what he has left, and Catanzaro will also assess, with an eye towards a Hatton-Malignaggi fight, quite possibly at the Barclays Center in early spring 2013.

"I'm going there just to get an overall feel about how Ricky looks in his first fight back," Catanzaro said, "and have a very observant eye on the fight. We are pretty sure he will be the same Ricky, style-wise, as far as pressure and all that, but when you are ringside you lave the liberty to look at things you may not necessarily catch watching on TV."

Hatton holds a TKO11 win over Malignaggi, when they faced off in Nov. 2008. That loss still burns Malignaggi, who feels he wasn't with the right trainer then, and wasn't boxing in the manner his skills and style dictate he should. Malignaggi won his WBA title from Senchenko in April in the Ukraine, so it will be interesting to see if Hatton looks as good as the New Yorker did on that night in April.
October, 21, 2012
10/21/12
12:58
PM ET



Do not invite Paul Malignaggi and judge Glenn Feldman to your holiday party. The Bensonhurst-bred welterweight champion has no great love for the arbiter who scored his Saturday night title defense at Barclays in favor of Pablo Cano, 118-109. I didn't meet anyone who was at the fight who saw Cano, who sported a vicious cut over his left eye from a punch, the winner by such a margin.

Malignaggi, age 31, thundered at Feldman at the post-fight presser, and if there is a way for him to lobby and get his way, I'd guess Mr. Feldman, who Malignaggi stated he did not dislike as a person, would not score Malignaggi's next bout.

The Magic Man went to 32-7 with the split decision victory, as judges Nelson Vazquez and Tom Miller had it 114-113 for the vet. Yes, Cano, age 24, had his moments. At the arena, his punches spoke more loudly, at times, than did Malignaggi's. His body work reddened the winner's sides, and when he landed, and sweat sprayed off Malignaggi's head, that seemed to get the judges' attention.

Malignaggi advisor Anthony Catanzaro checked in with NYFightBlog the morning after, with some thoughts on the scrap.

"It was a physical fight, a fight where Paulie outboxed a game, competent guy for ten of twelve rounds," he said. "Cano fought our fight in the middle of the ring and was outjabbed all night. He was leaking blood profusely and fights have been stopped for lesser cuts, not to mention all the low blows that went unpunished. Paulie as a true champion got off the canvas and finished the fight strongly."

Cano sent Malignaggi down in round 11, adding more drama to the affair as we awaited the scorecards' tally. Malignaggi said afterward he didn't feel the drama, as he assumed he had a nice lead at that point. Another point -- Cano didn't make weight, and Malignaggi thinks he gave a half-hearted effort in trying to carve off a bit more than a pound in the two hours he was given to do so on Friday. He had to pay $50,000 from his purse to Malignaggi, but I think it's fair to say he might have had more energy on fight night because he didn't expend more energy to make 147.

Readers who were on hand and/or watched on Showtime, how did you score it? I'm curious; since I was writing during the fights, and because I feared I'd miss a telling blow I didn't keep a scorecard.
July, 25, 2012
7/25/12
10:48
AM ET
The summer is winding down, if I am to believe all the back-to-school sales I am seeing in circulars. So, that means the October 20 debut of boxing at the Barclays Center is getting closer. The presumed headliner, Paulie Malignaggi, still hasn't received word that his status is cemented, he tells ESPN New York.

"I'm still waiting on something to pop as far as the opponent is concerned," said the WBA welterweight champion who grew up in Bensonhurst. "My promoter, Golden Boy, would like to keep me on as the main event but that will depend on if the opponent is a big enough name. The Barclays arena deserves a big main event in its opening show. We are trying to see if we can be a part of that."

Considering the boxer is front and center in billboards for the building, gosh, I'd think and hope that he'd be the headliner on opening night.

Advisor Anthony Catanzaro likes alleged comeback Ricky Hatton as that "big enough name."

"I feel that would be a dream fight if we can make Malignaggi versus Hatton for October 20th," he said. "If not, Malignaggi versus Dmitriy Salita or Jan Zaveck would be very entertaining bull versus matador type-of-fights."

So, is Hatton really coming back after being out of the ring since the summer of 2009, when he got stopped by Manny Pacquiao in the second round?

"It looks like, from what we hear and the pictures we saw, that he has definitely been in the gym," Catanzaro said.

A potential mix-muddler is the fact that Brit Amir Khan, just off a shocker stoppage loss to Danny Garcia, mentioned the Mancunian Hatton as a possibility for his next bout. That would be a mongo fight in the UK.

Would you rather see Malignaggi-Hatton II, to see if Paulie can avenge his Nov. 2008 TKO loss to the Hitman? Or, an all-Brit showdown, between Khan, with that compromised chin, and a rust-covered Hatton?

Weigh in using the comments, below.
July, 18, 2012
7/18/12
11:07
PM ET
People are saying that he's pushing the plate away, getting back into fighting trim, and the whispers have turned to screams. Is Ricky Hatton, last seen getting handled by Manny Pacquiao in May 2009, coming out of retirement?

That hasn't been answered definitively, though a story on BoxingScene.com, which had Brit trainer Bob Shannon going into depth and detail about how he'd like to train comebacking Hatton, doesn't do anything to dampen the rumors.

In the story, Shannon said Hatton would be pleased to get right back into the deep end, and sign for a rematch with WBA welterweight champ Paul Malignaggi. Shannon seems to think Hatton could handle Malignaggi in similar fashion as he did in November 2008, when the Manchester hitter scored a TKO11 over the New Yorker in Vegas.

Malignaggi advisor Anthony Catanzaro seems to be rooting hard for Hatton, who had some troubles adjusting to post-ring life, as he partied excessively, and after he settled down, has been toiling as a promoter, to pull on the gloves.

"If there is any truth to the rumor of Hatton coming out of retirement and fighting Paulie straight away, then that becomes priority one for Team Malignaggi," Catanzaro told NYFightBlog. "What better way to open the Barclays Center?"