November, 21, 2013
11/21/13
12:45
PM ET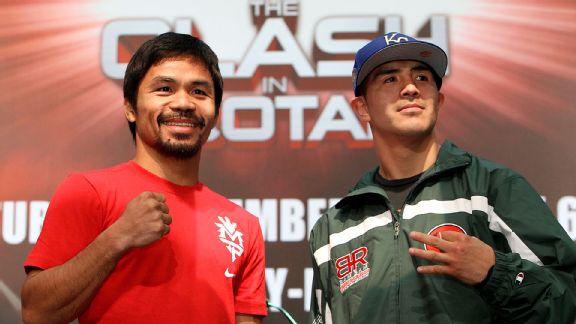 Chris Farina/Top RankTeddy Atlas explains why Brandon Rios "could be a nightmare" for Manny Pacquiao.
In chatting with Teddy Atlas the other day, I was most interested in what he had planned for his annual "
Teddy Dinner
," the fundraiser-gala he holds on Staten Island every year, which
helps him raise money which is dispensed to people in need
, who have been walloped by bad luck, or a frayed safety net, or both.
That jubilee, which always manages to make me feel a bit better about this frequently callous and ludicrous planet of ours, unfolds tonight, Thursday night. You can
call the Foundation
if you want to attend.
While I had Atlas on the line, I asked him how he thought the Saturday welterweight showdown between Manny Pacquaio and Brandon Rios would unfold. Pacman, a Congressman in the Philippines, looks to break a two-fight losing streak, and bounce back after being bounced to the mat and counted out in his last fight, against rival for the ages Juan Manuel Marquez, last December.
Atlas, as is his way, summed up his take with trademark directness. "Rios is there to bring Pacquiao back," he said. "He's a little bit of a name, people recognize it, there's some some credibilty there. He's also there because even if you close your eyes you can't miss him, he's sort of slow and predictable. He's a tough kid, can punch a little ... If Pacquiao is what he's supposed to be, Manny sweeps the room with him. Manny is too fast, too versatile, too swift, all those things ... but there's one potential problem, one giant fly in the ointment ... if Pacquiao doesn't have a belief in himself, if there are still ghosts present from his last fight in the ring with him, then Rios can be a nightmare. If Rios can survive, and he might get chewed up, let's face it, he's not a real developed fighter, he gets insulted if you miss him, if he can bring ghosts and doubts into the mind of Pacquiao, it could be nightmare for Pacquiao."
So, can Atlas hazard a guess what sort of Manny shows up in Macau?
"Nobody knows," he said. "Pacquiao does not know if he's OK. Last time he was laying face down at the end of the night. We won't know till the fight take place, that is the X factor. Yes, Rios is there to be the right guy, he's easy to hit, he's slow, Pacquiao is light years faster, yes, Pacquiao should tattoo him, yes, there's a chance mentally and emotionally Pacquiao is a shell of himself, or becomes a shell during fight. It will be interesting."
October, 29, 2013
10/29/13
3:42
PM ET
Brooklyn-born promoter Bob Arum's next mega-card endeavor is a promotion to run in Macau on Nov. 23. His top dog, Manny Pacquiao, who is beloved as a congressman in the Philippines, gloves up against California resident Brandon Rios.
Rios (31-1-1 with 23 KOs), a 27-year-old Texas native, took part in a conference call Tuesday afternoon along with Arum, trainer Robert Garcia and manager Cameron Dunkin. It is clear he is relishing the role of underdog, and is reading articles that say he has no chance against Manny. "It's OK, I just want to go out and shut everyone up, and prove everybody wrong," he said on the call. "I want to show him I'm a live dog, not a puppy."

Anyone thinking he's a punching bag, or "walking bull's-eye" will be in for a shock, he said, because he's aiming to hand the 54-5-2 (38 KOs) PacMan his third straight loss.
Rios said he thinks Manny is smaller than him, and Arum chimed in. "Brandon towers over Pacquiao," whom he said has to eat five meals a day to keep weight on. Arum left the Philippines yesterday, and said Manny was about 142 pounds.
The promoter said months ago that this fight in Macau is something of a gamble, as the bout will be fought in the morning, to mesh with U.S. television and pay-per-view. He said on the call that the risk tag has been removed, that the arena will be sold out, and business will be brisk throughout Asia on closed circuit. He said he expects bang-up PPV numbers, and there will be no shortage of hype in the States. A radio row will be set up at the Venetian in Vegas prefight to stir the pot, he noted.
Rios was asked about the presence of strength and conditioning and supplement expert Alex Ariza in his corner. Ariza was a longtime member of Team Pacquiao, who was bounced by trainer Freddie Roach and Pacquiao after a long period of discord, and squabbling between Ariza and Roach, as well as between Ariza and Arum. Rios said Ariza made him "faster and more light on my feet," but he didn't ask for any scouting report on Manny.
Readers, what kind of chance does Rios have to upset the congressman, who some feel at age almost-35 might be nearing the end of the fistic road?
August, 7, 2013
8/07/13
7:04
PM ET
NEW YORK -- The boxing world has shifted measurably this year, and further proof of that was presented Tuesday, when Brooklyn-born promoter Bob Arum brought his top draw, Manny Pacquiao, to New York City.
Pacquiao (54-5-2, age 34) will meet Brandon Rios (31-1-1, age 27), a Kansas-born California resident known for his penchant for brawling, on Nov. 23. But the bout will not be staged, like the last 14 Pacman scraps, in the United States. It will not be staged, as 11 of those 14 have been, in Las Vegas. No, Arum has decided to attempt to open up the eyes -- and wallets -- of fight fans in Asia to professional boxing. His Top Rank company will stage the Pacquiao-Rios bout at the Cotai Arena, at the Venetian Resort, in Macao, which is an "administrative region" of the People's Republic of China.
[+] Enlarge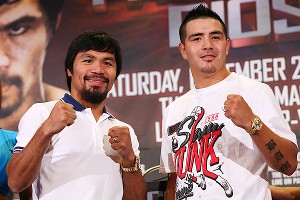 AP Photo/Mary AltafferManny Pacquiao and Brandon Rios brought their promotional tour to New York.
Arum has been testing these new waters with a Chinese fighter, Zou Shiming, who debuted in April at the Venetian and allowed Top Rank to begin whetting the appetites of fight fans, drawing attention from non-boxing sports fans and get them in the habit of forking over dough to see Asian practitioners of the sweet science in action.
"Ni hao. It means hello. ... Welcome. ... So you can see before your eyes, the world is changing," Arum said to a media crowd at Jing Fong restaurant near Canal Street, after two dancing dragons did a mini-set for the assembled. "We made a tour of China, starting in Macao, at the Venetian Macao, we've been to Beijing, Shanghai, Signapore, and now, we're here in New York, where we still have a very substantial Chinese population."
Yes, but not as substantial as the Chinese population in China. The 81-year-old Arum has been the target of whispers -- and even some in-your-face chops-busting -- that he's lost his fastball, and that slack has been taken up by Golden Boy, which has indeed been on a hot-streak with compelling programming in recent months. But Arum is betting that he can maintain his stature as the top promoter in the sport since he overtook Don King by refreshing his target audience.
Not a bad strategy, on the surface. There are 313 million citizens in America, with approximately 1.2 million of them being reliable fight fans who will tune in to a high-profile main event on pay cable. There are 1.3 billion people in China, and if Arum can get a decent percentage of them to follow the exploits of Shiming and Filipino congressman Pacquiao, then his company will have mined a rich vein of treasure.
"The world is changing, but the world stays the same," Arum continued, reminding U.S. fight fans that just because they can't book a ticket at the MGM to see Pacman try and reverse a two-fight slide, they can still catch the action on pay-per-view. The headline scrap will screen at 9 p.m. ET in the States, though it will be a Sunday morning in Macao when Pacman tangles with Rios. "Nothing will be different, nothing, than what you will see in the normal pay-per-view show."
Shiming will look to go to 3-0 on that morning in an eight-round tangle, so that a Filipino won't be the primary attraction for the locals.
Lest anyone think Arum has lost the Brooklyn edge, they were reminded that his fire still burns when he referenced the beef between HBO, which will handle the PPV production, and Showtime, which does business by and large with Golden Boy. HBO productions are done with "pizzazz," he said, implying that Showtime's are not. "You cannot be a major sport anymore unless you translate that sport to China, all the Asian markets, because the world is becoming more inclusive," he said.
Arum introduced Pacquiao, who he said is the second-most popular boxing attraction in China, behind Zou. Pacman was his typical low-key self. He said he is not faded, and was "too aggressive" in his last fight, a KO6 loss to Juan Manuel Marquez.
"I chose Brandon Rios, I know he's good fighter. ... I believe he can give a good fight," he said. He will prove he is not done on that night, he stated. "It's a good chance for us to promote boxing in China," said Pacquiao, who promised to be 100 percent physically and mentally.
Rios, who in the past has been prone to edgy trash-talk, was in mature mode in NYC. He said he was ready to fight, now. "This is the first press conference I've been to where nobody's talked smack," he said, with a grin. "USA, we're gonna bring it back home, baby," he said, to close.
Fight fans are indeed in the midst of a shifting landscape, with Arum aiming his focus more so out of the U.S., and Showtime going heavy in the States, with a particular emphasis on New York. No champion can be determined, as this fight will need to play out over 15 rounds before we see which behemoth gets the nod.