October, 8, 2013
10/08/13
1:53
PM ET
On the night of December 7, Brooklyn's Anthony Catanzaro will be the slightest bit frazzled, but in a good way.
A boxer he advises, welterweight Paul Malignaggi, will be fighting at Barclays Center against Zab Judah, on Showtime.
At around the same time, another fighter he advises, middleweight Matthew Macklin, will be fighting in Atlantic City, on HBO, against Willie Nelson. Top Rank will be the lead promoter of that card, to be topped by Cuban artiste Guillermo Rigondeaux defending his bantamweight titles against Joseph Agbeko of the Bronx.
"My stomach will be in shambles," Catanzaro told me, "but it's a great problem." Another Catanzaro boxer, Sadam Ali, might be fighting on TV as well, on Showtime Extreme, on the Brooklyn card, which will be put together by Golden Boy. "Maybe three of my fighters on primetime? At the end of a day, it's great problem to have," he said.
Catanzaro said it's still up in the air whether Malignaggi-Judah will be the feature bout at Barclays.
My take: that absolutely is a compelling and appropriate feature for Brooklyn. It has been rumored that the super skilled Devon Alexander might snag the main event. But I must show my bias here, being a Brooklyn guy, no diss on Devon, I'd be more amped to see the New Yorkers get the brightest spotlight in Brooklyn, for what it's worth.
Follow Woods on
Twitter.
October, 5, 2013
10/05/13
12:47
PM ET
UPDATE: Showtime boxing boss Stephen Espinoza just informed me that the Alexander-Collazo bout is an inaccurate rumor and is "not being considered."

***

Paul Malignaggi will meet Zab Judah in a battle for Brooklyn bragging rights, on Dec. 7 at Barclays Center. That date has been set in stone, but all the participants haven't been, as a proposed Devon Alexander-Amir Khan scrap was on, off, on and off again. As of today, Malignaggi will fight Judah in a welterweight scrap. "It's a go, I'm not sure if it's the main event or co-main, though," he said.

Malignaggi grew up in Bensonhurst and is living in Los Angeles now, though he's moving back to New York in the next couple months. Judah comes from the fertile fighting hood of Brownsville and currently makes his home in Las Vegas. "This is a battle of Brooklyn, it's a turf war," Malignaggi said.

The grapevine is saying that Alexander, the IBF welter champ, will defend against Queens' Luis Collazo, but that is news to Alexander trainer-manager Kevin Cunningham. "I don't know anything about a Collazo fight," he told me. "I woke up to all kinds of texts. I haven't heard anything. No one has come to me about that fight. We are training, but don't have an opponent," he said.

In fact, Cunningham isn't assuming Devon will fight Dec. 7, though he did leave the door wide open for an Alexander-Collazo tussle. "It's something I would definitely entertain, something like that, a former world champ," Cunningham said. "I thought he beat Ricky Hatton. I think it'd be good for Barclays."

He was conclusive in saying that an Alexander-Amir Khan bout is off the table for that date, however. "Khan is definitely out," he told me.

Stay tuned for more developments on this ever-shifting Golden Boy card.
July, 18, 2013
7/18/13
3:35
PM ET
I know we can't get ahead of ourselves, it wouldn't be prudent, but I admit I am curious as to what's next for Floyd Mayweather after he fights Canelo Alvarez on Sept. 14. Since I expect him to have his way with the talented and strong but still-the-slightest-bit-green Alvarez, I am looking a bit beyond that clash. I do wonder, what with the whirlwind tour of New York City that Amir Khan has been doing of late, is a Mayweather-Khan clash in the works in the near future? If so, could it occur in NYC?

I posed the question to Golden Boy Promotions' day-to-day boss Richard Schaefer.

"There are a lot of ifs in that question," he said. "Khan will be in a difficult fight against Devon Alexander in December, and so it's a question if he would win and how would he win. And also if Mayweather wins; the Canelo fight is his most dangerous. There are too many ifs. If I occupy my time with too many ifs, I wouldn't get enough done.

"The likelihood of Mayweather fighting in New York, that's slim to none. He would love to fight in New York, as he made clear at the recent Times Square press conference for the Canelo fight. It's one of the biggest media markets in the world. But not if he has to pay the state income tax, which I think is like 10 percent, which would be like 5 million bucks. He's a Las Vegas resident, not a New York resident. There's no way to offset [that tax hit]. As nice it would be for him to fight in New York, I'm not sure it's fair to ask him to pay $5 million for an hour or so of work. The tax code might have to be amended. Maybe you could have it prorated or capped. Between the legislators and the people at Madison Square Garden and Barclays, maybe they can do something. It's just difficult to bring those big fights to New York City."
July, 17, 2013
7/17/13
7:01
PM ET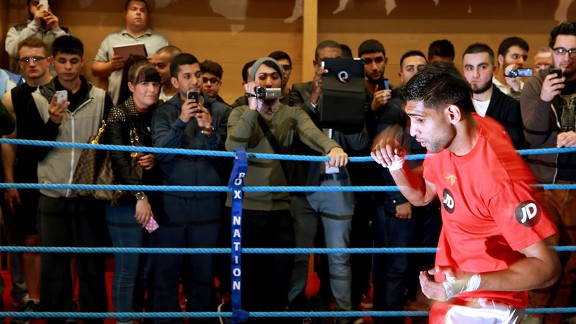 Scott Heavey/Getty ImagesWhere will Amir Khan's next bout be? Golden Boy's Richard Schaefer checked in with NYFightblog.
Richard Schaefer of Golden Boy Promotions has been logging mad frequent flyer miles of late. He just got back from the UK, on a deal-making trek, and he touched base on Tuesday afternoon with NYFightblog to give an update on the next bout for honorary New Yorker
Amir Khan
.
Schaefer said his traveling time isn't over, as he will be jetting to Dubai on Saturday. Ideally, he said, he wants to announce a Danny Garcia-Lucas Matthysse fight as a done deal before then, and then head to Dubai, which is one of three potential sites to host the next Khan bout.
Schaefer has Dec. 7 slated for the ex junior welter champ Khan's return, against IBF welterweight titlist Devon Alexander. "I'm looking at three possible venues, and I'm going to try and generate the most money for the athletes," he said. "Dubai is one possibility, the UK is another, and New York is another possibility."
The promoter said, with respect due to him as the champion, all options and packages will be presented to Alexander and his team, which includes advisor Al Haymon and manager-trainer Kevin Cunningham.
It has been rumored Alexander isn't keen on meeting Khan in Dubai, possibly because he feels, as a non-Muslim, he might not be as widely embraced (by judges *cough cough*) as the Muslim Khan would, in that region. Scheafer threw water on that theory. "I talked to Team Alexander and they are not afraid to fight anywhere," he said. "The money I think will dictate where the fight is. And
Amir doesn't care either where he fights
."
Follow
Woods on Twitter.
July, 17, 2013
7/17/13
2:41
PM ET
This is Part 2 of NY FightBlog's exclusive interview with Amir Khan. Check out Part 1 here.
Old-time trainers used to meddle much more in their fighters' lives, and some portrayed romantic unions as figurative Kryptonite. Getting their charges to focus on the fighting got more complicated with a romantic partner in the mix, so the grizzled old guard would often rail against the concept of wedded bliss.
The old guard may have had a bit of a point, even if they did at times overstep their bounds. For instance, the newly minted Mrs. Amir Khan isn't a big boxing fan. Faryal hasn't attended one of Amir's fights, and I pointedly asked him if she likes the sport, and his participation in the grotesquely misnamed "sweet" science, during a recent phone chat with the former two-division champ who will resume his campaign to regain a title after the Ramadan fasting period ends.
"She doesn't enjoy the boxing, no," Khan admitted. Her arm would have to be twisted to get her to a Khan fight, he said, and she doesn't even derive satisfaction when her man draws blood from a foe. Could we see a situation where her ambivalence about Khan's chosen vocation results in a premature withdrawal for the man who won silver at the 2004 Olympics for England at age 17? Remains to be seen.
Khan says Faryal gives helpful input in diet and fitness, and is aware that he is "not gonna give it up or walk away."
The cementing of a partnership can mean upheaval regarding living arrangements. The Khans, Amir said, will live in Bolton, England, about five months a year, in the New York area about two months a year, and the rest of the time in California, where he will train with tutor Virgil Hunter. "Me and my wife will be together all the time," he said. (I can hear the ghosts of the grizzled sages growl.)
Khan said a fight in NYC, especially at Barclays Center, which has an exclusive promoter deal with Golden Boy, has been discussed. "It's an amazing venue," he said.
It looks like Khan will take on IBF welterweight champion Devon Alexander, a solid and steady pugilist, in December. Golden Boy wanted Dubai as the location, seeking to open up that locale, rich with interest and funds, but it seems Alexander isn't keen to travel so far, so Vegas could be the site of the faceoff. And if Khan wins that, could a Floyd Mayweather gig come next? "Early next year, there's been a lot of talk about it, I can't confirm yes or no, but a Floyd fight has been talked about," Khan said.
Mayweather needs to get past 22-year-old Mexican heartthrob Canelo Alvarez (42-0) on Sept. 14 first. Will "Money" prevail? "Mayweather might be one step ahead of Canelo," Khan said. "Canelo's style might fall a little short."
And how could Khan beat the 44-0 Mayweather? "Two things, speed and explosiveness, would help me beat Floyd," Amir said. "My speed takes away his defense, and I can put on pressure, not many fighters have that. In Barclays Center, against Floyd Mayweather, I think it would be brilliant."
Follow Woods on Twitter here.
February, 8, 2013
2/08/13
7:42
PM ET
Kevin Cunningham, the trainer-advisor to IBF welter champ Devon Alexander, tells NYFightblog that his guy is still in solid contention to fight Floyd Mayweather on May 4.

Alexander, a St. Louis hitter who was slated to meet Brit Kell Brook in Detroit on Feb. 23 before a bicep injury forced a postponement, trended on Twitter when Mayweather tabbed him three days ago as the favorite to get a shot at "Money." Fight fans wondered if "Money" was playing funny, looking to get Robert Guerrero, the original front-runner to get the gig, to take a smaller purse.

The grapevine had Alexander-Brook being reset for Barclays Center on April 27, but Cunningham said his kid is still looking to beat "Money" and pick up a fatter check than he'd get for a Brook battle.

"Floyd says Devon is the frontrunner and last time I checked, "Money" gets what "Money" wants," Cunningham said.

The Danny Garcia-Zab Judah tangle, reset from Feb. 9, because Garcia hurt his ribs a couple weeks ago, is as of now slated to top the April 27 Golden Boy-Barclays card. This being boxing, that could change a couple time before then.