May, 15, 2014
May 15
3:23
PM ET


Skills do indeed pay the bills, as they say, but KOs such as the one above put butts in seats and earn fighters more opportunities to shine on bigger stages.

Frank Galarza (13-0-2 with 9 KOs), the Red Hook, Brooklyn, native dubbed "The Brooklyn Rocky" by local sportscaster Bruce Beck, came out in the second round of his second-to-last fight, against John Thompson, and came at his foe with a nasty intent.

Bing-bang-boom, down went Thompson, and up went Galarza's visibility in the sport.

It often works like that, right or wrong. Many fans do indeed appreciate the sweet science, look up to those pugilist-specialists who work with a "hit and don't get hit" MO ... but let's face it, highlight-reel knockouts go a long way in boosting a young prospect into that contender class, which is what the 28-year-old junior middleweight Galarza craves.

The Thompson win was seen by viewers of the ShoBox series on Jan. 17, and he followed up with a KO2 win over Franklin Gonzalez on April 5. Galarza gets another shot to keep the buzz going as he meets 8-0 Canadian Sebastien Bouchard at Foxwoods in Connecticut on Friday night, once again on ShoBox.

Analyst Steve Farhood will work the fight, so I asked him for an assessment of the clash, which features a fighter who has had to travel a long way to get here -- Galarza's dad died from a gunshot wound complication when he was 7, and his mother died of an overdose just two years later.

"Galarza is nicknamed 'The Brooklyn Rocky,' and I think that's appropriate because there are name fighters from Brooklyn, like Louie Collazo, Daniel Jacobs, and Curtis Stevens, and he was never one of them," Farhood said. "Also, he was a big underdog in his breakthrough fight on ShoBox vs. 14-0 John Thompson, and he won in Rocky style. Galarza had minimal amateur experience, and that's a lot to overcome. But he's rangy, has good power, and seems to be on the improve as a boxer.

"In Sebastien Bouchard, he's fighting a short pressure fighter who lacks a big punch. It seems a good style matchup for Galarza. Bouchard isn't proven yet; he's been scheduled for only six rounds to date. I look for Galarza to keep his momentum. Against the exceptionally tall Thompson, he needed a way to get close. Against Bouchard, he'll want to keep an arm's length away. We'll see if he can adjust.

"In terms of his development, this is a big fight for Galarza. Fighting on ShoBox gives him the opportunity to grow and advance, and to do so on a national stage. For a fighter who didn't have much buzz before his initial ShoBox appearance, the exposure is invaluable."

Galarza certainly sounds ready. "Just be ready for a show -- the same thing as last time," he said. "I come to fight, I don't come to play games."

To help insure that atmosphere is electric in Foxwoods, Galarza's manager, A.J. Galante, rented a bus to take fans for free from Brooklyn to Connecticut, so the joint should be rockin' to see BK Rocky, and see if he can offer up another stellar stoppage.


September, 23, 2013
9/23/13
12:08
PM ET
On Sept. 13, Rafael Vazquez got tagged with a shot that buzzed him badly: Doctors told his wife, Sandra, that she has cervical cancer. That was actually the second shot that landed on the Vazquez family; Rafael's six-year-old daughter, Ayleae, was diagnosed as autistic.

The health worries came at an inopportune time: Eight days later Vazquez was scheduled to fight Leon Moore, a 30-2 fighter from Guyana, at Resorts World Casino in Jamaica, Queens, for the New York State super bantamweight title.

The Puerto Rico-born boxer, who grew up in Bushwick and has lived in Howard Beach for the past nine years, admitted to NYFightblog that he contemplated pulling out of the fight. Nobody would have blinked and all involved would have understood if Vazquez did what he had to do to support his family. "But then I remembered, I'm a professional, a fighter, and I said, 'I'm going to fight to take care of my family,'" said Vazquez, the father of four.

In Round 8, Moore had Vazquez hurt. His corner told him that Moore would be looking to finish and that he might get overaggressive, and that could leave an opening. It did: A left hook and two rights from Vazquez sent Moore on his back, hard, and gave Vazquez (9-1), who deserves some good news, a ninth-round TKO win. It was the fight of the night in front of about 2,000 fans at Resorts.

Promoter Felipe Gomez was still buzzing on Monday morning. "Oh my God, it was an epic ending," he said. "Vazquez was down on all three cards, but I could see how determined he was still to win. Going into the fight, he wasn't in the right state of mind and instead of quitting, he said, 'I'm not going to.'"

Vazquez is fortunate in that he has a full-time job, at the UFC gym in Manhattan, and has a decent health insurance plan. He said doctors are optimistic that they can eradicate Sandra's cancer, and results have come in that show Ayleae's recent health scare was a false alarm.

"Yes, some days it gets to you, but I pray to a higher power, and I'm focused on taking care of my family," Vazquez said.
August, 29, 2013
8/29/13
3:33
PM ET
Frank Galarza is one of those young people whom boxing has served well. It's not a stretch to say boxing has been a lifesaver for Galarza, who grew up in Red Hook, and like so many youth, went off the righteous path, and drifted toward a dark place.
It didn't seem so dark at the time, back when as a teen, the now 28-year-old boxer was pursuing fast money and thrills through risky and sometimes illegal behavior.
[+] Enlarge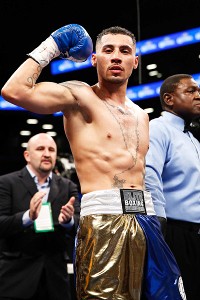 Nick Laham/Getty ImagesFrank Galarza
"I was lost to the streets," said the 10-0-2 junior middleweight fighter, who battles for the New York State title on Sept. 21 at Resorts World Casino in Queens. "I didn't care about anything, I was with the wrong people. I dealt drugs, I did smoke weed, I was locked up a few times. I've been through all that. But boxing is and was a savior. It can be a violent sport, but it is also technical, and you have to be disciplined, and use your brain."
Galarza started sliding when his dad died from complications from a gunshot wound, and his mom died two years later, when Frank was 9, from a drug overdose.
He wants to introduce youth who are in danger of letting the streets swallow them up, and spit them into jail, or a coffin, to what boxing has done for him.
Galarza just got back from Rio, where he spent a week at the headquarters for Fight For Peace, a non-profit organization and program founded by Luke Dowdney, the CEO of Luta, a sports performance clothing brand.
Dowdney has sought to combine boxing and martial arts workouts along with education and personal development aimed at youth trying to find their way in areas where crime and violence are the norm. He's tapped Galarza as an ambassador, along with fellow pro Luis Collazo (33-5; age 32; from Queens), who will spread the word about Luta's message of positivity, which includes the structure and discipline boxing can impart. Galarza is setting up shop at Starrett City Boxing Club, in East New York, Brooklyn, one of four gyms where Dowdney, who grew up in London, is coordinating Luta outreach stations for a program he's labeled the "Life Changing Project."
The other gyms to feature the "Life Changing Project" are: the Brotherhood Boxing Club in Ridgewood, Queens; Champs Gym in New Rochelle; and the Fight Back Martial Arts Program in the Bronx.
Dowdney has lived in Rio for the past 20 years, where he was struck by the difficult conditions for so many youth. "In Rio, I bumped into a 13-year-old kid in a slum, holding a Kalashnikov [rifle]. He was learning the drug trade," Dowdney told me. "That kid is what inspired me. I want to take this across the world, have gyms in 500 cities. We want to get young kids out of gangs, and drugs. Luta means to struggle, to never give in."
Fifty percent of profits from Luta sportswear sales will go to funding the Luta programs at the gyms, Dowdney told me.
Galarza left Rio, he said, charged up to deliver his message to kids that they can get out of the street life. He saw an extreme version of the wayward preteens and teens in Rio: "Out in the open, on a table, drugs were being sold, guarded by guys with AK-47s. You see it everywhere," he said. "And here, you have kids, 16, 17, running around with guns. They think it's cool. They want to be to like this hip hop artist. They get influenced easily, they want to make the money. It's similar to what I saw in Rio.
"At Starrett City, we'll want to change their thoughts, have an open-door policy, and there will be no judgment, we'll treat everyone like family."
Follow Michael Woods on Twitter.
June, 22, 2013
6/22/13
6:24
PM ET
Red Hook's Frank Galarza took on Kansas' Romon Barber in a junior middleweight scrap set for six or fewer on Saturday at Barclays.

The third round was fan friendly; after Barber took a shot to the groin, and got a rest, he came back angry. His left hook found the target a few times, when Frank dropped his right. But Galaraza's straighter shots came more often, and with more pepper.

The ref halted it when Barber, fatigued, took a knee in round four. He indicated a bit before that another Galarza shot had strayed south of the border.

The end came at 1:54 of the fourth, via TKO.

Galarza showed some nice tools. He snapped the jab a good deal, mixed his punches up, went to the body, hurt Barber (now 4-5) with both hands. He knows he needs to remember to keep his hands up more, and not present an open target after getting off, moving forward.
March, 9, 2013
3/09/13
8:14
PM ET
Fans who trekked from Red Hook, Staten Island and the Bronx will go home happy after Frank Galarza, Marcus Browne and Eddie Gomez scored stoppage wins at Barclays Center Saturday night.

The junior middleweight Galarza, now 9-0-1, met 7-1 Guillermo Ibarra, and dropped him twice in Round 2. The Red Hooker told me after that he sort of figured the Mexican Ibarra might have a skillfully crafted record, judging from his body at the weigh in, but Ibarra did come to win. He landed one or two right counters on Galarza, but didn't mark up the winner at all. A right to the body had the ref saying no more for Ibarra at 2:19 of the second round. Galarza's next fight is on May 4 at Resorts World Casino in Queens. He looked up as we chatted, and saw Eddie Gomez from the Bronx entering the ring.

"Who's better, you or Eddie?" I asked.

"I will fight Eddie," Galarza answered.

"Next fight?" I asked.

"After about two fights," Galarza said.

Junior middleweight Gomez beat 14-10 Javier Gomez, from Mexico, and ref Arthur Mercante Jr. halted the fight at 1:17 of the first round. Gomez (13-0 with 9 KOs) stood up after left hooks put him down, Mercante assessed him for a few beats, and didn't like the look in his eyes.

Light heavyweight Browne's hand speed and aggression stood out, as he went right at Josh Thorpe, a Cincinnati fighter in over his head. Browne went to 3-0 with 3 KOs, while Thorpe, who earned his check by eating a bunch of leather, went to 1-3 after the ref pulled the plug at 2:42 in the first.

This was the first fight for the Olympian Browne in his home state.