Boxing:

International Boxing Hall of Fame
October, 7, 2013
10/07/13
12:09
PM ET
Delvin Rodriguez was mightily impressed with the oomph on Miguel Cotto's left hook on Saturday night in Orlando, Fla. The Danbury, Conn.-based boxer, who also works as an analyst for ESPN and will be heading to Las Vegas this week to work the Timothy Bradley Jr.-Juan Manuel Marquez show, told me that Cotto's power surprised him.
I asked Rodriguez, who was TKO'd in Round 3 by the Puerto Rican future Hall of Famer, what he foresees occurring if
a rumored showdown between Cotto and middleweight champion Sergio Martinez
were to take place.
"That's a great fight," Rodriguez said. "Cotto is really strong, very determined. He could do a lot of damage because Martinez fights with his hands down." The fighter/analyst said he could see Martinez using his movement to good effect early, but getting broken down as the rounds progress.
So who would have his hand raised at the end of the night?
"Cotto would beat Martinez, definitely, in a close fight," Rodriguez said.
Follow Michael Woods on
Twitter.
June, 11, 2013
6/11/13
1:31
PM ET
Former fighters get a tremendous kick out of the annual induction ceremonies at the International Boxing Hall of Fame in Canastota, N.Y. It's a thrill to be reminded that, in the minds of many hardcore fans, you are still a marquee name. And you're still a champ, even if the belly protrudes over your waistband a bit more and your hairline isn't what it used to be.
So it was on Sunday, June 9, for inductee Mills Lane, the referee known for his stern demeanor which insured fighters would be on their best behavior when he was the third man. OK, apart from that one time when Mike Tyson got hungry.
Lane, 76,
voted into the hall last December
, made the trek from Manhattan to a town just east of Syracuse with wife Kaye, and sons Terry and Tommy.
Lane had a stroke in 2002, and is still affected by the incident. His family wasn't certain he could make the trip, or how it would go if he did. I asked son Terry how the trip went. "It went great," he said. "It blew my expectations out of the water. We were still unsure how my dad would do throughout the weekend, but he had a ball. He particularly loved seeing some of the old fighters he used to work with, Marvin Hagler and Danny Lopez in particular. Although he can't express how he feels with words, you can tell just by looking at his face that he was extremely honored and happy. This was very much needed for him and my family."
Last April, Mills fell and broke his hip. He spent two months in hospitals and rehab facilities and nobody knew if he would stand, much less walk, ever again. "It was an awful time," Terry said. "He was released from the rehab facility just about a year ago exactly. To think where we were then, I would've never have expected that we would have this happiness a year later."
June, 8, 2013
6/08/13
11:38
AM ET
The choice for grand marshal of this year's International Boxing Hall of Fame parade will draw some surprised stares from non-hardcore boxing fans.
But the boxing heads in Canastota, N.Y., to check out the Sunday parade, which kicks off at 1 p.m., will not be thrown off when they see Brooklyn-bred actress/activist Rosie Perez smiling and waving to those who have come to see fighters Arturo Gatti, Virgil Hill,
referee Mills Lane
and a host of other luminaries enshrined.
Perez is a
constant Twitter presence
, enthusiastically commenting on fights -- and not just the super fights, either. She follows the doings in the sweet science rather obsessively. The respect and admiration she shows for the game and its participants has won her new fans, who are appreciative of any positive voices that aren't inclined to critique the sport and point out its diminished place in the wide world of sports since the 1970s. Perez also attends fights, particularly in the New York area, when her work schedule permits.
"I'm the grand marshal," she told ESPNNewYork.com, when asked about her role in Canastota. "I'm very honored. I can't wait to meet all the boxers that I've watched and admired for so long."
Is she looking forward to shaking hands with any particular enshrinees or boldfaced names who are attending the 24th gala?
"I'm looking forward to meeting them all," she said.
Asked if any particular bout flipped a switch in her brain and rendered her addicted to the sport, she said, "I don't remember any particular fight. It was just a thing we did, we watched boxing."
June, 7, 2013
6/07/13
3:02
PM ET
Mills Lane -- the consummate no-nonsense referee whose presence as third man in the ring insured that BS would not be tolerated, will be inducted into the International Boxing Hall of Fame in Canastota, N.Y. on Sunday.
Lane, whose appeal transcended boxing and culminated in his own syndicated TV program, "Judge Mills Lane" (1998-2001), suffered a stroke in 2002, and his presence at Canastota was not a given. His son Terry told ESPNNewYork.com that it wasn't decided until a few weeks ago whether the Lanes, including younger brother Tommy and their mom, Kaye, would make the trip.
[+] Enlarge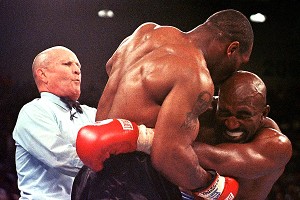 Jeff Haynes/AFP/Getty ImagesThere's Mills Lane in action, during the infamous Tyson-Holyfield fight.
Born in Georgia, and himself a more-than-fair fighter as an amateur, Lane started as a ref in 1964 and worked more than 100 world title fights. Even casual fight fans will recall that he was the man overseeing the lunacy in June 1997 when Mike Tyson chewed off a piece of Evander Holyfield's ear; Lane didn't hesitate when he saw that Tyson had torn off Holyfield's flesh and immediately disqualified him.
But the stroke has been hard to handle; a man devoted to physical fitness can walk and do most things himself, but slowly, and he is in constant pain. He has about 20 percent usage on his right side, and since word formation is difficult, he doesn't say much, except a single word here and there. For an intense, prideful man, the ordeal has been a severe trial.
"Since the stroke," Terry said, "my dad has basically been a shell of himself, and it has been difficult for him emotionally, and depression has been there sometimes. But we haven't seen him this happy since the stroke. He loves doing the autographs and taking photos. We're so happy to see him so happy."
Terry said the family never did the typical roadtrip-to-Disney type thing, so their trek on Thursday from their residence in Manhattan was a first. He was happy that dad didn't win the battle to hear country music in the car; the family all settled on old radio broadcasts, featuring Don Dunphy calls, downloaded off iTunes. "We got there and my dad saw (boxer) Marlon Starling, and he lit up."
The 30-year-old Terry, or 26-year-old Tommy, will speak for Mills at the induction ceremony -- they haven't decided yet. Terry said he feels a bit silly talking for Mills, who was such an accomplished communicator. "We wouldn't do him any justice. But I'd probably say something about how he was the world's greatest dad," Terry said. "I know people say that, but about him, it's not even close."
"My dad always said there's nothing like being accepted and honored by your peers," Terry added. "This is way more positive than negative, we're just so glad he's still around. My dad was all about honesty, and it would be so stupid to put a BS spin on this. It's been tough but this is pretty awesome."
June, 6, 2013
6/06/13
4:29
PM ET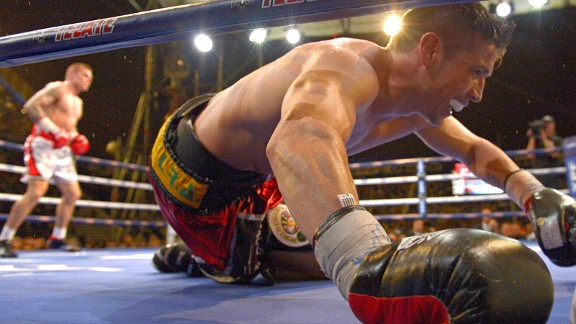 Juan Mabromata/Getty ImagesSergio Martinez may be on his last legs. Just don't tell him that.
Sergio Martinez is, as I write this, driving from NYC to Canastota, to take part in the 24th International Boxing Hall of Fame induction weekend. And he took some time to chat with NYFightblog about lessons learned from his most recent fight, how many fights he has left in him, and when -- and against who -- he will fight next.
The 38-year-old craftsman drove with advisor Sampson Lewkowicz, who translated, and Lewkowicz' son Nathan, who helps promote the Argentina-born pugilist who beat Martin Murray on April 27 in front of 50,000 adoring fans in his home country.
That scrap was no walkover, as the weather and Murray proved tougher to deal with than many predicted. It rained all day, and the fight was pushed to 8:30 PM from 11 p.m. local time, for fear of thunderstorms. Sergio hit the deck in round eight, from a right hand that caught him as he was shifting his weight, and won a 115-113, 115-113, 115-113 victory on the cards. I asked him about lessons learned from the Murray bout.
"There is no easy enemy in boxing," he stated. Does that mean he underestimated Murray? No, the 51-2-2 Martinez, who is co-promoted by Lou DiBella, said. He implied that those who hadn't given Murray much of a chance underrated the challenger. "I wanted to prove to everybody that said I would fight an easy opponent in Argentina that instead I'd pick the biggest available challenge in the division, and I'd win."
He needed knee surgery last November, for a torn meniscus in his right knee, from an injury sustained in his previous bout, against Julio Cesar Chavez Jr. in September. But Martinez refused to point a finger at a slow rehab. He told me he was in fine form for Murray. If not, he would not have taken the bout, he said.
Martinez said he didn't pay attention to the critiques from naysayers who thought they saw a man on the downside, a fighter with only a fight or two left in him, against Murray. "In boxing, that is very common, you have the negative and the positive," he said. "All the negative stuff does is motivate me to continue fighting. Not every time everything will be perfect. This is boxing, you cannot win every round. You win some, lose some, in the end I was the winner."
I tried to get a sense if Martinez is sensing his career mortality. He turns 39 in February.
How many fights do you think you have left? "I'm only thinking of the next. I don't think further than that," he said.
I tried again to delve into his soul. Will he watch the induction ceremony now, at 38, differently than he would have at 28, with more of a sense that his career might end soon? Sergio didn't take the bait; he said that every fighter wants to win a title and enter the Hall, and he is no different.
Team Martinez had dinner with HBO Sports boss Ken Hershman on Wednesday night. Did they figure out a date and foe for Martinez's next outing?
It is likely he will glove up in February or March next year, he said, but no foes are up for discussion. In August or September, Sampson said, the team will convene and choose a route.
The super middleweight division will not be in the mix, Sampson said, for those wondering if a rematch with Julio Cesar Chavez Jr. might occur there, or a fight with Andre Ward is a possibility.
"It will be 160 pounds only, or 154 pounds, but only for Floyd Mayweather," Sampson said.
With that, the road trip to Canastota continued. If Martinez allowed himself to drift into more poignant philosophical territory, he wasn't going to share the mulling with ESPNNY.com. I'm not that surprised; he showed the same discipline in answering questions as he does in training, and as he does by and large in the ring. There will be time, eventually, to expand on emotional topics. But not now.
June, 5, 2013
6/05/13
3:10
PM ET
The man carried East Coast boxing on his back for almost a decade, and four years after his death, his name is still the one summoned when a pundit or fight fan looks for a name that exemplifies unfathomable athletic will in the face of Sisyphean odds. And yet, there is a contingent of folks out and about who think Arturo Gatti, the "Human Highlight Reel" of boxing, a person who gave fans more entertainment value per outing than anyone outside of Mike Tyson in this era, doesn't deserve entry into the International Boxing Hall of Fame in Canastota, NY.
Thankfully, that moronic minority doesn't have a say beyond the odd website, so on Sunday, Gatti will be enshrined where he belongs, with the other special souls who gave, so literally, so much of themselves, for our entertainment.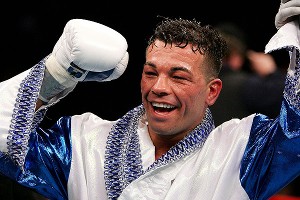 Al Bello/Getty ImagesArturo Gatti will be inducted into the International Boxing Hall of Fame on Sunday.
The fighter, born in Italy, raised in Canada, and linked always with Jersey, where he lived until he retired in 2007, tops the inductee list for the 24th annual induction ceremony. Sadly, he won't be present to luxuriate in the acclaim on Sunday; Gatti died on July 11, 2009,
under murky circumstances
. The hitter was a "Fight of the Year" perennial and mainstay on HBO, which knew he was a guaranteed drama-producer, win or lose.
Promoter Russell Peltz, a partner along with Main Events as Gatti's promoter, spoke to the people who don't think Arturo is Hall worthy.
"It's a no brainer, absolutely, that he belongs, because it's the Hall of Fame, not the Hall of Greatness," Peltz told me. "You cannot ask any more of athlete than to give you your money's worth and he went beyond that. He was in four Fights of the Year ['97, '98, 2002, 2003], that's enough."
Should be, for sure, no matter what some pesky Twitter gnats say...
"Those that say he doesn't belong there, they're haters," said Peltz, who was inducted into the Hall as a promoter in 2004. "And a lot of them are in boxing. There are all levels of ability in the Hall. I mean, I'm not as great a promoter as Mike Jacobs [who promoted Joe Louis and was inducted in 1990], but..."
Tears will be shed at Canastota when those at the Sunday ceremony ponder
a man gone too soon
, at age 37. But all in all, most memories will settle on all the times the man made your jaw drop, and scream an expletive in amazement.
"You go to a movie and it's a lousy movie, you go to a show and it's a lousy show, but you'd never got to a Gatti fight and it was a lousy fight," Peltz said in closing. "That's the ultimate compliment."