November, 27, 2013
11/27/13
5:10
PM ET
These guys, these boxers from Russia and thereabouts -- the Golovkins, Provodnikovs, the Sergey Kovalevs -- you simply have to dig them if you are a fan of a fighter with a closer's mentality. Of course, we aren't painting with such a broad brush that we assume every guy who grew up eating Siberian snowcones is an in-the-ring assassin type, but the fight game has been reminded that oftentimes, being from a certain area does breed characteristics that help form fighters in distinct ways.
[+] Enlarge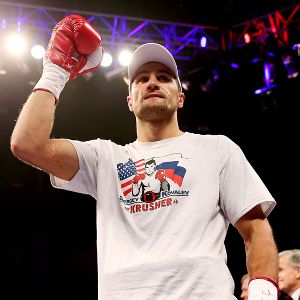 Scott Heavey/Getty ImagesSergey Kovalev will square off against Blake Caparello in Atlantic City, N.J., on Saturday.
Sergey Kovalev (22-0 with 20 KOs), one of the new class of Russian fighters, a man who doesn't pretend that his job isn't to try and knock his foes' head off, gloves up Saturday night in Quebec. Promoted by Main Events out of New Jersey, Kovalev grew up in Chelyabinsk, a big town. I recently asked the 30-year-old boxer if growing up there makes him a better brand of fighter. What is it about growing up in Kazahkstan, like Golovkin, or Siberia, like Provodnikov, or Chelyabinsk that helps form your identity as a stopper?
"Just real men," explained the WBO light heavyweight champion who faces the Ukraine's Ismayl Sillakh in Canada, "who can and want real fights. We have good boxers and good wish to fight, because we're hungry. USSR, life was very poor. Here, it's open to a very good future. I see a very good future and therefore I will keep working hard because my family in Russia is very poor, my mom, father and sisters, and I want to help them."
He explained that after the USSR broke up, things grew tougher. There wasn't always enough food, and he had to work from age 11 to help feed the family. He worked in a gas station, collected empty bottles and cans, whatever he had to do to help the family.
As for Sillakh, Kovalev says the 21-1 foe, who has 17 KOs, is "dangerous. He will be ready for this fight, and I will be too. It will be war."
Kovalev comes off a career-best win, taking down Welshman Nathan Cleverly and wresting away his crown on Sept. 17 in Wales. He opened copious eyes with a TKO3 win over slick boxer Gabriel Campillo in Janaury. Sillakh's resume is thinner; he bettered then 8-0 Yordanis Despaigne in March 2011 (UD10). Sillakh does good work backing up, poking his long jab to interrupt his opponents' flow, and against Kovalev, he will need to to win.
HBO will show the scrap.
October, 30, 2013
10/30/13
5:54
PM ET
He didn't gamble much, but before he became a big-shot promoter, Dan Duva used to hazard a prediction every now and again. Usually, it was around Christmas time, and usually, his bride Kathy Duva told me, he'd win, and that meant a bigger bounty under the tree.
Duva passed away in 1996, but Kathy now runs Main Events, which is co-promoting a card at The Theater at Madison Square Garden on Saturday evening. I spoke to Duva, as she watched her guy, middleweight Curtis Stevens, during a workout held for media and fans at MSG on Wednesday at lunchtime.
Stevens (25-3 with 18 KOs; has been stopped once), a 28-year-old from Brownsville, Brooklyn, is the underdog, at 11-to-1 on some boards, against the Bieber-faced banger from Kazakhstan, WBA middleweight champion Gennady Golovkin (27-0 with 27 KOs; age 31). HBO will show the scrap.
"This was around 1979 or so," Kathy recollected. "To get Christmas money, he'd bet on a fight." Dan would "pick his spots," she said. He had a formula that he'd apply when his criteria was met; by and large, that criteria would kick in when he decided the odds weren't what they should be, that the underdog had a much better chance to get the W than most assumed. "He'd always bet the underdog," she said.
"I see that here," she continued. "Curtis Stevens, I don't see him an 11-to-1 underdog."
Duva says she laid down a bet, just one time. Evander Holyfield had just jumped from Main Events, but she wasn't bitter. She knew "Real Deal" was no 24-to-1 underdog against Mike Tyson. That had dropped to 16-to-1 right before the bout, when she bet on Holyfield to down Iron Mike, in 1996. She scooped her winnings after Evander won, via TKO11, in their first tangle, on Nov. 9.
Duva wouldn't bet now, it's not proper, but she told me she sees the headline clash as a 50-50 deal. "Anything can happen," she said. "I could tell you I'm one hundred percent sure my guy will win, but that's not honest."
She said that upsets happen, quite often, when someone is expected to have a cakewalk, and the underdog isn't getting so much as a pat on the head from the masses. "I'd say Curtis is a 2-3-4 to 1 underdog, tops," she continued.
Duva said she likes how Stevens has been acting in the last week or so. He's been testy at times, his gameface affixed, semi-surly, ready to get the rumble underway. "Just like he should be," she said. I asked when the last time one of her guys wasn't acting right, was perhaps too chill before a bout. She didn't hesitate. "Zab Judah," she said, before his July 2011 fight against Amir Khan. "He was too happy. He was walking around Las Vegas happy, being too nice. After camp, being with all guys, you've got to be ready to burst, like a coiled spring."
Duva told me a fascinating tidbit. Stevens lobbied hard to get this fight right after Golovkin did a demolition job on Matthew Macklin, in his last fight (KO3 win), on June 29, at the Theater. "Curtis told [Main Events matchmaker] Jolene Mizzone, right then and there, 'Get me Golovkin next,' " Duva told me. "He saw something."
What, pray tell, did he see? We all saw Golovkin dropping and stopping Macklin with a body shot, and Macklin looking like he'd been Tased. "He saw something," she repeated, insisting she doesn't know what, and adding that she wouldn't tell me if she did. "This is going to come down to who lands first, and who takes the better punch. Gennady has been built up to be a killing machine, but it's not who punches harder, it's who takes a better shot."
Follow Woods on
Twitter
.
October, 17, 2013
10/17/13
5:27
PM ET
Tissues were needed during Wednesday night's screening of "Legendary Nights: The Tale of Gatti-Ward" at HBO's headquarters in Manhattan.
For me, the tears started to fall during footage of Arturo Gatti's daughter Sofia reading off the plaque honoring her dad, the late brawler extraordinaire who made the International Boxing Hall of Fame this past summer. But to give the idea that the production, directed by the head of HBO's "24/7" series, Bentley Weiner, evoked nothing but water works wouldn't be just.
Micky Ward, the Lowell, Mass. pugilist who fought past his prime, leaped off the screen and into your heart with his guileless presentation of the majestic rivalry and unlikely friendship he endured with "The Human Highlight Film," who died in 2009, at age 37, under murky circumstances in a rented room in Brazil.
Gatti too had heard the call to pack it in, after he was manhandled by Oscar De La Hoya in 2001, but he wasn't built to quit. He signed on to meet Ward on May 18, 2002, at the Mohegan Sun in Connecticut. HBO televised the fight, which most expected to be a rumble between two fighters who were on everyone's pound-for-pound list for heart and guts, if not technical wizardry. The film shows excerpts from that classic for the ages, won by Ward, as well as portions from their subsequent clashes, both won by Gatti. Even if you're versed in the stories, you can expect to get chills down the proverbial spine, as I did, when tuning in to HBO on Saturday night, when the film premieres.
"I love the film," Ward told NYFightblog. "It was very emotional for me but it was about the friendship, the love we had for each other."
Ward, now 48, said he thinks about Arturo every day. I asked Ward if he could try and explain how a friendship could be forged by two men who sought to knock each others' head of for 30 rounds in three fights.
"It's respect," he said. "I wanted to beat him so bad, he wanted to beat me so bad, but it's mutual respect."
I hate to contest anything the humble warrior Ward said, but I have to take issue with his declaration that, "Me, you, your wife, we all have the same size heart."
No, sir, as Ward proved in the ring, and in this film. He and Arturo's cardiac portion size is in another league.
Readers, you will find yourself watching the film and thanking those two men for their service in entertaining us, and providing us fuel during moments in our own lives when we felt like we were fighting off the ropes in a losing battle.
Follow
Woods on Twitter.
October, 2, 2013
10/02/13
2:10
PM ET
Curtis Stevens, who meets the most feared man in boxing, Gennady Golovkin, on Nov. 2 at Madison Square Garden, didn't sound Wednesday like he was in panic mode. Stevens, the Brownsville, Brooklyn, hitter who's been on a solid run of stoppages, has picked up some tidbits from former heavyweight champion Larry Holmes, as he's working out at a camp owned by Holmes in Easton, Pa.
[+] Enlarge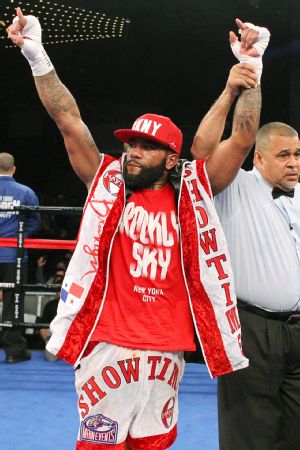 Ed Mulholland/USA TODAY SportsCurtis Stevens
Stevens (25-3 with 18 KOs) didn't back off some of his prior provocative talk, as he promised to be gunning for Golovkin (27-0 with 24 KOs), hard. (HBO will show the scrap, a co-promotion by K2 and Main Events, for the record.)
"Larry Holmes told me the jab is the key to everything," said the 28-year-old Stevens, a Main Events boxer who's been sparring with the likes of Ossie Duran and Yusaf Mack. That's all well and good, he seemed to imply, but he's still going to be looking to hurt the 31-year-old Golovkin with both hands. He scoffed at the foes Golovkin has taken down and labeled him a "hype job."
Stevens said he has been focusing on agility, the implication being that he knows Golovkin likes to stalk a foe and wear him down. He said he thinks Golovkin can be pushed back and hit because his head movement isn't great. He won't go in looking to score a one-punch KO, Stevens said, but with his power, a KO is always possible.
He said in the next few weeks, he might try to get under Golovkin's skin: "I might piss him off even more. It's game time now, I'm hungry, I want blood." Trying out a Halloween theme, he said he will look to "decapitate" Golovkin on fight night. "I'm ready to go in and shock the world," he said.
When he wins, he said he'd like a date with Sergio Martinez next and shrugged off the surprise in some circles that he lobbied for this chance. "He's the most feared middleweight in the world," he said. "Why not go after Gods, instead of peasants?"
It remains to be seen how his performance plays out, but to this point, Stevens has talked a helluva game: "I'm coming in to knock him out," he said. "I'm going in to wreck the wrecking machine."
Follow Woods on
Twitter.
August, 7, 2013
8/07/13
6:51
PM ET
A few years ago, Brownsville boxer Curtis Stevens found God, with the help of pound-for-pound ace Andre Ward. But that hasn't presented an impediment for Stevens, a 28-year-old middleweight, when he steps into the ring looking to beat down his foe.
He did just that on Aug. 3 at Mohegan Sun in Connecticut, when he delivered a nasty left hook that sent down Saul Roman in Round 1 like he'd been Tased. The ref didn't bother starting a 10 count, as Roman was on his back, in la-la land, on a Main Events card.
[+] Enlarge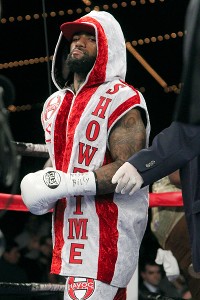 AP Photo/Mary AltafferCurtis Stevens
That win and his finishing mindset have Stevens believing he's deserving of a crack at another more heralded hitter, Kazhkstan's Gennady Golovkin. The 30-year-old Golovkin (27-0 with 24 KOs) has become an HBO golden boy this year, and word of his pop in both hands has made it hard for promoter K2 to secure fights for him. (An offer is supposedly out for him to fight Martin Murray in November). But Stevens says he wants that test, and wants to give the fans a bout between two men who are show-closers.
"People want to see KOs," the 25-3 (18 KOs) hitter told NYFightblog. "They want to see knockout artists fight each other. He's a power puncher. I'm a power puncher. It just makes sense."
Naysayers are going to note that the 33-year-old Roman is no stranger to being stopped early, as this is the seventh time that has occurred in his 10 loesses. But Stevens counters that argument. He said that it took contender Vanes Martirosyan seven rounds to stop Roman in 2011, and title challenger Gabriel Rosado only beat Roman via split decision, in 2010.
"He's been stopped, but never like that," Stevens told me. "What happened on Saturday, nobody did it like that."
Stevens said he hasn't heard on the grapevine whether Team Golovkin is keen on accepting his challenge: "They might not want it now, not after that."
Stevens said that after his career hit a lull, following losses to Andre Dirrell (in 2007) and Jesse Brinkley (in 2010), he got lifted up by a meeting with Ward, in camp for his May 2011 fight with Arthur Abraham. "Ward showed me different things, and God has been a big part of my life since," Stevens said.
But don't start thinking the Brownsville has been smoothed off this kid.
"Do I worry about wanting to knock your head off? No," he said. "God understands what I'm doing here. He's the one who gave me the talent. You've got to be humble with it. It's war ... but it's nothing personal."
If and when he does get Golovkin to put up his WBA middleweight crown, Stevens said he will stop HBO's pride.
"I'm gonna take him out," Stevens said. "It's my time. My time is now. I'm gonna shine. I'm not saying he doesn't have power, but when I touch them, they react. How is he gonna react? They don't act too good after they get touched.
"I'm from Brownsville, I'm a different-type animal. I'm gonna go in there and take what I want."
Follow Woods on
Twitter.
June, 11, 2013
6/11/13
4:38
PM ET
Fight fans love an ass-kicker, someone who comes in and is a great bet to finish his foe before the final bell. Sergey Kovalev, who fights on Friday against Cornelius White, is starting to generate buzz as an ass-kicker.

The Russian-born Florida resident with a 20-0-1 (18 KOs) recordwho can snag the No. 1 ranking in the IBF if he downs the 21-1 White at the Sands Casino Resort in Bethlehem, PA, has a fan in HBO's Max Kellerman. The analyst thinks the light heavyweight contender will butt heads with 168 pound ace Andre Ward, who many think will jump to light heavyweight soon.

I asked Kovalev, through translator/manager Egis Klimas, if he agrees with Kellerman, and sees a showdown with Ward as inevitable.

"I am ready for Andre Ward now if he comes to 175," the 30-year-old Kovalev said. "But I'm not going to make 168. I do understand maybe I'm not ready to be for considered for Ward. Ward probably wouldn't accept me, not too many people know me but I am ready."

The 31-year-old White is coming off an eight round unanimous decision win over journeyman Otis Griffin on March 9. He is nicknamed "Da Beast" but has won two straight decisions. In contrast, Kovalev, apart from a technical draw in 2011, has stopped his last eight foes early. If he keeps up this heavy-handedness, he needn't worry: people will know his name.

I wondered if Kovalev was born with this power. We always hear how punchers are born, not manufactured, right?

Klimas offered an anecdote to give some perspective. He said when he brought Kovalev from Russia in 2008, he had him in a North Carolina gym. Veteran trainer Don Turner saw him and said, "Where did you get this guy?"

Klimas told him, and admitted that Kovalev, who had more than 200 amateur fights and was a standout in Russia who just missed the 2008 Olympics, had told him he wanted to find a trainer who could help him build his power base.

"B------t! This guy has a lot of power!" Turner declared.

Kovalev said that in fact his power has grown recently. He attributed that to gaining some muscle weight. "Maybe I was a little skinny," he said.

With that task done, another thing Kovalev could do is talk some trash, help build his buzz. I chuckled some when I heard his answer after I asked who would be a harder out, Ward or Bernard Hopkins? "I think both fights would be very good fights but maybe Hopkins would be a little more difficult because he's a more dirty fighter," he said. "Ward is more skilled, they're hard to compare."

Can you picture the headline?

"Kovalev: Hopkins Is A Dirty Fighter"

Like many, many high achievers in the sport, Kovalev came from humble beginnings. Living in Chelyabinsk, Russia, his parents divorced when he was three. By 13, he was much on his own, and had to forage to get money for food. He pumped gas, collected bottles, did what he had to do to get some money and hand it over to mom.

Anyway, as far as being a trash-talker, Kovalev is a work in progress. Asked what would go down in the Friday fight, promoted by Main Events, which will run on NBC Sports Network, Kovalev said, "I don't like or want to predict my upcoming fight. Every situation is different, it always depends on how you feel that day and how you prepared. It depends on how you sleep the night before. I don't want to say I'm going to do this or that. People who talk a lot go on the canvas very quickly. I am a fighter, not a talker."
April, 19, 2013
4/19/13
1:04
PM ET
Tyson Fury thinks Steve Cunningham is a masquerade artist, a pretender best suited for cruiserweight, who will be out of his depth in the ring at the Madison Square Garden Theater on Saturday.

The 36-year-old Cunningham, no great surprise, begs to differ. He seemed to be quite acclimated to the heavyweight division when he met Tomasz Adamek back on Dec. 22, a fight which many folks thought he won, though the judges said otherwise.

I asked Don Charles, the man who trains Dereck Chisora, who fought and lost to Fury (age 24; 20-0 with 14 KOs; lives in Cheshire, England) back in July 2011, to assess the Fury-Cunningham scrap, which is promoted by Main Events.

"Fury beats Cunningham," Charles said to me in London, on Friday morning, before Chisora weighed in for his Saturday Wembley Arena clash against Hector Avila. Charles said the 6-foot-9 Fury is too big, hits too hard, and that it will be hard for the 6-3 Cunningham, in his third heavyweight fight after campaigning at cruiserweight, to get inside his jab. "Fury has fighting in his blood," Charles said, noting that the Brit is a Traveller, a nomadic people whose fighting roots go back generations.

Cunningham is a Philly fighter who you can't help but root for. We chatted a couple months back when this bout was announced, and actually talked matters other than boxing. Cunningham told me he's been a gun owner since 1996, after his Navy stint, and I admitted I don't quite see the fascination with guns in the U.S. He explained that he grew up rough, in South Philly, and he knows what bad people are capable of. "I know what it's like when your mailman is a crackhead," he told me. "I've seen how grimy the world is." Therefore, he obtains a sense of security knowing he is armed against the possibility that evil could unfold in front of him. "It's better to have it than not have it," he explained.

Of a Fury fight, which will run on NBC, Cunningham said he will fight the same way he did against Adamek, utilizing constant movement, and won't be put off by losing a controversial decision.
March, 15, 2013
3/15/13
9:25
PM ET
Tyson Fury, who fights Steve Cunningham at the Madison Square Garden Theater on April 20, has one of the best names in boxing. His dad, a pro fighter, saw the newborn, born seven weeks premature, and decided to name him after Mike Tyson. It sort of fit, seeing as how he impatiently exited the womb, and reportedly "died" three times in the ICU,
but was resuscitated.
As a baby, the kid was a fighter. Today, he's a full-on fighter.
Apart from having the best name, Fury, who is in town to hype his clash with ex-cruiser champion Cunningham, maintains he's the best boxer in the sport today, bar none.
Yes, he's not lacking in chutzpah.
Cunningham, the Philly-based pugilist who will seek to be the better ring general at MSG, might prefer to see it as full of blarney.
Fury, who lives in Cheshire, England, doesn't think it's a question of who's the best heavyweight in boxing.
"It's not to be determined," Fury said Friday in a phone interview to help sell the bout, which is being promoted by Main Events. "I'm the best heavyweight, and the best fighter on the planet, pound for pound. Anyone you want to set me up with, I will fight."
Throwing fists has been a part of the Fury DNA "back to the 1880s," the 24-year-old Irish hitter said.
His great grandfather, Tiger Gorman, boxed, as did his uncle Bartley Gorman, who he called "King of the Bar Knuckles." His father, John, went 8-4-1 as a heavy in the 80s and 90s.
Fury (20-0 with 14 KOs) expects to go further in boxing than his dad. He wants to make a splash in America by stopping Cunningham, 36, (25-5 with 12 KOs) who he believes is not the best he's fought in the ring. Both Dereck Chisora and Kevin Johnson, Fury said, are natural heavyweights, while Cunningham has an iffy chin, in his mind.
"Cunningham is getting knocked out for sure, he's a smaller man than me," he said. "I'm out for the knockout, no points, not in my US debut. I'm out to pump some life back into the boring heavyweight division."
Cunningham boxed super smart in his last outing, a controversial loss to Tomasz Adamek in December, and if he maintains focus for the duration, Fury could taste loss for the first time as a pro.
In the trash talking department, though, Fury has the edge. During a Thursday press conference in New Jersey, he asked Cunningham if he could sponsor the soles of his boxing boots, implying that when he goes down, watchers will get a good look.
February, 20, 2013
2/20/13
10:07
AM ET
He has one of the best names in boxing, and now fight fans will get a better sense if Tyson Fury has what it takes to possibly challenge the Klitschko brothers' chokehold on the heavyweight division.

Fury, a 20-0 Brit, will fight Steve Cunningham, a 25-5 Philly fighter, on April 20 at the Madison Square Garden Theater. The winner becomes the No. 2 man in the eyes of the IBF and must meet the No. 1 contender, or the leading available contender, and thus establish a mandatory challenger for IBF champ Wladimir Klitschko.

Fury, 24, is 6-foot-9 and will have a height advantage, while the 6-3 Cunningham, 36, an ex-cruiserweight champ, has the experience edge. Cunningham looked sharp in his last outing, a scrap against Pole Tomasz Adamek, which many if not most watchers, outside of the judges, thought he won.

The fight will be broadcast at 4 p.m. on NBC as a special two-hour afternoon presentation of NBC Sports' Fight Night.

"Cunningham's got all the tools," Fury said. "A former world champion, good fighter, he's got a lot of skill. I'm looking to put on a devastating performance, the best of my career to date. I'm absolutely ecstatic to be fighting at Madison Square Garden. It goes back in history and I can't wait to put my name with a long list of champions who have fought there. I'm a historian of boxing myself, so this is definitely the pinnacle of my career so far."

"I'm looking forward to getting back in the ring on April 20th to face Fury," Cunningham said. "For the first time in my career I have a guy coming to my country to face me. I am certain he's never faced a fighter like me. I am prepared to fight a great fight and come out with a victory."

Main Events' Kathy Duva talked about the scrap: "Steve put on a fantastic performance against Adamek on Dec. 22 and deserves to be rewarded with this fight. We also get to introduce Tyson Fury, a young heavyweight contender, to the American public in a true crossroads match."

Tickets to the bout, starting at $25, will go on sale next week.
December, 4, 2012
12/04/12
10:46
AM ET
I saw Yuri Foreman running this morning. The Park Slope resident was hustling up 7th Ave. I rudely interrupted his progress.

"What's up, Yuri? Getting some roadwork in?"

"Running to the store, actually," answered the ex-junior middleweight titlist. "Gotta get some diapers for the kid."

"Run!" I said. "But quick, any word on your comeback fight?"

Foreman (age 32; 28-2 record) last fought in March 2011, and then took a break, to assess his career, and recharge.

"We're looking for a card to be on. Kathy Duva has a card in January at Mohegan Sun in Connecticut," he said.

Foreman was with Top Rank of Las Vegas and is now a promotional free agent. Bruce Silverglade at Gleason's is checking out potential spots for his comeback and has been in touch with Duva. Foreman said he should know more within a couple days.